First Friday Topics
Welcome To Uncle Jack's Very Vintage Vegas!
Vintage Las Vegas Homes,
Historic Las Vegas Neighborhoods,
Las Vegas History,
Urban Living In Las Vegas.
If it's great, cool, fantastic, artistic, annoying, amusing, unique, or surprising.. you'll find it at VeryVintageVegas.com.
Check out what we're doing and add your two cents! Your comments & ideas are welcome. We update daily, so come back tomorrow!
Blogroll
Farmer's Insurance
Paul Hesselgesser
702-434-1230
The Hesselgesser Insurance Agency Website
Classic Las Vegas - Lynn Zook's Preservation of 20th Century Las Vegas
Curbed LA - WOW!
Mid-Century Modernist
RETRO RENOVATION - Pam's Excellent Effort At Re-creating A Retro Life
Carnival Of Real Estate - Minus Elephant Ears, But Still Mighty Tasty
Lotta Livin' - A Celebration Of Really Cool Things Mid Century
Bawld Guy Talking - Minus The Hair; Plenty Insightful
CoolnessIsTimeles - ALL "RAT PACK" ALL THE TIME!
SEE ALL OUR FAVORITES HERE

First Friday
October 6th, 2011 Categories: Arts District, First Friday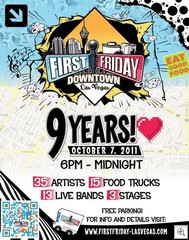 It's the 9th anniversary of First Friday. With new leadership, the monthly flagship event of Downtown Las Vegas is expanded to include the Fremont East Entertainment District, as well as the traditional 18B Arts District.
Besides the expanded area into all of Downtown Las Vegas, there's also expanded parking, expanded shuttle service, expanded food service, music stages, and much much more.
The "2 month hiatus", though nerve-wracking at first gave everyone he breathing room to rethink what could be possible. Tomorrow night should be one of the most exciting First Fridays ever.
It looks like everyone is co-operating. Maybe even the weather will do it's part.
For all of the information – visit the newly re-designed First Friday Website.
Posted by Jack LeVine | Currently Comments Off on First Friday Expands To Cover More Of Downtown Las Vegas
July 18th, 2011 Categories: Downtown Las Vegas, First Friday
Regardless of what Channel 8 reported last night – there will still be a First Friday in the Downtown Las Vegas Arts District.
What won't happen for 2 months will be the "street fair" on casino center. No street closure. No bandstand stage. No fences. No tents. No Trolley buses. That part of First Friday is operated by the non-profit organization called Whirly Gig.
The biggest part of First Friday will go as usual. The Arts Factory, Gypsy Den, Retro Vegas and the shops and galleries and venues on Main Street, Casino Center, Charleston etc will all be open.
Facebook is all a buzz on the topic (especially on Brian Paco Alverez's page. Primarily the chatter is that First Friday is SO MUCH BIGGER AND BETTER than just the fenced off street fair of Casino Center and California. There's going to be a big push to make the August 5th and September 2 First Friday's into the biggest and best events ever.
Among the more poignant comments:
Brian Paco Alverez says – "Like I said earlier I will report on First Friday as usual and encourage everybody to come down and have some fun. Lets brand the next First Friday Hot August Nights in Downtown…
David Moses says – "Most of the art-loving public doesn't draw a distinction between those parts of First Friday that Whirly-gig produced versus all the rest of the parts that are produced by local business and gallery owners in 4 or more separate and distinct…areas of downtown. The local business and gallery owners throughout downtown, including those south and west of the 18b Arts District, those in the 18b proper, and those in the Fremont East Entertainment District and most notably, Emergency Arts, will all be open for business and receiving visitors on First Friday as well as Preview Thursday. ONLY the Whirly-gig stuff is on hiatus. Everything else lives on. The noted absence of those "security" gates will only help to ensure the inclusion of those businesses and galleries located on the outside fringes of the "official" Whirly-gig zone. The only truly big net loss to the business and gallery communities is the trolley that shuttled visitors between El Cortez and the 18b on First Friday. Oh, but never mind, we still have the ACE and Deuce buses doing just that. As much as I appreciate 8NewsNow, this was pretty poor reporting because none of the actual businesses or galleries in and around the 18b Arts District were even featured in the still shots they screened."
Earnest Hemmings says: It will still exist. The fence wasn't there before.The fence just meant more children. Without the fence it will be a much more adult event. It will actually have a greater impact for the artists AND the patrons.
Ann Davis Mulford says: "THERE WILL BE NO "HIATUS" of FIRST FRIDAYS….As the President of the Board of Directors of the Contemporary Arts Center, located in the Arts Factory and 22 YEARS STRONG; we are also the CORNERSTONE of the Arts Community and First Fridays, …long before First Fridays was a glimmer in several peoples eyes…let me just say, OFFICIALLY, we will be hosting PREVIEW THURSDAYS AUGUST 4th and FIRST FRIDAYS AUGUST 5th as usual, at the ARTS FACTORY; and EVERY Preview Thursdays and EVERY First Friday from now until the last art patron in Vegas goes looking elsewhere for interesting art and individuals to interact with…not in my lifetime I hope! Media people and anyone else who wants to hear the TRUTH; PLEASE PLEASE PLEASE, from now on PLEASE, seek a comment at the very least from one of us who are truly involved in the day to day, let alone help make this monthly celebration of the Arts in Las Vegas grow and flourish as it has done and will continue to do, for many months and years and decades into the future.
And I SAY: Channel 8 makes it sound like First Friday "as a whole" will be on hiatus. Obviously from the buzz I'm getting and certainly based on the comments here…..the next two First Fridays might well be the biggest and best ever. There's going to be lots of other stories done, and perhaps even the most publicity ever during the next 18 days. I vote for Paco's branding of it as "HOT AUGUST NIGHTS" in the Downtown Las Vegas Vegas Arts District.
Posted by Jack LeVine | Currently 2 Comments »
February 3rd, 2010 Categories: First Friday
VeryVintageVegas has always been a huge fan and supporter of First Friday. It's the cornerstone of the whole Arts District as well as the driving force that's helped to create the urban Arts, Music and Culture Scene.
Last Month (new years day) was frightfully cold, and everyone seemed to have been partied out or footballed out or paraded out or something, because it was one of the lowest attendance First Fridays – maybe EVER.
I bet we can all do better this Friday FEBRUARY 5th. The festivities are from 6 to 10 PM as they always are. Here's the full calendar of events….with over 100 outdoor artist spaces and lots of new work in the dozens of various galleries.
This month, Cirque Du Soleil is one of the sponsors:
Cirque du Soleil is an international company from Quebec dedicated to the creation, production and distribution of artistic works. Their mission is to invoke the imagination, provoke the senses and evoke the emotions of people throughout the world. With seven permanent productions in Las Vegas, Cirque du Soleil continues to participate and take an active part in the local community.

Cirque du Soleil–in February once again supports First Friday Las Vegas. Ever since it has had the resources to follow its dreams and to present shows around the world, Cirque du Soleil has chosen to be involved in the community. Every year, an amount equivalent to 1% of Cirque du Soleil gross earnings is committed by the company and its founder for various cultural programs supporting emerging artists, social action and responsibility programs including Cirque du Monde, Cirque du Soleil's social circus intervention program geared to underprivileged youth, as well as the ONE DROP Foundation.

Whirlygig Inc., the non-profit producer of the First Friday arts event is fortunate to be one of the cultural programs Cirque du Soleil supports here in Las Vegas.

Come down this month to enjoy both visual and performance art! Indiekrush.com is programming the Land Rover stage, live improv on the street, artist, vendors and more!

We will be hosting more than 100 artists on the sidewalks and in the gallery spaces within the outdoor festival area on Casino Center Blvd and Colorado. Check out Commerce Street Studios and the Arts Factory in the surrounding area.
Preview Thursday should be quite interesting as well. Preview Thursdays have less crowds, the opening parties and a more quiet atmosphere.
Brian Paco Alvarez "the curator of culture" in Las Vegas has mentioned in particular on his blog "ENCULTURATE LAS VEGAS" a few must sees including Gia Ray at City Of The World Gallery; Brett Wesley Gallery's Full Figured Neon Kiss" and many others.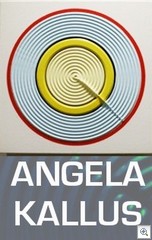 I want you to see my friend and next door neighbor's work at the Trifecta Gallery in the Arts Factory. Angela Kallus is well known in the commercial art world for her mind blowing circles and is doing a show of just smaller pieces. The opening party is 6 to 9 pm at Preview Thursday and will be showing for a month. Angela tells me the smaller pieces will be quite affordable compared to the large scale corporate art pieces she usually does.
Posted by Jack LeVine | Currently Comments Off on First Friday In Downtown Las Vegas Arts District
December 29th, 2009 Categories: Arts District, First Friday
A great way to start the New Year would be a trip downtown to the monthly First Friday Arts Festival.
FIRST FRIDAY LAS VEGAS
January 1, 2010 6:00 pm -10:00 pm Here's the whole scedule of events.
Come down this month to enjoy both visual and performance art! . There will be tiki carving, video and DJs on stage, live improv on the street, artist, vendors and so much more!
Don't miss "Art in Tandem". Ricardo and Jesse, from Erie Pennsylvania, have traveled all over the world as "Art in Tandem " and have recently landed in Las Vegas. They will be easy to spot especially when riding their tandem bicycle. We will also be showing a video of them in front of The Funk House that details their various ensembles and travels in tandem.
Be sure to stop by the First Friday info table (in front of The Funk House) or Trifecta Art Gallery in the Arts Factory to buy your raffle tickets for the great Premium Outlets gift basket we have for January, including a $100 GIFT CERTIFICATE , Guess merchandise and much more! (you do not have to be present to win)
Donate to support First Friday: http://www.firstfriday-lasvegas.org/fundraise.html
Of Special Note – Don't miss:
D'Arte Designs POP-UP Galleries presents "An Eclectic Collection",
works by
Sigrid Brunel, Denise R. Duarte, Anita Getzler, Walt Heron, Arthur Jabob and MIKEL PATRIK.

Experience the energy of this confluence of artists who articulate their world visually by a variety of media. Abstraction to reconstructed realities flow from their creative centers to this place in time, the first day of 2010. Experience the new decade and new year in a refined and artful environment.

ONE NIGHT ONLY, First Friday, January 1st from 6:00 p.m. – 10:00 p.m. at Holsum Design Center, 241 W. Charleston Blvd., Suites 140&150.

Also open at Holsum Design Center on First Friday, H. Stephen Jackson/Architect Gallery in suite 175 and dining at Lola's, a Louisiana Kitchen. Trolley Stop.

For more information contact Denise with D'Arte Designs, 702-372-3755,www.dartedesigns.com
Posted by Jack LeVine | Currently Comments Off on First Friday Is New Years Day
December 2nd, 2009 Categories: ART, First Friday
Bundle up and do some Holiday Shopping. Great art from local artists is the best gift you can give.
First Friday is the monthly art fair in the Downtown Las Vegas Arts District.
I'm absolutely running late in getting you some of the openings and special events for the December First Friday. Remember, most of the venues are open on Thursday Evening as well for Preview Thursday. Most of the opening parties take place on Thursday.
Gaia – Flowers Gifts Art 4 E. Charleston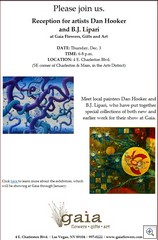 Gaia features paintings by Dan Hooker in our flower shop, as well as an exhibit of mixed media works by B.J. Lipari in our tea lounge. A reception for Dan and B.J. will take place at Gaia during Preview Thursday, 6-8 p.m. Dec. 3.
During First Friday Las Vegas at Gaia, Susanna Brent will be playing with fire! Using her torch, the local jewelry maker will give a dramatic demonstration of her torch techniques. Susanna will also be showing her latest line and talking to visitors about the environmental impact of the jewelry industry. This is a must-attend event for anyone who loves both jewelry and the Earth.
Phenomenal Photography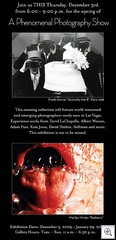 Brett Wesley Gallery – Casino Center At Charleston
This amazing collection will feature world renowned and emerging photographers rarely seen in Las Vegas. Experience works from David LaChapelle, Albert Watson, Adam Fuss, Kim Joon, David Drebin, Stillmand and More.
Brett says this exhibition is not to be missed!
The opening is during Preview Thursday 6 to 10 pm.
A small glimse of the show is here.
Exhibition Dates: December 3rd thru January 29th. 11am to 6:30 Tuesday Thru Sunday. And First Friday and Preview Thursday.
Your Future Starts Here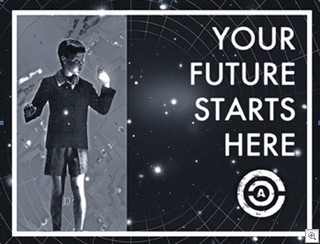 Contemporary Arts Center – In the Arts Factory
This exhibit will showcase the lives, work, and experiences of artists who were once members and primarily involved during the "Golden Age," of CAC. The exhibit will highlight the CAC's influence on the careers of artists and the beneficial impact the artists had on the CAC.
By presenting the work of CAC members and founders the exhibit seeks to provoke inspiration and inform Las Vegas of the importance of the CAC as a community based organization. The works and deeds of the exhibitors continue to have a great impact on the present and future careers of artists. Their efforts and successes have made a great contribution to the Contemporary Arts Center and the Las Vegas Art Community. For a list of Artists and about the CAC, click here. Opening Reception during Preview Thursday.
NO VACANCIES
This one's a mystery. Atomic Todd has something extra special hidden behind the rolladens. 1217 S. Main Street. The big reveal happens from 6:15 to 6:20 pm. during First Friday. Quoting from the invite:
Alios announces the arrival of our holiday window. The grand reveal will occur at 6:15 with the raising of the Rolladen door.

In the spirit of the holiday windows of Marshall Fields in Chicago and the beauty of the Lights of Las Vegas…

Alios presents NO VACANCY
ALL FIRST FRIDAY EVENTS
As usual, here's the link for all the events, venues, and music lineup for First Friday in the Downtown Las Vegas Arts District
Holiday Toy Drive At The Arts Factory
The good folks from Olive Crest are running a toy drive for abused and at risk children from low income families in Las Vegas. Donation boxes here at the Arts Factory and we hope our visitors will fill them with toys which will be distributed before the Christmas/Kwanzaa/Chanukkah holidays. This community event which will directly benefit Las Vegan families of all denominations and the toys will be distributed through the "Lark Williams Toy Drive" event and to several youth centers around the city. The boxes will be all around the building for next few weeks.
Posted by Jack LeVine | Currently Comments Off on First Friday And Preview Thursday In The Downtown Las Vegas Arts District
November 9th, 2009 Categories: First Friday
The weather couldn't have been better! I'd worn a jacket, and wish I hadn't…..it was that nice. I feel like a actually took a Staycation. I know many of you took advantage of an event filled weekend, since I ran into dozens of readers and friends along the way.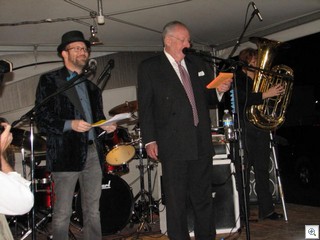 The evening started with hysterically bad Haiku from the Mayor and Dayvid Figler, as part of the Vegas Valley Book Festival's "Sin City Sonneteer Spectacle"
I picked up a great little skinny red and black tie – at Fifi's "Tie One On" display at Retro Vegas on Main Street. Fifi tells me that it was so popular, that she's leaving it there all month, and may even expand it and leave it there forever. Not sure why I didn't take any pictures of the rack of fabulous ties, scarves and gloves from the 20's to the 70's.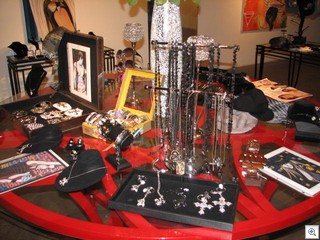 We discovered a great little shop next door to Retro Vegas called Glam Gallery. It features all kinds of blingy accessories.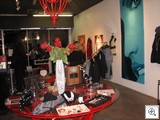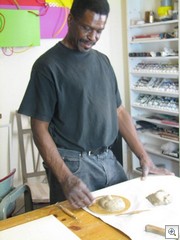 The Southern Nevada Center For The Arts (which has moved from Neonopolis to 3rd Street at California) is quickly getting their act together. There's about 20 artist represented now. I was fascinated watching Ruel James. He's a remarkably talented clay sculpturer. He's permanantly set up there now.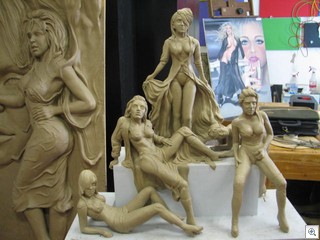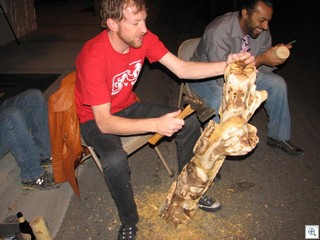 Tiki carving at the outdoor festival.
No fences, no baracades, no problems. Just people strolling thru the streets!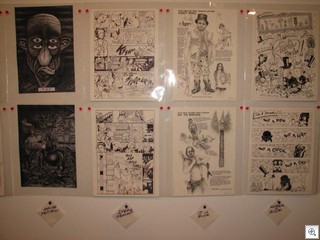 DRUNK! at Atomic Todd on Mainstreet. Drunk is a collaborative effort hard-cover comic book that's just been published by mostly local artists. I picked up my copy and met some of the author/artists at the Comic Book Festival on Saturday.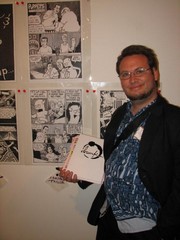 You can get a copy at Atomic Todd's Gallery on Main Street. There's snipets of the book on the walls. A comic book about drunks is both sad and hysterical. Our friend and View writer Andy Taylor is on of the collaborators.
Kristen Peterson reviewed it in the Las Vegas Sun this last July.
And, naturally, they have a website for it called Vegas Drunk.
And a Youtube video. You'll want to turn your volume down a bit, as the music is most fitting for a late night drinking binge at the Beauty Bar!
Oh what the heck, I'll keep you on the page and embed it for you.
There's more to come in Part 2 as we visit the newly re-invigorated Holsum Lofts, The Vegas Valley Book Festival, and a Saturday Night jaunt on Fremont Street!
Posted by Jack LeVine | Currently Comments Off on Random Notes And Pictures From First Friday, The Book Festival, and Fremont Street – Part One
October 13th, 2009 Categories: First Friday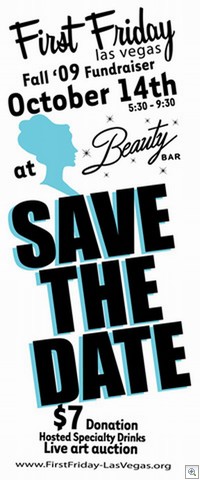 These are great events that raise money to keep First Friday alive.
Hosted specialty drinks, Silent Auction, Live Auction, and the opportunity to meet just about everyone from the Downtown Las Vegas Arts Scene.
We hope you'll come out an join us, or donations are gladly accepted thru the First Friday website.
That's where you'll also find all the items to be in both the silent auction and the live auction.
WHAT: First Friday Las Vegas Fundraiser
WHEN: Wed, Oct 14, 5:30pm-9:30pm
WHERE: Beauty Bar, East Fremont St., Downtown
WHY: To support your favorite monthly arts event and have a great time!
$7 entry
Free signature cocktails
Silent Auction
Live Auction–Nate Tannenbaum and Ginger Bruner
ART, Dinners, Shows, Spas, Gift Baskets, Hotels……
DJ's–DJ Style, Ladyfingers and John Doe
Henna tattoos
Tarot Master–Locq N. Fortune reading cards
PLEASE RSVP TO THIS EVENT [email protected] or on the event facebook page.
Posted by Jack LeVine | Currently Comments Off on First Friday Fundraiser At The Beauty Bar
September 1st, 2009 Categories: Arts District, First Friday
Facebook friend Ryan Reason compiled a list of all the happening Thursday and Friday at the Arts Factory. It's a real long list and I think you'd have to be a member of The Arts Factory Las Vegas group to actually see it on FB.
Preview Thursday has a different energy that First Friday. Smaller crowds, serious art lovers, and actually – better free food and wine – but don't tell anyone.
Here's Ryan's Compilation:
Lot's of excitement around the Arts Factory as everyone preps for this coming Preview Thursday and First Friday. New galleries are opening and new collections are going up on every available wall space.
Preview Thursday has really taken off over the last few months, and this September's Preview Thursday has some special things in store you won't want to miss. Here's what's happening at the Arts Factory this week:
Art Tech Gallery
Studio #235
Eric Belanger commemorates the opening of his studio in the Arts Factory with a gala celebration on Preview Thursday 6pm – 10pm.
Refreshments courtesy of Kona Grille
Music by DJ B Breaks.
Open every Preview Thursday and First Friday, 6pm – 10pm
702.595.3503
[email protected]
http://www.arttechlv.com
Laura Henkel Fine Art
Studio #100
Featuring: "The Naked Line"
by Francois Dubeau
François Dubeau's work is born of a fascination with the unbridled creative energy and movement, which is often found primarily in a sketch.Every other element has been discarded, even color,leaving nothing butblack lines, which allows exploration by the observer to imagine within their own subjectivity in order to fill in the blanks. Each drawing starts from a random stroke of the pen, observed from all angles to become the spark that feeds the rest of the graphic composition. Dubeau leaves a lot of open space and ambiguity in his drawings to suggest a balance between the visible and the invisible, the defined and the undefined, black and white, l'avoué etl'inavouable.
Open Monday – Friday, 11am – 2pm
Open every Preview Thursday and First Friday, 6pm – 10pm
702.952.9656
Valentino's Zootsuit Connection
Studio #135
On Preview Thursday Valentino's Zootsuit Connection will be hosting "Mr. Coffeelicious" from Chicago, who will be serving samples of organic gold coffee and organic green tea. Also available will be wellness products from the world's leading brand of 100% certified organic ganoderma, for a healthier you.
Stop by and check out Las Vegas's oldest vintage clothing store featuring uptown apparel for men and women. Wearable art clothing spanning the eras from the 1900's to the 1980's. "For the cool in you."
Open Monday – Saturday, 11am – 5pm
Open every Preview Thursday and First Friday, 6pm – 10pm
702.383.9555
[email protected]connection.com
http://www.valentinoszootsuitconnection.com/
Trifecta Gallery
Studio #160
Featuring the works of:
Sush Machida Gaikotsu and Brian Porray
Two Painters at different stages in their careers. Both UNLV graduates, one winding up his Masters Degree and the other in the throes of success after receiving his in 2002. Helping each other over the course of several years, the two artists form an exhibition with similarities at first look. Upon exploring, you will see the creative differences in how a similar experience can show contrasting results.
Open Monday – Friday, 11am – 2pm
Open every Preview Thursday and First Friday, 6pm – 10pm
702-366-7001
[email protected]
http://www.trifectagallery.com
Joseph Watson Gallery
Studio #115
This month the Joseph Watson Gallery will be featuring pieces from San Diego Artist Franz Borowitz, as well as new pieces in the Joseph Watson collection.
Open every Preview Thursday and First Friday, 6pm – 10pm
Host: Joseph & Tamara Watson
For an appointment or more info: 858-733-2135
[email protected]
http://www.josephwatsoncollection.com
peaceNart Studio
Studio #230
This month features the Textured Visions of Erika Allison
and the Alexander Huerta collection
Open Monday – Friday, 12pm – 5pm
Open every Preview Thursday and First Friday, 6pm – 10pm
http://www.myspace.com/artsoul
http://www.erikaallison.com
8M Gallery
Studio #205
Featuring the Art of Ken Boe, Olivier Peltier and Dar Freeland
American Artist, Ken Boe – "The Teapot Series" – Oil on Canvas
French Artist, Olivier Peltier – "The Imaginary Lands of Olivier Peltier" – Mixed Media
American Artist, Dar Freeland – "Alchemy" Fine Art Watercolors
Open every Preview Thursday and First Friday, 6pm – 10pm
702-366-9077
[email protected]
Green Outlet
Featuring vendors and information on the Arts Factory back patio.
This month's theme is Back To School, highlighting reused and recycled products.
Connecting People, Planet and Products through internet television and events.
702.845.9599
[email protected]
http://www.goinggreen.com
Red Giant Gallery Presents:
Group Therapy Las Vegas:
"Traditional Values"
A group art show of 36 local tattoo artists honoring the traditions and fundamentals of old school American tattooing. Works will be displayed thru Sept 25th.
Group Therapy Las Vegas is a non profit organization dedicated to showcase the artistic talent for the tattoo community while raising funds for children's charities through continuous cultural event and projects. By showcasing the diverse art of the Tattoo community we will raise the awareness of their true artistic genius while generating resources that make a significant difference in our community and children in need.
Office: 702.287.0044
mailto: [email protected]m
mailto: [email protected]
http://www.grouptherapylv.com
http://www.facebook.com/home.php#/group.php?gid=85535039697
White Dwarf Gallery is now
Le Mur
Featuring random sketches by artist H.D. Clark
Northern Lights Gallery
Featuring "Nature Series" by Kimberly Cockrum
Inspired by the natural world, this collection is a display of bright colors, strong contrast, and heavy textures in acrylic paints.
http://www.kimberlycockrum.com
Posted by Jack LeVine | Currently Comments Off on The Arts Factory Is The Centerpiece Of First Friday and Preview Thursday in The Downtown Las Vegas Arts District
July 4th, 2009 Categories: First Friday
I'm wishing all of you a safe and fun 4th of July.
We started our weekend off last night at First Friday, then Fremont Street Experience for "Big Brother and the Holding Company, and then Don't Tell Mama and the Downtown Cocktail Room.
I may just stay home tonight to keep the dogs from going insane when the fireworks start.
Here's some pictures from Friday Night's Events.
First Friday:
Ripper Jordan at Trifecta Gallery in the Arts Factory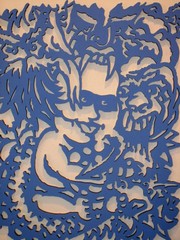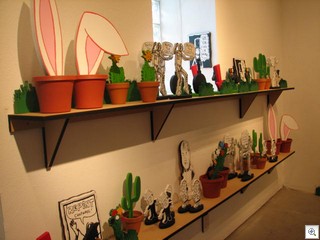 Going Green at the Arts factory. Emphasizing Alternative Transportation. Lot's of info on Ace Transit Line, home energy savings etc.
Gaia Flowers at 4 E. Charleston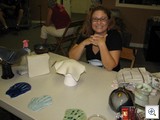 Janis Joplin's Original Band "Big Brother and The Holding Company".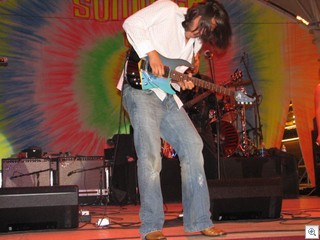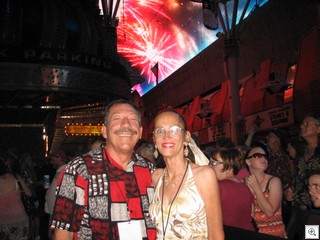 Posted by Jack LeVine | Currently Comments Off on Happy (And SAFE) 4th Of July Wishes
June 4th, 2009 Categories: First Friday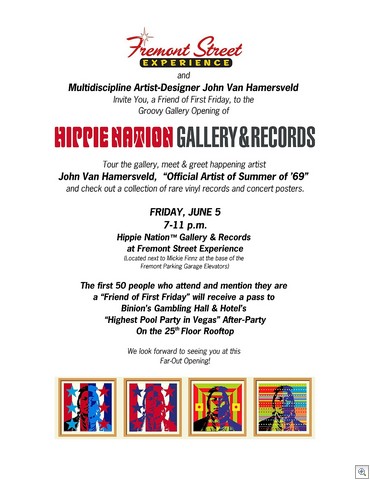 Another fabulous addition to the Summer Of '69: Vegas or Bust which is a nightly trip down Hippie Lane at the Fremont Street Experience in beautiful Downtown Las Vegas.
John Van Hamersveld, the "Official Artist of Summer of '69" has opened his gallery and record store on the ground level of FSE parking garage next to Mickie Finn's.
The grand opening meet and greet is happening as part of First Friday. Friday June 5, 7–10pm.
Here's the official description from the press release:
Fremont Street Experience and John Van Hamersveld, the "Official Artist of Summer of '69" host the unveiling of Hippie Nation™ Gallery & Records to the public on Friday, June 5.

Guests are invited to tour the gallery of the famed artist, which features various works of art including concert posters and a collection of rare vinyl records.

The Hippie Nation™ Gallery & Records opening is part of Fremont Street Experience's "Summer of '69: Vegas or Bust" concert and event series that takes Las Vegas back 40 years this summer in celebration of 1969. The summer-long celebration runs through Labor Day weekend. The gallery will be open by appointment only throughout the summer in conjunction to "Summer of '69: Vegas or Bust."
While you're there, check out the 200+ 50's and 60's autos that are on display. The public votes for best of show from Friday thru Sunday.
Posted by Jack LeVine | Currently 2 Comments »
June 4th, 2009 Categories: First Friday
It's First Friday!
It's First Thursday Preview of First Friday!
It's the summer of 69: Vegas or Bust CRUISING weekend – 200 pre 1970 cars on display at Fremont Street Experience. FREE
It's "Rare Earth" in concert – FREE Saturday Night 9pm
It's "Bill Haley's Comets" in concert – FREE Saturday Night 9pm
There's live music from one end of Fremont to the other!
Posted by Jack LeVine | Currently Comments Off on Another Fun Filled Weekend In Vintage Vegas
March 6th, 2009 Categories: ART, Arts District, First Friday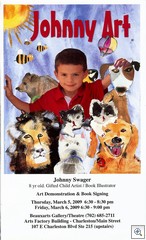 8 year old gifted child artist, Johnny Swager is doing a demonstration and book signing TONIGHT ONLY during the First Friday Extravaganza.
He'll be at the Beauxarts Gallery/Theatre in the upper level of the Arts Factory.
I found his work quite fun. I think you will also.
At his publisher's website, I found the following blurb about his book, which is called "Johnny Art – the Art of Johnny Swager"
Johnny Art is about the life and art-making of seven year old Johnny Swager. Johnny is an extremely gifted boy who is not intimidated by any subject. His work exhibits a confidence rarely seen in children and a freshness that only a child can bring to the canvas. Collectors, art teachers, and critics are captivated with Johnny's ability to render subjects with such maturity and painterly skills.
Posted by Jack LeVine | Currently Comments Off on "Johnny Art" TONIGHT Only At Beauxarts Gallery
March 4th, 2009 Categories: Arts District, First Friday
I don't think I've ever mentioned strip clubs before, but Olympic Gardens, now known simply as OG on Las Vegas Blvd at Oakey is having an open bar and on Thursday night from 5–7 pm to celebrate their anniversary.
OG says they're having His Honor, Mayor Oscar Goodman, as well as Actor James Caan and Comedian Vinnie Favorito as special guests.
I've never been to a stip club, but free drinks are free drinks.
Then, of course we'll be headed to the First Thursday Preview from 6 to 9 at most of the venues that will ALL be open on First Friday.
Of Special note on Thursday will be the 7pm announcement of the winners of the Juried Show which is on display at the Contemporary Arts Center in the Arts Factory.
Saturday night is the PEDALPHILES bicycle bar crawl thru downtown. I heard a rumor that one of the stops this Saturday will be at the new "Don't Tell Mama" piano bar at 517 Fremont. I was there last Saturday and had a hoot. Meet up at the back of the Arts Factory at 6:45pm. Bring your bike and spending money. LOTS OF FUN!
(I'll plug in the links later, but I wanted to get some reminders up on the blog before I ran out to show some homes).
Posted by Jack LeVine | Currently Comments Off on Olympic Garden 20th Anniversary Party And Lots Of Music, Art and Entertainment This Week
January 1st, 2009 Categories: Downtown Las Vegas, First Friday
I usually remind you all about First Friday, The Downtown Las Vegas Arts and Music Festival which is always on the First Friday of the Month. It's Centered on the corner of Main and Charleston in Downtown Las Vegas.
This month, the Downtown Las Vegas Street festival is on January 2nd from 6pm to 10pm.
I've taken the liberty of providing the complete run down of galleries, music, exhibits and events that you can see and experience at First Friday in the Downtown Las Vegas Arts District, instead of just linking to it.
JANUARY First Friday be sure to bundle up as it may be chilly this month. You'll want to check out the live tiki carving at Casino Center and California by Charles Christians and Matthew Dittember . We will be hosting more than 50 artists on the street (including the Outdoor Exhibition Spaces) and in the gallery spaces within the outdoor festival area on Casino Center Blvd. and Colorado Ave. The Outdoor Exhibition Spaces are being curated by Enrique Nevarez (see below). New exhibits opening elsewhere include Jerome Barkley at City of the World and Jeff Britton showing at Trifecta Gallery in the Arts Factory.
To MAKE A TAX DEDUCTIBLE DONATION TO FIRST FRIDAY just click: http://www.firstfriday-lasvegas.org/fundraise.html
We have a minimal $2 entry fee at the gates to the outdoor festival (children twelve and under free when accompanied by an adult). All of the entry fees go to support the First Friday arts event with more artists and live performance. This also allows us to continue to pay for all of the necessary infrastructure for an event that has grown as First Friday has. Each month we pay for trolleys, barricading, Artist Outdoor Exhibition Spaces, stages and supporting equipment, porta-potties, tables and chairs, power and technicians for the event, security, police, safety (ambulance, EMT's etc.), set up and clean up crews and more! All of these things are done to enhance the experience for our visitors and to continue to give artists in the Las Vegas community the opportunity to show their work to a large and diverse audience.
El Cortez/First Friday Express Trolley

The El Cortez Hotel & Casino joined with First Friday and is sponsoring an Express Trolley. The trolley will take patrons from the El Cortez, 600 East Fremont Street at the Cortez Garden Gateway (with 1,200 free parking spaces in the garage and also valet) to the Main Street and Colorado Trolley Stop at First Friday (and back again). The bus will run from 6:00 p.m.(starting at the El Cortez) until 10:00 p.m. with the last First Friday stop at approximately 9:30 p.m. Take advantage of the convenient parking and avoid traffic after the event. You can also enjoy the Entertainment District's First Friday after parties when you arrive back at the El Cortez.
DISCOUNTS

This First Friday, the 'i love First Friday 2!' sticker will be redeemable at Big Island Smoothies ( 2 for 1 smoothies), located at 1516 Las Vegas Blvd. S., next to Dino's Lounge. For the best Mexican food around try La Cabana located at 526 S. Martin Luther King Blvd., $2 off any entree. The sticker is valid throughout January 2009! For info WWW.PARADISELOUNGELV.COM

OUTDOOR FESTIVAL INFO

Buy a Best Friend of First Friday card and get free entry for one year ($25). The outdoor festival can be entered just south of Charleston on Casino Center Blvd.; just east of Main on California and just east of Main on Colorado Blvd. The Friends of First Friday Information Table in the outdoor festival is in front of The Funk House on the corner of Colorado and Casino Center. Don't forget to pick up your VIP pass to Vegas' arts scene, the Friends of First Friday membership card, which offers discounts at First Friday-friendly vendors throughout the Las Vegas Valley, purchasing a Best Friend of First Friday card (dated 3/15/08 or later) now also gains you entry to First Friday events for one year from date of card purchase. Children under 12 are free when accompanied by an adult. To see the list of participating vendors, visit the FoFF page ( http://www.firstfriday-lasvegas.org/foff.html ). The Information Table (located in front of The Funk House) provides information for visitors to First Friday. We also have special "I 'heart' First Friday" t-shirts available for just $15 at the Friends of First Friday Information Table. Within the gated outdoor festival area there are NO DOGS, skateboards, hacky sacks or bikes. City ordinance requires no glass bottles or cans! All of these rules are for everyone's safety and comfort.

Outdoor Artists Exhibition Spaces

First Friday Outdoor Exhibition spaces featuring art work by Brandon Lin, Miriam Krasner, Ashley Jacobson, Marie Grujiciic, Paul Tokarski, Juan Muniz (Frijol Boy), Lilith Travaglini, Leslie Ann Farrel, Enrique Nevarez, Autumn McGrath Luis Martinez and Lisa Atkins. Provided free-of-charge to selected artists, the Outdoor Exhibition Spaces give creators of a variety of disciplines the opportunity to showcase their latest works in the heart of the popular First Friday festival grounds. Artists can apply at [email protected].

Live Entertainment

The LAND ROVER STAGE:
Hedwig and the Angry Inch excerpts
The Day After (Indy Rock)
Neon Facade
Ministry of Love
DJ Vajayjay (will spin between bands)
California and Casino Center
Live Tiki carving demonstration by Charles Christians and Matthew Dittember

Break dancers provide more entertainment on Colorado near Main St.

Outdoor Festival Food and Beverage

Dino's continues to offer libations of all kinds. Fabulous tacos by La Cabana. Be sure to get your sweets from the Kabob Hut. Also, Whirlygig, the non-profit producer of FF, has their official water and soda booth (on Casino Center & Colorado) with all proceeds benefiting First Friday. Quench your thirst and support FF at the same time! www.whirlygiglasvegas.org.

AFTER THE JUMP YOU'LL FIND ALL THE GALLERIES, RESTAURANTS, BARS AND OTHER VENUES
Posted by Jack LeVine | Currently 2 Comments »
December 12th, 2008 Categories: First Friday
I found some great video for all of you. Even those of us who are regulars never seem to get to see all that there is. I'm always encouraging you to go have a great time on First Fridays, but the truth is that The Downtown Las Vegas Arts District is open all week. It's even fun to look when there isn't a huge crowd.
Even more important, is that all of these galleries and artist spaces and studios have the ART FOR SALE all thru the week. In fact, almost uniformly, they tell me that First Friday primarily serves them as a way to introduce the art, but that that when something SELLS, it happens during the week.
The SinCityArtGroup seems to have found a way to capture the essence of the First Friday event in 3 minute videos. I try to report with still photos, but they don't do it the way video does. For example I've probably taken 200 photos of the break dancer kids over the years and have never ended up with a shot that accurately portrays their amazing perfomances. This video tells it all in about a 5 second clip.

First Friday Las Vegas December 2008 Video from funkaruck on Vimeo
First Friday Las Vegas November – SinCityArtGroup from funkaruck on Vimeo.
I hope they plan on doing a new video every month about First Friday and the downtown Las Vegas Arts District.
Posted by Jack LeVine | Currently 1 Comment »