Fremont St. Topics
Welcome To Uncle Jack's Very Vintage Vegas!
Vintage Las Vegas Homes,
Historic Las Vegas Neighborhoods,
Las Vegas History,
Urban Living In Las Vegas.
If it's great, cool, fantastic, artistic, annoying, amusing, unique, or surprising.. you'll find it at VeryVintageVegas.com.
Check out what we're doing and add your two cents! Your comments & ideas are welcome. We update daily, so come back tomorrow!
Blogroll
Farmer's Insurance
Paul Hesselgesser
702-434-1230
The Hesselgesser Insurance Agency Website
Classic Las Vegas - Lynn Zook's Preservation of 20th Century Las Vegas
Curbed LA - WOW!
Mid-Century Modernist
RETRO RENOVATION - Pam's Excellent Effort At Re-creating A Retro Life
Carnival Of Real Estate - Minus Elephant Ears, But Still Mighty Tasty
Lotta Livin' - A Celebration Of Really Cool Things Mid Century
Bawld Guy Talking - Minus The Hair; Plenty Insightful
CoolnessIsTimeles - ALL "RAT PACK" ALL THE TIME!
SEE ALL OUR FAVORITES HERE

Fremont St.
March 10th, 2009 Categories: Downtown Las Vegas, Fremont East Entertainment District, Fremont St.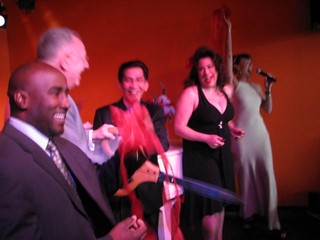 Last night was the grand opening party. Mayor Goodman and Councilman Ricky Barlow were on hand to do the ribbon cutting honors.
The Owner, Ming, in the center, operated the original (and still going strong) Don't Tell Mama in New York City, for many years. It's been a huge success there.
The newly open Las Vegas version is destined to be the new Downtown Las Vegas hotspot for everyone who isn't into Techno/HipHop/BoomBoomBoom music.
There's more pictures on my Facebook Page, (you'll have to log in) but you can tell we were having a great time just from these!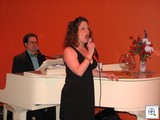 Don't Tell Mama is at 517 Fremont Street in the Fremont East Entertainment District of Downtown Las Vegas
Posted by Jack LeVine | Currently Comments Off on Don't Tell Mama Grand Opening In Fremont Street Entertainment District Of Downtown Las Vegas
March 6th, 2008 Categories: Events, First Friday, Fremont St.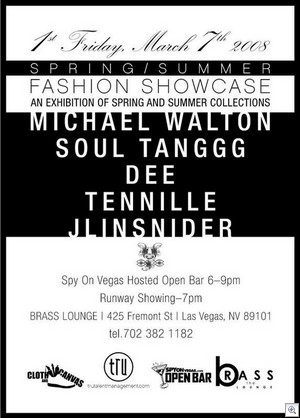 Where: Brass Lounge, Fremont & Las Vegas Blvd. Upstairs at Hennessey's Tavern to the left of the escalators.
When: 6–9pm, Friday March 7th.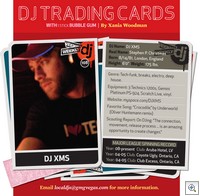 Who: Tru Talent Management, some amazing local designers & models. Music by Dj Dakota and Dj XMS
What: Hosted drinks from 6–9 compliments of 944 Magazine & Spy on Vegas. Fashion show from 7–7:45–ish, music starts at 6 and will continue in a dancable fashion 'til 9 pm. Yes, that's a shameless plug up there, but at least there's free drinks!
Posted by Stephen P Christmas | Currently Comments Off on The Skinny On First Friday's 944 Hosted Bar/Fashion Show
November 21st, 2007 Categories: Downtown Las Vegas, Fremont St., Las Vegas History
By Brian Paco Alvarez
As a curator and urban historian I am constantly looking up new sources of information about my native home. As Steve and Jack can tell you Paco has books. I have a library of over 1000 volumes and it is increasing with every paycheck. Though some say you are not well read until you have read at least 10,000 books I am well on my way.
For those of you who have recently moved to Vintage Vegas I have compiled a few great books and reviews to help you learn about your new home and the community you live in and yes, Las Vegas has history!
Happy readings!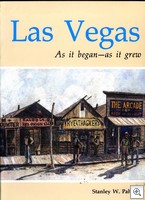 Las Vegas – As it Began as it Grew
By Stanley W. Paher
Nevada Publications
1971
This is by far the quintessential history of Las Vegas from the very beginning. Any student of Las Vegas history must read this treatise. I was introduced to this book in my early years at UNLV. Stanley Paher who resides in Reno, was the first author to publish about Las Vegas. The book is filled with fascinating history and great illustrations by one of Las Vegas' great artists Roy Purcell.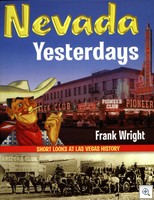 Nevada Yesterdays – Short Looks at Las Vegas History
By Frank Wright
Stephens Press
2005
Frank Wright was the Curator of Education at the Nevada State Museum and Historical Society for over 30 years. His passion for history permeates this book and I am sure you will enjoy it. Frank was one of my mentors when I was at UNLV. He passed from the dimension on April 25, 2003. He is survived by his widow Dorothy Wright who also has a passion for history and completed the book for Frank. Dorothy is on the board of the Neon Museum.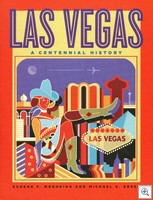 Las Vegas – A Centennial History
By Eugene Moering and Michael Green
University of Nevada Press
2005
Written by two of Las Vegas' most eminent historians this book traces the history of Las Vegas from the days of the Paiutes to the history of the Strip and beyond. Completed just in time for Las Vegas' centennial its candid approach to our community's history makes it an easy read and very entertaining.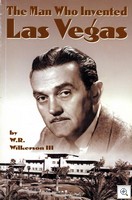 The Man Who Invented Las Vegas – The Story of Billy Wilkerson
By William R. Wilkerson III
Ciro's Books
2000
If many of you still believe that Bugsy Siegel invented Las Vegas you are absolutely, unequivocally mistaken. The truth of the matter is that modern Las Vegas was really the brain child of Billy Wilkerson of Los Angeles. Unfortunately popular belief still attributes the Flamingo Hotel with Bugsy. Yes Bugsy was involved with the Flamingo but not before he literally stole the project from Wilkerson. This book written by Wilkerson's son explains the truth behind his father in a heartfelt story of the enormous accomplishments his father did in Los Angeles and beyond.
By Robert Venturi, Denise Scott Brown and Steve Izenour
The MIT Press – Massachusetts Institute of Technology
1972
For those interested in Las Vegas architecture this is the book for you. It was the very first complete study of Las Vegas architecture undertaken by a team of Architects and graduate student from Yale University. It traces back the history of roadside architecture and how Las Vegas exploited this vernacular to create the palaces that we see today on the world Famous Strip.
– Huge thanks, once again to an amazing cultural/urban/historical asset to our blog & great friend, Mr. Brian Paco Alvarez!  We've added links to amazon.com for each book should you wish to attempt catching up with the Paco Library (It's huge, I've seen it). ~Steve
Posted by Stephen P Christmas | Currently Comments Off on Learning from Las Vegas and About Las Vegas…
November 9th, 2007 Categories: Architecture, Cool Stuff, Events, Fremont St., Historic Preservation, Mid Century Modern, Moonlight Mid Mod Bus Tour
Moonlight Bus Tour Of Mid Mod Las Vegas – Part 6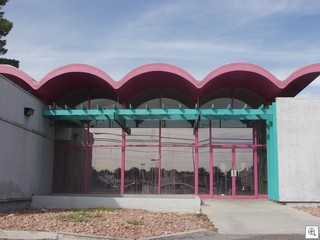 After a surprise midnite cocktail party at the "Caddy Shack", MaryMargaret's fantastic Paradise Palms time capsule of mid century modernism, we headed over to Sahara Ave. MM pointed out a building the preservationists are trying to save. So far, the current owner has agreed to build onto the existing structure to create his new strip mall. Hopefully, he'll make the new parts match the historic mid mod building.
Lower Fremont Street, before it becomes Boulder Highway, holds several examples of the "space age" architecture that was common in Mid Century Modern commercial buildings.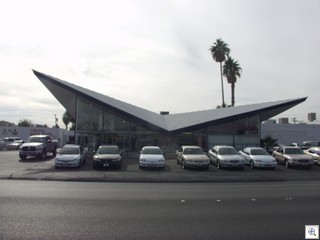 This is the Findley Auto Dealership. I'm reminded of a bank building back in Columbus, Ohio, which I thought was so cool when I was a little kid. My brother's going to take a picture of it and send it to me. Watch for it, I'll do a post on it the minute I get it it.
Many buildings like this and the Concha Motel Lobby dotted Fremont, Boulder, Charleston, Sahara and Las Vegas Blvd. All too many are now lost to the bulldozer. Fortunately, the La Concha has been saved and sits in storage awaiting it's new life as the the new home of the Neon Museum.
PS: The best way to ever get to see MaryMargaret's "CaddyShack" is to join the Atomic Age Alliance, and get involved in our efforts to save historic Las Vegas Architecture.
Posted by Jack LeVine | Currently 1 Comment »
October 21st, 2007 Categories: Citizens Leadership Academy, Downtown Businesses, Downtown Las Vegas, Fremont St., Las Vegas Real Estate News
Saturday Morning was the last field trip of the Citizens Leadership Academy. We were led by Scott Adams, the Director of the Las Vegas Redevelopment Agency. The RDA is charged with recruiting new business and development into the downtown.
Our bus trip took us thru the Arts District, Union Park, The New Fremont East Entertainment District, sites of various existing, planned, under construction, and wishful thinking high rise condos, the REI Stadium Project, and many of the 160 different projects that are on the books.
There's a lot of new jobs coming to downtown as a result of these projects. The Brain Center, the Cancer Center, The Water District and Water Authority, The expansion of the outlet mall, A new city hall, Lady Luck and 3rd Street are back on track with new owners, 15 new venues on the books for Fremont East, and maybe even a grocery store!
New jobs, bring new people, and living close to work and eliminating both the time and gas of the long commute is also a driving force that will help with the restoration of our Vintage Urban Core neighborhoods. Of course, it's their job to give us the good news, and the only project that he didn't sound thrilled with was the REI Stadium, which made me very happy to hear.
Of course, I know several of the 90 parcel owners within the REI boundaries, and they all seem to have mixed feelings. Yes they want to get their 7 million an acre, but also feel it won't be good for the arts district. A project like that pushes the value of all downtown land to the point that only an MGM or Harrah's or similar size organization will ever be able to use it. They won't be building the 4 or 5 story boutique and affordable loft and apartment type projects with ground floor cafes, shops and galleries that I always envisioned for the area. Time will tell, whether REI can pull off their dream without taking down the arts district in the process.
My dream has always been housing for hip, fun urban dwellers. NOT tourist hotel rooms, and creating a whole new leg for the strip was certainly not part of my dream.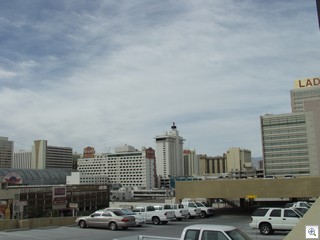 Las Vegas Redevelopment Agency Has Many Tools To Help Us Keep Up With Rebirth of Downtown Las Vegas
The RDA has a great tool if you want to find out about all the different projects regardless of where they are in the development process. Check it out. It's fun and educational. Interactive Downtown Projects Map
Here's another tool I use a lot in preparing to meet with buyers and sellers, and to research all kinds of things. You're welcome to use it also. You can quickly zoom to any property, get the ownership and assessor information, see the birds eye view,get the parcel number etc. Interactive MAP OF LAS VEGAS It works for all 3 cities and unincorporated Clark County.
Posted by Jack LeVine | Currently Comments Off on Creating An Urban Core and Downtown That We Can Call Home
October 2nd, 2007 Categories: Downtown Las Vegas, Fremont St., Las Vegas History
Pioneer Club Postcard circa 1955 – (Courtesy of the Brian Paco Alvarez Postcard Collection)
By the end of World War II Las Vegas embarked on a nationwide public relations campaign that launched Las Vegas onto the national stage. In 1945, the Las Vegas Chamber of Commerce budgeted $75,000 for publicity and created the "Live Wire" fund. The "Live Wires" were members of the chamber in particular hotels and motels who agreed to contribute 1 to 5 percent of their gross annual incomes for promotion. The funds raised helped the chamber hire the renowned J. Walter Thompson Public Relations Agency, who conceived the Vegas Vic icon to help promote Las Vegas as the "New West." As a result from these earlier efforts the Las Vegas News Bureau, originally known as the Desert Sea News Bureau was created in 1949 as part of the chambers continued efforts to promote Las Vegas as a tourist destination after the war. News Bureau founder Maxwell Kelch, then president of the chamber, believed Las Vegas should be promoted as a product and the way to sell the product was to advertise it.
Throughout the 1950's Las Vegas photographers captured the enduring free spirit of Las Vegas through memorable news stunts. One of the best stunts was when Las Vegas News Bureau photographers would take images of tourists enjoying themselves in casinos or pool-side and then send the images to the visitors' home news papers to be printed. When the visitors arrived home after the vacation they would be made into instant celebrities. This was one of many types of stunts that took place, but these paled in comparison to the famed Cheesecake photography that became a staple of Las Vegas imagery.
Cheesecake refers to images taken of beautiful women in scantily clad costumes or bikinis' next to pools or various locations. During the 1950's Las Vegas was the cheesecake capital of the world. Thousands of images were taken of women wearing outlandish costumes to promote resorts, businesses and Las Vegas itself. The idea behind using cheesecake to promote Las Vegas was meant to capitalize on the "Fun in the Sun" concept.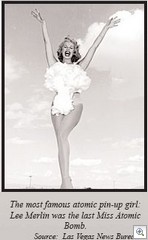 One of the most famous images from the Las Vegas News Bureau is Miss Atomic Bomb. This world famous image was taken by news bureau photographer Don English (1926-2006). Miss Atomic Bomb (Sands Copa Girl Lee Merlin) personified the Atomic Age and how Las Vegas used its fame as a one-stop place to view a mushroom cloud. From 1951 to 1962 atmospheric testing became routine for Southern Nevadans. Many people stayed up late or woke-up early just to see the flash of the blast, which lit up the night as bright at day. Many hotels downtown would take guests to the top floor to view the mushroom clouds rise above the Sheep Range.
Today Las Vegas News Bureau photographers are still following the traditions of the past and capturing memorable images to send to the wires. It's good to know that some things are still sacred in Las Vegas.
Brian Paco Alvarez
Posted by Stephen P Christmas | Currently 1 Comment »
September 30th, 2007 Categories: Cool Stuff, Downtown Businesses, Fremont St., Las Vegas History, Las Vegas Real Estate News, Mid Century Modern
If you drive along Fremont Street, East of Las Vegas Boulevard you will observe a collection of vintage motels and businesses that time forgot. These endangered properties are some of the last vestiges of mid-century road architecture left in Las Vegas.
For many years Fremont Street was the main drag for teenagers and young adults to cruise in their cars. Many longtime residents remember the days of cruising old Fremont. They would begin at the confluence of Fremont Street and Boulder Highway past the Blue Onion Drive-Up Café, now the site of the Blue Angel Motel, and head west towards the old Union Pacific Railroad Depot. This tradition continued until Fremont Street was converted into a pedestrian mall. Lower Fremont offers some of the oldest buildings still in existence in Las Vegas. Several small non-de-script buildings date back almost a century. One building in particular just east of the El Cortez parking garage, on the North Side of the street dates back to 1919.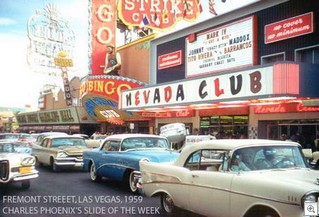 Along lower Fremont spectacular motels dot the landscape. Many of these classic structures are gravely endangered and already many of their signs have been painted over or outright destroyed by overzealous owners attempting to "spruce-up" the properties. The Alicia Motel is a prime example of property owners not realizing the value of these historic signs or the value of using a sign company to refurbish them. When I was curator of the Neon Museum we fought hard for the Lucky Motel sign on Fremont Street only to be out-flanked by a local magician wanting the sign to decorate his living room.
As you continue driving East on Fremont past Charleston, Fremont becomes Boulder Highway. Along boulder highway there is collection of mid-century buildings; motels like the Lucky Cuss and old auto dealerships can still be seen. The former Oldsmobile dealership with its winged roof line and the slanted oval roof of the Chrysler dealership are classic examples. These buildings are also in danger of being demolished. Sadly precedent has already been set in the area after the closing and subsequent demolition of the famed Green Shack. Luckily the original sign resides in the Neon Museum Boneyard. Enjoy the drive… -Brian Paco Alvarez
(note: Thank you so much to Brian for this reader contribution! Brian Paco Alvarez is the curator of the Las Vegas News Bureau, a life time resident of the Downtown Las Vegas area, a great friend, and in incredible resource for historical content, current events, and 'super-deep inside scoops' on everything Las Vegas. We hope to see a few minor metaphorical road blocks cleared up soon so you can read his amazing insights on a more regular basis! – Steve Christmas)
Photo Attribution to A Very Interesting blogger and modernist Charles Phoenix
Posted by Stephen P Christmas | Currently 1 Comment »