Glen Heather Topics
Welcome To Uncle Jack's Very Vintage Vegas!
Vintage Las Vegas Homes,
Historic Las Vegas Neighborhoods,
Las Vegas History,
Urban Living In Las Vegas.
If it's great, cool, fantastic, artistic, annoying, amusing, unique, or surprising.. you'll find it at VeryVintageVegas.com.
Check out what we're doing and add your two cents! Your comments & ideas are welcome. We update daily, so come back tomorrow!
Blogroll
Farmer's Insurance
Paul Hesselgesser
702-434-1230
The Hesselgesser Insurance Agency Website
Classic Las Vegas - Lynn Zook's Preservation of 20th Century Las Vegas
Curbed LA - WOW!
Mid-Century Modernist
RETRO RENOVATION - Pam's Excellent Effort At Re-creating A Retro Life
Carnival Of Real Estate - Minus Elephant Ears, But Still Mighty Tasty
Lotta Livin' - A Celebration Of Really Cool Things Mid Century
Bawld Guy Talking - Minus The Hair; Plenty Insightful
CoolnessIsTimeles - ALL "RAT PACK" ALL THE TIME!
SEE ALL OUR FAVORITES HERE

Glen Heather
March 8th, 2010 Categories: Glen Heather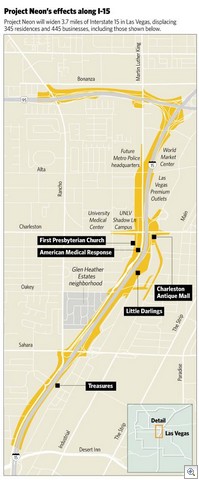 One of the great little neighborhoods in Vintage Vegas is Glen Heather. It's located in the Southeast corner of Rancho Drive and Oakey Avenue, just west of the I-15 freeway. Glen Heather can be accessed via side streets off of both Rancho and Oakey.
It's a charming neighborhood with a mixture of "Desert Modern" and "Ranch Modern" homes. All are on large lots and the entire neighborhood is dominated by huge trees. It's a remarkably stable neighborhood, and has had very few foreclosures over the last few years. There's currently only one home available (at $329k), and 4 in contract.
Some of the residents of Glen Heather are being threatened with an eminent domain taking for the I-15 Freeway expansion. The Project is called "Project Neon". The entire huge project includes widening of I-15 from the Spaghetti Bowl to Sahara, as well as a complete new interchange for Charleston. I'd stayed up to date on pending takings for the Charleston Blvd Intersection project which threatened some of the homes just south of Charleston and West of MLK, but wasn't aware till yesterday that Glen Heather was going to be impacted by the widening of I-15.
The Las Vegas Sun did a feature story yesterday about how the affected residents of Glen Heather are in limbo. Unlike efforts to expand casino and commercial districts into the historic neighborhoods, I don't think there's any way to stop a major public works project that will have such a huge impact on future traffic.
Posted by Jack LeVine | Currently 1 Comment »
July 21st, 2008 Categories: Fun Features Found In Foreclosures, Glen Heather
Yesterday, I announced the winner of the new "weekly best foreclosure deal" open house. I'll be holding it open on Tuesday July 22, from 3–6 pm.
The runner up, however, deserves some coverage and a plug as well. It's in Glen Heather, one of the other great mid mod neighborhoods at Oakey and Rancho.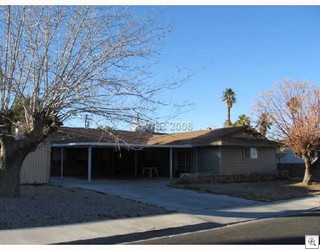 The address is 1900 Loch Lomond. Here's the link to the MLS, but it gives absolutely NO information about the house and only this one picture.
I didn't pick it because it's in too bad of a condition to meet the FHA "livability" standard, but there's plenty of reasons why I might have considered it, and that you might also, if you've got lots of cash for a big downpayment and for fixup costs once you own it.
For starters, it's only $180,500. BUT WAIT… THERE'S MORE!
The seller is offering a $3000. decorating allowance, not that you'd get real far with it.
It's 2246 square feet, but that includes the REALLY bad garage conversion. It was permitted, but it's really disfunctional, and unless you need the space, I think it would be better to put it back to a garage.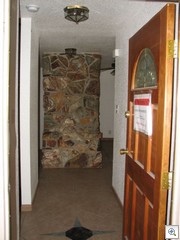 It does however have the stone fireplace wall and entry way wall that I showed before.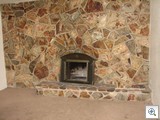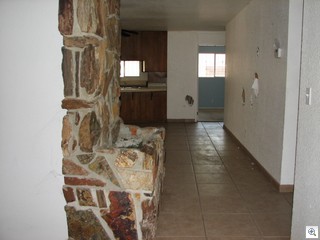 And it's got a lot of holes in the walls, that are easily repairable by anyone who knows how to do drywall.
There's more pictures below if you click on the "read the rest of the story" button.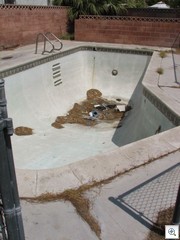 The swimming pool is empty, but appears to be salvageable.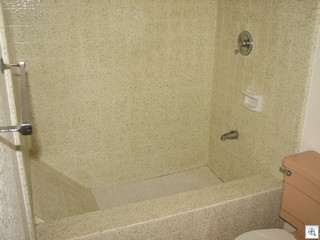 The bathrooms are a toss up as to whether to start over or to work with what's there. I really like the tile bathtubs in the master with it's built in back rest.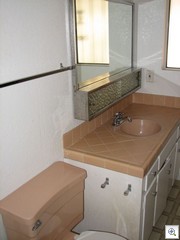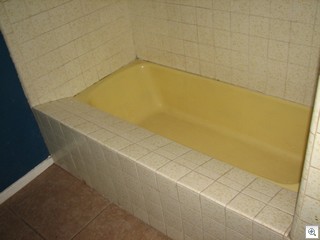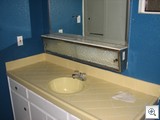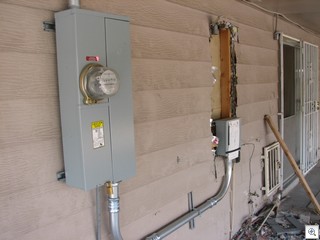 After the trustee sale that returned the property to the bank, someone changed out the main electric service panel, but no one finished buttoning things back up.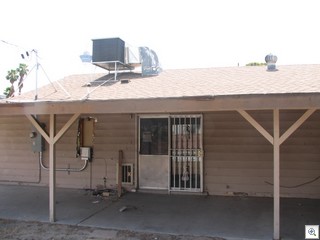 There's a huge patio cover that runs the full width of the house. The roof and Air Conditioner aren't all that old either.
All in all, if you can get financing, have the cash or credit cards to do the repairs and remodeling, and are looking for a serious project, this could well be the right house. If you'd like to see it, give me a call.
Posted by Jack LeVine | Currently 1 Comment »
January 23rd, 2008 Categories: Glen Heather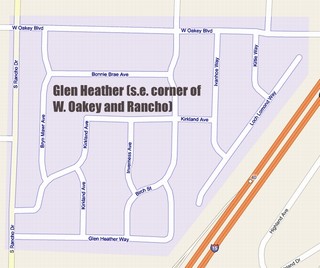 A little before Scotch 80's came another neighborhood at the South East corner of Oakey and Rancho. It was called Glen Heather. There's a big mix of styles, but the most impressive thing is the number and size of the trees. Huge evergreen abound, as well as lots of Mulberry, Olive and of course Palms of every type.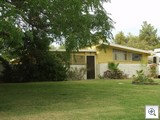 The earliest homes of the 204 total were built in 1955 and 1956. They were hard core mid-mod! I'm not sure what happened that no homes were built for the next 3 years, but there was a group built in 1959 and then another 3 year gap, and 1962 and 1963 they finished out then neighborhood.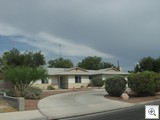 The later homes were mostly Cinderella Ranch, rambler ranches and regular ranches, instead of the earlier mid century modern. In the 70's and 80's we started to get the assorted add-ons, expansions, conversions and other things people have done over the years, just as in most of the Vintage Vegas Neighborhoods.

Always, they been considered the little brother of McNeil and the nearby distant nephew of the Scotch 80's. A few of the homes are severely noise challenged by the adjacent I-15, but most of the homes are as peaceful as you'd hope.
Posted by Jack LeVine | Currently 1 Comment »
October 16th, 2007 Categories: Glen Heather, Housing Styles, Mid Century Modern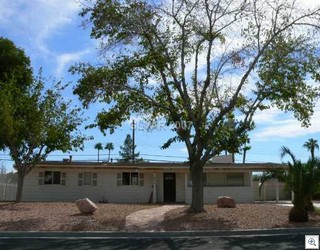 Besides that it's one of the mid-mods in Glen Heather, it was also a listing of mine about 10 years ago. The seller then had completely restored the home. It was stunning, very original, and full of funky cool vintage 50's furniture. We got 125,000 for it, which at the time was TOP TOP dollar for Glen Heather.
It's changed hands a few times along the way, and now it's a bank owned, beat up mess which qualifies it for the dump of the week. The Bank just lowered it's price by 20k to $268,500.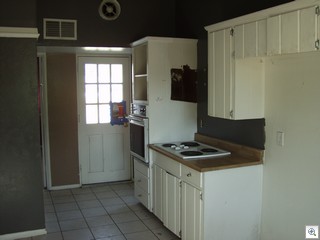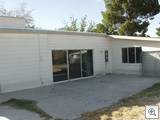 The lot is 10,000 sf, with good views of the stratosphere and the some of the strip, but it's far enough west to avoid any freeway noise.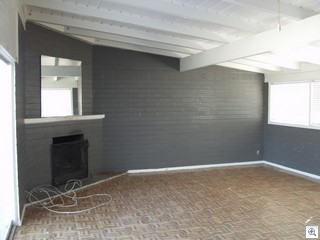 I'm also categorizing it as a "remodeling mishap" because somewhere in the last few years a new roof was put on it, and they used nails that were too long. Since it's an open beamed ceiling with tongue and groove planking, the nails poked thru the planks in several places.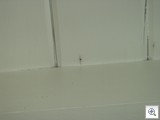 I'm sure it can be repaired and made right, but I'd pull the roof and make sure it doesn't happen again.
They also covered over the 2nd tier windows over the sliding doors. What were they thinking?
You can drive by it at 1704 Birch, or give me a call and I can show you the inside.
Posted by Jack LeVine | Currently Comments Off on A Multi Purpose Dump Of The Week – A Bank Owned REO In Glen Heather