Market Conditions Topics
Welcome To Uncle Jack's Very Vintage Vegas!
Vintage Las Vegas Homes,
Historic Las Vegas Neighborhoods,
Las Vegas History,
Urban Living In Las Vegas.
If it's great, cool, fantastic, artistic, annoying, amusing, unique, or surprising.. you'll find it at VeryVintageVegas.com.
Check out what we're doing and add your two cents! Your comments & ideas are welcome. We update daily, so come back tomorrow!
Blogroll
Farmer's Insurance
Paul Hesselgesser
702-434-1230
The Hesselgesser Insurance Agency Website
Classic Las Vegas - Lynn Zook's Preservation of 20th Century Las Vegas
Curbed LA - WOW!
Mid-Century Modernist
RETRO RENOVATION - Pam's Excellent Effort At Re-creating A Retro Life
Carnival Of Real Estate - Minus Elephant Ears, But Still Mighty Tasty
Lotta Livin' - A Celebration Of Really Cool Things Mid Century
Bawld Guy Talking - Minus The Hair; Plenty Insightful
CoolnessIsTimeles - ALL "RAT PACK" ALL THE TIME!
SEE ALL OUR FAVORITES HERE

Market Conditions
February 6th, 2012 Categories: Las Vegas Real Estate News, Market Conditions
I talked to 287 people in 2011 who didn't buy any real estate last year. Almost all of them wanted to buy a mid century modern home, or wanted into an historic neighborhood in the center of Las Vegas. After all – that's what I do. That alone speaks volumes about the ever growing popularity of Vintage Vegas.
Universally, the main topic of the conversation was "when to buy?". My answer was "when the time is right for you". Those that did buy usually had a compelling reason. Most often – believe it or not – the reason was the rental home they were in was being foreclosed on and they couldn't stand the uncertainty of when or if they'd be thrown out. Some just realized that with ridiculously low interest rates and prices, they'd be so much better off owning than renting.
Those that didn't buy were almost all afraid to buy into a falling market. "I'll buy when we hit the bottom" was usually the end of the conversation.
I sent all of them an email this morning. Here's what it said.
During the last year or so I spoke to many people – including you – about real estate in Las Vegas. For many, it boiled down to "waiting till we get to the bottom".

We believe that we've bottomed out now. Sure there's some who disagree. There always will be. They usually get the headlines. The big, month after month declines have stopped. The sales volume for December and ALL of 2011 set a new record. EVERYTHING that's for sale is bargain priced. Investment money is flooding in from all over the world, the phone is ringing off the hook, and the emails come in fast and furious. All are signs that we're finally there. Yes, there will be some up and down monthly blips, but for all practical purposes we're at the bottom. FINALLY!

We haven't talked in quite some time, and it's time we talked again. Whether you've considered a home to live in, or positive cash flow investment property, this year is when we should be putting a plan together for you.

And if you're upside down on a mortgage, have fallen behind in your payments or have some other hardship – We should definitely be talking about short selling your current home and how long it will take till you could buy again.

If you're still considering – it's time to take some action. I invite you to call or email. Let's talk!

Sincerely, Jack
The following graphs were attached. They show the number of sales over an 11 year period and the medium price of homes during the same period. 2003 was the last year when we had prices that reflected "REAL VALUE" of homes. We base that on the expectations of buyers at different income levels.
For example – in 2003 a single person making $15.00 an hour (or $30,000/year) would expect to be able to buy 90,000 condo in a nice complex in a good part of town. They should also have been able to buy a cute retro 2 bedroom 1 bath in one of our terrific historic neighborhoods for the same 90 – $100,000. They could even have bought (in 2003) a much larger home in a crappy neighborhood for the same money.
Today – you can buy a 1500 -1800 square foot 3 bedroom 2 bath in a good neighborhood for the same money and with the same income. See what I mean? Five years ago that house was 200 to $250,000. Interest rates at the time were around 8%, and the only way to buy was with one of the funny money loans that got us into all the trouble in the first place.
So maybe (probably) you're not one of the 287 people who received an email from me today. Maybe it's time for you to have the conversation with me. Feel free to call me at 378–7055 or to email me at [email protected]
And just as I'm finally getting around to doing what I should be doing (writing a blog post) it's time for you to consider what's happening in the Las Vegas Real Estate Market – and do something about it! Let's talk.
Posted by Jack LeVine | Currently Comments Off on Have We Reached The Bottom In The Las Vegas Real Estate Market?
January 19th, 2010 Categories: Market Conditions
The most common expression in the Real Estate world today is "FRUSTRATED FHA BUYER". It applies to their agents as well.
The vast majority of the bank owned properties on that come to market are broken, neglected, vandalized, abused bombed out houses. They do not qualify for FHA financing, which is how 90% of the buyers are buying today. Almost all other forms of conventional financing have gone away if you don't have a BIG down payment. FHA has a "livability standard" that the property has to meet. It can be ugly, but it can't be broken. It has to be functional without the buyer HAVING to spend money after the close to get the furnace or plumbing working or to install new bathrooms, or carpet/flooring etc. These houses get sold to investors.
The bank owned foreclosures that can meet the FHA livability standard are few and far between, and often the banks are taking cash investor offers for less than the FHA buyers are offering. There's way too many first time home buyers for the number of FHA eligible properties. Frustration is the result.
To make things worse, even after the investor buys the foreclosure, fixes and cleans and decorates it up, FHA says that they can't resell it to an FHA buyer for 90 days, and that even after 90 days, it can't sell for more than 20% over what the investor paid. That's the anti flip rule that's being waived starting February 1.
THIS IS HUGE.
To keep the new rules from being abused, and to keep the buyers from being gouged, there's 2 new provisions going into effect. The underwriter can require 2 independent appraisals, and the property will now HAVE to be inspected, and the underwriter gets to see the inspection report. We've always REQUIRED buyers to get the homes inspected, but the results became negotiating points with the seller, and often, broken things got left for the buyer to fix as part of the negotiation. Now the underwriter will be able to force the seller to fix things that might have been glossed over, or negotiated away previously. VERY GOOD!
The new guidelines are on the HUD website, and here's the press release that came out this morning.
HUD TAKES ACTION TO SPEED RESALE OF FORECLOSED PROPERTIES TO NEW OWNERS
Measure to help bring stability to home values and accelerate sale of vacant properties

WASHINGTON – In an effort to stabilize home values and improve conditions in communities where foreclosure activity is high, HUD Secretary Shaun Donovan today announced a temporary policy that will expand access to FHA mortgage insurance and allow for the quick resale of foreclosed properties. The announcement is part of the Obama administration commitment to addressing foreclosure. Just yesterday, Secretary Donovan announced $2 billion in Neighborhood Stabilization Program grants to local communities and nonprofit housing developers to combat the effects of vacant and abandoned homes.
"As a result of the tightened credit market, FHA-insured mortgage financing is often the only means of financing available to potential homebuyers," said Donovan. "FHA has an unprecedented opportunity to fulfill its mission by helping many homebuyers find affordable housing while contributing to neighborhood stabilization."
With certain exceptions, FHA currently prohibits insuring a mortgage on a home owned by the seller for less than 90 days. This temporary waiver will give FHA borrowers access to a broader array of recently foreclosed properties.
"This change in policy is temporary and will have very strict conditions and guidelines to assure that predatory practices are not allowed," Donovan said.
In today's market, FHA research finds that acquiring, rehabilitating and the reselling these properties to prospective homeowners often takes less than 90 days. Prohibiting the use of FHA mortgage insurance for a subsequent resale within 90 days of acquisition adversely impacts the willingness of sellers to allow contracts from potential FHA buyers because they must consider holding costs and the risk of vandalism associated with allowing a property to sit vacant over a 90-day period of time.
The policy change will permit buyers to use FHA-insured financing to purchase HUD-owned properties, bank-owned properties, or properties resold through private sales. This will allow homes to resell as quickly as possible, helping to stabilize real estate prices and to revitalize neighborhoods and communities.
"FHA borrowers, because of the restrictions we are now lifting, have often been shut out from buying affordable properties," said FHA Commissioner David H. Stevens. "This action will enable our borrowers, especially first-time buyers, to take advantage of this opportunity."
The waiver will take effect on February 1, 2010 and is effective for one year, unless otherwise extended or withdrawn by the FHA Commissioner. To protect FHA borrowers against predatory practices of "flipping" where properties are quickly resold at inflated prices to unsuspecting borrowers, this waiver is limited to those sales meeting the following general conditions:
• All transactions must be arms-length, with no identity of interest between the buyer and seller or other parties participating in the sales transaction.
• In cases in which the sales price of the property is 20 percent or more above the seller's acquisition cost, the waiver will only apply if the lender meets specific conditions.
• The waiver is limited to forward mortgages, and does not apply to the Home Equity Conversion Mortgage (HECM) for purchase program.
Specific conditions and other details of this new temporary policy are in the text of the waiver, available on HUD's website.
Posted by Jack LeVine | Currently Comments Off on FHA Announces Moratorium Of Anti-Flip Rule
October 30th, 2009 Categories: Market Conditions
Remember that? It's supposed to be the primary focus of VeryVintageVegas. I haven't forgotten it. But looking back recently, VVV has gotten overwhelmed with "cultural stuff".
Most days, I'm so overwhelmed with appointments and paperwork that should have been done the day before, to the exclusion of lots of things I'm missing. Blogging is one of them. Attending every function is another. I used to spend way too much time each day blogging. Things were a little slower then, however. Now-a-days there doesn't seem to be enough time for it, for which I'm truly regretful.
I don't regret that I'm helping so many people now to get great buys. I don't even have to put my listings in the MLS anymore. Usually, all I have to do is tell a client about it, and it's gone.
That's not the case with a little house I have listed on 11th Street. I actually don't have a single first time buyer on my list who's shopping for a home under 65,000. Unfortunately for the seller it's a short sale. Fortunately for the future buyer, there's a real live owner who can decide who to sell it to.
We're trying a little experiment with it. Every agent I know has a similar story to tell. "I know my client's offer was the highest, but they took a lower (all cash) offer." So the seller agreed to make it off limits to the cash investors.
Here's the remarks, right out of the MLS:
Socially conscious seller says "FHA, VA OR OWNER OCCUPIED BUYER ONLY" Cash offers WILL NOT BE CONSIDERED. This could be the cutest little place with some new landscaping and some minor TLC. Real hardwood floors. Seller will even agree to 3% towards buyers closing costs. Subject to Shortsale Lender Approval.
Fortunately, Cash Buyers are NOT a protected class under the fair housing laws. OH, HOW I WISH THAT THIS WOULD BECOME A TREND. How about it all you other Realtors who are regular readers of VVV.
Who do you know that would be right for a little 2 bedroom 1 bath? Give me a call, or drop me an email at [email protected]. All referrals are welcome and appreciated.
In the meanwhile:
Lee got his keys yesterday on a short sale deal in Metropolitan Homes off Mohave and DI,
Zane and Jenny are moving in this weekend after doing a paint job and new flooring on their Palmer and Krisel designed home in Paradise Palms. It was bank owned, and somehow, we got them to accept an FHA offer!
Brandee's all snuggled in for the winter in her adorable home in Westleigh. It was a short sale, also.
Suzanne and Gary snagged a great deal on a HUD owned townhouse in the Very Mid Century Modern community of Villa Hermosa. Having the Government as the seller has been a particularly interesting game, but all the issues have been resolved and they'll get keys next week.
JB's waiting for short sale approval on one of the Huntridge Homes. Scott's waiting for short sale approval in Paradise Palms, and Bob & Alisa are waiting for approval in Southridge.
Carlos is closing on his short sale purchase out in the suburbs next week. He regrets leaving downtown, but needs to be walking distance to work.
Terry jumped in quick and landed a terrific mid modern in Beverly Green. A few inspection surprises caused us to re-negotiate the deal, and we're moving ahead for a closing next month.
Dan, David, Hart, Frank and Alison, and Becky are all playing the waiting game of "will our offer be accepted".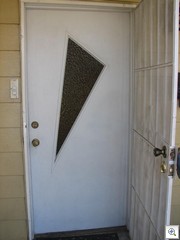 And finally, since I'm "supposed" to put a a picture or a graphic in every post……
A totally cool front door on a Huntridge Home that came on the market yesterday. It's already got many cash offers at over the list price, of course. It's a shame they're refusing to accept FHA financing.

Posted by Jack LeVine | Currently 3 Comments »
October 21st, 2009 Categories: Market Conditions
I can tell you from experience, and have said it many times before……
It's not easy to buy a home now-a-days. The headlines may say the opposite, but the evil banks who control the inventory are making it difficult when they consistently take the lower cash offers for the sake of expediency. Loan guidelines seem to change daily. It's not an easy game, but as I've said so many times before, it's a game worth playing, since home prices are now 40 to 50% below fair market, historical values.
During the last year and a half, one of the things that helped make it worth while to play the frustrating game of buying a house was the FIRST TIME HOMEBUYER TAX CREDIT. It's scheduled to expire on November 30th. Unless you are a cash buyer, it's now too late to start the process if you're counting on receiving the tax credit.
There's lots of reasons that Congress needs to EXTEND and even EXPAND the credit. I personally have many buyers who have been trying to buy, and have been shut out. The number of new inquiries has slowed down dramatically since October 1st. Those that I did talk to wanted first to ask me my opinion of whether the tax credit would be extended. Those buyers are once again going to sit on the sidelines and wait to see what happens with the tax credit. I believe it will be EXTENDED AND EXPANDED, but as you will read below, we're going to need your help to get it done.
In his testimony before the Senate Finance and Housing Committee, National Association of Realtors Vice President Ron Phipps said:
The $8000 first-time homebuyer tax credit expires as of December 1, 2009. But the usefulness of the credit diminishes daily if the credit is not extended well before that date. A homebuyer is eligible for the tax credit only if the home is ―purchased‖ before December 1, 2009. That means that buyers have to find a house, complete a contract, satisfy any contingencies, secure financing and go to closing by November 30. Accomplishing those tasks by November 30 will become more difficult with every passing day. In today's market, it generally takes between 45 and 60 days to go from contract to closing.

Without Congressional action now, the market may freeze again – possibly as soon as this month. NAR's research suggests that as many as 350,000 sales this year can be directly attributed to the availability of the credit. The tax credit stimulated market activity. The volume of housing sales has improved steadily every month since the credit was enacted. The credit pulled people from the sidelines and created some momentum that had been absent.

The housing market remains fragile. The market has improved and prices have stabilized in many areas, but the market has not fully corrected. Retaining the tax credit sustains that recovery. Inventory may remain unusually high. The waves of foreclosures attributable to subprime and other improper lending practices are working themselves through the system. Presently, high unemployment rates pose a threat to homeowners and could set another round of foreclosures in motion. If foreclosure rates were to spike again, inventories could become bloated again. Incentives are still needed to keep the market moving.

Home sales continue to stimulate economic activity. The economy will never fully recover until housing markets fully recover. Thus, the stimulus the credit provides is still needed. NAR estimates that every sale generates approximately $60,000 of additional economic activity. And expanding the credit beyond first-time homebuyers would give the economy a much needed kick. We continue to need the homebuyer credit. Congress must act now to be sure that the credit is available through 2010.
Here's a video Call For Action that was put out to the Realtor Community.
Shelley Berkley, Dina Titus, John Ensign and Harry Reid need to hear from you. Even if you're not planning on buying, you or someone you knows owns a house that's woefully upside down. The tax credit is the best way to keep the momentum going that bring house values back to their historic REAL value.
Preferably, you'll cut and a paste (AND SNAIL MAIL) the following letter to our Senators and Representatives. You can also email them, or at the minimum, call their office and tell them to EXTEND AND EXPAND the homebuyer tax credit. Addresses, phone numbers and email address are at the bottom.
Dear ( FILL IN THE BLANK)

The first-time homebuyer tax credit has definitely been a success. Homebuyer interest and housing sales increased almost as soon as the ink was dry on the tax credit legislation. Today's lower prices and interest rates appeal to consumers, but it's been the tax credit that has attracted people to open houses and to homeownership.

That progress could grind to a halt sooner than you think. Congress must act NOW to extend the credit through 2010. Otherwise, uncertainty will return and the market might again be frozen — possibly as soon as October.

A homebuyer is eligible for the tax credit only if the home is "purchased" before December 1, 2009. That means that buyers have to find a house, complete a contract, satisfy any contingencies, secure financing and go to closing by November 30. Accomplishing those tasks by November 30 will become more difficult with every passing day. In today's market, it generally takes between 45 and 60 days to go from contract to closing.

The market has improved, but it has not yet fully corrected itself. The credit needs to be extended for an additional period of time and expanded in order to build upon the progress that's been made. Uncertainty about the future of the credit will dampen consumer demand. The best way to assure continued housing activity is to extend and expand the credit and to do that NOW.

We can't wait until late in the year to see what happens. Consumers will drop out soon if they can't predict what's in their future. Please act NOW to extend and expand the credit through 2010.


Sincerely,
[Your name]
[Your address]
I thank you for taking the effort, and so does the economy, and future home values.
Preferably SNAIL MAIL, or EMAIL or CALL your Senators and Representatives:
Senator John Ensign EMAIL LINK
119 Russell Senate Building
Washington, D.C. 20510
Phone: (202) 224-6244
Fax: (202) 228-2193
TTY: (202) 228-3364
Senator Harry Reid EMAIL LINK
522 Hart Senate Office Bldg
Washington, DC 20510
Phone: 202-224-3542
Fax: 202-224-7327
Toll Free for Nevadans:
1-866-SEN-REID (736-7343)
Congresswoman Shelley Berkely EMAIL LINK
U.S. House of Representatives
405 Cannon House Office Building
Washington, DC 20515-4708
Phone:(202) 225-5965
Fax: (202) 225-3119
Toll free: (877) 409-2488
Congresswoman Dina Titus EMAIL LINK
319 Cannon HOB
Washington, DC 20515
(202) 225-3252 or (702) 387-4941
Posted by Jack LeVine | Currently 1 Comment »
September 19th, 2009 Categories: Market Conditions
I'm going to spend more time on real estate this week. In keeping with that pledge, I thought I'd present some more proof about what I've been ranting about lately. I'm not the only agent with a list of frustrated buyers.
From Channel 8 Eyewitness News.
There are several houses on the market right now, but potential buyers are finding out getting into one of these homes isn't as easy as seems. Even though foreclosed homes are getting multiple offers, hopeful buyers are learning that cash will usually win.

…..

Real estate broker Thomas Blanchard says banks are accepting lower offers from investors because they can pay cash. "They are choosing the cash offers over the conventional and FHA due to the fact that there is no appraisal needed — there's no lender requirements. It's a clean deal so they know when they put the deal into escrow it's going to close," he said.
If I were Bill Mauer, I'd be making a NEW RULE!
No Investors allowed on bank owned homes that are acceptable for FHA financing.
And / or:
Banks are required to take the highest bid.
HUD which sells the homes that are owned by FHA has this rule in place. There's a 10 day "owner occupant only" bidding period. If it doesn't sell to an owner occupied buyer, then it's opened up for the investors. Some of their listings are labeled as "not eligible for FHA financing" in the first place. (All of the Hud homes are in the MLS, and easy to spot).
I'm only comfortable making that rule because the banks have gotten all the bail out money. They shouldn't have it both ways. The banks are selling the homes for less than the market will bear, while getting taxpayer bail out money. What good are stimulous "tax credits" to first time buyers if they're shut out of the process? As a taxpayer, that's the top of my "infuriating" list.
We're actually having much better luck with the short sales for the first time buyer, even though the wait is longer. The other advantange of short sales is that usually the seller is still in the house, and it's in much better condition than the bank owned homes. Dead landscapes are a huge issue in the bank owned homes. Landscapes in the short sales tend to be neglected, but not dead.
In any case, it's still worth the time and effort since homes right now are selling at 30 to 40 percent below "fair market value". We're not in a fair market now. We're actually in the "anti-bubble". Properties are as proportionately below fair market as they were above fair market in 2006 at the height of the bubble.
Posted by Jack LeVine | Currently 1 Comment »
August 20th, 2009 Categories: Market Conditions
I've been seeing this for several months now….at least in Vintage Vegas. Now there's city wide statistical evidence, for at least a one month increase of 900 dollars. YEA! It's only one month but IT IS THE FIRST TIME 30 MONTHS (since February '07).
Hubble Smith reports in today's RJ……
Las Vegas Area Home Prices Edge Up
NOW, if the banks will actually SELL the houses to first time home buyers instead of the cash investors. If they'll actually accept some more of the short sales. If they'll stop being overly ridiculously obsessed with dotting every I and crossing every T, and driving us crazy with stupid useless, paranoid minutiae and just close the loans….
Posted by Jack LeVine | Currently 3 Comments »
July 13th, 2009 Categories: Market Conditions
I wish it had been a nice long extended vacation that's kept me so occupied that I failed to post regularly over the last 10 days. There's still a fortune to be made by whoever invents 30 hour days.
I did however manage to keep a dozen escrows alive. The new joke going around the Realtor Community is that we no longer do real estate "deals". Now we do real estate "ordeals". That might be funnier verbally. Actually, it's not funny at all.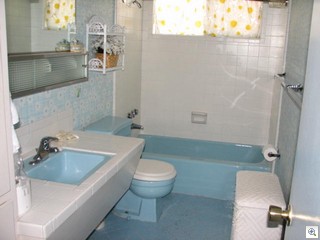 David Ryan, one of the members of the 3 artist ensemble called "Ripper Jordan", is roundaboutly getting new studio space. His wife Erica's parents are the proud new owners on Oakey. That's the mystery house that's been hanging around on the featured property page for 2 months with no address. They snarked it up before I even had a chance to put it in the MLS or promote it in any way.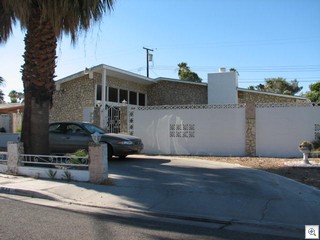 Alison and Nathan are proud new owners on Raindance in Paradise Palms. It's a particularly interesting Palmer and Krisel that had some substantial exterior changes made, including a front yard swimming pool. Alison's an architectural cad/cam draftswoman, and has some exciting new plans for the house.
They got the deal in a multiple offer situation. It was subject to probate court approval, and one of the other buyers kept saying they were going to the court hearing to bid again, but after 6 weeks of fretting, the other buyers didn't show up to the court hearing after all.
Welcome to Paradise Palms, Alison and Nathan
Nick Himidian grabbed a sweetheart of a deal for 60k on a bank owned property in Charleston Park. It's about to get a facelift. Mark and Bill, our friends have been grabbing up bombed out properties in that same neighborhood, and with theirs and all the other remodels going on there, it's back on my list of targeted areas that are turning around again. Charleston Park is between Oakey and St. Louis, east of 17th street. It held one of the highest concentrations of foreclosures in all of Vintage Vegas. It was coming back nicely before the meltdown, and is improving quickly. At the moment, there's only just a few short sales available there.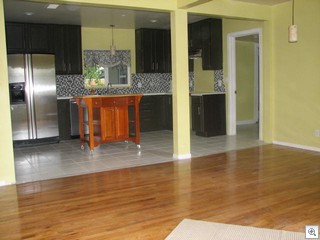 Erin should be moving in this week on our listing on Wengert. I had put up a sign, and she swooped in before I had a chance to even get it into the Featured Homes. We had a huge battle over the appraisal, where the appraiser used 3 comps of bank owned, bombed out houses to compare to one that's been all fixed up again. We got that resolved and should have a closing this week. Glad to have you as downtown neighbor, Erin.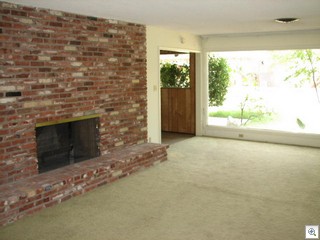 Captain Sarah B., USAF grabbed one of the "fun features found in foreclosures" homes over in McNeil. We're waiting on the appraisal, and she hopes to move in at the end of the month, or as soon as the 30 year old carpet is gone.
Lee's getting back into the search again. He's been in escrow for 2 months on a shortsale in "Moore Addition", which is south of St. Louis off of Spencer. It's a classic example of why short sales often fail to close. I have made 11 phone calls, and 5 email demands to the listing agent. I have NEVER been given an update. I was assured in the beginning that he was experienced in short sales, had an assigned negotiator, and a full team in place. Those are the questions that have to be asked up front. The listing agent is the key, and NOTHING is more annoying in any "ordeal" than lack of communication. It's not that the bank won't eventually go along, it fails when the buyer loses his excitement and moves on before the approval is received. I'll be talking more about short sales in the next few days, since they now account for half of the inventory.
There's been a dozen properties over the last 2 weeks that were priced so low that there was absolute feeding frenzy going on. It's my least favorite aspect of the foreclosure market. Banks are listing some properties at ridiculous prices that cause lots of buyers to jump in. Being the winning bidder is like winning the lottery.
There's currently 9 offers out on various properties, where we're waiting for the bank or the seller to respond. Most of them are multiple offer situations, which is the norm these days. It's a crap shoot. If you like the property, you have to go in as strong as you can, and have all your ducks in a row.
Anyway, there's certainly a lot of action in Vintage Vegas Vegas real estate. There's art and music and history events going on all the time. If you know of an event or have an item that I ought to share….send it over. I can use all the help I can get from my readers.
Posted by Jack LeVine | Currently 4 Comments »
June 27th, 2009 Categories: Market Conditions
Everyone says they're looking for a bargain. How does 11 dollars a square foot sound. I was joking around a few months ago when we started seeing 25. a square foot homes in fabulous neighborhoods – "They can't go to zero – OR CAN THEY?) I'd think that 11/sf in a not so good neighborhood would be comparable to a home in the same condition in a much better neighborhood. Am I wrong?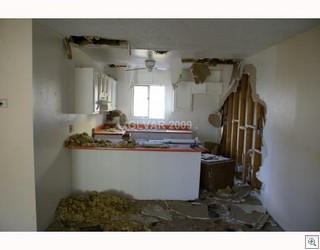 The 11 dollar per square foot one is a $35,000 for 3168 sf near Bonanza and Maryland Parkway. Every room is torn up like this. The neighborhood is NOT one that I'm routinely promoting.
I'm sure some appraiser will use it as a comp for a 3000 foot house that's been loved and cared for in one of the historic neighborhoods.
There seems to be an epidemic of lazy, stupid appraisers making stupid illogical assumptions. New appraisal rules are causing even more problems and are taking longer to give us even LESS accurate assessments of value.
Appraisers are supposed to know the difference between Oakey/Maryland Parkway and Bonanza/Maryland Parkway. The new appraisal rule are allowing appraisers to NOT EVEN GO TO THE PROPERTY!
They're supposed to know the difference between the kitchen above……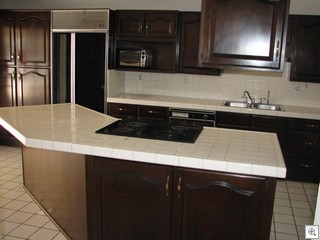 and this one. (yes, I know it's real 80's, but it's perfectly livable and functional, and doesn't look bad at all for being what it is).
Yet the island kitchen with the subzero fridge is in a house that's only listed for 25. a square foot. And it's in one of the better neighborhoods in Vintage Vegas.
I'm not blogging which house this one is, because I've already written offers for 2 buyers, and there's probably 25 offers on it since it was listed on Thursday.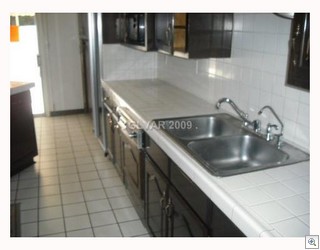 This is the only kitchen picture in the MLS. I often wonder if they listing agents deliberately sabotage the listings to justify their ridiculous sales prices. I think showing an island, subzero fridge etc. might cause the house to be attractive to a lot more buyers. Instead, they just go for the ridiculous price to get the buyers out.
(If you want to be notified of listings like this the minute they hit the market, all you have to do is save your search in our MLS finder, or make an appointment with me and I'll set you up on an auto program to notify you.)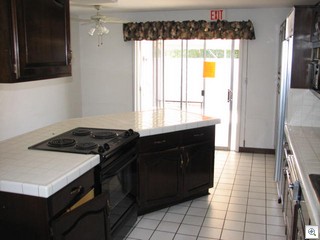 Here's another picture I took of the kitchen from the same spot the agent was standing. Between the 3 shots, I think someone could get a better feel for what the kitchen was like. I think if the Asset Manager (the guy in the cubicle at the bank with the 800 files stacked in the corner) had been given a true picture of the property, he wouldn't have listed it at 25. per square foot.
I know they just wanted to generate multiple offers, but since there's a shortage of nice livable (not fixer-upper, not shortsale) houses for sale in the Historic Neighborhoods – I think he'd have gotten the same kind of response if it was listed at twice that amount.
Most everything that's closing these days is closing at above – or way above the list price.
The multitude of buyers out their looking are willing to pay more. Now we have to get the appraiser and the banks to go along with the true market conditions.
Posted by Jack LeVine | Currently 6 Comments »
June 14th, 2009 Categories: Market Conditions
One measure of my success in "preserving and protecting the Historic Neighborhoods" is the volume of my to-do list and the number of buyers that I'm working with. Providing you with 2 or 3 posts a day was always my goal and it's easiest to accomplish when the to-do list is light. I've failed at various times due to personal health or family crisis events, but in general I've done pretty good. The last 2 weeks didn't fare well in keeping that pace going. In general, I devote 2 or so hours a day to typing, editing, and picture taking to maintain the pace of the blog. There's just not enough hours in each day, so something had to give.
So what have I been doing?
For one thing, I'm trying to find homes for a whole bunch of people. As you'll see in the next post, that's a challenge I didn't think I'd be facing a few short months ago. Not that there aren't buyers, which was the case a year ago – it's that there's no inventory. Shocking – I know. I think that "how can I have it both ways?" is going to be the theme of the rest of this post.
Buyers want nice livable houses that they can improve on during their upcoming years of ownership. "Regular sellers" don't want to give away their houses. The bank homes generally aren't livable, and most often aren't being offered as accepting of FHA financing, which is how 95% of the non-investors are getting a loan. The regular seller's had to compete against the banks. Now there's little competition from the banks. In the next post down, I talk about some of the numbers.
That means it's time for the "regular sellers (who can, and want to) to start coming out from behind the blast barricade. I've said all along, and numerously, as well, that the Vintage Vegas neighborhoods are going to climb out of the hole faster and sooner than anywhere else in the valley. It's starting to happen.
Appraisals:
And, I've been doing battle with the appraisers and the bank listing agents. They have a set of rules, and a whole bunch of bad habits. Many of them are lazy. Many of them are unwilling to look at the current "real" supply and demand for localized subsets of the market such as Vintage Vegas. Some are just collecting their fees and phoning it in. There's a few I've dealt with recently who are actually doing their job and looking at something besides "how many square feet does it have". I'm educating them as best I can that there's a difference between "original footprint, well preserved and well loved vintage homes" and "abused, neglected and altered" vintage homes. And I'm trying to get across that some blocks, some streets, and some subdivisions are better and more desirable than others.
For examples, I've seen appraisals for homes in John S. Park, or Marycrest that have had homes east of Eastern Ave used as comparables. "But the square footage is the same!" No other explanation given. That's despicable laziness.
I thought I was alone in my thinking, but Brian Wells covered the subject in an article in the Sun the other day, aptly titled: "Realtors complain about 'low-ball' appraisals"
Despite a 77 percent increase in existing home sales this year, some Realtors are complaining that low-ball appraisals are stifling sales.

First-time homebuyers and investors are leading the sales charge with home prices at their lowest in a decade, but Realtors contend that several appraisers are setting values that are much lower than they should be — and that those appraisals are killing sales.

Some call it an over reaction to the housing boom when some appraisers were accused of inflating prices on certain deals, prompting banks to lend more money than the property was worth. Appraisers contend they are setting prices based on what's being paid in the market.

Mark Stark, owner of Prudential Americana, said he thinks appraisers are focusing too much on projecting what values will be instead of what they really are.

"The appraisers are being very conservative," Stark said. "They are trying to cover themselves."

What's happening with appraisals has been felt the most in listings by homeowners who may, for example, have bought their home for $300,000 and are now selling it for $220,000, Stark said. If the appraisal came in at $205,000, that would force the seller to lower the price or the buyer would have to come up with $15,000 to make up the difference because the bank would loan only up to the appraised value, Stark said.

"The owner would rather tell them to drop dead than cut their price another $15,000," Stark said. "I would say it is not causing us to lose all of these sales, but it is affecting 20 to 25 percent of the sales."

About two-thirds of the existing home sales have been lender-owned properties.
Meetings, Meetings and More Meetings.
At the Foreclosure Crisis Town Hall Meeting the other night, County Commissioner and Realtor Susan Brager suggested that the appraisal rules need to be modified to not allow foreclosure and short sale transactions to be used as comparables to homes where the sellers AREN'T in trouble or desperate. RIGHT ON! I'm suggesting that the bank homes be divided into two tiers. Tier one is livable homes that would qualify for FHA/VA financing. NO INVESTORS ALLOWED TO BID. Tier Two is INVESTOR ONLY. Let them fight it out among themselves. I've had 4 instances in the last 2 months where the buyer I was representing actually made the highest bid on an FHA acceptable home, only to get shut out because the bank took the highest CASH OFFER, even though the first time buyer bid more.
As taxpayers we should be outraged that the banks and Fannie and Freddie are LEAVING MONEY ON THE TABLE for the sake of expedient, fast, all cash sales – after taking our tax money to make up for their losses!. I've had several hours recently of discussions on this subject with Dina Titus, Chris G. assorted brokers, REO listing agents, and their assorted staffs. Everyone agrees, but no one is listening.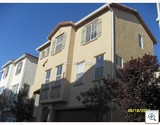 Also at the Town Hall meeting, I had a conversation with Kenneth LoBene, the Director of the FHA Las Vegas Field office. I asked him about the "shadow inventory" that's being intentionally withheld from the market. He told me that 100% of it is in the north and southwest of the valley, and is almost entirely made up of the 25 or more to an acre, 2 and 3 story "monopoly houses –that's my term for them, not his.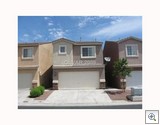 You know the ones I mean. Most Vintage Vegas affectionados laugh about them all the time. They're not releasing them, because there's already a glut of them on the market, and the buyers, if given the choice they didn't have 3 or 4 years ago, absolutely detest them. If you really want cheap newish housing and don't care where it is, there's some real bargains. I'm willing to bet that we'll see whole neighborhoods of them get bulldozed one day soon.
So the "shadow" inventory that I thought was coming from the banks just isn't there. There are a couple of dozen or so abandoned homes scattered around Vintage Vegas that are in the pipeline, and there may be a whole new wave of foreclosures caused by job loss, but that's a story that hasn't been written.
ANYWAY:
All I really set out to do was to tell you that I'll try to get back onto my normal blogging schedule, in order to keep you amused, educated and informed. I ended up doing a rant instead. Wish me good luck!
Posted by Jack LeVine | Currently 5 Comments »
May 15th, 2009 Categories: Market Conditions
Down Payment Assistance has been around for a long time. It didn't (in my opinion) cause or contribute to the bubble. Zero down and no qualifying easy money loans caused the bubble. Down payment assistance helped a lot of Las Vegas residents become homeowners. The programs worked in conjunction with FHA loans, which required reasonably good credit, provable income and job stability. The DPA programs like Nehemiah were thrown out with the bathwater of the lending crisis last year.
The Realtor community supports them be re-instituted, and we'd like your help. You can use the form in this link to contact your Representative and Senators. Please take a second to do it.
The FHA Seller-Financed Downpayment Reform Act of 2009 (H.R. 600), a bi-partisan bill sponsored by Congressmen Al Green (D-TX) would reform seller-funded downpayment assistance (DPA). H.R. 600 is the 2009 version of last year's bill H.R. 6694.

Restore downpayment assistance programs for qualified homebuyers who need just a little bit of help to buy a home, stimulate the economy, stabilize home prices and revitalize neighborhoods.

A report issued by the Congressional Budget Office (CBO) confirms that H.R. 600 would not cost the federal government or taxpayers any money. In fact, the CBO estimates that seller-financed DPA will generate $65 million over the next five years and save taxpayers $13 million next year.

Reinstating DPA could help ensure continued liquidity in the stagnating housing market by providing aid to an estimated 600,000 working-class people for home purchases this year, generating $150 billion in home sales.

In order to restore downpayment assistance programs, we need to urge Congress to pass H.R. 600 or attach it to an upcoming housing bill.

Act Now! Write your two Senators and House Representative and tell them that you support the new, bi-partisan bill H.R. 600 to restore and reform DPA!
There's more on the subject at the DPA GROUNDSWELL website.
Posted by Jack LeVine | Currently 1 Comment »
May 13th, 2009 Categories: Market Conditions, Mortgage
This could be HUGE! Saving for the downpayment to buy a home can be one of the biggest struggles for those who have decent credit, provable income and little or no savings. "Zero Down" is one of the concepts that got us into trouble in the first place during the bubble days, but this is different. This is stimulus money being put to good use as a down payment instead of being received after the closing.
Yesterday at the National Association of Realtors mid year conference, Shaun Donahue, The HUD Secretary announce that they will be allowing the First Time Home Buyer Tax Credit to be used as a down payment.
"We all want to enable FHA consumers to access the tax credit funds when they close on their home loans so that the cash can be used as a down payment," Donovan said.
HousingWire.com describes the process:
Home buyers qualifying for Federal Housing Administration-insured mortgages may soon use the new first-time home buyer $8,000 tax credit as a down payment, US Department of Housing and Urban Development secretary Shaun Donovan said today.

The process of applying the tax credit toward down payment, called 'monetization' in the industry, allows for FHA-qualified borrowers to use the tax credit to obtain a government-insured mortgage.

Donovan's announcement came at a National Association of Realtors legislative summit this morning, although HUD's details on the initiative aren't scheduled for official release until next week. The initiative will allow FHA-approved lenders to monetize the tax credit through short-term bridge loans, letting borrowers access the funds at the closing table.
This could change the home buying time schedule for a lot of first timers who are currently saving up a downpayment. We'll have to wait till next week until they release the details. In the meanwhile, don't stop squirreling away your money. Even if you can buy for what's essentially zero down, you'll still want to have as much money as you can for the fix up, redecorating or what have you that comes with home ownership.
Posted by Jack LeVine | Currently 4 Comments »
May 6th, 2009 Categories: Market Conditions
Late last year, with lots of fanfare and media coverage, Fannie Mae put a moratorium on new foreclosures. They said they wouldn't initiate any new foreclosures during the moratorium.
The moratorium ended on April 1st. There was practically no coverage of the event in the press. The only thing I could find on it was in the Washington Independent. That's bad news for thousands of homeowners who were riding it out by staying in their homes. Many took advantage of the time it allowed them to do loan modifications, file bankruptcy, or make other arrangements. A lot of people who didn't care whether they kept the home or not, merely used it as a way to stay put without making any payments. This means there's a lot more foreclosures out there waiting to go back to the banks.
But there's some good news buried in this. Good news, that is, for the buyers who are about to start looking, or those that have been frustrated, by the multiple offer difficulties in landing a deal. 
There was a second part of the moratorium that no one knew about. Fannie also put the brakes on releasing new property that they already owned to the market. The banks are sitting on an enormous inventory that hasn't been put out to market yet. The moratorium for releasing new inventory ended today.
I've confirmed this with several of the top REO listing agents, (those few who I have respect for). The good news for all the frustrated buyers who've been bidding on the few good, livable, decent foreclosures, is that there's about to be a flood of new listings. I'm told that there's going to be about 8000 homes released in the next 2 months. Different banks have been given dates that they can start releasing. Remember, various banks actually are the servicing companies for Fannie Mae and Freddie Mac. They won't all show up immediately, but they're not going to hoard them anymore.
By hoarding the inventory, they gave time for the buyers to gear up, for the administration to put the 8000 first time home buyer tax credit in place, and to clear out a lot of the already on the market inventory. As I've reported, the number of sales has risen dramatically, and the existing inventory has dropped by over 25%.
The press and media have taken notice, and even the New York Times reported Monday that things are turning around.
Investors and first-time buyers, the traditional harbingers of a housing rebound, are out in force here, competing for bargain-price foreclosures. With sales up 45 percent from last year, the vast backlog of inventory has diminished. Even prices, which have plummeted to levels not seen since the beginning of the decade, show evidence of stabilizing.

Indications of progress are visible in other hard-hit areas, including Las Vegas, parts of Florida and the Inland Empire in southeastern California. Sales in Las Vegas in March, for example, rose 35 percent from last year.
The historic neighborhoods of Las Vegas that we cover here at VeryVintageVegas, has seen even more drastic increases in the number of sales. Current inventory of available homes in the downtown east side neighborhoods has dropped to a low of 47 homes today. There was 61 just last week when I talked about inventory levels. At the peak of the inventory last summer there were 121 homes available. Remember, in the same area that we call downtown east (Sahara to Charleston, and LVBS to Eastern) there's 4300 total homes.
The numbers are similar in other historic neighborhoods such as McNeil and Paradise Palms. I know there's even more buyers out there that I haven't talked to yet, or that will be working with their cousin or bosses girlfriend or what not. The demand is high. There's at least 10 offers (and 37 was the most I've seen) on any decent house that pops up in the historic neighborhoods. More inventory is a good thing, and buyers bidding them up is a good thing for all the current owners.
If you've tried and been frustrated, or if you're just starting to get into the game, then it's a real good time to update your loan or get started on it, and contact your favorite Realtor.
Posted by Jack LeVine | Currently 4 Comments »
April 30th, 2009 Categories: Market Conditions
I'm really just starting to get back out to look at homes. I did write a few offers during the last 2 weeks, but we got out bid on EVERY SINGLE ONE. Almost every new listing (under 100k) that pops up is in multiple offer status within 2 days. The market comments below are about Vegas as a whole, which is good news.
In the historic neighborhoods, the numbers are even more dramatic. For example, the "downtown east side" neighborhoods from Sahara to Charleston and from the strip going east to Eastern have a 50/50 ratio of pendings to available. There's as many in contract as there is for sale. That area has 4300 homes in it, and there's currently only 61 for sale. Based on the phone calls I've made for the buyer I'm working with this afternoon, 1/2 of those that are still showing as available have multiple offers on them. Recent closing are showing that the homes are selling for MORE than the list prices. Those closing become the comps for the next set of listings, so I see prices starting to rise again.
It's actually a tough tight market within the boundaries of Vintage Vegas. It's still an evolving game with no rules, but a game well worth playing. Those who do buy now will do really well as things improve.
Current owners will be happy to know all of this well, as it portends a rapid return to the baseline of value that we had in 2004 before the 5 year insanity of the boom and bust cycle.
From Applied Analysis with thanks to Fidelity National Title:
Inventory Shrinks To Nearly 18,000 Resale Units: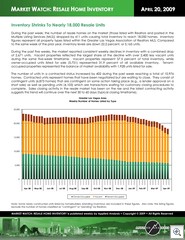 During the past week, the number of resale homes on the market dropped by 411 units causing total inventory to drop to 18,050 homes. Inventory figures represent all property types listed within the Greater Las Vegas Association of Realtors MLS. Compared to the same week of the prior year, inventory levels are down 22.2 percent, or 5,165 units. During the past five weeks, the market reported consistent weekly declines in inventory with a combined drop of 2,671 units.
Contracted Units Rise To Nearly 11,000 Resale Units: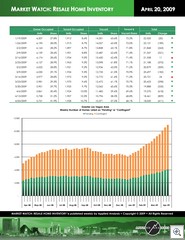 The number of units in a contracted status increased by 402 during the past week reaching a total of 10,976 homes. Contracted units represent homes that have been negotiated but are waiting to close. They consist of contingent units (6,873 homes) that are contingent on some action taking place (e.g., a lender approval on a short sale) as well as pending units (4,103) which are transactions waiting for customary closing procedures to complete.
Immediate Outlook:
Sales closing activity in the resale market has been on the rise and the latest contracting activity suggests this trend will continue over the next 30 to 60 days (typical closing time frame). (Applied Analysis)
Posted by Jack LeVine | Currently Comments Off on Shrinking Inventory and Increasing Sales
April 6th, 2009 Categories: Market Conditions
The world is insane. At least the banks are. They don't get it AT ALL that there's a difference between houses (all they look at is square footage); there's a difference between streets (some are better than others); and a difference in neighborhoods (custom home neighborhoods are not the same as the tract neighborhoods).
Granted we're dumping properties to just get rid of them. If you've ever met with me, or talked to me about the buying process, then you've heard me say "It's a game with no rules" and "everyone is just making it all up as we go along" and "you'll probably be in multiple offers if we're looking at the lowest priced homes" and "we'll be jumping thru hoops that are going to drive us crazy" and "it's just a big guessing game lottery – but one that's worth playing".
Here's a few stories from the last few weeks.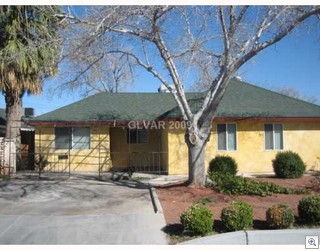 CONDITION
The condition of the homes are not being taken into account. Here's a good example. 1067 Oakey is Huntridge home that was taken down to studs. It has a new roof, new walls, new electric, plumbing and windows. It has a new slab, hand poured and finished terrazzo countertops. It got listed for 43,900. There's 10 offers on it this morning. It's going to sell somewhere in the 70's, because it was LISTED in the 40's. It should have been listed for 80 to 90,000.
Granted, its selling for more than the list price, but the last few Huntridge cottages that sold were totally broken down, abused and neglected properties. They sold in the 30k's, and the professional re-habbers who bought them are going to spend 40 or 50k to bring them to code and to livability (some will do a better job than others). They could only be sold for all cash because of their condition. But they were used as comps to determine the list price of this home. The new sale price when it closes will help the comps in the future, but in the meanwhile, it's going to be showing as Pending at 43,900.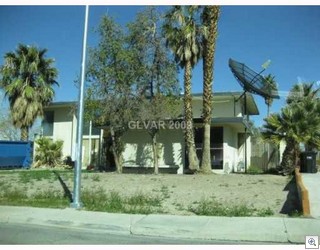 PRE-SELLING
Properties are being typed into the MLS as ALREADY UNDER CONTRACT. The foreclosure listing agents are taking their own buyers to it first without putting it in the MLS. This doesn't give the larger pool of buyers the opportunity to set the price. You'll see how important that is below, when I tell you a few more stories.
This house is on Delaware in Paradise Palms. It's one of the 8 two story Mid Mod homes that match the "Johnny Carson House" on Omaha that I spoke to you about last month, WHICH BTW – is back available again, since the short sale buyer for it dropped out to buy this one on Delaware (according to reliable sources).
You'll notice there's a dumpster in the driveway. Look at the Worst MLS PHOTO OF THE DAY that is posted right below this. All three pictures are from this house. I may be crazy, but I think it might have sold for more if the pictures or the showings were done AFTER THE CLEAN OUT.
It's showing a list price of – are you ready– 129,000. This really ticks me off. If only one buyer gets to see it, and they get an insider deal…..IT JUST DESTROYED ANOTHER 50 or 100,000 dollars worth of value in the neighborhood. It's going to show as another 46/sf pending, and then when it closes as a sold comp. Maybe….but I doubt it….it's actually going to close for more, but either way it was give away even by today's foreclosure prices.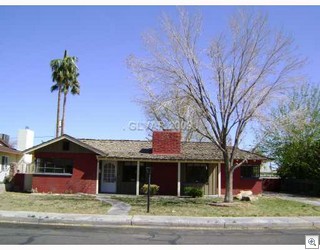 HALF PRICED HOUSES
The newest strategy that I'm seeing the banks using is to INTENTIONALLY list the properties for a THIRD OR A HALF of what they expect to get for them. I can see their point. They don't waste a lot of time on the market with continuous price reductions trying to find what the market will bear.
The market is much better suited to determine the price. In fact, an hour ago, I was told there are more than 10 offers, and I wrote 2 of them for different buyers (yes, I stayed impartial with the written permission from both buyers) and that most of them are for double the list price of …..49,900 for a 2000 sf brick home on 9th , which is a lovely street of custom homes in Park Manor. It needs to have the shake roof replaced because of its age, but it's NOT a 50,000 house.
There's a couple of problems with this strategy, however. There was a parade of buyers thru it who were actually looking for a 50k house. I got calls from 14 people to show them this house. They were all wasting their time, and it was obvious the minute they walked into the door. Another problem is without guidance from an accurate list price which takes into account condition, location, neighborhood, market conditions and more, then it's JUST A GUESSING GAME LOTTERY. A Game worth playing, but a game none-the-less.
GIVE AWAY DUMPING
Here's a story that Vegas Lee emailed me over the weekend. It's about some newer properties, and the bank in question was the in-house lender when they were new a few years ago. Just about every single home in the subdivision was sold using an infamous "sub-prime" loan.
Reading your web site thought you would get a kick out of this story.

Eight weeks ago (name withheld) bought four houses for $50,000 each from a bank. He already owned 9 of them so the Bank called him to see if he wanted them when they got them back from others. He had paid anywhere from 80k to 150 k over the years for the ones he already owned.

Last week he gets a call from the same bank that he paid 50k to. They have two more of the same homes for sale. He looks at them, one is perfect condition, the other one needs paint, carpet and a new stove. Get this, the bank says he can buy them BOTH for $39,000 each. This is the same bank he just paid $50,000 for four of them just a few weeks ago, they know he will pay 50k. WHY lower the price to 39k for these?

Can we say dumbasses? BTW.. yes, he wrote them a check and bought them. J
OWNER OCCUPANT VS INVESTOR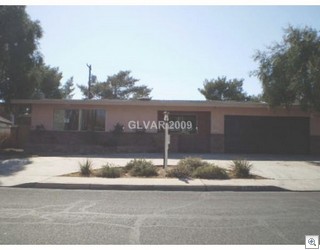 Fannie Mae has an interesting and infuriating policy for their foreclosed homes. In order to submit an offer, the buyer is required to fill out a questionnaire that asks whether they're an investor or if they're going to live in the property. I can see this as a good tie breaker if 2 offers are really close or equal to each other. Give it to the person who's going to live in it.
In this particular case….an investor client of MINE bid 20,000 more (all cash) than the offer that was accepted by the bank. As the TAX PAYERS who's bailing out the banks and Fannie Mae, we should all be as outraged as I am.
Not to mention that it was a 2000 foot house in Marycrest that was listed for FORTY THOUSAND DOLLARS! Sure, it was a gut job, but even in the current condition could easily have sold for more than double what it was listed at. It's showing as pending at the moment, and every bank agent who's trying to price a new listing is looking at that and then UNDER PRICING THE NEXT NEW LISTING. The fact that there were 34 offers on it in two days isn't being taken into account. They don't know that it's going to sell for more than 70% over asking price, or that an ALL CASH BUYER was turned down who offered MORE THAN DOUBLE the asking price!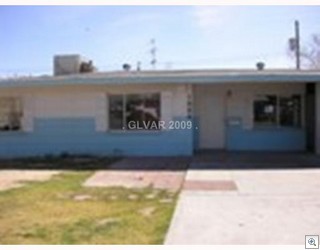 JUMPING THRU HOOPS
It was a totally broken down, beat up house with 2 realllllly bad room additions in Charleston Park. It was listed for 23,000 and offered only to Cash buyers. There were 31 offers on it. EVERY SINGLE ONE OF THEM was required to get a notarized statement saying they would waive their right to receive any disclosures from the selling bank. It's routine if you're the buyer of ANY bank owned home to get the notarized waiver. But to REQUIRE it as a condition of making the offer is a ridiculous practice that I hope I never see again.
So I'll say it again….
There's no rules. But we play along anyway. Those who are buying now will be huge winners. Multiple Buyers bring prices back up. Another VERY GOOD sign for those of us who already own. I think anyone who's waiting for the bottom already missed it.
Posted by Jack LeVine | Currently 6 Comments »
February 27th, 2009 Categories: Market Conditions
Posted by Jack LeVine | Currently 1 Comment »