Rancho Bel Air Topics
Welcome To Uncle Jack's Very Vintage Vegas!
Vintage Las Vegas Homes,
Historic Las Vegas Neighborhoods,
Las Vegas History,
Urban Living In Las Vegas.
If it's great, cool, fantastic, artistic, annoying, amusing, unique, or surprising.. you'll find it at VeryVintageVegas.com.
Check out what we're doing and add your two cents! Your comments & ideas are welcome. We update daily, so come back tomorrow!
Blogroll
Farmer's Insurance
Paul Hesselgesser
702-434-1230
The Hesselgesser Insurance Agency Website
Classic Las Vegas - Lynn Zook's Preservation of 20th Century Las Vegas
Curbed LA - WOW!
Mid-Century Modernist
RETRO RENOVATION - Pam's Excellent Effort At Re-creating A Retro Life
Carnival Of Real Estate - Minus Elephant Ears, But Still Mighty Tasty
Lotta Livin' - A Celebration Of Really Cool Things Mid Century
Bawld Guy Talking - Minus The Hair; Plenty Insightful
CoolnessIsTimeles - ALL "RAT PACK" ALL THE TIME!
SEE ALL OUR FAVORITES HERE

Rancho Bel Air
August 25th, 2008 Categories: Pillars Posts And Columns, Rancho Bel Air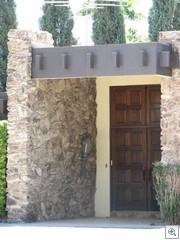 Today's "pillars, posts, and columns" article takes us into the guard gated Rancho Bel Air. It's one of the 5 guard gated neighborhoods of Vintage Vegas. They're hard to get into, so most of the general public never gets a chance to take a Sunday Drive thru them. Rancho Bel Air in particular is wildly diverse in the architectural styles, designs and eras. The earliest homes were built in the 60's and there's a brand new one for sale at the moment.
I took the opportunity the other day to grab you some shots that will show the wide variety of custom architecture, with a special emphasis on the the posts and columns.
Our first photo is one of the Mid Century Modern classics. The natural stone support walls hold up the porch cover with it's protruding beam facia boards.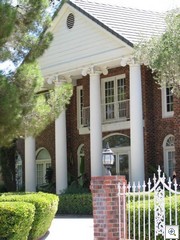 Colonial is a recurring theme in Rancho Bel Air. Bold and repetitive 2 story columns of wood, create a an elegance rarely seen in Las Vegas.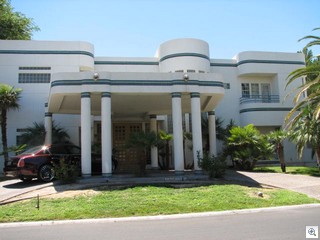 At the other extreme, there's several "Miami vice" contemporaries with plastered columns and matching inlaid of the blue ceramic that borders the home.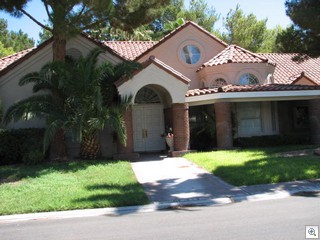 Mediterranean is abundant also. I love the round brick columns used in the entry porch on this one.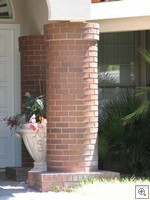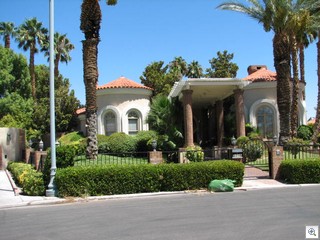 And we've also got round brick column on one of my favorite castles in all of Las Vegas.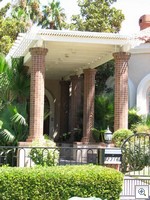 Rancho Bel Air is just south of the Rancho exit of the 95 Freeway, on the west side of Rancho. There's currently 9 homes for sale, ranging from 650,000 to a million eight. If you use the MLS search feature found in the top navigation bar of VeryVintageVegas, you can plug in a neighborhood name and easily find all of the property for sale.
There's several other posts we've done in the past about Rancho Bel Air, which will show you some more of the achitectural variety to be found there. (NOTE: If you click on the link to the other posts, you'll get this one first, but just scroll down to the the previous ones)
In case you're curious, the 5 guard gated communities of Vintage Vegas are Rancho Bel Air, Rancho Circle, Rancho Nevada, Spanish Oaks and The Las Vegas Country Club.
Posted by Jack LeVine | Currently 3 Comments »
December 3rd, 2007 Categories: Las Vegas Real Estate News, Market Conditions, Rancho Bel Air
I spent about 3 hours yesterday at the H and M auction. Most of the time was spent with my jaw on the ground at how low the prices were on the final bids. The VAST majority of the properties were suburban, newer than 10 years old, and rarely did anything over 2000 sf break the $100. per square foot barrier. 3000 foot 2 year old homes were selling at 275k or 295 etc. In general there were only about 3 or 4 initial bidders per house, and all but 2 usually dropped out quickly.
Smaller 1200 and 1400 sf homes were selling for 170 to 200,000. or about 150 to 170 per sf. Of course, we're not sure if the banks will accept the final bid prices, since it was not an absolute auction.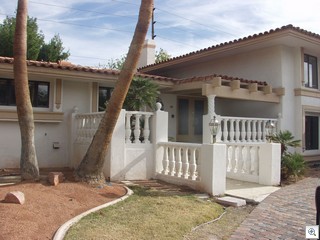 There were hardly any Vintage homes in the Auction yesterday, which proves the point I keep making that the "foreclosure problem is a suburban problem". There are some Vintage Vegas homes in next weeks auction including this one in Rancho Bel Air. It's at 229 Dalmation, and was most recently listed as a bank owned property for $614,900. The minimum opening bid for this 3600 sf home with pool is $269,000.
I took some pictures when I previewed it yesterday. It's in pretty darn good condition overall, with some very nice features.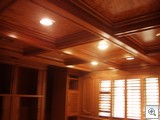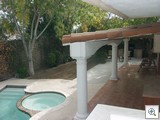 It's not too late to jump into the auction game, and there's certainly going to be more of them coming up in the next few months. We'll always keep you posted when they get announced.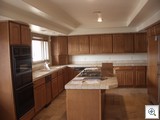 If you're interested in this one, we'll have to preview the homes with me personally, since all 3 open house opportunities have already passed. If you'd like to see this or any of the other properties for this weeks auction, just give me a call at 378–7055 or send me an email
Posted by Jack LeVine | Currently Comments Off on Auction Prices Were Ridiculously Low – 800 Bidders Grabbed Amazing Bargains
November 28th, 2007 Categories: Architecture, Housing Styles, Rancho Bel Air
Rancho Bel Aire is 122 custom one of a kind homes with guard controlled access to the community. Most of the lots were 1/3 acre. Almost every home has a pool.
If you can get thru the gate, it's a fun drive.
Posted by Jack LeVine | Currently 1 Comment »