Westleigh Topics
Welcome To Uncle Jack's Very Vintage Vegas!
Vintage Las Vegas Homes,
Historic Las Vegas Neighborhoods,
Las Vegas History,
Urban Living In Las Vegas.
If it's great, cool, fantastic, artistic, annoying, amusing, unique, or surprising.. you'll find it at VeryVintageVegas.com.
Check out what we're doing and add your two cents! Your comments & ideas are welcome. We update daily, so come back tomorrow!
Blogroll
Farmer's Insurance
Paul Hesselgesser
702-434-1230
The Hesselgesser Insurance Agency Website
Classic Las Vegas - Lynn Zook's Preservation of 20th Century Las Vegas
Curbed LA - WOW!
Mid-Century Modernist
RETRO RENOVATION - Pam's Excellent Effort At Re-creating A Retro Life
Carnival Of Real Estate - Minus Elephant Ears, But Still Mighty Tasty
Lotta Livin' - A Celebration Of Really Cool Things Mid Century
Bawld Guy Talking - Minus The Hair; Plenty Insightful
CoolnessIsTimeles - ALL "RAT PACK" ALL THE TIME!
SEE ALL OUR FAVORITES HERE

Westleigh
July 24th, 2009 Categories: Westleigh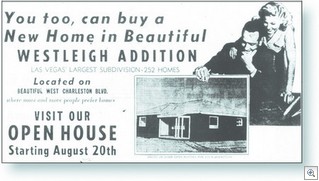 Westleigh is one of the cutest little bungalow neighborhoods. It's just to the west of McNeil. The boundaries are Valley View to the West, Charleston on the north, Oakey on the South and Cashman on the East. It's one of the neighborhoods that I wrote about in the earliest days of VeryVintageVegas.
The Westleigh Neighborhood Association, with the cooperation of the City of Las Vegas Historic Preservation Office and Neighborhood services have completed all the preliminary steps and are ready to make their case to the Las Vegas Planning Commission and City Council. They go before the planning commission on September 24.
Alan Choate covered the story in today's RJ.
Posted by Jack LeVine | Currently 1 Comment »
November 24th, 2007 Categories: Architecture, Housing Styles, Las Vegas Real Estate News, Market Conditions, Westleigh
Just east of Valley View between Oakey and Charleston, you'll find a delightful neighborhood of 288 cottage and bungalow style homes. Westleigh was built between 1952 and 1957 on 8 to 11,000 sf lots.
Mostly they were 2 bedrooms and 1 bath, but many have been expanded (some nicely, and some horribly). Some of the expanded ones appear more as ranch style now. Some have detached garages, some have guest houses, some are original.
All of the Westleigh homes were built with crawl spaces and real hardwood floors. Peek under the carpet and you'll find a little treasure waiting for restoration. "Original" real hardwood floors is one of the most sought after features that I'm asked for in Vintage Vegas. Westleigh's a great neighborhood in which to find them. By the 1960's concrete slab became the common method for building, and generally the crawlspaces and hardwood went away.
Another of Westleigh's unique features is that there are alleys running between the homes, and therefore have backyard access from the alley. Most of the alleys in Vintage Vegas have been closed off but you can still access them in Westleigh. There's very very few shabby homes left, as it's been a real popular starter neighborhood for several years, and the majority of the homes are now owner occupied.
There's 4 homes for sale at the moment, with 199,900 being the lowest and 385,000 the highest.
The 199,900 one is bank owned, needs some TLC and is at a great price for a 3 bedroom 2 bath on and 8100 foot lot. There's some great deals like this hanging out all over Vintage Vegas.
Posted by Jack LeVine | Currently 2 Comments »