Welcome To Uncle Jack's Very Vintage Vegas!
Vintage Las Vegas Homes,
Historic Las Vegas Neighborhoods,
Las Vegas History,
Urban Living In Las Vegas.
If it's great, cool, fantastic, artistic, annoying, amusing, unique, or surprising.. you'll find it at VeryVintageVegas.com.
Check out what we're doing and add your two cents! Your comments & ideas are welcome. We update daily, so come back tomorrow!
Blogroll
Farmer's Insurance
Paul Hesselgesser
702-434-1230
The Hesselgesser Insurance Agency Website
Classic Las Vegas - Lynn Zook's Preservation of 20th Century Las Vegas
Curbed LA - WOW!
Mid-Century Modernist
RETRO RENOVATION - Pam's Excellent Effort At Re-creating A Retro Life
Carnival Of Real Estate - Minus Elephant Ears, But Still Mighty Tasty
Lotta Livin' - A Celebration Of Really Cool Things Mid Century
Bawld Guy Talking - Minus The Hair; Plenty Insightful
CoolnessIsTimeles - ALL "RAT PACK" ALL THE TIME!
SEE ALL OUR FAVORITES HERE

Archive for October, 2009
October 30th, 2009 Categories: Market Conditions
Remember that? It's supposed to be the primary focus of VeryVintageVegas. I haven't forgotten it. But looking back recently, VVV has gotten overwhelmed with "cultural stuff".
Most days, I'm so overwhelmed with appointments and paperwork that should have been done the day before, to the exclusion of lots of things I'm missing. Blogging is one of them. Attending every function is another. I used to spend way too much time each day blogging. Things were a little slower then, however. Now-a-days there doesn't seem to be enough time for it, for which I'm truly regretful.
I don't regret that I'm helping so many people now to get great buys. I don't even have to put my listings in the MLS anymore. Usually, all I have to do is tell a client about it, and it's gone.
That's not the case with a little house I have listed on 11th Street. I actually don't have a single first time buyer on my list who's shopping for a home under 65,000. Unfortunately for the seller it's a short sale. Fortunately for the future buyer, there's a real live owner who can decide who to sell it to.
We're trying a little experiment with it. Every agent I know has a similar story to tell. "I know my client's offer was the highest, but they took a lower (all cash) offer." So the seller agreed to make it off limits to the cash investors.
Here's the remarks, right out of the MLS:
Socially conscious seller says "FHA, VA OR OWNER OCCUPIED BUYER ONLY" Cash offers WILL NOT BE CONSIDERED. This could be the cutest little place with some new landscaping and some minor TLC. Real hardwood floors. Seller will even agree to 3% towards buyers closing costs. Subject to Shortsale Lender Approval.
Fortunately, Cash Buyers are NOT a protected class under the fair housing laws. OH, HOW I WISH THAT THIS WOULD BECOME A TREND. How about it all you other Realtors who are regular readers of VVV.
Who do you know that would be right for a little 2 bedroom 1 bath? Give me a call, or drop me an email at [email protected]. All referrals are welcome and appreciated.
In the meanwhile:
Lee got his keys yesterday on a short sale deal in Metropolitan Homes off Mohave and DI,
Zane and Jenny are moving in this weekend after doing a paint job and new flooring on their Palmer and Krisel designed home in Paradise Palms. It was bank owned, and somehow, we got them to accept an FHA offer!
Brandee's all snuggled in for the winter in her adorable home in Westleigh. It was a short sale, also.
Suzanne and Gary snagged a great deal on a HUD owned townhouse in the Very Mid Century Modern community of Villa Hermosa. Having the Government as the seller has been a particularly interesting game, but all the issues have been resolved and they'll get keys next week.
JB's waiting for short sale approval on one of the Huntridge Homes. Scott's waiting for short sale approval in Paradise Palms, and Bob & Alisa are waiting for approval in Southridge.
Carlos is closing on his short sale purchase out in the suburbs next week. He regrets leaving downtown, but needs to be walking distance to work.
Terry jumped in quick and landed a terrific mid modern in Beverly Green. A few inspection surprises caused us to re-negotiate the deal, and we're moving ahead for a closing next month.
Dan, David, Hart, Frank and Alison, and Becky are all playing the waiting game of "will our offer be accepted".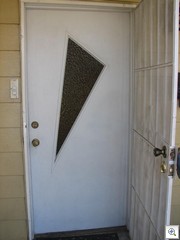 And finally, since I'm "supposed" to put a a picture or a graphic in every post……
A totally cool front door on a Huntridge Home that came on the market yesterday. It's already got many cash offers at over the list price, of course. It's a shame they're refusing to accept FHA financing.

Posted by Jack LeVine | Currently 3 Comments »
October 29th, 2009 Categories: Las Vegas Real Estate News
A Sports Arena For Downtown Las Vegas? Again.
Another Sports Arena proposal from Mayor Oscar Goodman, who's just back from his trip to London. I'm presuming the 18 acres that the city owns is just to the east of City Hall at Stewart and Las Vegas Boulevard, where the Helldorado Rodeo was held. According to Fox 5 news, the 18 acres INCLUDES THE SITE OF CITY HALL, which is part of the great Zick and Sharp Architectural Legacy of Mid Century Modernism.
Dr. Lonnie Hammargren And The Hammargren Home Of Nevada History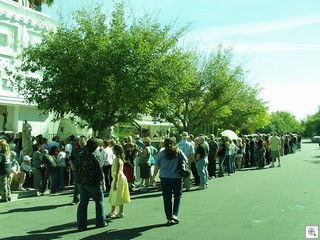 I'm being asked a lot lately if Dr. Lonnie Hammargren will be holding his traditional Nevada Day Open House at his private "Home Of Nevada History".
SADLY, the answer is NO.
However, Dr. Lonnie, is applying to the County for a special use permit for occasional functions. He'll be asking for our help and support when he goes before the county commission on that. We'll keep you posted on how you can help.
TIE ONE ON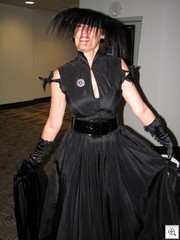 Fifi LaBooshnik, Las Vegas's First Lady of Vintage Couture presents some of her fabulous collection of wearable and frame-able ties, scarves, and gloves and jewelry from the 1920's through the 1970's, at Retro Vegas.
First Friday – Nov. 6, 6pm-10pm
Dress for success, stay warm, be stylish, colorful, and daring by wearing highly crafted vintage accessories for men and women.
Average prices from $5-$10 (tie bars, clips, pins, cuff links, and collar pins too!) Vintage is "green", inexpensive, a good investment, and great for giving!
For more info call Fifi at 702-234-3269
And what better place for Fifi to show her fabulous stuff than our favorite Mid Mod Home Furnishings Store? www.retro-vegas.com
1211 S. Main St. Las Vegas, NV 89104 702.384.2700
She's got a few special ties picked out for me. Fifi's responsible for my collection of Vintage Sport Coats, and I'm anxious to score some new vintage ties to match. I don't think I'll go so far as buying shirts that require cufflinks, however. There's only so far that I'm willing to go to play dress-up.
NV ENERGY Offers Free Thermostat Upgrade Through The Cool Share Program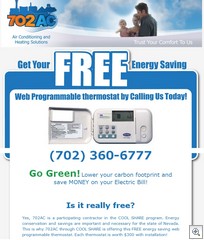 This is a really cool program to install web based thermostats that NV ENERGY can control on the hottest of summer days. The program is called "Cool Share". It allows them to raise the temperature in your house by 4 degrees to help reduce the overall energy demand.
There's several contractors who will install them absolutely free if you have a ground mounted AC unit. 702AC is one of them that I've used before. Their website tells all about it. For the other contractors, visit the NV ENERGY website, for the Cool Share program FAQ.
I've been told, but have not confirmed that they're also available for rooftop units. I've tried several times today to get thru to the NV ENERGY phone number for the program, but it's always busy. 702–402–1111
Posted by Jack LeVine | Currently 2 Comments »
October 29th, 2009 Categories: Las Vegas Real Estate News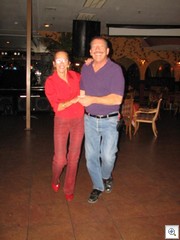 My whole life……I've lamented that I can't sing, can't dance, can't draw. I'm color blind, and tone deaf, as well. Oh Woe Is Me!
In trying to change at least one small part of that….I'm taking swing dance lessons most every Wednesday night at Las Palmas Mexican Restaurant in the Commercial Center. There's a free beginner lesson from 7 to 8 pm, and then open dancing till about 10
There's a huge social-dancing underground going on right under our noses. I wasn't aware of it till a few weeks ago, and I'm betting lots of you don't know about it either. We were at Don't Tell Mama one evening and this young couple got up to dance. They knocked our socks off! After they finished, they filled us in on another "there's no culture" cultural scene that I knew nothing about.
Wednesday is SWING, and Tuesday is Salsa and Thursday is Tango. That's just at Las Palmas.
Friday is Swing Night at the ARUBA. Every night during the school year there's the UNLV Lindy Hop club. There's a lot of other venues and events that I haven't attended, but they're all listed on the calendar of the Swing Dance Las Vegas website.
There's also: "El Corazon del Tango" FRIDAY NIGHT TANGO at the SOUTHERN NEVADA CENTER FOR THE ARTS, 1310 S. 3RD Street, Between Colorado & Imperial from 9:00 pm to 1:00 am. It's The Only Milonga held in an Arts Center. Refreshments Provided, Bring a friend $10/Person or $18/Couple (Cash Only). Check it out after first Friday. Our friend Sharon Linam is the hostess. Email her for more info [email protected]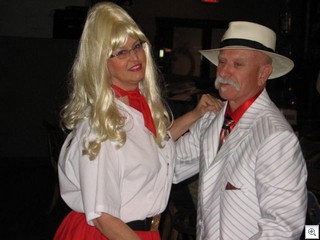 This is something for everyone of all ages. Last night was their Halloween costume contest. About half of the 50 attendees were in costume. Ages last night ranged from 18 to 80, (well, maybe 70).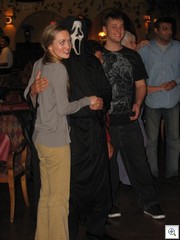 I've met all kinds of interesting people at the few events I've attended. They're all dedicated to having fun. If you've ever wanted to learn to dance, there's a whole bunch of people out there willing teach you and to dance with you.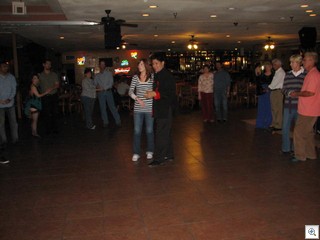 Posted by Jack LeVine | Currently 2 Comments »
October 23rd, 2009 Categories: Fremont Street Experience
I'm going to go see "Herbie The Love Bug" and the Star Wars Transporter in particular!
LAS VEGAS – October 23, 2009 – Fremont Street Experience welcomes "Las Vegas Car Stars" on Friday, Oct. 23 and Saturday, Oct. 24. The event, produced by Paul Casey Entertainment, will host some of the best automobiles from popular television and motion picture films for all car enthusiasts, owners and fans.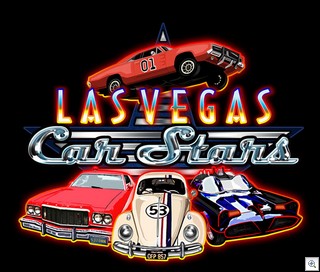 Las Vegas Car Stars will pay homage to original television and movies recognized worldwide and features cars from the following hit shows and films: Magnum P.I. Ferrari 308, Star Wars Transporter, Fast & Furious Dodge Charger, Herbie from The Love Bug, Transformers 2010 Camaro, Elvis's 1959 Cadillac and more. The event will also host a special meet and greet with various celebrities including Joe Esposito, Elvis's personal manager; Catherine Hickland, daytime actress and Knight Rider cast member; Mike "Movie Mike" Walsh, racing legend and movie car customizer and Doug Lovegrove, car builder of the Love Bug.

Las Vegas Car Stars and vintage, hotrod and classic car owners participating in the event will be raising money for the Children's Miracle Network, a nationally recognized charity that assists children and their families in need.

The schedule of events is as follows:

Las Vegas Car Stars Press Conference – Friday, Oct. 23
· 4-7pm – Press Conference (1st Street Stage); Meet and greet with celebrities


Las Vegas Car Stars Day – Saturday, Oct. 24
· 10am – Opening ceremony with Las Vegas City Council, Nellis AFB Honor Guard Presentation and Las Vegas Car Stars

· 10am-5pm – Celebrity cars on display, celebrity appearance Q&A and autographs (11 a.m.-1 p.m.), vintage/classic/hotrod and muscle car show


For more information on Las Vegas Car Stars visit www.LasVegasCarStars.com. For more information on other Fremont Street Experience events, visit www.vegasexperience.com.
Posted by Jack LeVine | Currently Comments Off on "Las Vegas Car Stars" Wheels Its Way Into Fremont Street Experience October 23-24
October 23rd, 2009 Categories: Las Vegas Real Estate News
Near the Strip and Downtown! Avoid the spaghetti bowel and rush hour traffic! Large house and lot! Close in!
The agent cracked so hard when I told him, he's going to leave it there just for fun.
Tell you what…. A 10.00 starbucks gift card for the first reader who sends me the address or MLS number.
UPDATE: we have a winner already.
Gary and Suzanne found it first. They're in contract on on one of the Villa Hermosa Townhomes at Eastern and Desert Inn. Should be moving in mid November!
Posted by Jack LeVine | Currently 2 Comments »
October 21st, 2009 Categories: Las Vegas Real Estate News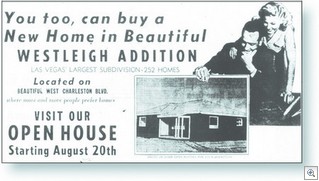 We've seen this before. Misinformation campaigns designed to stop a neighborhood from achieving "Historic Neighborhood" designation. It happened when John S. Park Neighborhood was applying, and it's happening again…..this time at the Westleigh Neighborhood.
Westleigh was built between 1952 and 1955, and was labeled at the time (see the ad) as "Las Vegas' LARGEST subdivision – 252 homes". Westleigh is the 4 north south streets to the east of Valley View, between Oakey and Charleston.
The Westleigh Neighborhood Association has spent 3 years working on obtaining Historic Neighborhood Designation. One of their representatives sent me this note, and asked me and my readers for some help.
Specifically, we'd like to hear from those of you in John S. Park Historic Neighborhood. Will you use the comments section for this post to tell us your experience with living in a designated Historic Neighborhood. We need your comments to share with the Westleigh Homeowners that are being manipulated with fear tactics from the opposition.
Dear Jack

In September the Westleigh neighborhood was before the Planning Commission to become a historic district. Some opposition to this showed up and the Planning Commission asked that more meetings be held to get information out in the neighborhood.

This Thursday night is the Westleigh neighborhood meeting for the historic designation. It is at 6 p.m. at Vegas Verdes Elementary School (4000 El Parque Ave. on Oakey, west of Valley View). A front porch meeting will also be held on October 31 at the intersection of Melville and Ashby from 9 a.m. to noon. A petition in support of this designation will be available for everyone to sign.

The Planning Commission told the Westleigh neighborhood to have these meetings in order to correct some misinformation that has spread throughout the neighborhood. People were told having a historic designation would lower their property values, the Historic Commission would act as an HOA and residents would need approval just to plant a rose bush. In fact, many papers have been written showing that values don't decrease and in most cases, they increase. The Historic Commission would not be an HOA, no dues would be paid. Alterations not requiring a permit are allowed so you can still plant a rose bush.

The Westleigh Historic designation will be heard at the Planning Commission's November 5, 2009 meeting. The Westleigh neighborhood needs your support. Please try to attend any of the meetings, call or email your City Council members (http://www.lasvegasnevada.gov/Government/council.htm), post comments on Jack's blog, etc. to support the hard work the Westleigh neighborhood has done over the past three years to achieve this historic designation. I've also attached some information about what the historic designation would mean to the Westleigh neighborhood.

Thanks,

Nick Bennett
Southridge, Beverly Green and other neighborhood associations are currently in the planning stages for Historic Designation as well. Let's build the case now, and keep this from happening in the future as well.
If you want a really good read, here's the Westleigh Neighborhood Historic Resource Survey that was conducted to guide the city as to whether Westleigh should be eligible. Here's the actual City of Las Vegas Historic Designation ordinance and the official FAQ brochure on Historic Preservation from the City of Las Vegas.
Here's a flyer that's being sent to Westleigh residents to help get out the truth. Hearing it from John S. Park residents as well, would be a big help.
GET THE FACTS
on
HISTORIC DESIGNATION
Have you heard things you're not sure are accurate?
Are you concerned about the effects an historic designation may have?
Do you have questions you'd like answered from an official source?
Please join Westleigh Neighborhood along with the
City of Las Vegas Planning and Development Department
October 22, 2009 at 6:00 pm
Vegas Verdes Elementary School Cafeteria
4000 El Parque Avenue
Also visit the official HISTORIC PRESERVATON site at:
http://www.lasvegasnevada.gov/information/17473.htm
A HISTORIC DISTRICT DESIGNATION FAQ Brochure at:
http://www.lasvegasnevada.gov/files/FAQ_HistoricDistrictDesigation.pdf
TRUE . . . . .
· May maintain or increase property value
· May add an extra layer of protection against encroachment
· Will provide design guidelines
· Will designate a property owner to be a representative on the Historic Preservation Commission contingent upon interest and availability
· Will maintain the original intrinsic integrity and value of the homes
· Will only affect changes requiring a permit
· Will be able to landscape
FALSE . . . . .
· There will be Dire Consequences! (this will not be comparable to a bomb/missile going off)
· Rental property control
· Retroactive (no one will be required to make changes to their home or repaint)
· Create a homeowner association (there are no fees or regulations/rules aka CC&Rs)
· Prevent homeowners from making any changes to their home (Alterations not requiring a permit will not be affected. Changes which require a building permit will be subject to review by the Historic Preservation Commission for compatibility with significant historic architectural features of the neighborhood.)
Historic buildings are protected by the Las Vegas Zoning Code Chapter 19.06.090 see: http://www.lasvegasnevada.gov/files/Chapter_19.06.pdf
[Chapter 19.06.090 is on page 19 of the document and page 25 in "pdf" format]
See Sept 24th Planning Commission Agenda Item #25 DIR-35476 at:
http://www5.lasvegasnevada.gov/sirepub/pubmtgframe.aspx?meetid=608&doctype=agenda
Visit Westleigh Neighborhood Association website and follow the "Discussions" at: http://www.neighborhoodlink.com/vegas/westleigh
Posted by Jack LeVine | Currently 2 Comments »
October 21st, 2009 Categories: Market Conditions
I can tell you from experience, and have said it many times before……
It's not easy to buy a home now-a-days. The headlines may say the opposite, but the evil banks who control the inventory are making it difficult when they consistently take the lower cash offers for the sake of expediency. Loan guidelines seem to change daily. It's not an easy game, but as I've said so many times before, it's a game worth playing, since home prices are now 40 to 50% below fair market, historical values.
During the last year and a half, one of the things that helped make it worth while to play the frustrating game of buying a house was the FIRST TIME HOMEBUYER TAX CREDIT. It's scheduled to expire on November 30th. Unless you are a cash buyer, it's now too late to start the process if you're counting on receiving the tax credit.
There's lots of reasons that Congress needs to EXTEND and even EXPAND the credit. I personally have many buyers who have been trying to buy, and have been shut out. The number of new inquiries has slowed down dramatically since October 1st. Those that I did talk to wanted first to ask me my opinion of whether the tax credit would be extended. Those buyers are once again going to sit on the sidelines and wait to see what happens with the tax credit. I believe it will be EXTENDED AND EXPANDED, but as you will read below, we're going to need your help to get it done.
In his testimony before the Senate Finance and Housing Committee, National Association of Realtors Vice President Ron Phipps said:
The $8000 first-time homebuyer tax credit expires as of December 1, 2009. But the usefulness of the credit diminishes daily if the credit is not extended well before that date. A homebuyer is eligible for the tax credit only if the home is ―purchased‖ before December 1, 2009. That means that buyers have to find a house, complete a contract, satisfy any contingencies, secure financing and go to closing by November 30. Accomplishing those tasks by November 30 will become more difficult with every passing day. In today's market, it generally takes between 45 and 60 days to go from contract to closing.

Without Congressional action now, the market may freeze again – possibly as soon as this month. NAR's research suggests that as many as 350,000 sales this year can be directly attributed to the availability of the credit. The tax credit stimulated market activity. The volume of housing sales has improved steadily every month since the credit was enacted. The credit pulled people from the sidelines and created some momentum that had been absent.

The housing market remains fragile. The market has improved and prices have stabilized in many areas, but the market has not fully corrected. Retaining the tax credit sustains that recovery. Inventory may remain unusually high. The waves of foreclosures attributable to subprime and other improper lending practices are working themselves through the system. Presently, high unemployment rates pose a threat to homeowners and could set another round of foreclosures in motion. If foreclosure rates were to spike again, inventories could become bloated again. Incentives are still needed to keep the market moving.

Home sales continue to stimulate economic activity. The economy will never fully recover until housing markets fully recover. Thus, the stimulus the credit provides is still needed. NAR estimates that every sale generates approximately $60,000 of additional economic activity. And expanding the credit beyond first-time homebuyers would give the economy a much needed kick. We continue to need the homebuyer credit. Congress must act now to be sure that the credit is available through 2010.
Here's a video Call For Action that was put out to the Realtor Community.
Shelley Berkley, Dina Titus, John Ensign and Harry Reid need to hear from you. Even if you're not planning on buying, you or someone you knows owns a house that's woefully upside down. The tax credit is the best way to keep the momentum going that bring house values back to their historic REAL value.
Preferably, you'll cut and a paste (AND SNAIL MAIL) the following letter to our Senators and Representatives. You can also email them, or at the minimum, call their office and tell them to EXTEND AND EXPAND the homebuyer tax credit. Addresses, phone numbers and email address are at the bottom.
Dear ( FILL IN THE BLANK)

The first-time homebuyer tax credit has definitely been a success. Homebuyer interest and housing sales increased almost as soon as the ink was dry on the tax credit legislation. Today's lower prices and interest rates appeal to consumers, but it's been the tax credit that has attracted people to open houses and to homeownership.

That progress could grind to a halt sooner than you think. Congress must act NOW to extend the credit through 2010. Otherwise, uncertainty will return and the market might again be frozen — possibly as soon as October.

A homebuyer is eligible for the tax credit only if the home is "purchased" before December 1, 2009. That means that buyers have to find a house, complete a contract, satisfy any contingencies, secure financing and go to closing by November 30. Accomplishing those tasks by November 30 will become more difficult with every passing day. In today's market, it generally takes between 45 and 60 days to go from contract to closing.

The market has improved, but it has not yet fully corrected itself. The credit needs to be extended for an additional period of time and expanded in order to build upon the progress that's been made. Uncertainty about the future of the credit will dampen consumer demand. The best way to assure continued housing activity is to extend and expand the credit and to do that NOW.

We can't wait until late in the year to see what happens. Consumers will drop out soon if they can't predict what's in their future. Please act NOW to extend and expand the credit through 2010.


Sincerely,
[Your name]
[Your address]
I thank you for taking the effort, and so does the economy, and future home values.
Preferably SNAIL MAIL, or EMAIL or CALL your Senators and Representatives:
Senator John Ensign EMAIL LINK
119 Russell Senate Building
Washington, D.C. 20510
Phone: (202) 224-6244
Fax: (202) 228-2193
TTY: (202) 228-3364
Senator Harry Reid EMAIL LINK
522 Hart Senate Office Bldg
Washington, DC 20510
Phone: 202-224-3542
Fax: 202-224-7327
Toll Free for Nevadans:
1-866-SEN-REID (736-7343)
Congresswoman Shelley Berkely EMAIL LINK
U.S. House of Representatives
405 Cannon House Office Building
Washington, DC 20515-4708
Phone:(202) 225-5965
Fax: (202) 225-3119
Toll free: (877) 409-2488
Congresswoman Dina Titus EMAIL LINK
319 Cannon HOB
Washington, DC 20515
(202) 225-3252 or (702) 387-4941
Posted by Jack LeVine | Currently 1 Comment »
October 20th, 2009 Categories: Mid Century Modern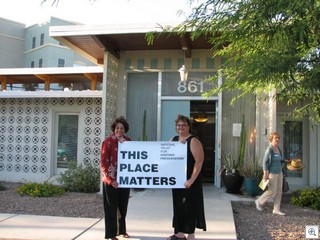 The OTHER opportunity (besides the Mark Twain Lecture event on Thursday) to see the Morelli House is this Saturday, October 24th from 10am to 3pm. 861 E. Bridger at the corner of 9th
The Morelli House is THE ICONIC Mid Century Modern Preservation project in Las Vegas. It's the 1959 home of Antonio Morelli, the fabled house band leader from the Sands Hotel.
There's plenty of pictures and lots history on the house and Antonio Morelli himself on the Junior League Of Las Vegas website.
Here's the text of the historical overview from the Junior Leage website and a few pictures I've taken during my many visits: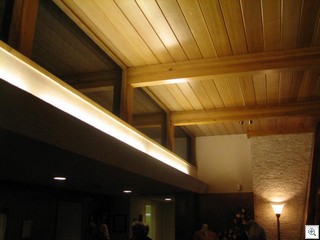 The Morelli House, a classic example of Las Vegas mid-century residential architecture, was built in 1959 at 52 Country Club Drive in the prestigious Desert Inn Country Club Estates that overlooked the world-class Desert Inn Golf Course. In September 2001, Junior League moved the house to a parcel at Ninth and Bridger Avenue in order to save it from demolition so it could become a community historical cultural resource and the headquarters for the organization.
This was funded with the assistance of the State of Nevada Commission for Cultural Affairs and by generous community and member support. The Morelli House is listed on the State and City Registers of Historic Places and has been awarded the State Preservation Award(2007), the City Preservation Award(2007) and the Mayor's Urban Design Award for Historical Preservation (2008).
Antonio Morelli, original owner and builder of the house, was the former Sands Hotel's orchestra conductor and musical director. As a classically trained musician, he brought classical music to the area. He organized the first pops concerts in the early 1960's and in 1969 initiated the "Antonio Morelli Friends of Music Scholarship" to assist UNLV music students, As the music director at the Sands, he came into contact with the top entertainers of the day including the famous Rat Pack. It has been reported that singers like Dean Martin, Frank Sinatra, Sammy Davis Jr., and Nat King Cole rehearsed in Morelli's music room at the house.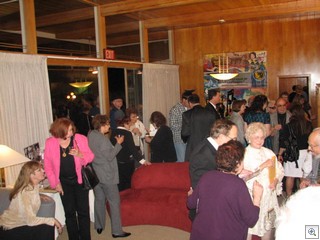 Antonio Morelli chose a mid-century modernistic design for the house. He approached the Sand's carpenter foreman, Richard Small, with his ideas. Together, over the course of two years, the two men designed and built the house. Las Vegas architect, Hugh E. Taylor, was engaged to draw the plans.
Mr. Kay G. Glenn purchased the home in 1978 from Antonio's widow, Helen Morelli. Glenn had been Howard Hughes' press secretary from 1951 until the millionaire's death in l976. Mr. Glenn made only two changes to the house in the 22 years he owned it, and that was to change the paint color in two places. His excellent care and preservation of the home in its near original condition created a perfect historically unaltered example of mid century residential architecture.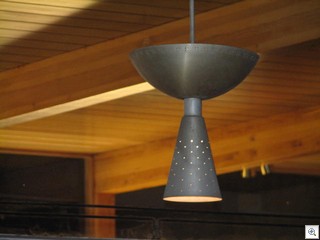 On July 25, 2000, the Junior League had been in the midst of preparing to relocate and restore the historical Whitehead House to land it had purchased through state grants when it was burned down to the ground by vagrants. The League was then given a period of time to find another suitable historical structure before it had to sell the land and return the funds to the state. Knowing about the Junior League's dilemma, Steve Wynn, who was buying the homes on the Desert Inn Country Club to make way for his new Wynn Resort, had The Molasky Group contact the Junior League about the Morelli House. The Morelli House had been identified by the UNLV School of Architecture as the house most worthy of saving in the Desert Inn Country Club Estates due to its classic mid century architectural design, superior workmanship and materials and historical provenance. The Junior League accepted the Morelli House donated by Mr. Glenn and it was moved to the land at 9th and Bridger that was originally purchased for the Whitehead House on September 30, 2001.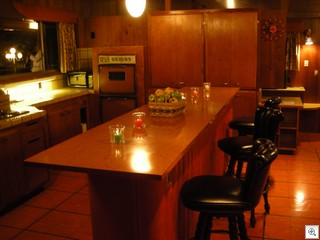 Over the course of several years, the Junior League raised more funds to rectify an expansive soil problem and settle the house on its new foundation and also applied for and received a final grant from the Nevada Commission on Cultural Affairs to complete the restoration. Once most of the critical and cosmetic repairs were made, the League held a public debut of the Morelli House on April 9, 2007. In January 2009, the League officially completed the restorations in accordance with the US Secretary of the Interior's historical preservation requirements.
The Junior League provides public access to the Morelli House through pre-arranged group tours and through public open house and educational events throughout the year. For more information call (702-822-6536 or email [email protected]
Posted by Jack LeVine | Currently Comments Off on Morelli House 50th Anniversary OPEN HOUSE
October 20th, 2009 Categories: ART, Arts District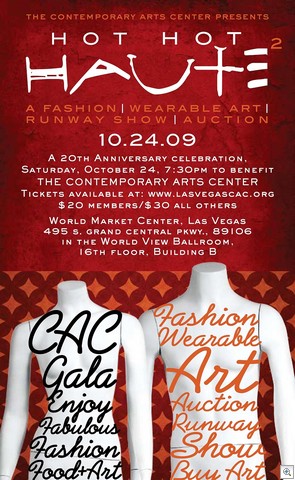 Not only is CONTEMPORARY ARTS CENTER my favorite non-profit arts organization……..
Most of my favorite downtown "characters" are involved in putting this 20th Anniversary Celebration.
For example, this is the email Princess Anne put out to her peeps:
Hello Fabulous Friends…..Please pass this along to everyone you know! Its going to be a fantastic night full of incredible works of Fashion Art…and YES!…it IS going to be a real RUNWAY Fashion Show ……..

(move over Tim Gunn!) to celebrate the 20th birthday of Contemporary Arts Center of Las Vegas

LOCATION: 16th floor of Building B at the World Market Center Las Vegas…Food by Firefly (downtowns' favorite!)….and a veritable plethora of beverages that will make you want to buy more ART!

Get your tickets online at caclasvegas.com so you wont have to stand in line…see you at the party

xos P.A.

PS: Bring your Posse!
What a great opportunity to help a great organization, and if you've never been inside the WORLD MARKET CENTER, this is a great opportunity!
Here's the official press release:
Wearable Art Runway Show and Auction /Gala
The World Market Center, 16th floor, Bldg. "B"
495 S Grand Central Parkway
Las Vegas, NV 89106
On October 24, 2009, at 7:30 pm The Contemporary Arts Center is presenting its second Hot Hot Haute wearable art auction to celebrate its 20th Anniversary by presenting the art / fashion benefit event of the year. CAC members will be asked to donate $20, and non-members will be asked to donate $30 to have the privilege to sample wine, food, and fashion, while mingling with a wild variety of art /fashion afficianados and practicioners, celebrities and wannabes.
Artists, both visual and performing (Cirque du Soleil) will be creating one of a kind wearable creations that will be presented and worn by the artists or agile models, to be auctioned off to the highest bidder. Music, food, and adult beverages will round out the experience of seeing painted bodies, haughty hats, gorgeous gowns, bizarre bustiers, sultry smoking jackets, and wearable art made of any and all materials known to man.
A plethora of celebrities and well-knowns will be competing for under and over garments, and the possibility of buying body painting services by the talented Mary Warner UNLV painting professor, whose talents will be modeled by exquisite physiques celebrating the merger of nature and art.
The Contemporary Arts Collective is a significant resource in Las Vegas representing new contemporary art by emerging and established artists. The C.A.C.'s goal is to provide a venue for artists, collectors, and all art enthusiasts to meet, get engaged with and enjoy contemporary art. Numerous creations have been submitted by local and far away artists, and the CAC Exhibition committee will soon be selecting between 40-50 works to be auctioned.
This event is an important fundraiser for the 20 year old arts organization, now the only surviving independent, non-profit art gallery organization dedicated to contemporary art in Las Vegas.
Tickets for this event will be $20 for all CAC members and $30 for non-members. For ticket information contact [email protected] or call 702-798-1819.
If interested in exhibiting work for this event you may still contact Wes Myles at [email protected]
Posted by Jack LeVine | Currently Comments Off on HOT HOT HAUTE 2 – Contemporary Arts Center 20th Anniversary Celebration
October 13th, 2009 Categories: Las Vegas Real Estate News
I've promised all of these a plug. Getting around to all of them isn't always easy, so we're doing them all at once.
The Las Vegas Girl Festival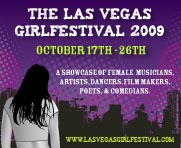 WWW.lasvegasgirlfestival.com I think the name speaks for itself:
A Showcase of female musicians, artists, dancers, poets, comedians and filmmakers for all ages and genres.
October 22 to 26th
Satin Saddle Jazz Orchestra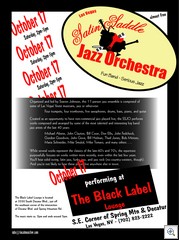 My client and friend Soeren has been secretly building a Jazz Orchestra for the last few years. They've been doing it for fun, but are ready for their first gig.
Presenting: The Satin Saddle Jazz Orchestra. Saturday October 17th from 2 to 5pm at The Black Label Restaurant Lounge at Spring Mountain and Decatur.
Love their slogan – "Fun Band – Serious Jazz"
Rocky Horror Picture Show Halloween Movie Bash

3 Nights ONLY on Halloween Weekend
(AND every first and third Saturday of the month, as well)
At the Onxy Theatre.
More at DivineDecadence
The Mary Ellen Span Quintet
A benefit concert for the Winchester Cultural Center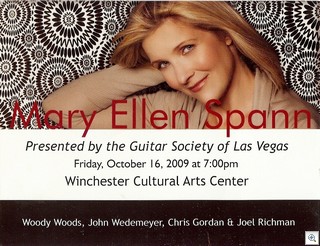 The Mary Ellen Spann Quintet performs the evening of Friday, October 16 in "Starlight and Strings," a benefit for the Friends of Winchester Park presented by the Guitar Society of Las Vegas and the Las Vegas Jazz Society at Winchester Cultural Center, 3130 S. McLeod Drive. The event begins at 6:00 p.m.
Mary Ellen Spann is an extraordinary jazz singer who ventures into rock and other musical genres with her band: Woody Woods, piano; John Wedemeyer, guitar; Chris Gordan, bass; and Joel Richman, drums. She has appeared at the last two editions of Starlight and Strings, drawing such raves from the audience that she is back once again.
The Friends of Winchester Park support not only the park, but Winchester Cultural Center and its programs. The Friends created the Winchester desert demonstration gardens in two phases over the last eight years.
Admission: Adults $20, Seniors/Students $15
Garden Wine & Cheese Reception at 6:00pm Dessert & Coffee at intermissionSilent Auction Items Being Offered For more info call: 455.7340
The Las Vegas Valley Book Festival
So many events and speakers! Please visit the official Las Vegas Valley Book Festival website for the complete schedule.
The Vegas Valley Book Festival, the largest literature event in Las Vegas, will be held November 4?–?8, 2009, with most events taking place at the historic Fifth Street School downtown. Now in its eighth year, this annual community festival was founded on the simple premise of bringing together those who write books and those who love to read them. The five-day festival is presented by the City of Las Vegas Office of Cultural Affairs, Las Vegas-Clark County Library District, Nevada Humanities and the Las Vegas Review-Journal.
Keynote Speakers for the Vegas Valley Book Festival are:
U.S. Poet Laureate, Kay Ryan, and Author E.L. Doctorow
The Genius Of Mark Twain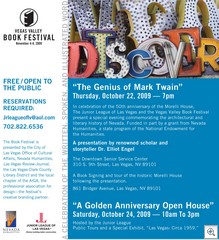 There's also some pre-festival events, including the Mark Twain Lecture that I mentioned the other day. It's OCTOBER 22! RSVP's are required.
On the flyer for the Mark Twain event, they let the cat out of the bag about the Golden Anniversary Open House 2 days later at the Morelli House. It's OPEN TO THE PUBLIC.
If you've never taken the tour of the Morelli House…..make it a point to take the tour. It's the Crown Jewel of Mid Century Modern Historic Preservation in Las Vegas.
It deserves your time. You deserve to see it.
The Vegas Valley COMIC BOOK Festival
And a special treat as part of the Book Festival is the Vegas Valley Comic Book Festival!
Saturday November 7th at the Clark County Library at 1401 E. Flamingo. 11am to 4pm
Besides the panel discussions and exhibit hall, there will be screenings of:
THE LEGENDS BEHIND THE COMIC BOOKS (2008, 56 min, NR)
THOR AT THE BUS STOP (2009, 99 min, NR)
Adventures in Voice Acting: The Bang Zoom! Guide to Voice Acting (2008; rated NR; 108 min)
(I'm especially interested in this one since everyone tells me I should be doing voice-over)
XMEN ORIGINS: WOLVERINE (2009, 107 min, PG-13)
Posted by Jack LeVine | Currently Comments Off on Low Brow or High Brow – It's Still Culture And Lots Of Fun
October 13th, 2009 Categories: First Friday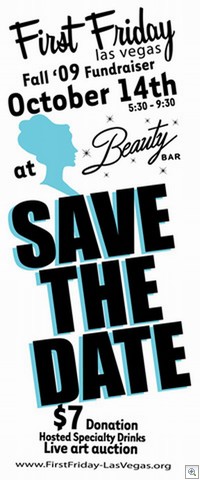 These are great events that raise money to keep First Friday alive.
Hosted specialty drinks, Silent Auction, Live Auction, and the opportunity to meet just about everyone from the Downtown Las Vegas Arts Scene.
We hope you'll come out an join us, or donations are gladly accepted thru the First Friday website.
That's where you'll also find all the items to be in both the silent auction and the live auction.
WHAT: First Friday Las Vegas Fundraiser
WHEN: Wed, Oct 14, 5:30pm-9:30pm
WHERE: Beauty Bar, East Fremont St., Downtown
WHY: To support your favorite monthly arts event and have a great time!
$7 entry
Free signature cocktails
Silent Auction
Live Auction–Nate Tannenbaum and Ginger Bruner
ART, Dinners, Shows, Spas, Gift Baskets, Hotels……
DJ's–DJ Style, Ladyfingers and John Doe
Henna tattoos
Tarot Master–Locq N. Fortune reading cards
PLEASE RSVP TO THIS EVENT [email protected] or on the event facebook page.
Posted by Jack LeVine | Currently Comments Off on First Friday Fundraiser At The Beauty Bar
October 11th, 2009 Categories: Las Vegas Real Estate News
I love a great piece of over the top sarcasm. Some of it all too true.
A second hat tip this week to Bill Johnson of Retro Vegas, on Main Street, for providing me the link. If you see something you think we should share, SEND IT OVER!
Posted by Jack LeVine | Currently Comments Off on How To Buy A Bank Owned Home
October 9th, 2009 Categories: Las Vegas Real Estate News
Thru the magic of Google, VeryVintageVegas was discovered by the folks at Collector's Weekly, an online resource for collectors of every stripe.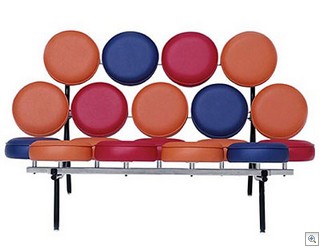 One predominant stripe is Mid Century Modern. They recently published an an interview with noted collector and dealer of Mid Century Modern furniture, Frank Marschiello, which I'm delighted to share with you.
I think you'll have as much fun on their website as i did.
Bill and Mark the owners of RETRO VEGAS on Main Street check in often at Collector's Weekly. I was talking to them this morning and they mentioned all the terrific mid mod furnishings that they have in their store. They've put out a lot of new inventory if you haven't stopped in recently.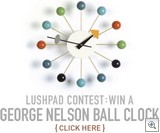 They also mentioned another site that I didn't know about called LushPad. Along with Modernism Magazine, They're giving away re-issued George Nelson Ball Clock by Vitra.
Speaking of Modernism Magazine, Jake Gorst the documentary film maker (who's new film on William Krisel, was previewed last night in Denver,) sent me a link to an article he did for Modernism on Betty Reese, the publicist for Raymond Lowery
Collecting Mid Century Modern Homes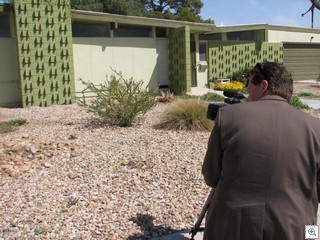 And even MORE IMPORTANT, we're now moving into the phase where people are collecting not only the furnishings of Modernism, we're also collecting the Mid Century Modern homes, themselves. The very houses themselves have now become collectible. Many of the people who I'm helping to buy homes right now feel that way.
Jake Gorst has just finished the documentary on William Krisel, the architect of many of the homes in Paradise Palms. Paradise Palms and yours truly is featured in the film. Here's the link to the article about the day we spent filming with Jake in Paradise Palms, while he was filming the movie.
I'm extremely excited to report that the trailer for the William Krisel documentary has just moments ago become available, and except for Jake's facebook friends, VeryVintageVegas readers get to see it first. Even in this short 4 minute trailer, you'll see lots of examples of the kinds of furnishings that I've been talking about above, and you'll get to see whole communities that have become collectible. Vintage Vegas is next.
Posted by Jack LeVine | Currently 2 Comments »
October 9th, 2009 Categories: Las Vegas History
One of the most exciting "there's-no-culture" cultural events each year in Las Vegas is the Vegas Valley Book Festival. It's time once again, so find the reading glasses and get ready for an amazing line-up of events.
I hinted the other day that there's going to be two opportunities coming up to see The Morelli House. The first event is a pre-festival lecture on Mark Twain, followed by a party at the Morelli House.
Nevada's Literary And Architectural History Celebrated At Morelli House Reception
The Vegas Valley Book Festival celebrates one of Nevada's famous authors in a special literary program, "The Genius of Mark Twain," on Thursday, Oct. 22, at 7 p.m. in the auditorium of the city's Downtown Senior Services Center, 310 S. Ninth St. T
This pre-festival event, co-sponsored by the Junior League of Las Vegas, will feature renowned scholar, author and storyteller Dr. Elliot Engel in a dramatic narrative celebrating the writings and the life of Mark Twain as one of America's most enduring literary legends. Engel, a recognized authority on Charles Dickens, has taught at the University of North Carolina and Duke University and offers a range of literary programs on the lives of 19th- and 20th-century authors — including Mark Twain, whose real-life experiences in Northern Nevada inspired his writings about the American West.
Following Engel's presentation, a reception and book signing will take place at the Junior League's Morelli House, located at 831 Bridger Ave. The Junior League, celebrating the 50th anniversary of the Morelli House, will be providing tours of the historic property.
These events are free and open to the public, but seats are limited. Reservations can be made by calling 882-6536 or emailing [email protected]. The event is funded in part by a grant from Nevada Humanities, with support from the city of Las Vegas.
"The Genius of Mark Twain" is one of a number of pre-festival events leading up to the Vegas Valley Book Festival, Nov. 4-8, with most events taking place at the Historic Fifth Street School. The festival, now in its eighth year, is presented annually by the city of Las Vegas, Nevada Humanities, Las Vegas-Clark County Library District and Las Vegas Review-Journal. This year the festival hosts more than 100 authors and is expected to draw an estimated 10,000 attendees at all venues over the five-day event. For more information on the Vegas Valley Book Festival, call (702) 229-5431 or visit online at www.vegasvalleybookfestival.org or www.artslasvegas.org\vvbf.
Posted by Jack LeVine | Currently Comments Off on Vegas Valley Book Festival And The Morelli House Features Mark Twain Event on Oct. 22