Culture Topics
Welcome To Uncle Jack's Very Vintage Vegas!
Vintage Las Vegas Homes,
Historic Las Vegas Neighborhoods,
Las Vegas History,
Urban Living In Las Vegas.
If it's great, cool, fantastic, artistic, annoying, amusing, unique, or surprising.. you'll find it at VeryVintageVegas.com.
Check out what we're doing and add your two cents! Your comments & ideas are welcome. We update daily, so come back tomorrow!
Blogroll
Farmer's Insurance
Paul Hesselgesser
702-434-1230
The Hesselgesser Insurance Agency Website
Classic Las Vegas - Lynn Zook's Preservation of 20th Century Las Vegas
Curbed LA - WOW!
Mid-Century Modernist
RETRO RENOVATION - Pam's Excellent Effort At Re-creating A Retro Life
Carnival Of Real Estate - Minus Elephant Ears, But Still Mighty Tasty
Lotta Livin' - A Celebration Of Really Cool Things Mid Century
Bawld Guy Talking - Minus The Hair; Plenty Insightful
CoolnessIsTimeles - ALL "RAT PACK" ALL THE TIME!
SEE ALL OUR FAVORITES HERE

Culture
October 10th, 2010 Categories: Culture, Events
Join downtown business owners, artists and city ambassadors for next Symphony Park Lecture
Ask Las Vegas locals why East Fremont Street boasts the best bar-hopping in Las Vegas. Ask the city's established and emerging artists why they are drawn to dozens of galleries that dot the downtown landscape. Check out the city's most iconic architecture that has put downtown Las Vegas on par with other great metropolitan areas. Discover why downtown is the epicenter of cool and how art, design, style, fashion, food and funk are converging to create a sense of community culture in our city.
Join CityLife editor, Steve Sebelius, who will lead the conversation with a fun, outgoing panel of downtown business owners and ambassadors who have made significant financial and emotional investments in the city's heart. The next Symphony Park Lecture – The Urban Vibe – is scheduled for Wednesday, October 13 at the historic Fifth Street School, 401 S. Fourth Street. It is free and open to the public.
Doors open at 5 p.m. for a wine bar hosted by Newland, Faiss Foley Warren and Inhabit Design, a cutting edge interior design duo. The social hour also features a jazz pianist and an informal vintage fashion presentation by Jennifer Henry of FlockFlockFlock, a vintage clothing boutique inside the Emergency Arts building with hair and make-up provided by Globe Salon.
The presentation begins promptly at 6 p.m. and features Jennifer Cornthwaite, owner of The Emergency Arts District and The Beat Coffeehouse; James P. Reza, co-owner of The Globe Salon; Brett Sperry of Brett Wesley Gallery; Jennifer Henry, owner of FLOCKFLOCKFLOCK, Dan Maddux, CEO of MEET Las Vegas; Damon Andrews of Faciliteq; Andrew Kiraly, editor of Desert Companion and John Curtas, food and restaurant critic.
For more information, click on ARTS & EVENTS in symphonypark.com.
Posted by Jack LeVine | Currently Comments Off on "The Urban Vibe" – Symphony Park Lecture Series
March 11th, 2010 Categories: Culture
Brian Paco Alvarez was interviewed this week at our favorite Las Vegas history blog – Classic Las Vegas.
Paco's one of my closest friends, and he's taken up the mantle of blogging all things cultural in Las Vegas – Enculturate Las Vegas. Besides, VeryVintageVegas, these are the other two local blogs that you should be reading regularly.
The interview with Brian Paco Alvarez is far reaching, with questions about culture in general, the myth of "there's no culture in Las Vegas", the neon museum, the arts district, and the question that's most important to us at VVV:
4) Aside from a core group of supporters, Historic Preservation still feels like it is under-rated and under supported not only by the City and the County but by the residents of Las Vegas as well. What suggestions do you have for making historical preservation more important to the local municipalities and the community at large?

The solution is very simple, "education." The preservation groups must be willing to step forward and work closely with our community leaders to educate them about the treasures in which we as a society have been entrusted to care for. Las Vegas is a new city therefore we must find novel ways of explaining to the public that the buildings that were built 40 and 50 years ago are relevant to history because of the context in which they were built.

This community has a spectacular ephemeral past and we must use those collections whether they are from UNLV Special Collection, the Nevada State Museum or the Las Vegas News Bureau to educate the public about preserving our past. Unfortunately we do not have many large commercial buildings left to preserve but we have thousands of historic homes in dozens of historic neighborhoods that we should be preserved. Demonstrating to the public the importance of preserving these neighborhoods is key, not to mention it helps sustain property values. We must demonstrate to the public the economic value of historic preservation. Economics always resonates with the American public no matter what community you may live in.
Please take a moment to read the entire interview. It's short, but full of insight into creating a better Las Vegas through culture.
Posted by Jack LeVine | Currently Comments Off on Brian Paco Alvarez Speaks His Mind About Culture In Las Vegas
November 16th, 2009 Categories: Culture
I've been a lifelong fan of Mark Twain. I never knew that he'd written an unpublished play.
From 702Events
Is He Dead? A Comedy by Mark Twain Adapted by David Ives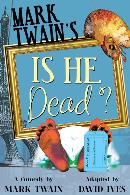 Las Vegas Little Theatre presents Mark Twain Comedy – Is He Dead?
When asked to name a famous playwright, many audience members will offer up names such as Williams, Ibsen, Mamet, Shakespeare, and (perhaps begrudgingly) Neil Simon. Now there's another name to add to the list. The name of a man whose novels have been read and loved by millions. This new playwright? Mark Twain.
In 1898, Mark Twain was suffering from financial hardships, as well as the recent loss of his youngest daughter. There were those who wondered if the famous author would ever find his humorous muse again. Twain's response was to write IS HE DEAD?, a high-spirited romp that he planned on premiering simultaneously in New York and London. But the play was never produced, and remained largely unknown.
IS HE DEAD? was first published in print in 2003, after Mark Twain scholar Shelley Fisher Fishkin read the manuscript in the archives of the Mark Twain Papers at the University of California at Berkeley. The play was long known to scholars but never attracted much attention until Fishkin arranged to have it published in book form. She later played a primary role in getting the play produced on Broadway in 2007. And now the Las Vegas Little Theatre is giving local audiences its chance.
IS HE DEAD? focuses on Jean-Francois Millet, a young painter of genius, who is in love with Marie Leroux, but in debt to a villainous picture-dealer, Bastien Andre. Andre forecloses on Millet, threatening debtor's prison unless Marie marries him. Millet realizes that the only way he can pay his debts and keep Marie from marrying Andre is to die, as it is only dead painters who achieve fame and fortune. With the help of his friends, Millet fakes his death and prospers, while passing himself off as his own sister, the Widow Tillou. Now a rich "widow," he must find a way to get out of a dress, return to life, and marry Marie.
The cast features Tony Blosser as "Millet"; TJ Larsen as "Chicago"; Scott DelGuidice as "Dutchy"; Brian Scott as "O'Shaughnessy"; Ed Knutson as "Papa LeRoux"; Joel Wayman as "Andre"; Renee Valdez as "Marie"; Carla Chiron de la Casiniere as "Cecile"; Gloria Hoffman as "Mme. Bathilde"; Mary Ann Hebinck as "Mme. Caron"; and Dave Pomeroy in multiple roles. Directing this wild production is Joe Hammond.
IS HE DEAD? by Mark Twain, adapted by David Ives, will be presented live on stage at the Las Vegas Little Theatre, 3920 Schiff Drive in Las Vegas, from November 6-22, 2009. Thursday, Friday, and Saturday evening performances begin at 8 PM, and Sunday matinees start at 2 PM. Tickets are $22 for adults, and $19 for students and seniors. For more information, and to purchase tickets, please visit www.lvlt.org, or phone the theatre box office at 362-7996 during Box Office hours…. Mondays 4p-8p, Wednesdays 10a-1p, and Saturdays 9a-12p.
Posted by Jack LeVine | Currently Comments Off on IS HE DEAD? – A Play By Mark Twain At The Las Vegas Little Theatre
November 2nd, 2009 Categories: Culture
"There's no culture in Las Vegas", he said sarcastically, "but, I'll attend The Vegas Valley Book Festival anyway…..just on the off chance they're wrong".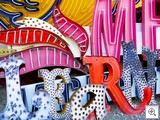 That's going to be the opening line if I ever get around to writing that novel (or not). As much as I whine about not having enough hours in the day, I still read an hour or 2 each day. I particularly love long epic sword and sorcery novels and serials. I do Sci-Fi. Any hero with super powers will strike my fancy. I even read an occasional Biography.
I'm not into poetry, or children's books, or horror. Comic books on the other hand were a passion in my youth and 20's. I phased out of the comics and into the fantasy realm, but still love all the movies based on my childhood heros – especially Superman and X-Men.
There's something at the Vegas Valley Book Festival for just about every genre. There's more events than I'll have time for. If I had kids, I wouldn't want to miss the Children's Festival.
I received this little email from my friend Richard Hooker, who is officially the "Sr. Cultural Specialist" for the City of Las Vegas. In that capacity, he's primarily responsible for creating and scheduling the festival. He deserves a huge round of applause for a terrific line-up.
Hi Jack,

If you are updating your arts news, it's the big week for the Vegas Valley Book Festival!

There are 5 evening events, Wednesday thru Sunday. Plus, there's the book festival sessions, the Children's festival, and the comic book festival, all on Saturday — it really is the biggest day for literature in Las Vegas, or Nevada.

Check out the Wednesday evening talk about the spectacular museums that have built around the world –and how Las Vegas measures up. How often do you get to meet and hear Kay Ryan, the Poet Laureate of the United States reading her own works? You can do that on Thursday night.

Friday night, in conjunction with First Friday, you can jump on the double decker bus as it becomes the "sonateer poetry express". Tool around the arts district on First Friday with a team of poets led by Jarret Keene. It begins with Mayor Goodman and Dayvid Figler reading haiku poems at 6 pm on the Book Festival stage on Casino Center south of Charleston.

Who says Las Vegas has no culture?

Hope all is well in the world of commerce and arts.

Richard Hooker
I'm surprised that Richard didn't mention E.L. Doctorow – The closing Keynote Speaker on Sunday night.
Make sure to say hello if you see me at one of the events.
CLICK HERE FOR THE COMPLETE SCHEDULE OF ALL EVENTS
Posted by Jack LeVine | Currently Comments Off on Vegas Valley Book Festival – November 4 – 8
August 4th, 2009 Categories: Culture, Downtown Las Vegas

It's not really the "Mob Museum", but I'm pretty sure that will be it's nickname for all time. It's actually called "The Las Vegas Museum of Organized Crime and Law Enforcement".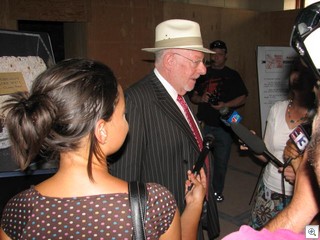 This morning, Mayor Oscar Goodman unveiled the first artifact. It's a brick from the wall where the 1929 Chicago St. Valentine's Day Massacre occurred. There's certificates of authenticity and display boards with photos and other documentation as well.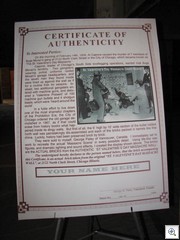 Dressed in his best pin stripe suit and white fedora, the mayor told of many of the plans for the museum that will be another great draw for the tourists to come to Downtown Las Vegas.
He was totally surrounded by camera from all the local TV News outlets, so I couldn't really hear it all well. There will be coverage on 3, 8 and 13, so I'll fill in links to this post after they're aired. Hopefully, I'm scooping them all by getting it on the blog first.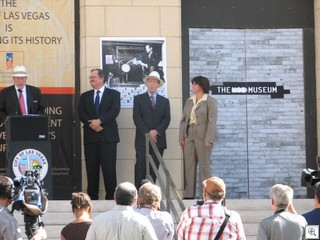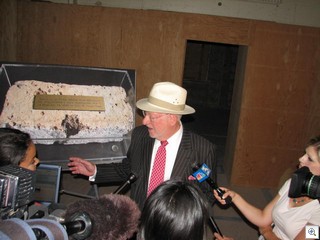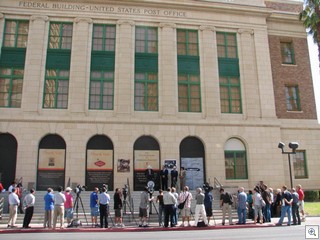 It was the first time I've been in the "Old Federal Courthouse Building" building in 20 years. Back then it was the downtown post office. The building is a registered landmark with the National and State Registry of Historic Places.
From the FAQ on the Mob Museum Website (pdf) in answer to the question –
Why the former Post Office Building?

It's one of the last remaining historically significant buildings
in Las Vegas, included in both the Nevada and National Registers of Historic Places, and determined to be significant at the national level for its association with the Kefauver Committee hearings on organized crime (the only historic building in Las Vegas designated as significant at a national level). The building is an important remaining example of the Depression-era neoclassical architecture built by the federal government during the 1920s and 1930s.
I was able to hear Mayor Goodman tell a reporter that he's dug deep into is own warehouse of memorabilia to make some significant donations to the museum. I think I understood that there will also be some items from the "Casino" movie, and I did hear him say "If I had seen the Casino movie first…..I'd have charged them a whole lot more money to be their lawyer".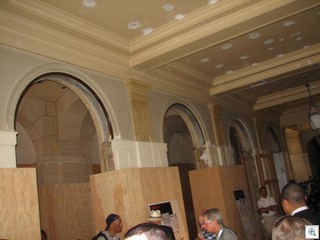 Here's a shot of the current interior space, now that the demo work and environmental abatement projects have been finished.
The "Mob Museum" will open in 2011.
UPDATES:
The Sun and the RJ now have coverage on their blogs, as well.
I think my facebook uploads were the first to hit.
Posted by Jack LeVine | Currently 2 Comments »
December 22nd, 2008 Categories: Culture, Las Vegas History
December to Remember
Saturday, December 27th
11am-3pm – Self Guided Tours of The Boneyard for $5
Guided tours of The Boneyard at 12pm, 1pm, 2pm, 3pm.

The Neon Museum will offer a discounted admission price of $5 to its outdoor Boneyard display of historic neon signs on Saturday, December 27, 2008 from 11 am to 3 pm. Festivities include several surprise celebrity impersonators throughout the day to meet and greet everyone. Visitors can drop in and tour the facility on their own, or participate in scheduled guided tours at noon, 1 pm, 2 pm and 3 pm. Gates will be locked promptly at 3 pm. No pre-registration is required for this event only. All standard tour rules and regulations apply.
Normally the admission price for guided tours is $15 per person, and advance registration is required. The Neon Museum is offering this special day as part of the Downtown Cultural Corridor's "December to Remember—Holiday Traditions From Around the World" celebration.
The Downtown Cultural Corridor includes the Natural History Museum, the Old Las Vegas Mormon Fort State Historic Park, Reed Whipple Cultural Center, the Las Vegas Library and the Lied Discovery Children's Museum.
The Neon Museum is a non-profit organization whose purpose is to save historic Las Vegas neon signs and educate the public about their historic and cultural value.
For more information about the Neon Museum call (702)387-NEON (6366) or go to www.neonmuseum.org. Cultural Corridor information available at www.culturalcorridorvegas.org.
Posted by Jack LeVine | Currently Comments Off on Neon Museum Offers $5 Admission As Part of the "December To Remember" Festivities
March 28th, 2008 Categories: Architecture, ART, Culture
Thank you to Brian Paco Alvarez for sending us this information! As you can see, it's based on one of Jack's favorite obsessions,
decorative block
. There's lots more of them on
our old blog.
Please join us for the dedication of
Ornamental,
a public artwork by Catherine Borg on Wednesday, April 9th.
Ornamental
is a project by the City of Las Vegas Arts Commission percent for the arts program.
For more information, please visit our fabulous new website at:
www.lvartscommission.com
ornamental
by Catherine Borg
The patterns incorporated in ornamental are based on photographs by the artist documenting brick walls in older Las Vegas neighborhoods. Reduced from the photographic to essential patterns and presented on a mirrored material, the intent of this project is to suggest connection among all downtown dwellers, old and new.
Project Dedication:
Wednesday, April 9, 2008 at 5:30 p.m.
Hoover Avenue and Las Vegas Boulevard, on the north side of Soho Lofts
Reception immediately following in the lobby of the Soho Lofts, 900 Las Vegas Blvd. South.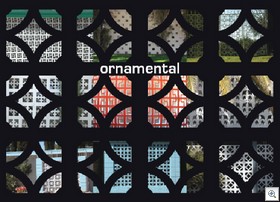 ornamental is a 120′ long public artwork commissioned in association with the Hoover Street Improvement Project.
Cover graphic/photography, Catherine Borg
Special thanks to Sam Cherry for his support of the project.
ornamental is a project by the City of Las Vegas Arts Commission. For more information, visit our website: www.lvartscommission.com or call (702) 229-6844.
Posted by Stephen P Christmas | Currently 1 Comment »
March 25th, 2008 Categories: ART, Culture, Downtown Las Vegas
Wow. I would have told you all to go.. but i didn't know what to say! I was going to this intimate theatre experience because some friends were involved. Seemed like everyone there(the house was packed anyway & you would have had to stand!) was either involved in some amazing production or tightly connected to those who were. The group putting on this insane show at the Aruba Hotel is called Dream City, produced by Marco Landin.. keep an eye out for anything they're involved with!
The intimate venue holds about 120 (we had overflow) and the energy & creative culture was spilling out the front door. How could it not? With performances by people involved w/ Cirque, Stomp, & everything tourists go pay a bunch to see(tickets to this:$10, Culture:priceless); this event was a smaller, more intimate production…but with no lack on huge equipment, lighting & video jockey stuff, live jazz-fusion and rock bands, magic, performance art, flamenco dancing, um.. you name it.
Here are a few pics:
The production is titled 10 Min Max, and from what I hear the next show will be in September; though I'd prefer next month. It's hard to do it justice, especially since I was so blown away I forgot to take pictures until half way through the show. This is exactly the sort of cultural/entertainment mecca that only seems to reside downtown & that we need much more of *cough Huntridge?*.
Posted by Stephen P Christmas | Currently 1 Comment »
February 6th, 2008 Categories: Culture, Events
From the desk of Mr. Brian Paco Alvarez:
"This past Monday I had the pleasure of recruiting our very own Steve Christmas in assisting me in the installation of the Las Vegas News Bureau Exhibition "Viva Las Vegas" at the Hispanic Museum of Nevada. The exhibition features 25 memorable images of famous Latino entertainers from the News Bureau archives. Steve is a great exhibit Preparator and I plan on recruiting him many more times! Thanks Steve!
The opening of the exhibition will be on Thursday, February 7th at 6PM. The Hispanic Museum of Nevada is located at the Embarq offices at 330 S. Valley View Boulevard across from the Springs Preserve."
Viva Las Vegas
A photographic retrospective of historical images of
Latino entertainers from the world famous
Las Vegas News Bureau Photo and Film archives
Latinos Setting the Stage
The Latino experience in Southern Nevada began after Mexico won independence from Spain in 1821. Shortly after in 1829, Rafael Riviera, a scout for trader Antonio Armijo, became the first European to visit what is now the Las Vegas Valley in the great quest to establish the Santa Fe Trail between New Mexico and Southern California. These early expeditions by traders, couriers and emigrants would build the foundations in which the great cities of the region would develop their rich history and colorful culture. The very name Las Vegas comes from the Spanish word for "the meadows."
These early explorations would establish Latinos as part of the American experience and would help pave the way for the great entertainment heritage that later developed in Las Vegas.
The Stage is Set
During the 1940s and 50s the American music scene pulsated with the rhythms of Latin music. Latin dance was all the rage such as the Argentinean Tango, the Cuban and Puerto Rican Rumba, Cha Cha, Mambo and Salsa. The Merengue from the Dominican Republic, the Cumbia from Colombia and the Bossa Nova from Brazil also took center stage. American radio stations flooded the airwaves with Latin music and Latin entertainers regularly played the famed stages of Las Vegas.
The first nod to Latin entertainers in Las Vegas occurred at the opening of the Last Frontier in 1942. Inside was the Carillo Bar named after Latino actor Leo Carillo, who starred as the famous sidekick of the film and comic book series the Cisco Kid. It was not until the opening of the Flamingo Hotel a few years later that Las Vegas was graced with the most famous of all Latino entertainers, Xavier Cugat. Cugat, who was born in Catalonia, Spain, immigrated with his family to Cuba at the age of 5 and later to the United States, is noted by many to have had more to do with the infusion of Latin music into the United States than any other musician. Cugat introduced Abbe Lane, Carmen Miranda and Charo to Las Vegas. Cugat was married to all three entertainers at various times of his life.
In the late 1940s, a Cuban named Jack Cortez introduced the entertainment guide titled "Fabulous Las Vegas," which listed all major acts in Las Vegas. Famous early Latin entertainers such as Carmen Miranda, Desi Arnaz and Tito Guizar were featured in the guide.
Today, Las Vegas is world-renowned for its rich entertainment history and its dynamic live music scene. Latino entertainers continue to play a major role in the development of the destination's culture and music. Most recently (in November 2007), Las Vegas hosted the Latin GRAMMY® Awards, which celebrate excellence in Latin Music. Some of the hottest acts in Latin music today performed at the awards ceremony, which was broadcast throughout North, Central and South America.
Hispanic Museum of Nevada
&
Las Vegas Convention and Visitors Authority
Posted by Stephen P Christmas | Currently 2 Comments »
February 4th, 2008 Categories: Culture, Downtown Businesses
And if you haven't been in yet, you're missing one of the tastier authentic ethnic cuisine spots tucked downtown. It's the Island Flavors Cafe at 300 E. Charleston two blocks West. of Las Vegas Blvd. Paco, our friend Patrick & I all stopped in while walking back to L'Octaine from the First Friday festivities.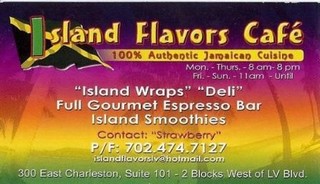 The Marley playing in the background is pretty much what you'd expect from a place serving Jamaican Cuisine, but the Jerk Chicken was better than any I've tasted to date. Decent prices make it even easier to come stop by for something new & local if you haven't been yet. This downtown spot is VVV approved!
Posted by Stephen P Christmas | Currently Comments Off on You Drive By Every Day
January 2nd, 2008 Categories: Culture, Historic Preservation
We're usually quick to report or link to press coverage for our favorite people and organizations, so we're a little late with these, but the kudos are well deserved.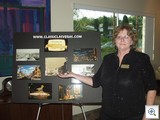 Lynn Zook, the founder of Classic Vegas, the historic preservation group and our friend, client, neighbor and County Commissioner Extraordinaire – Chris Giunchigliani

both got nods as "heros" in the Dec. 20 edition of City Life. You can read the whole article entitled "Celebrating the local heroes who fight poverty, feed the hungry, save history and agitate for change"
Posted by Jack LeVine | Currently Comments Off on Things We Should Have Mentioned About Our Friends In Vintage Las Vegas
December 14th, 2007 Categories: Arts District, Culture, Downtown Las Vegas
Letter: Downtown arena project is doomed
As a downtown resident and a native of Las Vegas, I have seen many developers like REI Neon plan big projects and not follow through. Remember the Minami Tower?
Though I have always been opposed to the arena project because it is not in character with the surrounding area or the fledgling arts district, which I have supported, it does not surprise me that REI Neon is asking Las Vegas for yet another extension. I think it would be best to say the project is dead and will never be built.
It frustrates me to no end that REI continues to waste the invaluable time of Mayor Oscar Goodman, members of the City Council and the Planning Commission, city staff and, most important, taxpayers. I have always said that just because you can run a gambling barge on the Mississippi does not mean you can run a casino on the Strip.
Besides, no bank or financial institution would dare lend more than $10 billion to a company that has never built such a project, especially in this current credit crisis.
My recommendation is for REI to step aside and let experienced Las Vegas gamers, such as Harrah's and MGM Mirage, do what they do best.
Brian Paco Alvarez, Las Vegas
Posted by Stephen P Christmas | Currently 1 Comment »
November 16th, 2007 Categories: Architecture, Crestview, Culture, Downtown Las Vegas, Events, Historic Preservation, Las Vegas History, The Las Vegas Strip
This is the final reminder regarding the Friends of Classic Las Vegas Fundraiser this Saturday, Nov. 17th.
This is an Open House/Soiree in a restored mid-century historic home in fabulous Downtown Las Vegas.
The Open House/Soiree is from 2:00 – 5:00 pm at 1905 Chapman Drive.
There will be wine, savory snacks, a silent auction, hourly raffles as well as talks about Las Vegas history by Dr. Michael Green. Michael Green is a history professor at the College of Southern Nevada and has written extensively about Southern Nevada. He is co-author of "Las Vegas: A Centennial History."
There will be DVD promos highlighting some of the Downtown preservation issues.
DVDs of The Story of Classic Las Vegas: An Overview, companion tee-shirts and the Mid-Century Guide to Historic Las Vegas Sites will be on sale as well.
Tickets are only $35 per person and there are some tickets still available.
You can call 878-3889 to make your reservation and pick up your tickets at the door on Saturday afternoon.
We hope to see you there as we celebrate Las Vegas History and begin to work together in preserving our history.
Posted by Jack LeVine | Currently Comments Off on Friends Of Classic Las Vegas Fundraiser Tomorrow
November 13th, 2007 Categories: Cool Stuff, Culture, Downtown Businesses, Downtown Las Vegas, Events, Fremont East Entertainment District
Rock The Block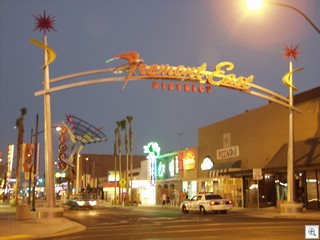 Rock The Block Music Festival All Day Saturday in the Fremont East Entertainment District
Inventory Clearance At The World Market Center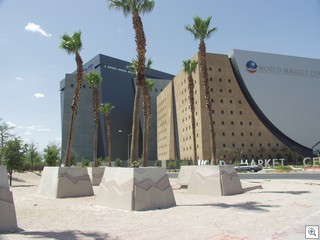 Open To The Public. Worth the $10 admission just to see the buildings. Proceeds benefit the Nevada Aids Project. NOV. 16 – 17
The Las Vegas Design Center at World Market Center holds a pre-market inventory clearance sale, organized by The California Central Nevada chapter of American Society of Interior Designers, 9 a.m.-5 p.m., at Las Vegas Design Center, 495 S. Grand Central Parkway. Cost: $10, with proceeds benefiting the Nevada Aids Project, Habitat for Humanity Las Vegas and Opportunity Village. Info: 599-3093.
Posted by Jack LeVine | Currently 1 Comment »
November 11th, 2007 Categories: Cool Stuff, Culture, Downtown Las Vegas, Events, Historic Preservation, Las Vegas History, Las Vegas Real Estate News, Mid Century Modern, Moonlight Mid Mod Bus Tour
Morelli House Was Final Stop On The Moon Light Bus Tour Of Mid Century Modern Las Vegas – Part 7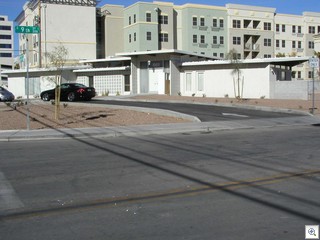 We've been reporting all week on our midnite bus tour of the historic mid century modern heritage of Las Vegas. The tour was sponsored by the Atomic Age Alliance and the City of Las Vegas Department Of Cultural Affairs. We especially want to thank Richard Hooker for organizing it and MaryMargaret and Cary Stratton for guiding it. We were honored and privileged to have Chris Nichols narrate, with special commentary from Alan Hess.
Our final stop on the tour was at the Morelli House. It was built on the Desert Inn Golf Course in 1959 by Antonio Morelli, the fabled orchestra director of The Sands. It was moved to the corner of 9th and Bridger and now serves as the offices of the Junior League of Las Vegas.
Junior League Of Las Vegas Shows The Morelli House To The Public With Vintage Fashion Show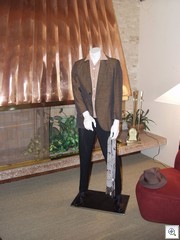 And yesterday, many of you dropped in on the Junior League's fall open house.
Diane Bush and Steven Baskin showed their collection of vintage clothing from the late 50's and early 60's.
If I've ever been called anything, fashionable is not a word that's ever been used. I really got off on a lot of what I saw so I'm meeting with Diane later today with a few trusted clothes hound friends to put together some vintage wardrobe for me. Should be fun and I'll report on it later.
In the meanwhile, here's some of the fashion you missed if you didn't stop in yesterday at the Morelli House.
Posted by Jack LeVine | Currently 3 Comments »