Maria Elena Topics
Welcome To Uncle Jack's Very Vintage Vegas!
Vintage Las Vegas Homes,
Historic Las Vegas Neighborhoods,
Las Vegas History,
Urban Living In Las Vegas.
If it's great, cool, fantastic, artistic, annoying, amusing, unique, or surprising.. you'll find it at VeryVintageVegas.com.
Check out what we're doing and add your two cents! Your comments & ideas are welcome. We update daily, so come back tomorrow!
Blogroll
Farmer's Insurance
Paul Hesselgesser
702-434-1230
The Hesselgesser Insurance Agency Website
Classic Las Vegas - Lynn Zook's Preservation of 20th Century Las Vegas
Curbed LA - WOW!
Mid-Century Modernist
RETRO RENOVATION - Pam's Excellent Effort At Re-creating A Retro Life
Carnival Of Real Estate - Minus Elephant Ears, But Still Mighty Tasty
Lotta Livin' - A Celebration Of Really Cool Things Mid Century
Bawld Guy Talking - Minus The Hair; Plenty Insightful
CoolnessIsTimeles - ALL "RAT PACK" ALL THE TIME!
SEE ALL OUR FAVORITES HERE

Maria Elena
July 30th, 2009 Categories: Maria Elena, OUR LISTINGS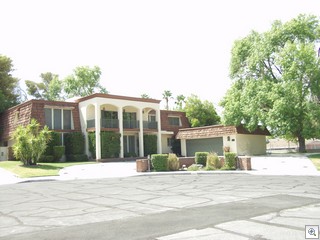 Maria Elena Drive is simply one of the coolest streets in Las Vegas for classic Mid Century Modern architecture. Sitting at the end of the street (which is really one of the few cul-de-sacs) is the Mansion.
It was built in 1970 and was the next to the last home built on this historic street. The street was developed by Joe Blasco, and was named after his daughter. According to Geoff Shumacher, in his book Sun, Sin & Suburbia, Mr. Blasco had arrived in Las Vegas in 1952 to be a subcontractor for an ammo storage project at the former marine base at Lake Mead. Eventually he entered the luxury custom home market, and one of his first project was the development of what became Maria Elena Drive. In 1983 he began development of Spanish Trails, which led the way to the whole luxury home golf course community trend in Las Vegas.
I'd always heard that the home at 1400 was actually owned by Joe Blasco, but there's conflicting stories. The tax record ownership history shows it first belonged to the Melvin Exber family until 1979. From 1979 to 1990 it was owned by the Steinbergs of Steinberg Diagnostic. It's been known as the Augustine home since then.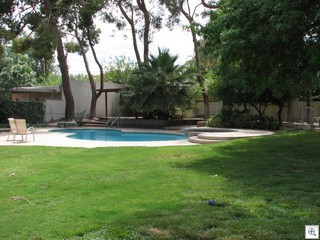 Though not Mid Mod from the front, all the lessons of merged indoor and outdoor living are incorporated into the the home. The upstairs loft has a wall of glass looking over the treetops to Sunrise Mountain, and both the kitchen and down stairs family room have expansive views of the back yard and pool setting on the .4 acre lot.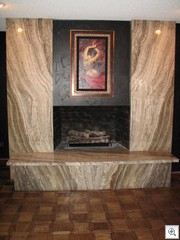 One thing about a 5600 sf home is that all of the rooms are enourmous. The "smallest" bedroom is 13×15. There's a ball room sized living room with one of the most gorgeous fireplaces I've ever seen. It's faced with a pockmarked split stone marble that is simply stunning.
There's more photos in the flyer in the featured home section in the left hand column.
I'm honored to have been chosen to represent this one of a kind custom home on one of the architecturally best streets in all of Downtown. The list price is $495,000.
Posted by Jack LeVine | Currently 6 Comments »
April 26th, 2008 Categories: Decorative Concrete Block Designs, Maria Elena, Mid Century Modern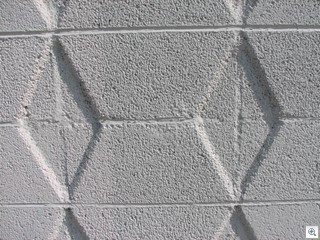 Did you know they don't have to have HOLES in them to make them beautiful?
Just a little notch indented in 2 corners can create a striking effect.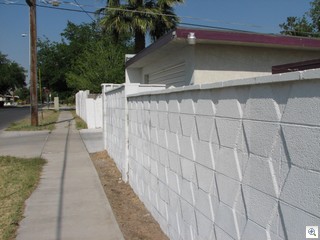 This wall is on the corner of Bracken and Maria Elana, and our fashionista, Mary Joy Alderman is responsible for pointing it out to me. The house it'self is one of the only folded roof retro mid mods in all of downtown. Worth taking a drive to see it.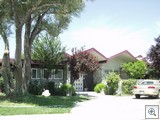 Posted by Jack LeVine | Currently 1 Comment »
April 15th, 2008 Categories: Historic Preservation, Maria Elena, Mid Century Modern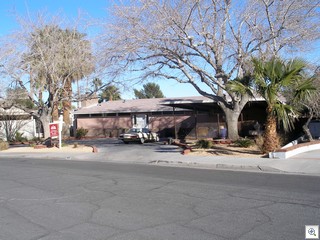 A long while back, I had a dramatically over priced listing on the incredible Maria Elena Drive. The stubborn seller "wouldn't give it away" and turned down 575k a couple of times.
Of course now it's a bank owned repo at only 450,000.
Inside and the back of the hillside property is truly an amazing example of mid century modernism, but it's truly one of the ugliest fronts in all of downtown Las Vegas. I had about 50 different people give me great ideas about how to make the front of the home as dramatic as the inside and the backside AND THE REST OF THE STREET.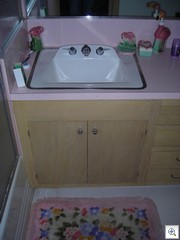 There's 4000 sf, with 5 bedrooms and 4 out the 5 bathrooms are stunningly original.
The pool and the tennis court are down the hill on the walkout basement level, and about 3000 feet of the home is at street level, making it look like a one story home.
On the old blog, I published some pictures of the fabulous homes on Maria Elena, and I'm still trying to find out who the street was named after.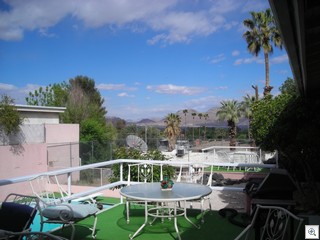 There's a whole lot more about this home that's now 300,000 less than it was listed for 2 years ago. Call me if you're curious.
Posted by Jack LeVine | Currently 2 Comments »