Rancho Manor Topics
Welcome To Uncle Jack's Very Vintage Vegas!
Vintage Las Vegas Homes,
Historic Las Vegas Neighborhoods,
Las Vegas History,
Urban Living In Las Vegas.
If it's great, cool, fantastic, artistic, annoying, amusing, unique, or surprising.. you'll find it at VeryVintageVegas.com.
Check out what we're doing and add your two cents! Your comments & ideas are welcome. We update daily, so come back tomorrow!
Blogroll
Farmer's Insurance
Paul Hesselgesser
702-434-1230
The Hesselgesser Insurance Agency Website
Classic Las Vegas - Lynn Zook's Preservation of 20th Century Las Vegas
Curbed LA - WOW!
Mid-Century Modernist
RETRO RENOVATION - Pam's Excellent Effort At Re-creating A Retro Life
Carnival Of Real Estate - Minus Elephant Ears, But Still Mighty Tasty
Lotta Livin' - A Celebration Of Really Cool Things Mid Century
Bawld Guy Talking - Minus The Hair; Plenty Insightful
CoolnessIsTimeles - ALL "RAT PACK" ALL THE TIME!
SEE ALL OUR FAVORITES HERE

Rancho Manor
November 23rd, 2009 Categories: Rancho Manor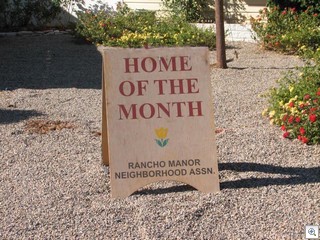 I was most pleased to find this sign on a lawn in Rancho Manor this morning. It's truly sign of an actively engaged neighborhood association. "Home of the Month" awards, landscape awards, clean up recognition and many other things can be done to raise awareness and grow community again.
I want to congratulate the property owners, as well as the association.
I'm recommending recognition signs like these to all of the Neighborhood Associations in Vintage Vegas. If you don't know if your neighborhood has an association, you can check here. There's very few in the county, but they do have a program where you can start one.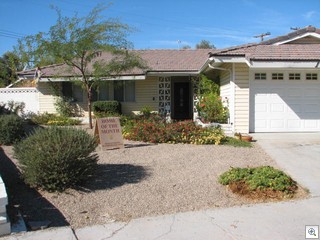 Rancho Manor is used to describe a great little pocket of Vintage Vegas. It's the east side of Rancho Drive, South of the 95 Freeway.
Some of what's in the Rancho Manor Neighborhood Association is actually the subdivisions of Rancho Park, Rancho Vista and a small part of Twin Lakes that was cut off when the freeway was built in the 70's.
The home of the month pictured here is actually in Twin Lakes 11.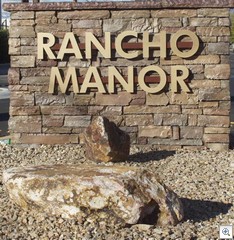 There's a monument sign on Shadow Lane that announces the community. There's also access off of Rancho across from the Rancho Bel Air gates, as well as from Tonopah Drive.
I've mentioned Rancho Manor many times on the blog. Here's all the posts.
Posted by Jack LeVine | Currently 3 Comments »
September 18th, 2008 Categories: Pillars Posts And Columns, Rancho Manor, Rancho Vista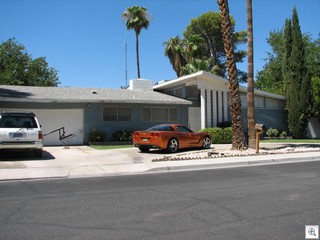 One of my favorite retro homes in Rancho Manor features 5 columns of block that support the front porch awning.
They're set at a diagonal to the beam that they support, and lend an element of texture with their mortar lines. I love the angles, textures and the clerestory windows play against each other.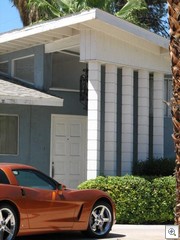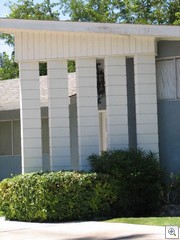 Rancho Manor and Rancho Manor are on the east side of Rancho, to the north of Alta. It's a neighborhood that was beginning to transition and regentrify before the mortgage meltdown, and is poised to come back strong in the near future.
There's some terrific foreclosure values at the moment, starting at 120,000 and some well loved and well cared for homes up to 260,000.
Posted by Jack LeVine | Currently 4 Comments »
May 9th, 2008 Categories: Las Vegas Real Estate News, Rancho Manor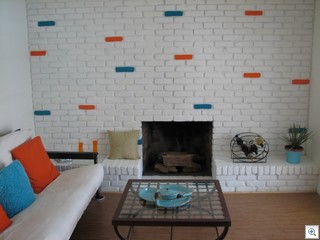 We held last months Atomic Age Alliance meeting in this home in Rancho Manor. Everyone was truly impressed, and I put it in my mind that I was going to try to find the perfect buyer for it. Downtown Steve has it listed, and the sellers did a superb job with staging the home for sale.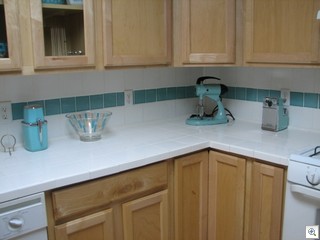 Two weeks later, a new UNLV professor who I'd been emailing and talking to for several months while he finalized the new job details, came to town. I knew in my mind that he'd definitely want to see this one, since he didn't want a fixer, and wanted something that would look great around his modernest furniture and collectibles.
There wasn't a LOT of furniture or collectibles, but it certainly made the home much more attractive than it would have been as a vacant home.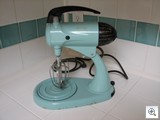 Of course we looked at the other dozen possibilities, but none held a candle to this one. The staging made all the difference. We finished the inspections yesterday, and everything's moving forward!
Posted by Jack LeVine | Currently 2 Comments »
December 13th, 2007 Categories: Highland Park, Rancho Manor, Rancho Park, Rancho Vista, Twin Lakes 11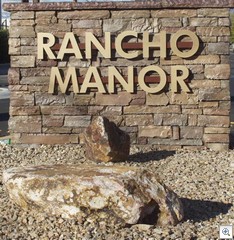 I found a new monument sign announcing "Rancho Manor" on Shadow Lane north of Alta. I'm not sure when it was put up, just that it wasn't there the last time I went north on Shadow. It could have been there for a while since I usually enter these neighborhoods from Rancho.
Back in April on the old blog, I wrote about the 5 neighborhoods making up what I call the "Secret Square". I've updated the post and changed some of the pictures.
There's a secret part of Vintage Vegas that has been lost and forgotten in the shuffle. Where?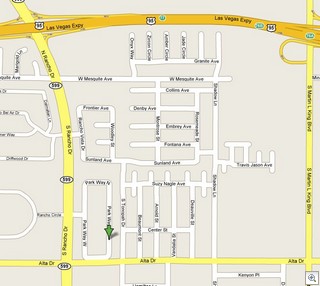 It's the square east of Rancho, North of Alta, South of the 95, and west of MLK. How did it get lost you ask? Well, for starters, they built a freeway (95 going east and west), then they widened Alta and Rancho, then they closed off a few of the streets that used to connect to Alta and Rancho, and then the Realtor Association changed the realtor area map and put Rancho as a boundary instead of I-15 and this little square ended up in AREA 101 instead of 401 which is now the west side of Rancho.
Area 101 is generally not so good, to put it mildly, since it also includes the "west side" along Bonanza and Washington west of the I-15, and some of the worst parts of North Las Vegas. Most Realtors when searching, tend to illegally exclude 101 from their searches, which accidently cuts out the secret square which is much more like McNeil than it is like D Street. Well, let's talk about the 5 vintage neighborhoods, and 2 newly built in fill communities that inhabit our Secret Square.
Rancho Park Rancho Park has 3 only streets: Park Way East, Park Way West and Park Way North.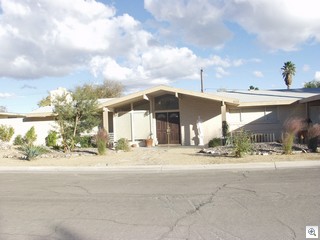 Rancho Park is the best known, because the 2 north south legs of the horseshoe used to connect to Alta, just east of Rancho. There's about 40 custom homes, all on 1/3 acre lots. The southern most 4 homes were torn down to allow the widening of Alta.
You can now only Enter Rancho Park from Rancho Drive, at the traffic light that's shared with Rancho Circle.
There's 3 homes for sale today, including one that's bank owned at 500 Park Way East. The prices range from 525k to 675k. They range in size from 3300 to 3700 sf. All 3 have pools and garages.
Rancho Vista Rancho Vista is a little pocket of 71 homes which are across Rancho from the Rancho Bel Air gate. Built in 1959 and 1960, the is one of the truly yet to be discovered neighborhoods. Lot sizes vary from 6500 to 14000 and there's only 1 for sale. It's 2600sf, with pool, 5/3/0 (5br,3bath,0gar) on s 13800 foot lot for 299,000. Rancho Vista is on the streets called Woodly, Sunland, Frontier and Rancho Vista Drive.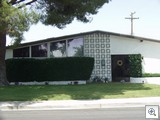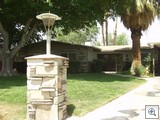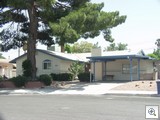 Rancho Manor is a real mix of mid-mod, ranch, bungalow and everything else. Mostly nice looking and well kept, (Mid-mod is still Uncle Jack's favorite) The Rancho Vista streets are Collins, Denby Fontana Rosemeade, Shadow and Sunland. Living area ranges from 1200 to 2400 sf, and the lots are all between 6000 and 10000 sf. Currently, there are 5 homes for sale between 210,000 and 260,000.
Twin Lakes 11 used to be part of the much bigger Twin Lakes that still exists north of 95, but they tore out street after street to build the 95 freeway, and then even more for later widening, which left 127 TL11's stranded in our secret square. Generally, they're on Mesquite, Granite and 6 Cul-de-sacs off of Granite. Living Areas range from 1200 to 2200 sf on 6-9000 foot lots. Currently there is only 1 home for sale. It's $300,000 for 1800 sf.
Highland Park is at the low end of the square, and is easy to get to, since all the streets connect to Alta, east of Rancho. All the homes that sold in the last year were UNDER 200k! of course they were small one bath homes, but most of them are begging to expanded. Highland Park is pretty crappy looking with a few bright spots of well kept homes. It's definitely one of our unloved Vintage Neighborhoods that deserves to upgraded because of their great location. If there's one pocket of homes with no distinct character or architectural greatness in Vintage Vegas, then this is it.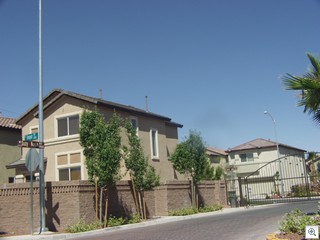 Urban In-fill And then there's this patch of the suburbs. Definition: squeeze every last inch of land out of every acre!
Obviously, I have nothing nice to say so I'm not saying anything.
Posted by Jack LeVine | Currently 1 Comment »