The Las Vegas Strip Topics
Welcome To Uncle Jack's Very Vintage Vegas!
Vintage Las Vegas Homes,
Historic Las Vegas Neighborhoods,
Las Vegas History,
Urban Living In Las Vegas.
If it's great, cool, fantastic, artistic, annoying, amusing, unique, or surprising.. you'll find it at VeryVintageVegas.com.
Check out what we're doing and add your two cents! Your comments & ideas are welcome. We update daily, so come back tomorrow!
Blogroll
Farmer's Insurance
Paul Hesselgesser
702-434-1230
The Hesselgesser Insurance Agency Website
Classic Las Vegas - Lynn Zook's Preservation of 20th Century Las Vegas
Curbed LA - WOW!
Mid-Century Modernist
RETRO RENOVATION - Pam's Excellent Effort At Re-creating A Retro Life
Carnival Of Real Estate - Minus Elephant Ears, But Still Mighty Tasty
Lotta Livin' - A Celebration Of Really Cool Things Mid Century
Bawld Guy Talking - Minus The Hair; Plenty Insightful
CoolnessIsTimeles - ALL "RAT PACK" ALL THE TIME!
SEE ALL OUR FAVORITES HERE

The Las Vegas Strip
May 16th, 2011 Categories: The Las Vegas Strip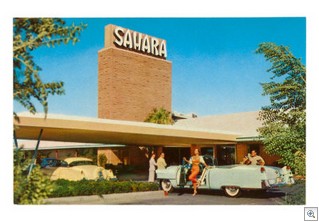 There's been plenty of coverage, and not much left to say about the Sahara Hotel.
Our old friend Lynn at the Classic Las Vegas Blog has lots of fun pictures, and some great memories of the Sahara.
Quoting from Classic Las Vegas: "When the Sahara opened in 1952, the Las Vegas Strip was much different from today. The El Rancho was across the street, the Hotel Last Frontier and the Flamingo were further down the two lane highway. Owner Milton Prell called it, "a jewel in the desert." He brought in comedian Stan Irwin as entertainment director and comics like Don Rickles and Buddy Hackett rotated the Casbar Lounge with Louie, Keely and Sam.It was a mythical era in Las Vegas history and the Sahara had a major role in that mythology."
The Review Journal did a nice tribute video to the Sahara Hotel and it's history on Friday. They also have a timeline of the historic events surrounding the Sahara, including it's opening in 1952; when the Beatles stayed there in 1965, and when Dean Martin and Jerry Lewis were re-united during the 1976 MD Telethon.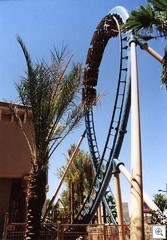 Personally, I'll miss "SPEED" – my favorite roller coaster ride in Las Vegas. I've ridden it at least a dozen times over the years.
Hopefully, they'll find a way to re-model and re-open. If it's imploded, I'm hoping it's replacement will anchor a whole new re-birth of the north end of the Las Vegas Strip. (photo from Las Vegas Leisure Guide)
Posted by Jack LeVine | Currently 1 Comment »
April 29th, 2009 Categories: The Las Vegas Strip

Our favorite Elvis Tribute Artist is Trent Carlini. He's been around for 20 years, and won ABC's "The Next Best Thing" contest show last year.
Friday night was the grand opening press party and show at the Steve Wyrick Theater at Planet Hollywood.
From the "Dream King" website:
The King is back in Las Vegas as Trent Carlini returns to the Strip with the launch of ELVOLUTION™. …."ELVOLUTION™ is Trent Carlini's modern-day take on an exciting evolution of Elvis' musical life," explains Carlini. "The show will revolutionize the way audiences are accustomed to seeing his portrayal and highlight the King's best moments throughout his multi-decade entertainment career.
We bumped into Miss Nevada USA, Georgina Vaughan, Tony Sacca, Larry G. Jones, who's currently headlining at the Royal Resort; Chris Saldana from Channel 8 news, and met lots of other fans of Elvis and Trent Carlini.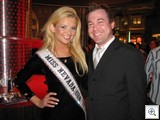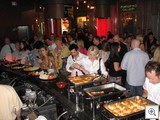 Lots of celebrities, lots of shrimp, lots of fun. And a great show as well.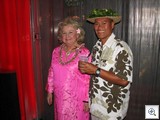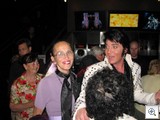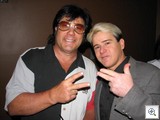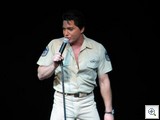 Here's a snippet of one of the vids I took during the performance. You'll want to see this show, and definitely tell your friends that I said so.
Posted by Jack LeVine | Currently Comments Off on Trent Carlini Opens New Show – Elvolution
July 1st, 2008 Categories: Las Vegas History, The Las Vegas Strip
Everyone thinks they know the real history of the Las Vegas Strip.
But did you know that Bugsy Siegel didn't build the Flamingo Hotel from scratch?
Do you know who the first nude showgirl was?
Do you know who Jakie Freidman was?
Do you believe that Tommy Hull was inspired to build the El Rancho Vegas because his car broke down and he counted the cars that passed him on the old highway?
Well, if you don't know the real answers to these questions or if you think you do and want confirmation of that, then come out to the Springs Preserve on Thursday evening, July 3rd for our next installment of "Untold Stories' where we explore the real history of the early years of the Las Vegas Strip.
Joining us will be: Betty Bunch: a dancer who came here in the early 1950s and is still dancing on the Strip today. Lisa Medford; the first nude showgirl (okay, we gave you one answer) George Stamos: writer of the original Strip Hotel histories for the Las Vegas Sun in 1979. and Dr. Michael Green: historian and Professor at the College of Southern Nevada.
It all happens on July 3rd at 7:00 pm at the Springs Preserve. Gas is over $4 a gallon so if you are spending the 4th of July weekend in town, then come join us for a great night of history and stories.
Come early for the Farmers Market and the Mojitos and Mozart in the Wolfgang Puck Cafe.
Untold Stories: The Las Vegas Strip: The Early Years
Thursday, July 3rd
Las Vegas Springs Preserve
7:00 pm
Admission $12.00
Posted by Jack LeVine | Currently Comments Off on Untold Stories: The Las Vegas Strip: The Early Years
May 29th, 2008 Categories: Mid Century Modern, The Las Vegas Strip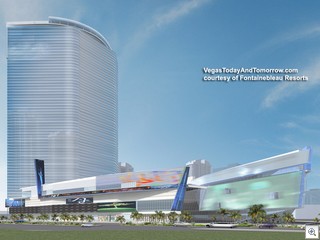 Thanks to Brian Paco Alvarez for reminding me that I need to check in at Vegas Today and Tommorow more often.
The Fountainbleau hotel which is under construction just north of the Riviera seems to be a magnificent homage to the mid centruy modernism that we write about so often. Check out all the various renderings on their Fountainbleau post.
There's plenty more to see.
My first trip to Miami when I was 10 years old was for my cousins wedding. The reception was at the Fountainbleu on Collins Avenue in Miami Beach.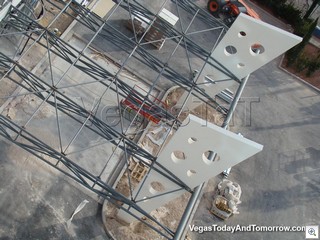 Modernism was in it's heyday, and I fell in love with so much of the architecture of the 50's and 60's on that trip, (as well as the Art Deco of the 20's and 30's in what later came to be known as South Beach.
quoting from VTT:
Fontainebleau sales center is getting a MiMo treatment. Random round holes in the triangular Porte Cochére supports are reminiscent of 50's-era Miami style. This is a big clue as to what we can expect in the resort. Photo 3/1/08 by Aaron Auxier
Personally, I'm not a big fan of "MiMO" as a moniker for Mid Century Modern. I prefer "Mid Mod". But I am a big fan of VegasTodayAndTomorrow.
UPDATE 5/30/08 Brian Paco Alvarez tells me that the meaning of "MiMO" as used in the post was a short cut for "miami modern", instead of "mid mod". It's obviously gets more usage in Miami than in Vegas. The famous original Fountainbleau being in Miami would account for it.
I'm ALWAYS learning, and always happy to pass on what I learn. Thanks Paco.
Posted by Jack LeVine | Currently 3 Comments »
January 11th, 2008 Categories: Architecture, Las Vegas History, The Las Vegas Strip
Via Urban Historian – Brian Paco Alvarez
Las Vegas' first Travel Lodge on Las Vegas Boulevard and Circus Circus is being demolished as we speak. The motel rooms are still standing for now.

Regards – Brian Paco…
Posted by Stephen P Christmas | Currently Comments Off on Urban Development Update
November 16th, 2007 Categories: Architecture, Crestview, Culture, Downtown Las Vegas, Events, Historic Preservation, Las Vegas History, The Las Vegas Strip
This is the final reminder regarding the Friends of Classic Las Vegas Fundraiser this Saturday, Nov. 17th.
This is an Open House/Soiree in a restored mid-century historic home in fabulous Downtown Las Vegas.
The Open House/Soiree is from 2:00 – 5:00 pm at 1905 Chapman Drive.
There will be wine, savory snacks, a silent auction, hourly raffles as well as talks about Las Vegas history by Dr. Michael Green. Michael Green is a history professor at the College of Southern Nevada and has written extensively about Southern Nevada. He is co-author of "Las Vegas: A Centennial History."
There will be DVD promos highlighting some of the Downtown preservation issues.
DVDs of The Story of Classic Las Vegas: An Overview, companion tee-shirts and the Mid-Century Guide to Historic Las Vegas Sites will be on sale as well.
Tickets are only $35 per person and there are some tickets still available.
You can call 878-3889 to make your reservation and pick up your tickets at the door on Saturday afternoon.
We hope to see you there as we celebrate Las Vegas History and begin to work together in preserving our history.
Posted by Jack LeVine | Currently Comments Off on Friends Of Classic Las Vegas Fundraiser Tomorrow
November 16th, 2007 Categories: Everywhere We Look, Las Vegas Real Estate News, The Las Vegas Strip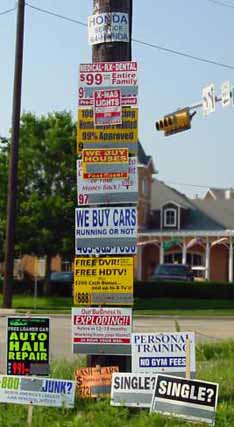 There's another pervasive form of SPAM that I had never thought of as Spam. But it's just as annoying, distracting, ugly and illegal. So I guess the word Spam is appropriate.
I got a call yesterday from a man in Dallas Texas. He had googled "Code Enforcement Las Vegas" and found my post on 20 Frequently Asked Questions From Las Vegas Code Enforcement. He belongs to a group that's purpose is to get rid of STREET SPAM!
He says that Las Vegas is the Street Spam capital of the world, and that the vast majority of it is SCAM SPAN. I doubt you'll make 5000 a month working from home if you just call this 800 number.
It turns out theres a whole internet organization called CAUSS – Citizens Against Ugly Street Spam
I've pulled many a sign off of stop signs and street light poles when I find them in actual neighborhoods, but I've never done anything about them when they're all up an down streets like Charleston, and Desert Inn and Eastern and Rancho and Valley View.
I'm not going to get officially involved as there's too much on my plate as it is, but I thought perhaps some of you might like to take on a new civic beautification project .
From the 20 Questions
17 -Can I post signs on utility poles and/or other devices in public right-of-ways? No, signs shall not be placed on public property, right-of-way, utility pole or device. All signs are required to have a sign permit issued from the Planning Department 229-6301.
Posted by Jack LeVine | Currently 2 Comments »
November 13th, 2007 Categories: Historic Preservation, Las Vegas History, The Las Vegas Strip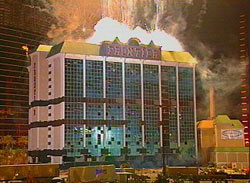 The Frontier Hotel is a pile of rubble now, but it was a true icon of "Vintage Las Vegas". In case you don't have a tv, here's a link to the KLAS-TV Channel 8 videos of the implosion. And here's the link to the KTNV Channel 13 coverage and to Channel 3 KVBC
From Our July 16th Post On the Old BlogSite
A Farewell To The Frontier Hotel
We went to the Frontier again, last night, for the last time. On my very first visit to Las Vegas in 1975, a month after my parents moved here, I spent an entire weekend in a room at the Frontier. No… I wish! Actually, I had one of the worst cases of summer Bronchitis I've ever experienced.
I always loved the friendliness of the employees, and that it had a HUGE locals clientele. We ate regularly at the buffet. My mother played nickel roulette, and my father hung out in the sports book. He never made a bet, but loved watching multiple sporting events at the same time.
Once the strip got really busy, we tended to hang at more off strip places, but our fondness for the Frontier never wavered.
I grabbed these pix just before dusk, and already they had the pool roped off, the bingo was closed and I heard the announcement thru out the casino that that was the last ever race to be shown in the Sports Book. Lots of people were taking pictures, and Joan, our favorite
"FLO'ish" coffee shop waitress
was stoic but still smiling, while wishing she wasn't forced to retire after 18 years in the coffee shop.
Farewell old Friend.
Posted by Jack LeVine | Currently 1 Comment »
November 6th, 2007 Categories: Historic Preservation, Las Vegas History, Las Vegas Real Estate News, Mid Century Modern, Moonlight Mid Mod Bus Tour, The Las Vegas Strip
The Moonlight Mid Mod Bus Tour – Part 4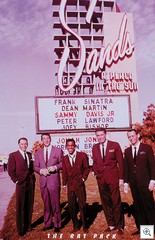 It took something REALLY exciting like a moonlight bus tour of Modernist Las Vegas to get me onto the strip on a Friday Night. But there we were looking for the original site of one of the preeminate photos of all time (as far as Vintage Las Vegas is concerned).
MM figured out from satellite photos of then and now exactly where the photo was taken. Well, exactly within about 10 feet. So that's where we took the group photo of everyone on the bus tour.
The spot is now the front sidewalk of the Venetian.
And that's the first time in 20 years anyone's managed to make me go on the strip on a weekend night.
Posted by Jack LeVine | Currently 8 Comments »
November 3rd, 2007 Categories: Architecture, Cool Stuff, Culture, Downtown Businesses, Events, Historic Preservation, Las Vegas History, Las Vegas Real Estate News, Mid Century Modern, Moonlight Mid Mod Bus Tour, The Las Vegas Strip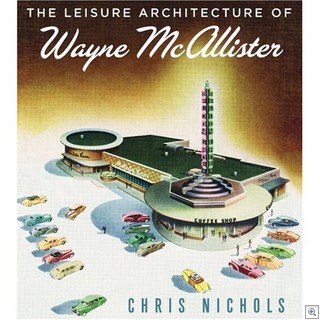 Chris Nichols author of  "The Leisure Architecture of Wayne McAllister" was a featured speaker yesterday at the Vegas Valley Book Festival. He also graciously conducted the tour along with MaryMargaret from the Atomic Age Alliance.
The Wiki entry on McAllister can fill you in on his life and work and influence in the creation of the strip. His work was a major topic of the tour. He designed the Desert Inn, The El Cortez, The Sands, The Fremont and his first work in Las Vegas, the El Rancho Vegas.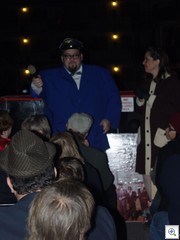 The mood on the double decker, open air bus shifted repeatedly from joy for the buildings remaining, to sadness for the treasures that have been lost. Both were pointed out along the way.
The most prominent emotion displayed by those on the tour was determination to save what is left and preserve it for the future.

Our first leg was a drive down Las Vegas Blvd on the way to one of the Icon Businesses of Vintage Vegas. The Golden Steer Steak House is on Sahara, just west of the strip.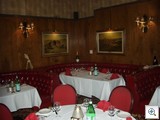 It's been there since 1958, and is one of the best remaining examples of what Chris and Alan Hess call the "Red Booth" period of fine dining in America.
Tomorrow, I'll publish the second installment. I didn't attend First Friday last night, so instead of our usual week of First Friday Posts, we'll give you a sampling of what we saw on the bus tour.
Posted by Jack LeVine | Currently Comments Off on Moonlight Tour of The Mid Century Modern Heritage of Las Vegas
November 1st, 2007 Categories: Las Vegas History, Las Vegas Real Estate News, The Las Vegas Strip
Travel and Leisure's Poll points out why we have to try even harder!
Kristen nailed a great response to the article which put Las Vegas last on yet another list. Poll says last; We don't care. by Kristen Peterson, Las Vegas Sun
VVV's own Cultural Curator and Historian, Brian Paco Alvarez responds beautifully to both with a letter to the editor. He had sent it in to us, also in case it didn't get published in the sun, but since it did, we're linking to it here.
Letter: Las Vegas has, fails to promote, culture
Regarding Kristen Petersen's Oct. 26 article, "Poll says last; we don't care":
Posted by Jack LeVine | Currently Comments Off on Cultural And Historical Preservation – If We Don't Know What The Problem Is, How Can We Get To A Solution?
October 31st, 2007 Categories: Events, Las Vegas History, Las Vegas Real Estate News, The Las Vegas Strip
A hat tip to Paco. The announcement is only 5 minutes old!
Implosion of the Frontier Hotel & Casino in Las Vegas to Make Way for
Internationally Recognized Brand, The Plaza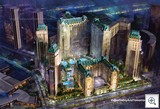 DATE:
Tuesday, November 13, 2007

WHAT:
A longtime icon of the Las Vegas Strip, the Frontier Hotel & Casino will be imploded to mark the beginning of the new home of the internationally recognized brand, The Plaza. Elad Group and IDB Group, a joint venture on The Plaza, will bring the elegance and luxuriousness of the brand to the Las Vegas gaming and hospitality market. The multi-billion dollar project is set to open in late 2011.

WHO:
Isaac Tshuva, Owner of ELAD Group; Nochi Dankner, Chairman of the Board and CEO of IDB Group; Miki Naftali, President & CEO of ELAD Group and Daniel Wade, Chief Operating Officer of ELAD IDB Las Vegas, LLC

WHEN:
Tuesday, November 13, 2007
Implosion to take place promptly at 2:30 a.m. PST

Posted by Jack LeVine | Currently Comments Off on Frontier Implosion Time and Date Announced
October 23rd, 2007 Categories: Architecture, Downtown Las Vegas, Las Vegas History, Las Vegas Real Estate News, Mid Century Modern, The Las Vegas Strip
Our friend cultural historian and downtown neighbor Brian Paco Alvarez filled our inbox today with a lot of different topics, so I'm lumping them all into one big catch-all post. Click away!
Historical Connection Fall Newsletter from the Las Vegas Historic Preservation Committee
Preservation Association Of Clark County's Fall Newsletter
Las Vegas Sun Article By Kristen Peterson on the Arts District's Gateway Monuments
Note, there's photos above the article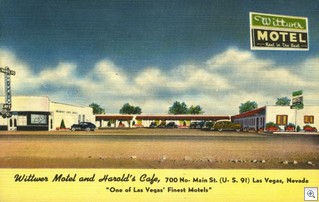 He also sent a postcard from his personal collection.
This is the Wittwer Motel, one of the motor courts of which we've lost way too many.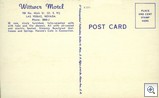 And finally, a note from Paco about the Garden Of Love Wedding Chapel:
Hello Friends of the Mid-Century,
As many of you have heard the Garden of Love Wedding Chapel has had its license revoked as of last night by an act of the City Council. This should be a red flag alerting us that this building is now endangered of being sold and possibly being demolished. As you know the building is a classic mid-century structure as is its iconic sign with its tall spire. We need to keep a vigilant eye on this building since it is one of the few remaining buildings like it on Las Vegas Boulevard.
With Regards – Brian Paco…
Posted by Jack LeVine | Currently Comments Off on A Potpourri Of Things For The History And Preservation Buffs
October 23rd, 2007 Categories: Arts District, Downtown Las Vegas, Events, The Las Vegas Strip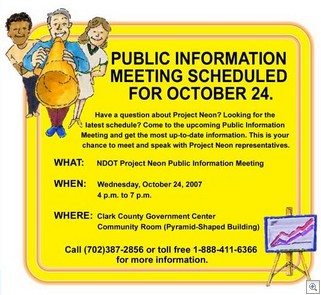 There's a public information meeting tomorrow, 10/24 from 4 to 7 pm. If you want to find out more or give them your 2 cents, the public is invited
I've been told that a total rebuild of the Charleston Ave. and I-15 Interchange would be first on the list.
Posted by Jack LeVine | Currently Comments Off on Project Neon Is About Redesigning The Spaghetti Bowl In Downtown Las Vegas
October 21st, 2007 Categories: Arts District, Downtown Businesses, Downtown Las Vegas, First Friday, The Las Vegas Strip
Our favorite downtown beat reporter and client Joe Schoenemann reported on another presentation that was given on the subject this week.
Arena developers still in the game but ask the city for another timeout
There's also some discussion of new rapid transit bus lines to connect Fremont Experience to the World Market Center, Outlet Mall, CC Government Center and the Union Park. It's currently under construction down the middle of Grand Central Parkway. I forgot to mention that on my earlier post regarding downtown redevelopment.
Today's Sun also quotes the mayor in the "Say What?" column:
"Residents of the downtown arts district threatening to block efforts to build a major sports arena there "are nuts. On First Friday, there are 10,000 people wandering around down there being artsy, it's all very nice. The other 29 days it's 'High Noon,' Gary Cooper is wandering around all alone down there. … It will be a miracle if it (the arena) ever takes place, but miracles happen in Las Vegas. … It's a labor of Sisyphus, and I don't need any interference with the boulder."
Las Vegas Mayor Oscar Goodman, Tuesday at the Review-Journal offices
Of course I just had to refresh my High School memory and Wikipedia came to the rescue with this.
.
Posted by Jack LeVine | Currently Comments Off on More On Downtown Las Vegas Redevelopment