The Las Vegas Strip Topics
Welcome To Uncle Jack's Very Vintage Vegas!
Vintage Las Vegas Homes,
Historic Las Vegas Neighborhoods,
Las Vegas History,
Urban Living In Las Vegas.
If it's great, cool, fantastic, artistic, annoying, amusing, unique, or surprising.. you'll find it at VeryVintageVegas.com.
Check out what we're doing and add your two cents! Your comments & ideas are welcome. We update daily, so come back tomorrow!
Blogroll
Farmer's Insurance
Paul Hesselgesser
702-434-1230
The Hesselgesser Insurance Agency Website
Classic Las Vegas - Lynn Zook's Preservation of 20th Century Las Vegas
Curbed LA - WOW!
Mid-Century Modernist
RETRO RENOVATION - Pam's Excellent Effort At Re-creating A Retro Life
Carnival Of Real Estate - Minus Elephant Ears, But Still Mighty Tasty
Lotta Livin' - A Celebration Of Really Cool Things Mid Century
Bawld Guy Talking - Minus The Hair; Plenty Insightful
CoolnessIsTimeles - ALL "RAT PACK" ALL THE TIME!
SEE ALL OUR FAVORITES HERE

Historic Preservation
The Las Vegas Strip
November 16th, 2007 Categories: Architecture, Crestview, Culture, Downtown Las Vegas, Events, Historic Preservation, Las Vegas History, The Las Vegas Strip
This is the final reminder regarding the Friends of Classic Las Vegas Fundraiser this Saturday, Nov. 17th.
This is an Open House/Soiree in a restored mid-century historic home in fabulous Downtown Las Vegas.
The Open House/Soiree is from 2:00 – 5:00 pm at 1905 Chapman Drive.
There will be wine, savory snacks, a silent auction, hourly raffles as well as talks about Las Vegas history by Dr. Michael Green. Michael Green is a history professor at the College of Southern Nevada and has written extensively about Southern Nevada. He is co-author of "Las Vegas: A Centennial History."
There will be DVD promos highlighting some of the Downtown preservation issues.
DVDs of The Story of Classic Las Vegas: An Overview, companion tee-shirts and the Mid-Century Guide to Historic Las Vegas Sites will be on sale as well.
Tickets are only $35 per person and there are some tickets still available.
You can call 878-3889 to make your reservation and pick up your tickets at the door on Saturday afternoon.
We hope to see you there as we celebrate Las Vegas History and begin to work together in preserving our history.
Posted by Jack LeVine | Currently Comments Off on Friends Of Classic Las Vegas Fundraiser Tomorrow
November 13th, 2007 Categories: Historic Preservation, Las Vegas History, The Las Vegas Strip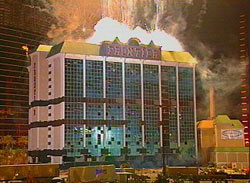 The Frontier Hotel is a pile of rubble now, but it was a true icon of "Vintage Las Vegas". In case you don't have a tv, here's a link to the KLAS-TV Channel 8 videos of the implosion. And here's the link to the KTNV Channel 13 coverage and to Channel 3 KVBC
From Our July 16th Post On the Old BlogSite
A Farewell To The Frontier Hotel
We went to the Frontier again, last night, for the last time. On my very first visit to Las Vegas in 1975, a month after my parents moved here, I spent an entire weekend in a room at the Frontier. No… I wish! Actually, I had one of the worst cases of summer Bronchitis I've ever experienced.
I always loved the friendliness of the employees, and that it had a HUGE locals clientele. We ate regularly at the buffet. My mother played nickel roulette, and my father hung out in the sports book. He never made a bet, but loved watching multiple sporting events at the same time.
Once the strip got really busy, we tended to hang at more off strip places, but our fondness for the Frontier never wavered.
I grabbed these pix just before dusk, and already they had the pool roped off, the bingo was closed and I heard the announcement thru out the casino that that was the last ever race to be shown in the Sports Book. Lots of people were taking pictures, and Joan, our favorite
"FLO'ish" coffee shop waitress
was stoic but still smiling, while wishing she wasn't forced to retire after 18 years in the coffee shop.
Farewell old Friend.
Posted by Jack LeVine | Currently 1 Comment »
November 6th, 2007 Categories: Historic Preservation, Las Vegas History, Las Vegas Real Estate News, Mid Century Modern, Moonlight Mid Mod Bus Tour, The Las Vegas Strip
The Moonlight Mid Mod Bus Tour – Part 4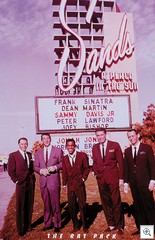 It took something REALLY exciting like a moonlight bus tour of Modernist Las Vegas to get me onto the strip on a Friday Night. But there we were looking for the original site of one of the preeminate photos of all time (as far as Vintage Las Vegas is concerned).
MM figured out from satellite photos of then and now exactly where the photo was taken. Well, exactly within about 10 feet. So that's where we took the group photo of everyone on the bus tour.
The spot is now the front sidewalk of the Venetian.
And that's the first time in 20 years anyone's managed to make me go on the strip on a weekend night.
Posted by Jack LeVine | Currently 8 Comments »
November 3rd, 2007 Categories: Architecture, Cool Stuff, Culture, Downtown Businesses, Events, Historic Preservation, Las Vegas History, Las Vegas Real Estate News, Mid Century Modern, Moonlight Mid Mod Bus Tour, The Las Vegas Strip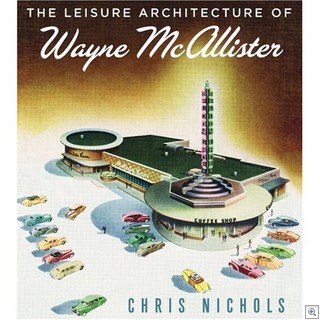 Chris Nichols author of  "The Leisure Architecture of Wayne McAllister" was a featured speaker yesterday at the Vegas Valley Book Festival. He also graciously conducted the tour along with MaryMargaret from the Atomic Age Alliance.
The Wiki entry on McAllister can fill you in on his life and work and influence in the creation of the strip. His work was a major topic of the tour. He designed the Desert Inn, The El Cortez, The Sands, The Fremont and his first work in Las Vegas, the El Rancho Vegas.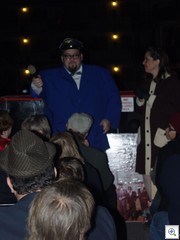 The mood on the double decker, open air bus shifted repeatedly from joy for the buildings remaining, to sadness for the treasures that have been lost. Both were pointed out along the way.
The most prominent emotion displayed by those on the tour was determination to save what is left and preserve it for the future.

Our first leg was a drive down Las Vegas Blvd on the way to one of the Icon Businesses of Vintage Vegas. The Golden Steer Steak House is on Sahara, just west of the strip.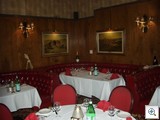 It's been there since 1958, and is one of the best remaining examples of what Chris and Alan Hess call the "Red Booth" period of fine dining in America.
Tomorrow, I'll publish the second installment. I didn't attend First Friday last night, so instead of our usual week of First Friday Posts, we'll give you a sampling of what we saw on the bus tour.
Posted by Jack LeVine | Currently Comments Off on Moonlight Tour of The Mid Century Modern Heritage of Las Vegas