Welcome To Uncle Jack's Very Vintage Vegas!
Vintage Las Vegas Homes,
Historic Las Vegas Neighborhoods,
Las Vegas History,
Urban Living In Las Vegas.
If it's great, cool, fantastic, artistic, annoying, amusing, unique, or surprising.. you'll find it at VeryVintageVegas.com.
Check out what we're doing and add your two cents! Your comments & ideas are welcome. We update daily, so come back tomorrow!
Blogroll
Farmer's Insurance
Paul Hesselgesser
702-434-1230
The Hesselgesser Insurance Agency Website
Classic Las Vegas - Lynn Zook's Preservation of 20th Century Las Vegas
Curbed LA - WOW!
Mid-Century Modernist
RETRO RENOVATION - Pam's Excellent Effort At Re-creating A Retro Life
Carnival Of Real Estate - Minus Elephant Ears, But Still Mighty Tasty
Lotta Livin' - A Celebration Of Really Cool Things Mid Century
Bawld Guy Talking - Minus The Hair; Plenty Insightful
CoolnessIsTimeles - ALL "RAT PACK" ALL THE TIME!
SEE ALL OUR FAVORITES HERE

Archive for September, 2010
September 30th, 2010 Categories: Fremont East Entertainment District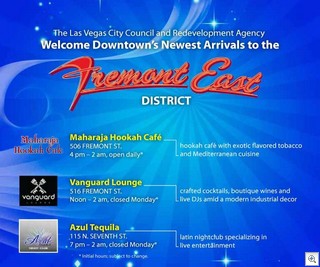 We're going to check them out after First Friday In The Downtown Las Vegas Arts District.
Las Vegas Mayor Oscar B. Goodman and Ward 5 Councilman Ricki Y. Barlow welcomed three new businesses to the Fremont East District in downtown Las Vegas on the evening of Wednesday, Sept. 29. The elected officials cut ribbons at the Maharaja Hookah Cafe, the Vanguard Lounge and Azul Tequila.

The Maharaja Hookah Cafe, located at 506 Fremont St. on the northeast corner of Las Vegas Boulevard and Fremont Street, features a variety of flavored tobacco and Mediterranean cuisine.

Two doors down, at 516 Fremont St., is the newly opened Vanguard Lounge. Here, boutique wines and specialty cocktails are served amid a modern industrial decor. Live DJs and outside seating are also offered.

Nearby, Azul Tequila at 115 N. Seventh St. is a Latin nightclub specializing in live entertainment.

The Fremont East District offers an eclectic mixture of bars, clubs and cafes along Fremont Street from Las Vagas Boulevard to Eighth Street. The district continues one block north of Fremont Street to Ogden Avenue and one block south to Carson Avenue.

The Fremont East District was created in 2002 by the Las Vegas Redevelopment Agency as part of the city of Las Vegas' efforts to revitalize the downtown area.
Posted by Jack LeVine | Currently Comments Off on Three New Nightclubs Open in Downtown Las Vegas' Fremont East Entertaiment District
September 28th, 2010 Categories: OUR LISTINGS
Last week I was in Austin Texas for a few days. It was the Keller Williams Realty "Mega-Agent" Camp. Two intense days of the newest ideas, technologies, applications, and methods to better serve our clients. Much of the techie geeky stuff was way over my head, but I did learn a lot, and am intent on implementing what I did get. No One could ever put all of it into practice, so I'm just going to do the things that make sense.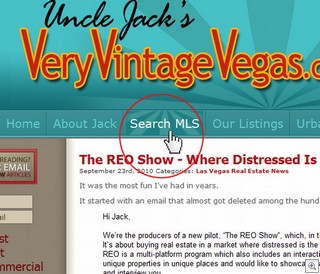 One of the things that I learned is that I could upgrade the MLS SEARCH feature that we use for our clients. I had previously picked the "IDX" from Wolfnet because you could search by subdivision name. For example in the top navigation bar you can choose "subdivision" and type in McNeil or Paradise Palms or Rancho Nevada. Those are big subdivisions with well known names. The "Downtown Area" on the other hand, is made up of dozens of smaller subdivisions and neighborhoods. Some of the custom home pockets don't have a subdivision name at all. We needed a better way, so I've upgraded the system.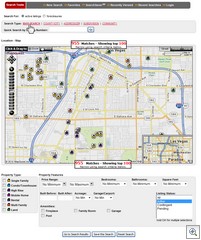 NOW, you can also do a "MAP SEARCH" to better isolate the Vintage Homes and Mid Century Modern Neighborhoods of Las Vegas. I set it up to automatically center on the middle of the Downtown Area. The maps are built using MapQuest, and function as they would if you were directly on MapQuest, in terms of panning, zooming etc.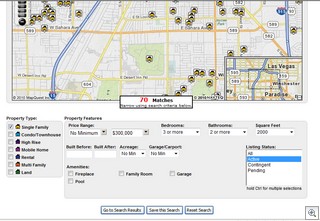 You can further refine the search under the map, just as you used to be able to.
Using the map search is a quick and easy way to find out about the house down the street that just got listed.
My experience is that most buyers spend a month or a few looking at properties online before they ever contact an agent. You can save the searches if you like, or start over each time.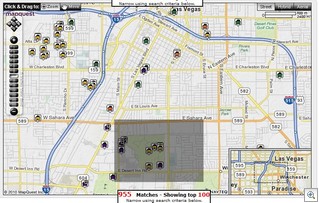 If you click and hold on the map, you can draw a box, which will automatically zoom in on the box you've drawn.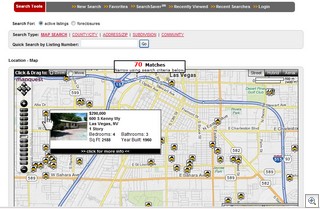 Once you have the search result properties that you want, showing on the map, you can scroll over each little property icon to see the first picture and basic information.
Clicking anywhere in the highlighted property will take you to all the pictures and the full listing.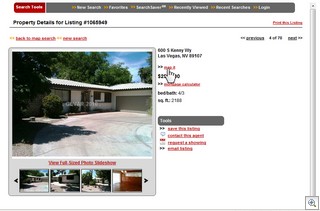 When you're looking at an individual property listing, you can click on "MAP IT".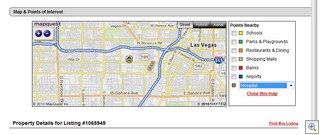 Since the maps are tied directly into MapQuest, you can then see what's going on in the surroundings, find the schools, shopping, churches, parks and whatever.
I hope you'll like this new mapping feature. Feel free to use it whenever you like, and for whatever purpose it's useful to you.
ALL THE GRAPHICS ARE CLICKABLE THUMBNAILS if you want to see them in an expanded version.
Of course, if you've found a home you're interested in, or want to talk about the property you're thinking of selling –
just give me a call at 702–378–7055 or email me at [email protected]
Posted by Jack LeVine | Currently 2 Comments »
September 27th, 2010 Categories: Las Vegas Real Estate News
They've asked me to help them find some properties for their November shoot in Las Vegas. Last year several owners in Vintage Vegas applied, but, none of them were selected. I'm hoping this year we can be one or two of the chosen.
I got this Email form Lauren, the producer of Desparate Landscapes. There's a link to the application below.
Hello.
My name is Lauren Senvisky. I'm a producer for DIY, the Do-It-Yourself Network. I work on a show called Desperate Landscapes in which we help homeowners fix up their front yards to be on par with others in the neighborhood.
Our crew is headed back to Las Vegas in November. We're looking for fun homeowners to help pump up their curb appeal. Ideally, we'd like to get a couple of homeowners with jobs that scream "Vegas". That's why I'm writing to you. I was hoping you could share this e-mail with other members of your group. I know you helped us last year when we were there.
Can you spread the word among your contacts? There is no cost to the homeowners. We bring the plants, the paint, the supplies and even the food needed to get the job done in one day. The homeowners chosen need to provide some personality. sweat equity and neighbors willing to go on TV to complain about the ugly front yard.
We have applications online at www.jaytv.net. Click on Put Me on TV.
You can watch episodes online to see what we're capable of doing in an 8-hour day. They're available at: http://www.diynetwork.com/desperate-landscapes/show/index.html
Thanks!!
Lauren
Here's a link to one of the episodes that was done here in Vegas for the last season. This one was off Edna Road and Westwind.
They also did one at Penn Jillette's home in the far southwest. There's still pictures of the before and after, but I couldn't find the link to the full episode.
Posted by Jack LeVine | Currently 2 Comments »
September 23rd, 2010 Categories: Las Vegas Real Estate News
It was the most fun I've had in years.
It started with an email that almost got deleted among the hundreds I get to wade thru every day.
Hi Jack,

We're the producers of a new pilot, "The REO Show", which, in this case, means Real Estate Opportunity.

It's about buying real estate in a market where distressed is the new normal. More than just a TV show, REO is a multi-platform program which also includes an interactive website and phone app. We're featuring unique properties in unique places and would like to showcase some of your "Very Vintage Vegas" listings and interview you.
Of course, the email arrived the morning I was leaving for Austin Texas for 5 days. Did I mention I went to Austin for the Keller Williams Mega Agent Camp? Plenty to tell about that as well.
I started talking to them while I was at the airport. They decided to postpone the shoot until Sunday and Monday when I had returned. I had to do some real scrambling and a lot of phone calls during the convention breaks and in the evenings to get things lined up for them.
I don't think I really understood what would be involved to have a camera on me as I showed the properties, discussed them, described the features etc. The only thing missing was the slate thing that they use in Hollywood. You know, the "scene 3 – Take 47" board that they snap. All the other players were there. The sound man, the lighting guy, the makeup lady, the director, the assistant director, go-fers, etc.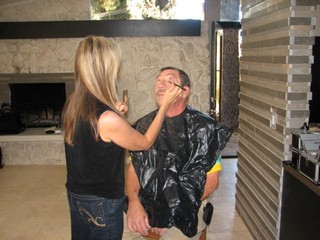 The make up was an especially interesting experience since I'd walked into a tree branch on the Sunday walk thru of the various properties. I had a big cut down my left cheek (of my face). She managed to make it go away totally! It didn't do much for the wrinkles however. She told me I'd earned them all and shouldn't hide them. Oh well.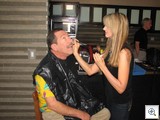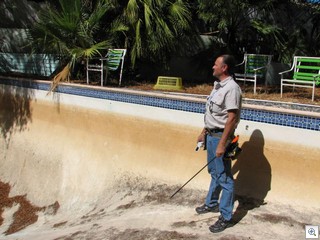 Glenn Curtis, One of the only 6 master inspectors in Nevada (who is ALWAYS my number one recommended home inspector) was also one of the "talent" –which is how they kept referring to us. I found being "talent" most amusing. They kept yelling things like "We need the talent at the front door".
We had included some fixer uppers in the mix of homes that were filmed.
Here Glenn's describing that the body and plaster of the empty pool is still in pretty good shape, and that mostly an acid wash would be all that's needed.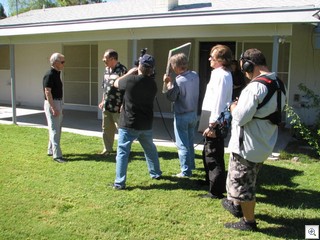 I handed my camera to Glenn at the next house in Paradise Palms. It's on the golf course, and very very original. It's Krisel designed plan 8B with the carport converted to garage. It's listed for 175,000 and still available today. You might recognize one of the pictures from the last time I did a "worst MLS photo of the day".
What I didn't know until today is that he'd figured out how to take a video with my camera. I was surprised to find this video when I down-loaded the pictures.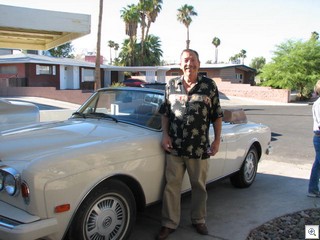 They told me they had rented a convertible for the last part of the day. I was to drive thru the neighborhoods of Downtown Las Vegas and Paradise Palms pointing out the best and worst of the Mid Century Modern Homes.
They didn't tell me it was a BENTLEY convertible. I certainly hope no one thinks it's MY car.
The episode will appear on one of the cable Networks in February or March, and I'll make sure you know about it.
Posted by Jack LeVine | Currently 8 Comments »
September 14th, 2010 Categories: Mid Century Modern
One of the many things I'm juggling is being on the planning committee for the soon to be announced Mid Mod Madness weekend in Las Vegas.
Most of the details have been finalized for the weekend of October 22 – 24. The formal announcement and ticket sales will be next week. In the mean while, we have a facebook page. If you like it, can you help us spread the word?
Friends of Classic Las Vegas and the Architectural and Decorative Arts Society of Las Vegas invite you to a weekend of all things mid century modern, including parties, panels, a film screening, and another installment of last year's popular bus tour of local architectural gems.

Kicking off Friday, October 22nd with a Mid Mod party at downtown Las Vegas' Morelli House, the weekend will include panel discussions and a film screening of "William Krisel, Architect" on Saturday at the Las Vegas National Golf Course, and a half-day bus tour on Sunday that will include stops at several mid century modern homes.

More details (including ticket info) to follow. Mark your calendar–this is one weekend you won't want to miss!
Not coincidentally…
MONDO LOUNGE 3
It's also the weekend of the "MONDO LOUNGE 3" at the Palms hotel.
Sophisticated, classy, fun, high-brow, vintage vendors and top notch talent circa
1957-1963. Think of Playboy's Penthouse or or a Blake Edwards movie ala The Party or the early Pink Panthers or an awesome party scene from Mad Men.

WHAT MONDO LOUNGE IS: Mid Century Modernism, Classic Las Vegas, Hollywood glamour, lounge culture, Rat Pack shennanigans, Martinis, cocktails, vintage fashion, space age, atomic age, exotica (ala Les Ba…xter, Esquivel), the fox trot, Eames era style, 1950s, 1960s style, Bachelor Pad, minks and black tie, Sean Connery era James Bond, sterophonic sound, nightclub acts ala the Hot Box Girls. And also… Tiki, Disneyland, masons, fezzes, Betty Crocker cookery, Pristine restored or original condition Classic Car culture, mai tais, Mods and Scooters, classic pinups, swing dancing, 1940s style, Elvis, gogo girls.

WHAT MONDO LOUNGE IS NOT: Surf, rockabilly, tatoos, low brow, 1930s style, 1970s style, burlesque, hot rods and rock n'roll. (Not that there's anything wrong with those genres, but there are plenty o'events that cover those communities.) This event is something else…

SAVE THE DATES!!! This is the event you've been waiting for… Produced by M Modern Gallery and LottaLiving.com
And that Sunday Afternoon (not by coincidence, either) is the fall open house at The Morelli House. The Morelli House is the crown jewel (to date) of Mid Century Modern preservation in Las Vegas.
Public Invited to Annual Fall Open House at the Morelli House: October 24
Las Vegas Mid-Century Celebration Weekend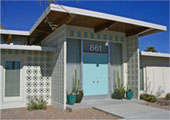 The Junior League of Las Vegas will once again open its historic mid-century Morelli House located at 821 East Bridger Avenue for guided tours at its annual Fall Public Open House on Sunday, Oct 24, 1:00-3:00 PM The open house event, which is free and open to the general public, will feature a special photo exhibit entitled "Remains of the Day" from the architectural photo collection of the Nevada State Museum Las Vegas and the Junior League's "Morelli Models" wearing fashions from its mid-century vintage clothing collection. Phone or email reservations are requested, 822-6536, or visit [email protected]. The Morelli Open House is one of several community events the weekend of Oct 22-24 celebrating the abundant mid-century cultural and architectural heritage found in Las Vegas.
"Remains of the Day" is an exhibit featuring photographs of mid-century modern buildings in Las Vegas that have escaped the wrecking ball and still exist as a reminder of our city's rich mid-century architectural heritage. The Nevada State Museum Las Vegas has loaned Junior League selected images from its archives, most of which come from the collection of renowned photographer Jay Florian Mitchell. Mitchell moved to Las Vegas from New York in the mid-1950s, and for the following 25 years carefully documented the growth and development of his adopted home. The Nevada State Museum Las Vegas, located in Lorenzi Park, is currently showcasing a special exhibit on Mid-Century Modern Las Vegas which includes several dozen of Mitchell's most distinguished images, as well as period domestic and aesthetic artifacts.
.
The public open house at the Morelli House is one of several Las Vegas mid-century events being held during the weekend of Oct 22-24. A "Mid-Mod Marvels Weekend" convention is being co-sponsored by The Architectural and Decorative Arts Society (ADAS) and the Friends of Classic Las Vegas. It will include presentations by architectural historians, Alan Hess and William Krisel, along with a bus tour of notable mid-century structures and other activities. For more information about the "Mid-Mod Marvels" weekend call 236-9483 or email adaslv.com. Information can also be found on each organization's Facebook page. Another mid-century event, Mondo Lounge III, is being held at the Palms Hotel that will create an immersive environment of mid-century American culture featuring Rat Pack music, Mid Century displays and guest appearances by mid-century celebrities and entertainers. SHAG is the official host and will be there in person. For more information about Mondo Lounge III contact [email protected] or call 818-789-5321.

Posted by Jack LeVine | Currently 1 Comment »
September 14th, 2010 Categories: Decorative Concrete Block Designs
Here's a great example of the kind of email I get all the time from all around the country….
Mr. LeVine,
My name is Robin. I am construction purchasing agent for a Paramount Pictures production filming in Atlanta, GA. Our production designer has focused on a decorative concrete block design found on your website. It is the decorative block "Pattern #50 at last". Do you know of any manufacturer currently making this block design? It is the designer's choice for use in a movie set we are building for a remake of the movie "Footloose".
If you can provide any information which would help us locate a quantity (250 more or less) of these block it would be greatly appreciated.
Enjoyed your website very much.
Thank you,
Robin *****,
Paramount Pictures, Purchasing
The BIGGEST question of course, has to be "Why are they remaking Footloose"?
Back in Las Vegas…..
we were very happy last year that all the block form the Travel Inn Motel (just south of city hall) got rescued by my clients – Nick and Jamie. They built a new sunscreen wall from them for their new home in Glen Heather.
What I didn't know, is that they have a whole lot of them left over, and are hoping we can help them find a good home for the blocks. They'd really like to see them enhance a great home in Vintage Vegas.
They've put them on Craig's List – for a mere $3.00 each. There's about 150 of them.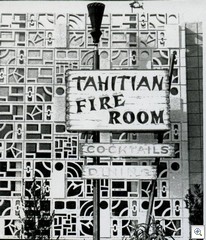 And – client Bob sent me this picture he found at TikiRoom.com
I'd love to get my hands on all of them for my collection.
Posted by Jack LeVine | Currently Comments Off on Decorative Concrete Block Stories
September 3rd, 2010 Categories: Las Vegas Real Estate News
Flora Dungan built this Mid Century Modern home in Las Vegas in 1964. The Flora Dungan Humanities Building at UNLV was named in her honor. More about her is here.

The current owner is Steve Evans, our current planning commissioner, and candidate for City Council. Here's a link to Steve's FaceBook page
Senator Harry Reid was the guest of honor last night. About 200 supporters from the Downtown Neighborhoods and business's attended.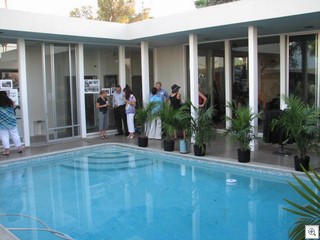 I wanted to take the opportunity to show you some of the pictures. It was so crowded that only a few of the pictures showed off the elements of the house. But these will give you a good example of the kinds of hidden gems that are spread out thru Vintage Vegas.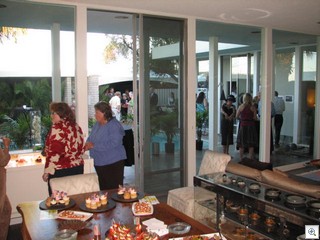 The "wall of glass" is a common element in the "desert modern" version of the Mid Century Modern Home. It expands the living space to encompass the outdoor space as well. I think these are the tallest sliding glass doors in all of Vintage Vegas.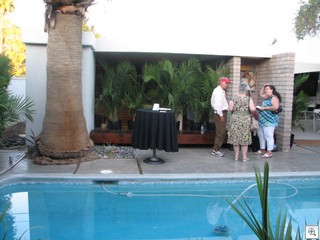 Mid Century Modern was the use of natural materials and asymmetric design.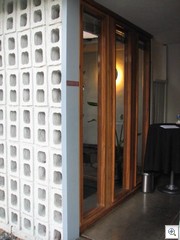 The front entry with it's screen wall of decorative concrete block.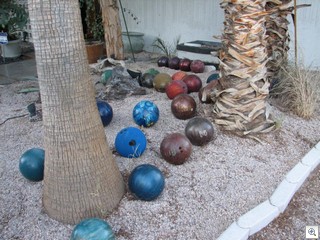 A most interesting way to add some color and texture to a rock landscape.
Posted by Jack LeVine | Currently Comments Off on Last Night's Fund Raiser In An Iconic Mid Century Modern Home In Downtown Las Vegas
September 3rd, 2010 Categories: Las Vegas Real Estate News
Things certainly change. 2009 dragged on forever. 2010 is slipping away in a heartbeat. Seems like it was Valentine's Day about 3 weeks ago.
Life's still hectic, but I'm fighting the good fight. Lots of stuff has happened since I checked in last. The car got hit by a guy who ran a stop sign. Ripped the whole front end off of the Malibu. If I'd been 5 feet further down the road, I'd have been t-boned and who knows. Fortunately I wasn't hurt at all! I'm astounded that a car accident can chew up so much time on the phone dealing with rental cars, adjusters, body shop people etc.
The market has shifted again since the end of the tax credit. I thought it was just my business, but Diana Olick at CNBC reports the same thing from other REALTORS around the country. Much less traffic from first time buyers, but a huge pick up in business from higher priced buyers, (over 100k) and buyers who have owned in the past.
As you go from the $100,000 range on up, ($100,000 and below are likely mostly foreclosures) you see the sales drop moderate with each rising range; when you get to $1 million+ the sales numbers are actually up. Sales distribution consequently moved in July, with the percentage of homes in the $500,000+ range growing in share, and those under $500,000 losing share from June.

So yes, home prices rose ever so slightly, but also artificially.

"We need to be cautious about how we read the data," admits the Realtors' chief economist Lawrence Yun. "Because the buyers who left the market in the latest round are typical first-time buyers, but people who continue to stay in the market (are) people … buying higher-priced homes."
On the other hand, she is also reporting that there seems to be a debate starting to happen about a new round of tax credit incentives. This time they're talking about making it available to all buyers.
SHORT SALES Are The Reals Estate Market Now.
Short Sales are where the bargains are, since there's so few bank owned properties coming to market. Where are the bank owned properties? Many of the homes that are going to foreclosure sale are not going back to the bank. They're going to a small (several hundred) group of professional house flippers. Those properties are showing up a few weeks or months later as FLIP properties. The flips account for about 20% of the inventory. Most of the properties in foreclosure are being sold as short sales. The buyers are getting the bargains, since they usually sell for less than the flips.
The short sale properties (pre-foreclosure) account for about 60% of the inventory. Many buyers, sellers AND real estate agents have heard lots of short sale horror stories. Fortunately, things have changed dramatically in the last few months. The banks have added more staff to handle them, and are more motivated to get them done in a timely fashion.
If you or someone you know is struggling with your mortgage, are upside down, and are already behind or about to fall behind……
Call me! There's no good reason to have the home foreclosed. The short sale seller does much less damage to their credit, has better control over when they have to leave the property, and benefit from the advice of a professional to help guide them thru the process.
If you're a buyer, don't rule out the short sales. They take a little longer, but as I said, that's where the bargains are.
Posted by Jack LeVine | Currently Comments Off on How Did It Get To Be September