Arts District Topics
Welcome To Uncle Jack's Very Vintage Vegas!
Vintage Las Vegas Homes,
Historic Las Vegas Neighborhoods,
Las Vegas History,
Urban Living In Las Vegas.
If it's great, cool, fantastic, artistic, annoying, amusing, unique, or surprising.. you'll find it at VeryVintageVegas.com.
Check out what we're doing and add your two cents! Your comments & ideas are welcome. We update daily, so come back tomorrow!
Blogroll
Farmer's Insurance
Paul Hesselgesser
702-434-1230
The Hesselgesser Insurance Agency Website
Classic Las Vegas - Lynn Zook's Preservation of 20th Century Las Vegas
Curbed LA - WOW!
Mid-Century Modernist
RETRO RENOVATION - Pam's Excellent Effort At Re-creating A Retro Life
Carnival Of Real Estate - Minus Elephant Ears, But Still Mighty Tasty
Lotta Livin' - A Celebration Of Really Cool Things Mid Century
Bawld Guy Talking - Minus The Hair; Plenty Insightful
CoolnessIsTimeles - ALL "RAT PACK" ALL THE TIME!
SEE ALL OUR FAVORITES HERE

Arts District
October 6th, 2011 Categories: Arts District, First Friday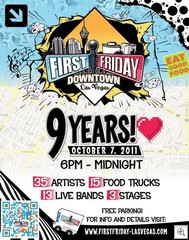 It's the 9th anniversary of First Friday. With new leadership, the monthly flagship event of Downtown Las Vegas is expanded to include the Fremont East Entertainment District, as well as the traditional 18B Arts District.
Besides the expanded area into all of Downtown Las Vegas, there's also expanded parking, expanded shuttle service, expanded food service, music stages, and much much more.
The "2 month hiatus", though nerve-wracking at first gave everyone he breathing room to rethink what could be possible. Tomorrow night should be one of the most exciting First Fridays ever.
It looks like everyone is co-operating. Maybe even the weather will do it's part.
For all of the information – visit the newly re-designed First Friday Website.
Posted by Jack LeVine | Currently Comments Off on First Friday Expands To Cover More Of Downtown Las Vegas
December 29th, 2009 Categories: Arts District, First Friday
A great way to start the New Year would be a trip downtown to the monthly First Friday Arts Festival.
FIRST FRIDAY LAS VEGAS
January 1, 2010 6:00 pm -10:00 pm Here's the whole scedule of events.
Come down this month to enjoy both visual and performance art! . There will be tiki carving, video and DJs on stage, live improv on the street, artist, vendors and so much more!
Don't miss "Art in Tandem". Ricardo and Jesse, from Erie Pennsylvania, have traveled all over the world as "Art in Tandem " and have recently landed in Las Vegas. They will be easy to spot especially when riding their tandem bicycle. We will also be showing a video of them in front of The Funk House that details their various ensembles and travels in tandem.
Be sure to stop by the First Friday info table (in front of The Funk House) or Trifecta Art Gallery in the Arts Factory to buy your raffle tickets for the great Premium Outlets gift basket we have for January, including a $100 GIFT CERTIFICATE , Guess merchandise and much more! (you do not have to be present to win)
Donate to support First Friday: http://www.firstfriday-lasvegas.org/fundraise.html
Of Special Note – Don't miss:
D'Arte Designs POP-UP Galleries presents "An Eclectic Collection",
works by
Sigrid Brunel, Denise R. Duarte, Anita Getzler, Walt Heron, Arthur Jabob and MIKEL PATRIK.

Experience the energy of this confluence of artists who articulate their world visually by a variety of media. Abstraction to reconstructed realities flow from their creative centers to this place in time, the first day of 2010. Experience the new decade and new year in a refined and artful environment.

ONE NIGHT ONLY, First Friday, January 1st from 6:00 p.m. – 10:00 p.m. at Holsum Design Center, 241 W. Charleston Blvd., Suites 140&150.

Also open at Holsum Design Center on First Friday, H. Stephen Jackson/Architect Gallery in suite 175 and dining at Lola's, a Louisiana Kitchen. Trolley Stop.

For more information contact Denise with D'Arte Designs, 702-372-3755,www.dartedesigns.com
Posted by Jack LeVine | Currently Comments Off on First Friday Is New Years Day
December 6th, 2009 Categories: Arts District
The Downtown Las Vegas Arts District is very near and dear to my heart. It's the bridge between the historic neighborhoods, and the redevelopment of Downtown. It's the place where the 2 eras are converging. There'll be plenty of action in the future what with the new City Hall, The Smith Center For the Performing Arts and lots of new building. The stage is set for a second wave of re-gentrification for the historic neighborhoods as the economy turns around.
In the meanwhile, there's the Arts District.
Most of the attention is paid to First Friday. I want to pay some attention this month to the entrepreneurs, shopkeepers, artist and merchants that haven't given up the dream, or wavered in the least on their vision of a vibrant energetic, walking district. They're riding out the storm of this recession as best they can. A successful holiday season for them will help insure that many of them are still there when things get better.
They deserve our support, our best wishes, and MOST IMPORTANTLY, they deserve some of our dollars that we'll be spending this month on holiday gifts. This is a multi part series telling you about various galleries, businesses, and shop of the Arts District. Call it free advertising. I'm calling it a call to action.
Let's start with the holiday windows. In the great tradition of wonderful holiday displays in storefront of years gone by, many of them have created wonderful windows. Go see them. Stop in and buy something for someone on your list.
The Attic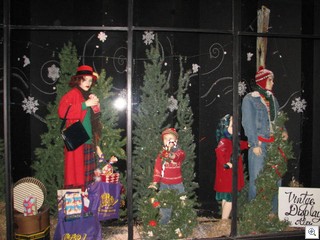 The Attic – 1018 S. Main Street, just north of Charleston.
The attic is one of the first shops to open in the area. 1986 to be exact.
It's the funkiest funnest store in all of Las Vegas. Visa thought so, and did a commercial featuring The Attic in 1998 for the final episode of Seinfeld.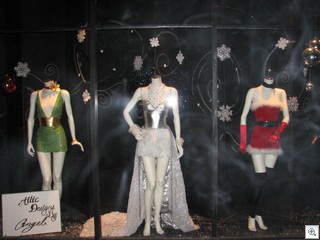 This is the attic's other window.
There's copies of reviews from Vurb Magazine and 94 on their Attic Vintage website that are worth the read. Nothing you read about them, however, will be as fun as going there and checking it out in person.
Valentino's ZootSuit Connection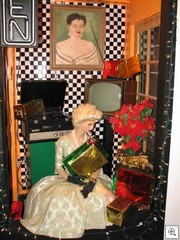 Valentino's ZootSuit Connection – The Arts Factory 107 E. Charleston Suite 135
Monday thru Saturday 11am to 5 pm
This display window and the entrance is in the center lobby of the Arts Factory.
You'll be blown away.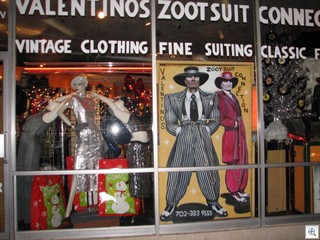 Gaia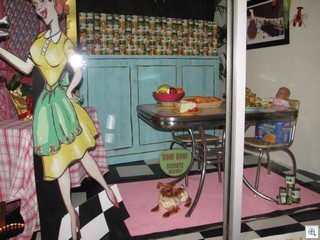 Gaia – Flowers, Art, Gifts 4 E. Main Street.
Mon.-Fri. 8 a.m.-6 p.m. Sat. 10 a.m.-6 p.m. 702–997–0222
The window is delightful. The store is like no other flower shop you've ever been in.
It's Mother Earth's kind of shop.
Retro Vegas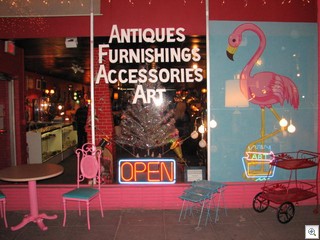 Retro Vegas 1211 S. Main Street
11am to 6pm Monday thru Saturday
It's my favorite home furnishings accessory stores. Primarily focused on Mid Century Modern and 50's and 60's funky.
Mark and Bill are great friends of mine, and deserve the repeated mentions.
Everything's affordably priced the inventory changes all the time.
Atomic Todd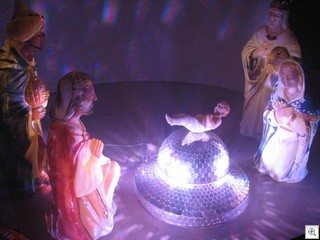 Last week I told you that Atom Todd – who's a lighting consultant by day, and art curator by night, was doing something special.
This window is on Main Street, just a few doors from Retro Vegas. The big reveal was at First Friday. I missed the reveal, but you shouldn't miss seeing it.
There's plenty of other galleries, stores and shops in the Arts District. Please consider giving them a visit as part of your holiday shopping.
Posted by Jack LeVine | Currently 1 Comment »
November 20th, 2009 Categories: Arts District
UPDATE: MORE PICTURES OF THE SIGN BEING INSTALLED HAVE BEEN ADDED BELOW.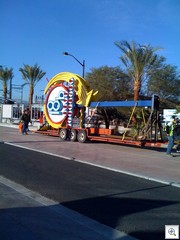 The Regional Transportation Commission is installing the new neon sign at the ACE Transit Stop at Casino Center and Coolidge Street (just north of Charleston) today. The sign will announce the 18B Arts District in Downtown Las Vegas.
Brian Paco Alvarez sent over these pictures of the truck arriving early this morning.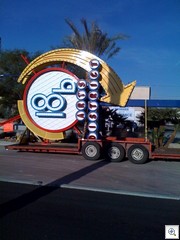 The sign arrived on location this morning, and is being installed today. No announcement has been made of any lighting ceremony or dedication event.
I'll gather more pictures later today as it gets lifted into place.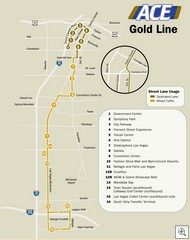 The ACE Transit system has been under construction all year, and will loop thru the "New Downtown" in the old railroad yards, and will provide easy transportation for the Smith Center, the World Market Center, County Government Center, Fremont Street Experience and into the Arts District.
Eventually it will also connect with the Las Vegas Strip and the Las Vega Convention Center.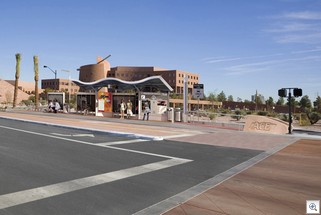 The various stations have been designed by local artists in the style of the classic Mid Century Modern buildings that adorn Downtown Las Vegas.
The new neon sign for the 18B Arts District will tower over the intersection of Casino Center and Charleston.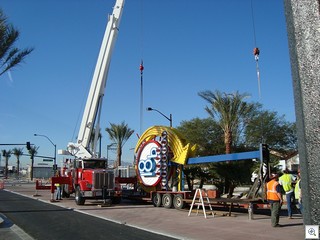 Yorgo Kagafas, the Urban Design Coordinator from the City Of Las Vegas Planning and Development Department sent me these picture of the sign being installed.
Posted by Jack LeVine | Currently 1 Comment »
October 20th, 2009 Categories: ART, Arts District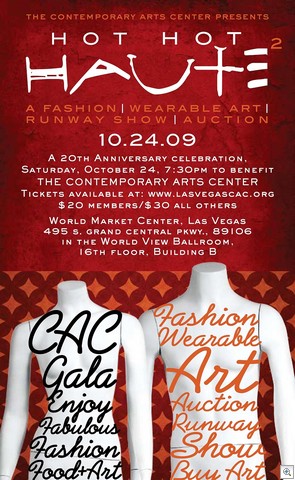 Not only is CONTEMPORARY ARTS CENTER my favorite non-profit arts organization……..
Most of my favorite downtown "characters" are involved in putting this 20th Anniversary Celebration.
For example, this is the email Princess Anne put out to her peeps:
Hello Fabulous Friends…..Please pass this along to everyone you know! Its going to be a fantastic night full of incredible works of Fashion Art…and YES!…it IS going to be a real RUNWAY Fashion Show ……..

(move over Tim Gunn!) to celebrate the 20th birthday of Contemporary Arts Center of Las Vegas

LOCATION: 16th floor of Building B at the World Market Center Las Vegas…Food by Firefly (downtowns' favorite!)….and a veritable plethora of beverages that will make you want to buy more ART!

Get your tickets online at caclasvegas.com so you wont have to stand in line…see you at the party

xos P.A.

PS: Bring your Posse!
What a great opportunity to help a great organization, and if you've never been inside the WORLD MARKET CENTER, this is a great opportunity!
Here's the official press release:
Wearable Art Runway Show and Auction /Gala
The World Market Center, 16th floor, Bldg. "B"
495 S Grand Central Parkway
Las Vegas, NV 89106
On October 24, 2009, at 7:30 pm The Contemporary Arts Center is presenting its second Hot Hot Haute wearable art auction to celebrate its 20th Anniversary by presenting the art / fashion benefit event of the year. CAC members will be asked to donate $20, and non-members will be asked to donate $30 to have the privilege to sample wine, food, and fashion, while mingling with a wild variety of art /fashion afficianados and practicioners, celebrities and wannabes.
Artists, both visual and performing (Cirque du Soleil) will be creating one of a kind wearable creations that will be presented and worn by the artists or agile models, to be auctioned off to the highest bidder. Music, food, and adult beverages will round out the experience of seeing painted bodies, haughty hats, gorgeous gowns, bizarre bustiers, sultry smoking jackets, and wearable art made of any and all materials known to man.
A plethora of celebrities and well-knowns will be competing for under and over garments, and the possibility of buying body painting services by the talented Mary Warner UNLV painting professor, whose talents will be modeled by exquisite physiques celebrating the merger of nature and art.
The Contemporary Arts Collective is a significant resource in Las Vegas representing new contemporary art by emerging and established artists. The C.A.C.'s goal is to provide a venue for artists, collectors, and all art enthusiasts to meet, get engaged with and enjoy contemporary art. Numerous creations have been submitted by local and far away artists, and the CAC Exhibition committee will soon be selecting between 40-50 works to be auctioned.
This event is an important fundraiser for the 20 year old arts organization, now the only surviving independent, non-profit art gallery organization dedicated to contemporary art in Las Vegas.
Tickets for this event will be $20 for all CAC members and $30 for non-members. For ticket information contact [email protected] or call 702-798-1819.
If interested in exhibiting work for this event you may still contact Wes Myles at [email protected]
Posted by Jack LeVine | Currently Comments Off on HOT HOT HAUTE 2 – Contemporary Arts Center 20th Anniversary Celebration
October 6th, 2009 Categories: ART, Arts District

The first I want to tell you about has my blood boiling in a good way. Brett Wesley Gallery is now in it's BRAND NEW BUILDING at 1112 S. Casino Center at the corner of Charleston. You can't miss it because it's the FIRST BRAND NEW Mid Century Modern Building in Las Vegas since……let's say…..the middle of the last century.
I'm not even going to tell about the artists that are showing. Previews of the works to be displayed are on the Brett Wesley Gallery Website. I will tell you, however, that Brett designed the building himself. It beautifully encompasses all the elements of Mid Mod and Googie that Alan Hess spoke about this last few days. Since thousands of you missed the bus tour and the lecture, here's a good opportunity to see a terrific example for yourself.
The Grand Opening is Thursday Night, October 8th from 6 to 9:30pm.
We've been regularly attending openings at Brett Wesley Gallery at the Newport Lofts for the last year. We've never been disappointed in the artists or their work.
Now, with the first entirely new gallery (and we hope there will be many more), there will be regular hours and many more emerging artists that can be showcased than was possible in the temporary space at Newport. Brett and Victoria have a great eye for spotting talented artists.
VeryVintageVegas is wishing them huge success. Come out and join the festivities for the Grand Opening this Thursday. If you can't, I'm hoping you'll drive into the parking lot and take a gander. That's one of the best features of Googie!
Brett and the new Gallery have recently been featured in KNPR's Desert Companion as #20 in the "25 Reasons For Art Optimism" article in last month's edition. As well, there's a terrific article "Investing In The District" by Kristen Peterson in the Las Vegas Sun.
MaryJoy says the outfit she put together for the opening is "DQOTT". You'll have to ask her yourself what that means. I'll wear my best Fedora and try to keep up. We hope to see you there.
TINOCO'S KITCHEN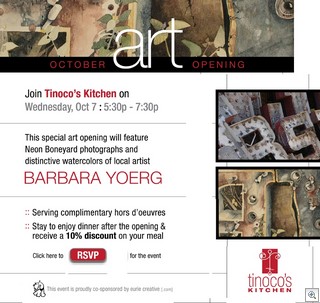 Our favorite downtown Italian eatery is Tinoco's Kitchen. This summer they relocated to The Las Vegas Club at 18 East Fremont.
Not only is the food great, but they've made the restaurant into an art gallery.
The show has just changed and the opening reception is TODAY October 7th from 5:30 to 7:30 pm.
Photographs from the Neon Boneyard and the distinctive watercolors of local artist Barbara Yoerg will be on display for the next month.
Stay for dinner and receive a 10% Discount.
Posted by Jack LeVine | Currently Comments Off on Two Art Openings In Downtown Las Vegas
September 3rd, 2009 Categories: Arts District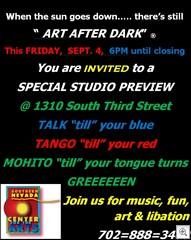 We've totally forgotten to tell you that the Southern Nevada Center for The Arts has re-opened at 1310 S. Third Street. It's a whole mall of artists all in one spot! They have terrific space now. It's a building I've wanted to see become art space for years, and it's finally happened.
These are great new digs and we should definitely check them out at the "soft opening" at First Friday. It will be right on the new ACE Transit Line, 3rd street is majorly under construction at the moment, but will give them terrific visibility in the near future.. Take a stroll around the corner from the street fair at First Friday and check them out.
Many of our favorite artists are taking up residence there, including Steven Jackson, the architect, James Donahue, Gregory Colhouer, Ernesto Chavez, Susanne Freitag, Ruth Hunter, Isabelle (Frenchy) Michaud, Sharrie Westeren, Robbie (Ruby Vegas) Bustos and many more to come.
Posted by Jack LeVine | Currently 3 Comments »
September 1st, 2009 Categories: Arts District, First Friday
Facebook friend Ryan Reason compiled a list of all the happening Thursday and Friday at the Arts Factory. It's a real long list and I think you'd have to be a member of The Arts Factory Las Vegas group to actually see it on FB.
Preview Thursday has a different energy that First Friday. Smaller crowds, serious art lovers, and actually – better free food and wine – but don't tell anyone.
Here's Ryan's Compilation:
Lot's of excitement around the Arts Factory as everyone preps for this coming Preview Thursday and First Friday. New galleries are opening and new collections are going up on every available wall space.
Preview Thursday has really taken off over the last few months, and this September's Preview Thursday has some special things in store you won't want to miss. Here's what's happening at the Arts Factory this week:
Art Tech Gallery
Studio #235
Eric Belanger commemorates the opening of his studio in the Arts Factory with a gala celebration on Preview Thursday 6pm – 10pm.
Refreshments courtesy of Kona Grille
Music by DJ B Breaks.
Open every Preview Thursday and First Friday, 6pm – 10pm
702.595.3503
[email protected]
http://www.arttechlv.com
Laura Henkel Fine Art
Studio #100
Featuring: "The Naked Line"
by Francois Dubeau
François Dubeau's work is born of a fascination with the unbridled creative energy and movement, which is often found primarily in a sketch.Every other element has been discarded, even color,leaving nothing butblack lines, which allows exploration by the observer to imagine within their own subjectivity in order to fill in the blanks. Each drawing starts from a random stroke of the pen, observed from all angles to become the spark that feeds the rest of the graphic composition. Dubeau leaves a lot of open space and ambiguity in his drawings to suggest a balance between the visible and the invisible, the defined and the undefined, black and white, l'avoué etl'inavouable.
Open Monday – Friday, 11am – 2pm
Open every Preview Thursday and First Friday, 6pm – 10pm
702.952.9656
Valentino's Zootsuit Connection
Studio #135
On Preview Thursday Valentino's Zootsuit Connection will be hosting "Mr. Coffeelicious" from Chicago, who will be serving samples of organic gold coffee and organic green tea. Also available will be wellness products from the world's leading brand of 100% certified organic ganoderma, for a healthier you.
Stop by and check out Las Vegas's oldest vintage clothing store featuring uptown apparel for men and women. Wearable art clothing spanning the eras from the 1900's to the 1980's. "For the cool in you."
Open Monday – Saturday, 11am – 5pm
Open every Preview Thursday and First Friday, 6pm – 10pm
702.383.9555
[email protected]connection.com
http://www.valentinoszootsuitconnection.com/
Trifecta Gallery
Studio #160
Featuring the works of:
Sush Machida Gaikotsu and Brian Porray
Two Painters at different stages in their careers. Both UNLV graduates, one winding up his Masters Degree and the other in the throes of success after receiving his in 2002. Helping each other over the course of several years, the two artists form an exhibition with similarities at first look. Upon exploring, you will see the creative differences in how a similar experience can show contrasting results.
Open Monday – Friday, 11am – 2pm
Open every Preview Thursday and First Friday, 6pm – 10pm
702-366-7001
[email protected]
http://www.trifectagallery.com
Joseph Watson Gallery
Studio #115
This month the Joseph Watson Gallery will be featuring pieces from San Diego Artist Franz Borowitz, as well as new pieces in the Joseph Watson collection.
Open every Preview Thursday and First Friday, 6pm – 10pm
Host: Joseph & Tamara Watson
For an appointment or more info: 858-733-2135
[email protected]
http://www.josephwatsoncollection.com
peaceNart Studio
Studio #230
This month features the Textured Visions of Erika Allison
and the Alexander Huerta collection
Open Monday – Friday, 12pm – 5pm
Open every Preview Thursday and First Friday, 6pm – 10pm
http://www.myspace.com/artsoul
http://www.erikaallison.com
8M Gallery
Studio #205
Featuring the Art of Ken Boe, Olivier Peltier and Dar Freeland
American Artist, Ken Boe – "The Teapot Series" – Oil on Canvas
French Artist, Olivier Peltier – "The Imaginary Lands of Olivier Peltier" – Mixed Media
American Artist, Dar Freeland – "Alchemy" Fine Art Watercolors
Open every Preview Thursday and First Friday, 6pm – 10pm
702-366-9077
[email protected]
Green Outlet
Featuring vendors and information on the Arts Factory back patio.
This month's theme is Back To School, highlighting reused and recycled products.
Connecting People, Planet and Products through internet television and events.
702.845.9599
[email protected]
http://www.goinggreen.com
Red Giant Gallery Presents:
Group Therapy Las Vegas:
"Traditional Values"
A group art show of 36 local tattoo artists honoring the traditions and fundamentals of old school American tattooing. Works will be displayed thru Sept 25th.
Group Therapy Las Vegas is a non profit organization dedicated to showcase the artistic talent for the tattoo community while raising funds for children's charities through continuous cultural event and projects. By showcasing the diverse art of the Tattoo community we will raise the awareness of their true artistic genius while generating resources that make a significant difference in our community and children in need.
Office: 702.287.0044
mailto: [email protected]m
mailto: [email protected]
http://www.grouptherapylv.com
http://www.facebook.com/home.php#/group.php?gid=85535039697
White Dwarf Gallery is now
Le Mur
Featuring random sketches by artist H.D. Clark
Northern Lights Gallery
Featuring "Nature Series" by Kimberly Cockrum
Inspired by the natural world, this collection is a display of bright colors, strong contrast, and heavy textures in acrylic paints.
http://www.kimberlycockrum.com
Posted by Jack LeVine | Currently Comments Off on The Arts Factory Is The Centerpiece Of First Friday and Preview Thursday in The Downtown Las Vegas Arts District
May 29th, 2009 Categories: Arts District, Downtown Las Vegas
Organizers of Las Vegas' only ongoing monthly arts festival takes
necessary steps to preserve its future during tough economic times
(May 29, 2009) Whirlygig Inc., the nonprofit group that organizes the monthly arts festival now in its seventh year in the Las Vegas Arts District in Downtown Las Vegas, announced today that it will scale back First Friday's offerings during the summer months in order to ensure the art festival's future.
While neighborhood art galleries and artist studios, antique and clothing stores, and restaurants and bars will remain open from 6 to 10 p.m. on June 5, July 3 and August 7, welcoming the thousands of locals whose patronage of Downtown businesses is perhaps more important now than ever before, the outdoor portion of the event on Casino Center and Colorado Street with its artists booths, live music and street performances will be placed on a temporary hiatus due to lack of funding for the event. There will be visual and performing aritsts on the sidewalks and at surrounding venues.
Whirlygig Inc. relies heavily on generosity of sponsors and its annual fundraiser to provide the funding necessary to put on the event each month, especially the outdoor portion which costs upwards of $10,000 per month for such necessities as fencing, barricading and the presence of Metro officers to secure the safety of First Friday's patrons. In recent months, sponsorship of the arts festival has gone down 40 percent, and the annual fundraiser (held in October 2008) raised 20 percent less than previous years' events.
"It has always been the board's goal to host First Friday every month, whether it's an art walk and street festival or only an art walk," says Whirlygig President Cindy Funkhouser. "It's a challenging time for non-profits everywhere and we have chosen to be creative, to make a change that allows us to keep First Friday alive and to keep the Arts District the place to be on the First Friday of each month."
Festival-goers will still find parking at the Clark County Government Center, where they can hop aboard a First Friday trolley and tour the Arts District or hop aboard the El Cortez trolley and visit the Farmer's Market and neighborhood watering holes in the nearby Fremont East District.
For more information, please call 384-0092 or visit First Friday online at www.firstfriday-lasvegas.org, where you'll find a complete listing of exhibition openings and special events.
ABOUT FIRST FRIDAY:
Since it began in October of 2002, FIRST FRIDAY has only continued to grow. It is now considered the premier arts event in Las Vegas. From the shops and galleries on Charleston (the Arts Factory, S2 and more) to the new galleries on Main Street (Atomic Todd and others) to the spaces on Commerce Street (Commerce Street Studios), down to the whimsical offerings of The Funk House antique store, and the art galleries and vintage shops in the cottages on Colorado Street. While many people love to walk the neighborhood particularly now with our new beautiful streetscape on Casino Center, we provide arts tour trolleys that make rounds throughout the area and make pick ups every 15 to 20 minutes throughout the evening. And no matter how you decide to get around, you can always expect a diverse crowd, cool local art and plenty of surprises.
Here's a good idea! Become a "Friend of First Friday" or make a donation so that this scaling back DOESN'T BECOME PERMANENT!
Posted by Jack LeVine | Currently 1 Comment »
May 4th, 2009 Categories: Arts District, Downtown Las Vegas, Mid Century Modern
Atomic Passage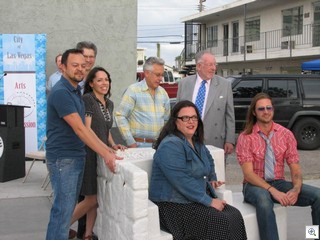 I attended the unveiling of some some of the street art that's been incorporated into the design elements of the new Casino Center Streetscape in the Downtown Las Vegas Arts District.
The 4 artists, Aaron Sheppard, Erin Stellmon, Danielle Kelly, Adam Morey all mentioned in their comments the timeless Mid Century Modern Heritage of Las Vegas, and it's influence on their designs for the Streetscape.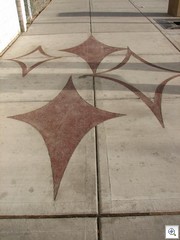 Atomic Passage is the first public art project in the history of the city of Las Vegas where artists' concepts have been integrated into the engineering infrastructure of a Public Works Streetscape enhancement. Please join us for the dedication of this unique and original work of art that embraces and references the city of Las Vegas signage and nuclear history.
ACE Transit Shelters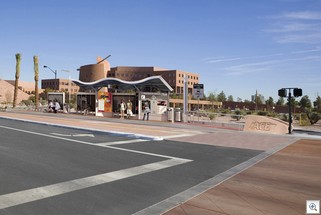 Another major improvement to the downtown will be the ACE Transit System. Maps and details are here, but this month you can see the artists concepts in the Stop and Glo exhibit at the Contemporary Arts Center which is located in the Arts Factory at Main and Charleston. All the shelters and the wind screens will me Mid Century Modern in their basic design.
The Regional Transportation Commission of Southern Nevada, in conjunction with the City of Las Vegas and Clark County, worked with local artists to add artistic enhancements to the new ACE transit shelters at seven locations in the City of Las Vegas, and one in Clark County (a total of eight locations) for the Las Vegas Resort Corridor Downtown Connector project.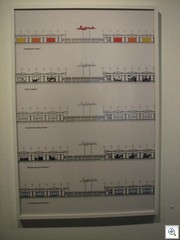 Each stop consists of two shelters, one on each side of the street, so that together they serve buses traveling in both directions. Eight artists created work: Catherine Borg, Evan Dent, Stephen Hendee, Danielle Kelly, Sean Russell, Eric Pawloski, Brian Porray, and Todd Von Bastiaans. Their imagery evokes ideas about Las Vegas history and iconography and is being implemented into the wind screens of each transit shelter and will be lit.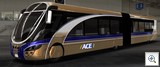 Posted by Jack LeVine | Currently 1 Comment »
April 6th, 2009 Categories: ART, Arts District
Here's the agenda for the next chapter in the "Off The Strip" Series that's being produced by the Contemporary Arts Center
Wednesday, April 8th, 2009
Onyx Theater*($5 with 50% support for CAC):
8 PM – 10:00 PM
Video Screenings:
"Devour" (1:28 min), "Gutted" (2:18 min) and "Passage" by Cindy Rehm;
"Continuous Sneezing (artificially induced)" (5:24 min), 'happily ever after" (3:49 min) and "Inadequate Reality Adaptation" (4:51 min) by Lynn Lu;
"Axis Mundi" (6:42) by Shana Robbins;
RIP in Pieces America" (62 min) by Dominic Gagnon.
*Onyx Theater is located at: 953 E. Sahara | Las Vegas, NV 89104 | phone: 702-732-7225
map: http://www.onyxtheatre.com/contact.htm
CAC Gallery (free):
12 PM – 5 PM (Wednesday, April 8th – Friday, April 10th)
Video Installations:
"For your viewing pleasure (GGW)" by Wendy Kveck;
Devour" (1:28 min), "Gutted" (2:18 min) and "Passage" by Cindy Rehm;
"Continuous Sneezing (artificially induced)" (5:24 min), 'happily ever after" (3:49 min) and "Inadequate Reality Adaptation" (4:51 min) by Lynn Lu;
Off the Strip: Performance and Video Event
April 2nd 2009 – April 17th 2009
HERE'S THE COMPLETE SCHEDULE AND RUNDOWN OF EVENTS AND ARTISTS
Posted by Jack LeVine | Currently 1 Comment »
March 12th, 2009 Categories: ART, Arts District
The Contemporary Arts Center's Juried show is on display thru March 27. at the Art's Factory on Charleston between Main Street and Casino Center.
Here's their Spring Newsletter, and SincityArtGroup's video just in case you don't get a chance to visit the gallery in person.

Las Vegas CAC 20th Annual Juried Show from sincityartgroup on Vimeo.
Posted by Jack LeVine | Currently Comments Off on Contemporary Art Center Juried Show
March 6th, 2009 Categories: ART, Arts District, First Friday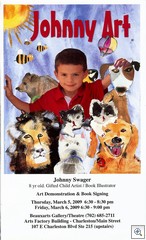 8 year old gifted child artist, Johnny Swager is doing a demonstration and book signing TONIGHT ONLY during the First Friday Extravaganza.
He'll be at the Beauxarts Gallery/Theatre in the upper level of the Arts Factory.
I found his work quite fun. I think you will also.
At his publisher's website, I found the following blurb about his book, which is called "Johnny Art – the Art of Johnny Swager"
Johnny Art is about the life and art-making of seven year old Johnny Swager. Johnny is an extremely gifted boy who is not intimidated by any subject. His work exhibits a confidence rarely seen in children and a freshness that only a child can bring to the canvas. Collectors, art teachers, and critics are captivated with Johnny's ability to render subjects with such maturity and painterly skills.
Posted by Jack LeVine | Currently Comments Off on "Johnny Art" TONIGHT Only At Beauxarts Gallery
March 4th, 2009 Categories: Arts District, First Friday
I don't think I've ever mentioned strip clubs before, but Olympic Gardens, now known simply as OG on Las Vegas Blvd at Oakey is having an open bar and on Thursday night from 5–7 pm to celebrate their anniversary.
OG says they're having His Honor, Mayor Oscar Goodman, as well as Actor James Caan and Comedian Vinnie Favorito as special guests.
I've never been to a stip club, but free drinks are free drinks.
Then, of course we'll be headed to the First Thursday Preview from 6 to 9 at most of the venues that will ALL be open on First Friday.
Of Special note on Thursday will be the 7pm announcement of the winners of the Juried Show which is on display at the Contemporary Arts Center in the Arts Factory.
Saturday night is the PEDALPHILES bicycle bar crawl thru downtown. I heard a rumor that one of the stops this Saturday will be at the new "Don't Tell Mama" piano bar at 517 Fremont. I was there last Saturday and had a hoot. Meet up at the back of the Arts Factory at 6:45pm. Bring your bike and spending money. LOTS OF FUN!
(I'll plug in the links later, but I wanted to get some reminders up on the blog before I ran out to show some homes).
Posted by Jack LeVine | Currently Comments Off on Olympic Garden 20th Anniversary Party And Lots Of Music, Art and Entertainment This Week
January 7th, 2009 Categories: ART, Arts District
I frequently mention First Friday as part of the ever growing art scene in Downtown Las Vegas, but there's a whole lot more than that. There's a huge MUSIC and ART scene growing up right under our loft hi-rises.
I wanted to bring some future events, current showings music and the way we're all being connected to your attention. I'd just love to plug everthing that's going on, but that's impossible. I do know that an urban lifestyle full of art and music and sense of community is just as important as big trees, big lots, and homes with charm and character and great design. They're all reasons people are chosing to move back "downtown". All of it is what's happening in "Vintage" Vegas.
Of course there's also Historic Preservation, Mid Century Modern Architecture, Hip Neighborhoods, Cocktail Parties, and lots of other forces that are in play, but we cover those pretty regularly, so today we'll just deal with the art and music scene, and getting VeryVintageVegas onto the first page if you google for Downtown Las Vegas.
Neon Reverb – The Downtown Las Vegas Music Festival

Neon Reverb the twice a year music festival. Coming to a bunch of Downtown Las Vegas Bars and Nightclubs March 12–15, 2009 The rundown is on the NeonReverb Website. There's a Facebook group for Neon Reverb as there is for much of the Downtown Las Vegas Scene.
RELEASE at the Aruba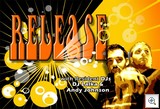 There's also the whole world of techno/house DJ late night insanity. I'm a little old for this, but I hear there's a BI-Weekly party at the Aruba. The next one is Saturday December 10th. More details at the Release Website
Paco and Derek swear they're dragging me to it.
Music Every Night
There's live music almost every night of the week in Downtown Las Vegas. Some of it's at the hotels, some at the bars, some at the Fremont East Entertainment District. Take a stroll almost any night on Fremont Street. Don't forget Karaoke at Dino's on Thursdays and Fridays at 10, and live bands on Fridays from 10 to midnite followed by Karaoke. There's 2 or 3 bands every weekend night right there on the stages of Fremont Street Experience.
About.com has links to live music venues through out the valley, but you'd be surprised how much of it is centered on the strip and in downtown. The suburbanites need to do the driving.
Las Vegas Weekly and Las Vegas CityLife, are also the place to find out about all things music, as well as some of the best blogging about Las Vegas in general.
Light My Fire – Hedwig And the Angry Inch – An Evening With Billie Holiday

3 current productions from Colabo which is dedicated to "Unity of the Races Through the Arts" They perform at the Family Music Center way out west at 8125 W. Sahara. I guess I'll just have to break the 3 mile rule since I missed the preview of Hedwig which was performed at First Friday last week.
Contemporary Art of Las Vegas
Contemporary Art of Nevada is a new facebook group that's hoping to bring together the entire Downtown Las Vegas Art Scene.
Jacie Urquindi-Maynard started the group just a few days ago, and it's growing quickly. I had once intended for VVV to act in that capacity, but it's way too much for me to keep track of. A Facebook group like this is the perfect solution. The description of the group is:
Contemporary Art of Las Vegas has been created for all the artists of Las Vegas and surrounding areas to participate in uniting the local art community and facilitate in the dissemination of updates, events, thoughts and the passion of art…

Everyone, including those who support LV artists are welcomed to share in this on-line gallery experience. Please post your latest work, videos and photographic images for all to enjoy. Keep us informed of all events, exhibitions and happenings. As we grow, the featured profile photo will be chosen from the participating artists. So send in your work. Please limit your uploads to 20 pics per album.

Together we can make a difference. Here's to "Art"!
SinCityArtGroup
SinCityArtGroup posted it's monthly First Friday Video Compilation.

First Friday Las Vegas January 2009 Video from sincityartgroup on Vimeo.
SCAG has made several other videos, but I especially wanted to draw your attention to this one about the current show "Pressing the Limits" which shows until January 23 at the Contemporary Arts Center in the Arts Factory. It's the hub of the Downtown Las Vegas Arts District and is located at Main And Charleston.

CAC Pressing the Limits from sincityartgroup on Vimeo.
Southern Nevada Center For The Arts – In Neonopolis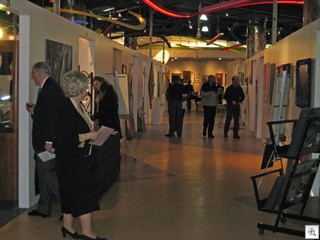 The Southern Nevada Center for the Arts is having its Grand Opening January 23 – 25, 2009. This is a great time to come down and check out the facility if you haven't already. There will be live music, art demonstrations, and 30 galleries and artist studios will be open. Upcoming class and workshop schedules will be available. A ribbon cutting ceremony will be held on Saturday. Events run Friday and Saturday 10am – 8pm, Sunday 12pm – 5pm. 450 Fremont Street, Second Level of the Neonopolis. For more information visit http://www.artcenteronline.com/
Lots of our favorite artists, such as Leslie Roland, Frenchy, and Architect Stephen Jackson have made it their new home.
AND next door at the Neonopolis is the Southern Nevada Museum of Fine Art. They're also holding an opening night party for it's new show on January 24th from 5:30 to 8:00 PM.
Naomi Arin Contemporary Art (formerly DUST GALLERY)
One of my personal favorite galleries in the Downtown Las Vegas Arts District is Naomi Arin Contemporary Art on the ground level of the Soho Lofts. Naomi is presenting a seminar on "Art Collecting for Investment" on January 21 and cordially invites you to register and attend. I'll know I'll be there.
Naomi Arin Contemporary Art (NACA) cordially invites you to attend a complimentary seminar on Art Collecting for Investment, Wednesday, January 21, from 6-7:30 p.m. at the gallery (900 Las Vegas Boulevard South, Suite 120-B).
NACA owner and art adviser Naomi Arin, recently interviewed about the art market for National Public Radio's "Marketplace" program, will provide an overview of the art market and how both experienced and novice collectors can incorporate it into their investment strategies.
Arin introduced a program of contemporary fine art with global significance to downtown Las Vegas when Dust Gallery opened on Main Street in 2003. Previously, she served as a private-practice attorney, as well as Director of Corporate and Foundation Giving at the Institute of Contemporary Art, Boston. Arin's understanding of the art market helps her clients make sound investment decisions.
"My objective is to help corporations and individuals understand how to meet their investment – and aesthetic – goals," says Arin. "It's exciting for me to watch clients' desire to diversify their financial portfolios develop into a real passion for collecting art.
"There's never been a better time than now to include contemporary fine art as part of your investment strategy."
For more information about the free seminar and to register to attend, call 702.324.5868 or send an email to [email protected].

Posted by Jack LeVine | Currently 2 Comments »