Housing Styles Topics
Welcome To Uncle Jack's Very Vintage Vegas!
Vintage Las Vegas Homes,
Historic Las Vegas Neighborhoods,
Las Vegas History,
Urban Living In Las Vegas.
If it's great, cool, fantastic, artistic, annoying, amusing, unique, or surprising.. you'll find it at VeryVintageVegas.com.
Check out what we're doing and add your two cents! Your comments & ideas are welcome. We update daily, so come back tomorrow!
Blogroll
Farmer's Insurance
Paul Hesselgesser
702-434-1230
The Hesselgesser Insurance Agency Website
Classic Las Vegas - Lynn Zook's Preservation of 20th Century Las Vegas
Curbed LA - WOW!
Mid-Century Modernist
RETRO RENOVATION - Pam's Excellent Effort At Re-creating A Retro Life
Carnival Of Real Estate - Minus Elephant Ears, But Still Mighty Tasty
Lotta Livin' - A Celebration Of Really Cool Things Mid Century
Bawld Guy Talking - Minus The Hair; Plenty Insightful
CoolnessIsTimeles - ALL "RAT PACK" ALL THE TIME!
SEE ALL OUR FAVORITES HERE

Housing Styles
May 2nd, 2008 Categories: Bel Air, Housing Styles, Mid Century Modern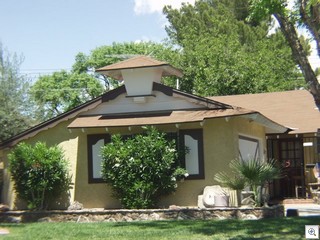 Heidi Swank, one of the very active preservationists and a UNLV Professor in the Sociology Department posted this comment on an old post about Cinderella Ranches. I thought it was a good question that certainly stumped me. Anyone know?
Heidi's Comment:

I believe these Cinderella Homes are a later version of homes made by an architect named Mellenthin. Mellenthin houses often have the birdhouse features but also often have vaulted ceilings and those nice criss-crosses in the windows. However, they do not have the low low overhangs shown in two of the pictures above.

I am trying to figure out if our house is a Mellenthin house. If anyone knows anything more about Mellenthin houses please post it. I am having a hard time finding much information.

Thanks.
Posted by Jack LeVine | Currently 3 Comments »
March 31st, 2008 Categories: Home Repair and Remodel, Housing Styles, Las Vegas Real Estate News, Mid Century Modern
The other day I mentioned the most famous mid century modernist designers, Charles and Ray Eames.
This summer, they'll also be honored in another way that will generate even more awareness of the ever growing modernist revival movement. The United States Postal Service will issue a flat of 16 stamps honoring them.
from the US Postal Service Website:© 2007 USPS. All Rights Reserved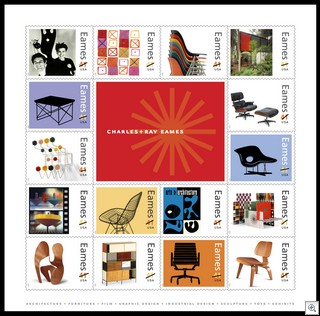 In recognition of their groundbreaking contributions to architecture, furniture design, manufacturing and photographic arts, designers Charles and Ray Eames will be honored next summer with a pane of 16 stamps designed by Derry Noyes of Washington, DC. If you've ever sat in a stackable molded chair, you've experienced their creativity. Perhaps best known for their furniture, the Eameses were husband and wife as well as design partners. Their extraordinary body of creative work — which reflected the nation's youthful and inventive outlook after World War II — also included architecture, films and exhibits. Without abandoning tradition, Charles and Ray Eames used new materials and technology to create high-quality products that addressed everyday problems and made modern design available to the American public.
I've been exclusively using the wonderful superheros stamps for the last few months, and can't wait to switch to these.
There's a whole evenings worth of reading, pictures, stimulation, announcements and events at the online home of Charles and RAy Eames.
I already knew about these stamps, but was reminded tonight from a post at DenverModern which is a Denver Agent with a blog similar to VVV.
Posted by Jack LeVine | Currently Comments Off on United States Post Office To Issue Stamps In Honor Of Ray and Charles Eames, The Most Famous Of The Mid Century Modern Designers
February 15th, 2008 Categories: Bel Air, Home Repair and Remodel, Housing Styles, John S Park Historic Neighborhood, Las Vegas History, Las Vegas Real Estate News
There's 3 things you can do with the classic 50's or 60's homes of Las Vegas
First, you can keep it all original, and relish the authenticity.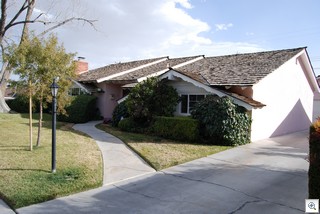 We've been selected to represent the sellers and market one that falls into this category. 1720 Bracken is the most authentic, untouched, (though much loved) Cinderella Ranch we've ever seen.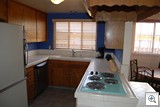 From the classic pink tile bathrooms, to the original turquoise oven and stovetop, to the scrolled facia boards and kitchen cabinets, it's all original. Even the shake roof was replaced in 1992 and should have 30 more years of life in it.

All of the photos of this pristinely preserved classic can be seen in the gallery which is in our left column.
So many of our readers "get it", I know there's one of you out there who will "have to have it".
The second thing you can do to one of our historic homes is to butcher it with inappropriate "remudeling". There's lots of those available all over Very Vintage Vegas, and they're easy to spot if you just search the mls. Bad room additions, HD/Lowes cheap cabinets and lighting, painting over, or even worse, tearing out natural brick or stone are all things I see way too often.
Urban Chic Is All The Rave In Remodeling Historic Homes
And the THIRD thing, of course, is to keep the finest of the original elements, and apply your artistry, "green" sensiblity as well as some creativity and flair to make it cool, chic, and hip.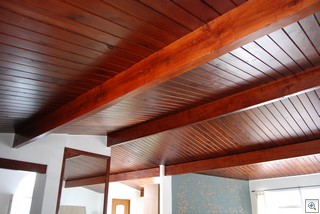 That pretty well describes our other new listing at 807 Oakey, in the John S. Park Historic Neighborhood.
In order to save the original 1955 tongue and groove beamed ceilings, the entire home was lifted off of it's foundation, and the entire foundation and slab was replaced in 2001.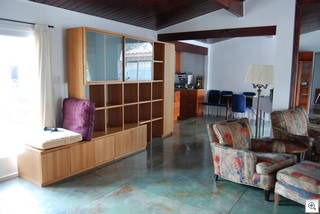 Every single bit of cement, plumbing, electric, heat and cooling, windows, doors and cabinetry were all replaced. Huge effort and expense went into fully insulated both interior and exterior walls, as well as the ceiling. All Permits were pulled, and The City of Las Vegas now considers it to be effectively a 2001 home.
The pictures in the gallery are incredible, but even they don't do justice to this stunning creation in the art of the new urban chic.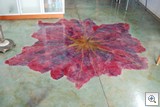 If you love stained concrete flooring, beamed ceilings and urban chic as much as I do, you'll want to consider this fabulous home. There's more photos in the gallery.
Give me a call if you'd like to see it person.
Posted by Jack LeVine | Currently 4 Comments »
January 23rd, 2008 Categories: Crestwood, Housing Styles, Mid Century Modern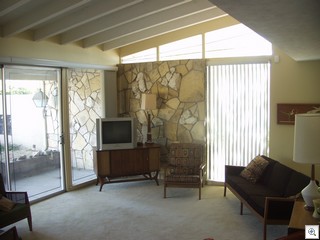 How do you let lots of natural light into a room, and still maintain some privacy? The modernist architects that were responsible for the "mid-century modern" home that we talk about so frequently here at VeryVintageVegas solved the problem with "Clear Story" Windows. Since the ceilings were vaulted, and the roofs so often flat, or low pitched, it was easy to add windows above the normal wall space.
In modern usage we find the term spelled "clerestory" as well as "clearstory" and even "overstory". In the mid mod homes, an excellent definition is:
rows of windows above eye level that allow light into a space. In modern architecture, clerestories provide light without distractions of a view or compromising privacy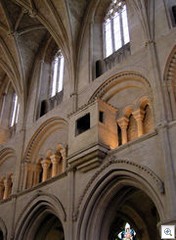 I never really connected the high-in-the-wall windows of modernism with the ancient architecture of Gothic cathedrals. In fact, according to this article in wikepedia, the use of clear story windows dates back clear to the Egyptians.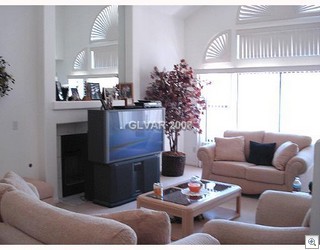 A big complaint that I get all the time about our suburban cookie cutter homes, is that the windows are so large that you lose all the wall space for furniture. Yesterday's Worst MLS Photo was a good example of the windows ruining a room. The windows above are an example of clear story windows, as they might be used in a more suburban 2000's home.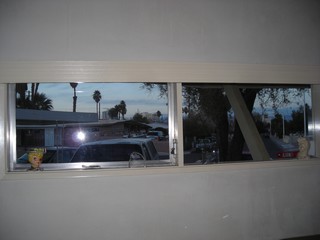 Modernist homes, however were built for desert living often had wide, thin windows set high in the walls to let in light, allow for furniture below them, and privacy within the room, and minimal direct sunlight.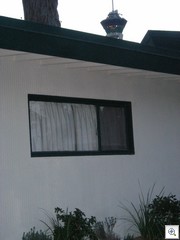 Now you know what to call high windows in a tall room.
Posted by Jack LeVine | Currently 3 Comments »
January 20th, 2008 Categories: Housing Styles, Marycrest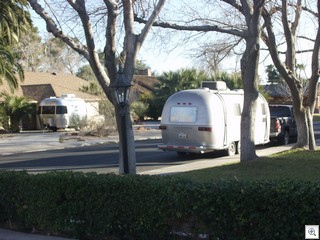 Googie, or Jetsonesque, or Space Age design wasn't limited to homes and commercial buildings. One of the signs of middle class upward mobility was the Airstream travel trailer. There were 3 families on our block when I was growing up in the 50's and 60's. Donny and Danny's Dad used to take it with us on our Boy Scout Campouts.
We rarely get to see one anymore, but to find 2 on the same street at the same time was one of those great events that I just had to share with you.
When I was in the trucking industry a lifetime ago, I used to see caravans of Airstreams all summer long. I always loved them, and got to see inside a dozen or so when I'd see one at a gas pump or or in a freeway rest area.
Vintage Airstream Collector Clubs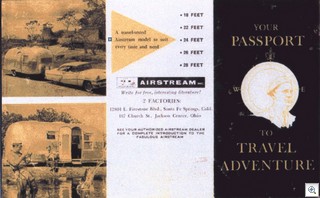 There's huge collector and enthusiast clubs, naturally one is called the "VINTAGE Airstream Club" with rallies and caravans and tours and all kinds of events that are held all over the world. 15th Street the other day seems to be the smallest rally ever held. Of course I googled the whole topic for you, and also found the Wally Byam Caravan Club International. The creator of the Airstream was Wally Byam, who seems to have obtained Icon status among his followers.
There's a "50 year rule" for something to be called antique, classic and vintage. I don't want those words applied to me personally but all the things that I love from my childhood are now fair game. What other classic, vintage things should I be on the watch for.
As my brother Joey still says, your rememberies are welcome in the comments.
Posted by Jack LeVine | Currently Comments Off on Vintage Homes Sometimes Have Wheels – The Invasion Of AirStreams In The Historic Las Vegas Neighborhood Of Marycrest
January 3rd, 2008 Categories: Cool Stuff, Historic Preservation, Housing Styles, Humor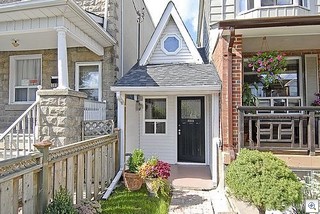 Actually, this picture is from Toronto, and it's the smallest home for sale there.
Mark T. sent me a picture, and thanks to google, I found all kinds of stories about it.
Thought you'd get a laugh out of it also.
Toronto's Smallest House the website
Other Bloggers Have covered it. with lots of pictures.
Posted by Jack LeVine | Currently 1 Comment »
December 27th, 2007 Categories: Historic Preservation, Housing Styles, Las Vegas Real Estate News, Mid Century Modern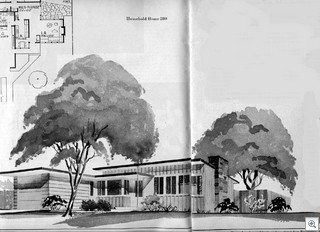 I found a great website called swankpad that I thought I'd share with you today. I grabbed a few of the hundreds of images of 50's and 60's advertisements, fashion, home decor and other fun mid-century modernism.
It's been a pleasure this last week to have some fun on the internet instead of the normal barrage of phone calls, projects, showings to get ready for, negotiations, ad writing, and heavy duty blogging. I know that the normal routine will hit hard and heavy next week, so I'm just going to spend this week having some fun.
I also managed to create a whole bunch of closet space by getting rid of workbooks and old files from 15 years ago that were stacked in boxes eating up some very valuable closet real estate in my home. I did that because I was looking for some old advertisements from my early days in real estate. I'll be showing you some of them tomorrow when I finish my year in review post on how "VeryVintageVegas" came to be.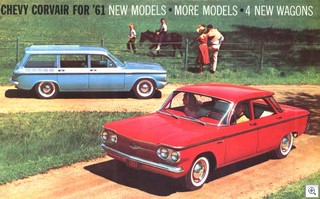 And the very first brand new car that my father ever bought was a white stripped down 1962 version of the Corvair Station Wagon. It did have an am radio, but my dad wouldn't spring for the sun visors, or the white walls, or any of the other goodies. It was a tight fit for all 7 of us, but I learned to drive on it 8 years later. So many childhood "remembories" come flashing back when I go to websites like SwankPad.
Yes, my littlest brother coined the term remembories when he was 4 or 5 and our family has used it ever since.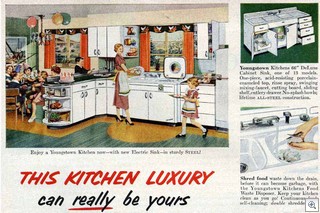 In the meantime, I have a feeling there's not a lot of work going on in your world either. Most of you (according to the tracking thingies that Steve monitors for us) look at VVV during 9–5, so I'm providing something for you to do if your boss has you locked out of the porn and game websites.
Next week, we'll get back to the serious business of preserving and improving our neighborhoods, educating the public and other Realtors about Vintage Vegas, saving our mid-mod architecture from the wrecking ball, re-thinking the arts district, maintaining pink bathrooms and all the other fun stuff we do.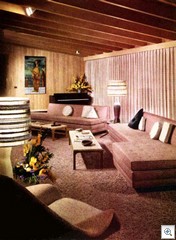 Here's your bonus set of photos from SwankPad in case you really want to get serious about mid century decor. Here's a collage of great 50's rooms from the Better Homes and Gardens 1957 decorating style book.
In case you didn't find enough to keep you occupied while the boss is on vacation this week, you can always click on some of Didi's Links in the right column of her DimBeautyOfChicago blog.
Have Fun!
Uncle Jack
Posted by Jack LeVine | Currently 3 Comments »
December 4th, 2007 Categories: Architecture, Housing Styles, John S Park Historic Neighborhood, Marycrest, Mid Century Modern
It was the exposed beams more than any other feature that drew me to my home, and I can't walk into a home that has them without being awed.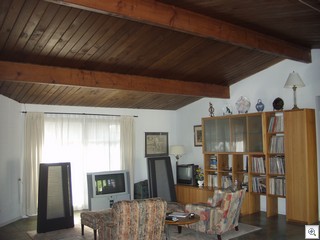 The ceiling material above the beams can be tongue and groove planking, or it can be flat panels of plywood or compressed composite. The composite material in my house has been routered with grooves to create another whole texture to the room.
We've just listed 2 Mid Mod Homes this week, and both will be "officially" on the market in the next few days. Both have exposed beams and I wanted to give you a little preview.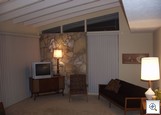 Posted by Jack LeVine | Currently 1 Comment »
November 28th, 2007 Categories: Architecture, Housing Styles, Rancho Bel Air
Rancho Bel Aire is 122 custom one of a kind homes with guard controlled access to the community. Most of the lots were 1/3 acre. Almost every home has a pool.
If you can get thru the gate, it's a fun drive.
Posted by Jack LeVine | Currently 1 Comment »
November 24th, 2007 Categories: Architecture, Housing Styles, Las Vegas Real Estate News, Market Conditions, Westleigh
Just east of Valley View between Oakey and Charleston, you'll find a delightful neighborhood of 288 cottage and bungalow style homes. Westleigh was built between 1952 and 1957 on 8 to 11,000 sf lots.
Mostly they were 2 bedrooms and 1 bath, but many have been expanded (some nicely, and some horribly). Some of the expanded ones appear more as ranch style now. Some have detached garages, some have guest houses, some are original.
All of the Westleigh homes were built with crawl spaces and real hardwood floors. Peek under the carpet and you'll find a little treasure waiting for restoration. "Original" real hardwood floors is one of the most sought after features that I'm asked for in Vintage Vegas. Westleigh's a great neighborhood in which to find them. By the 1960's concrete slab became the common method for building, and generally the crawlspaces and hardwood went away.
Another of Westleigh's unique features is that there are alleys running between the homes, and therefore have backyard access from the alley. Most of the alleys in Vintage Vegas have been closed off but you can still access them in Westleigh. There's very very few shabby homes left, as it's been a real popular starter neighborhood for several years, and the majority of the homes are now owner occupied.
There's 4 homes for sale at the moment, with 199,900 being the lowest and 385,000 the highest.
The 199,900 one is bank owned, needs some TLC and is at a great price for a 3 bedroom 2 bath on and 8100 foot lot. There's some great deals like this hanging out all over Vintage Vegas.
Posted by Jack LeVine | Currently 2 Comments »
November 10th, 2007 Categories: Architecture, Decorating Tips, Housing Styles, Las Vegas History, Las Vegas Real Estate News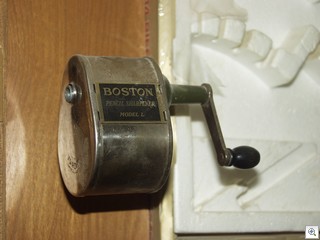 We've found a one owner home, with everything original. There's some structural problems and slab problems, which can be fixed, but it's a tremendous project house for the right person with time energy and money to restore this classic.
These vintage elements just prove that it's truly an all original home. 3 period bathrooms, original kitchen, stone fireplace and more.
It's not my listing, but I'd be happy to tell you more about it if you're looking for a real project.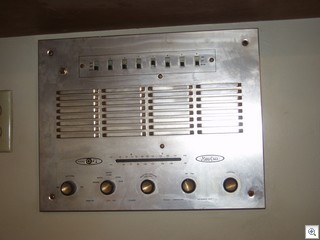 If you've got things like this 1960 intercom system, I'm encouraging you to save them and keep them in place, even if they don't work. They're great testaments to the home's era, and to your awareness of what's cool.
And If you have stuff like this hanging around in a closet or in a box in the attic etc, there's people like me who actually collect stuff like this. Let us know. Send a picture or email us about it and we'll help you figure out a way to put it to better use.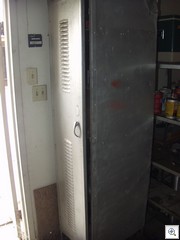 There;s a whole set of these vintage military lockers in the garage. I'd be painting them bright red or blue and put them to great use.
Posted by Jack LeVine | Currently Comments Off on Vintage Elements Should Be Saved Even If They Don't Work
November 7th, 2007 Categories: Architecture, Housing Styles, Huntridge, Mid Century Modern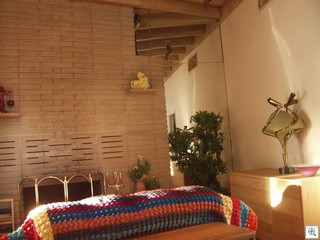 This morning I was up extra early due to the 8am graduation ceremony for the Citizens Leadership Academy.
One of the great things about my Mid Mod, post and beam construction home is how the light changes with the seasons. This morning was the first day that the sun rose far enough to the south to make it thru the patio cover and brass sliding glass doors and into the living room.
Last night, however, as I was leaving the house at 5:15, the kitchen was almost totally in the dark already. I want Daylight Savings Time to last all year! What a waste to have the sun up at 6 am, and for it to get dark so early.
That's really the only thing I hate about Las Vegas. Being in the east edge of the West time zone makes for some really dark early evenings during the winter.
Posted by Jack LeVine | Currently 1 Comment »
November 2nd, 2007 Categories: Architecture, Housing Styles, John S Park Historic Neighborhood, Paradise Palms, Southridge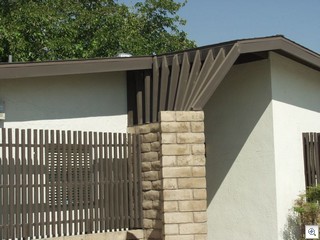 I started looking for great (or at least good) examples of what can be done with 2×4's and 4×4's and slats and beams and battens. I've always loved this first example which is on Maryland Parkway between Oakey and St. Louis.
(All Photos on Very Vintage Vegas are really thumbnails. You can see a larger version just by clicking on any picture.)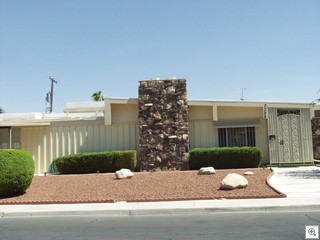 1×2 slats over a wood siding are called battens. They serve a useful purpose in covering joints in paneling or wood sidings. They can also be used decoratively, as we see in this example from Paradise Palms.
There's several more examples below the fold .
Posted by Jack LeVine | Currently 1 Comment »
October 29th, 2007 Categories: Downtown Las Vegas, Housing Styles, Las Vegas History, Las Vegas Real Estate News, Market Conditions, Mortgage, Paradise Crest
Nothing! And Everything at the same time. How could that be?
The National Association Of Home Builders says:
"Despite the present market contraction, Seiders said that housing should begin to turn around next year for a number of reasons: the overall economy and job growth continue to move ahead at a decent pace, core inflation is under control, the late-summer credit crunch in mortgage markets is showing signs of easing since the Federal Reserve cut short-term interest rates on September 18, and the supply-demand equation will be better balanced as builders begin to whittle down excess inventories."
So there's going to less of the same old same old everything looks like everything else out in the suburbs. But there's hardly a single new home to be found in Vintage Vegas. Regardless of how I define "Vintage Vegas"….geographically, or by age of the homes, or by housing style, there's only so much of Vintage Vegas. And the demand for "close to the strip", "charm and character", "big lots with big trees", "like the house I grew up in", is catching on and growing.
One of the things that has always defined Las Vegas is timing. It was still a railroad camp when the big cities of the east coast and midwest already had huge populations. The median age of home in Las Vegas (by my calculation) is 1993. The medium home in Columbus, or St. Louis or Chicago, or Dallas is probably about 1960, which is when their population was half of what it is now. Every other major city in America has had a rebirth or regentrification of their urban core neighborhoods. Because Las Vegas is such a "new" city, by all big city standards, we're the last city left where the rebirth of the urban core is still in in it's adolescence.
As a volunteer tour guide today at Dr. Lonnie Hammargren's Open House, I had a chance to speak to dozens of Las Vegas residents who had "absolutely no idea" that neighborhoods like Paradise Crest existed. All I could do was hand them a card and ask them to keep moving, as there was something like 7000 people that came to the open house.
There's a couple of rules in life which just can't be ignored. Gravity is one of them. Location is another. Even if we had nothing else to offer in Vintage Vegas….we do have location.
Posted by Jack LeVine | Currently Comments Off on What Do New Homes Have To Do With Vintage Vegas?
October 22nd, 2007 Categories: Architecture, ART, Cool Stuff, Downtown Businesses, Downtown Las Vegas, Events, Housing Styles, Mid Century Modern
< ?xml:namespace prefix ="" o />
THE JUNIOR LEAGUE OF < ?xml:namespace prefix ="" st1 />LAS VEGAS
OPENS Morelli house to the public November 10th
Open House to Feature Fall Vintage Clothing Exhibit
Las Vegas, NV – 22 Oct, 2007: The Junior League of Las Vegas (JLLV) announces a public tour of the Junior League's mid-century modern Morelli House on Saturday, November10, 2007 from 1:00-4:00 PM. The open house will feature a fall vintage clothing exhibit from the collection of Diane Bush and Steven Baskin. The Open House tour and exhibit is free and open to the general public. Reservations by November 6, 2007 are required by calling the Junior League office at (702) 822-6536. The Morelli House is located at 861 Bridger Avenue in downtown Las Vegas.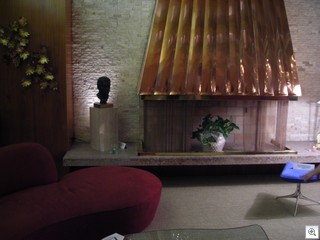 Junior League Morelli House Docents will be conducting tours that will explain its architectural features, the life and times of Antonio Morelli and the interesting story of the historical preservation project. The fall vintage clothing exhibit will feature seasonal colors and textures. Junior League members will be modeling mid century outfits and Sak's Fifth Avenue has generously loaned mannequins for the exhibit. There will be men's fashions, but the majority will be women's from the late 1950's when the Morelli house was built.
About The Morelli House & Public Events
The Morelli House was built in l959 by Antonio Morelli, longtime orchestra leader at the Sands Hotel, and was originally located on the Desert Inn Golf Course Estates, now the Wynn Resort. In 2001, the League saved the house from demolition, restored it and relocated it to the corner of 9th and Bridger Streets on the outskirts of the historical district in downtown Las Vegas. The Morelli House is listed on the state of Nevada's and the City of Las Vegas' Historical Registries.
Posted by Jack LeVine | Currently Comments Off on Morelli House Open To The Public November 10th