Las Vegas History Topics
Welcome To Uncle Jack's Very Vintage Vegas!
Vintage Las Vegas Homes,
Historic Las Vegas Neighborhoods,
Las Vegas History,
Urban Living In Las Vegas.
If it's great, cool, fantastic, artistic, annoying, amusing, unique, or surprising.. you'll find it at VeryVintageVegas.com.
Check out what we're doing and add your two cents! Your comments & ideas are welcome. We update daily, so come back tomorrow!
Blogroll
Farmer's Insurance
Paul Hesselgesser
702-434-1230
The Hesselgesser Insurance Agency Website
Classic Las Vegas - Lynn Zook's Preservation of 20th Century Las Vegas
Curbed LA - WOW!
Mid-Century Modernist
RETRO RENOVATION - Pam's Excellent Effort At Re-creating A Retro Life
Carnival Of Real Estate - Minus Elephant Ears, But Still Mighty Tasty
Lotta Livin' - A Celebration Of Really Cool Things Mid Century
Bawld Guy Talking - Minus The Hair; Plenty Insightful
CoolnessIsTimeles - ALL "RAT PACK" ALL THE TIME!
SEE ALL OUR FAVORITES HERE

Las Vegas History
October 15th, 2011 Categories: Las Vegas History, Las Vegas Real Estate News
Dr. Lonnie Hammargren once again will hold his world famous open house on Sunday, October 30, from Noon to 5pm at the "Hammargren Home Of Nevada History"
If you've kicked yourself in the past for having missed it, or want to see it again, this could be the last chance. Neighbors and County Commission have tried to shut it down (and succeeded for the last 2 years). A recent court ruling has cleared the path for it to happen once again.
This year there will be a donation of $10.00 per person. Shuttle bus service is available from the shopping centers at Flamingo and Sandhill.
The address is 4318 Ridgecrest Drive. 1 block south of the corner of Sandhill and Flamingo
Lonnie made a little video to give you a taste of what it's all about.
I'll be volunteering, once again as a docent – Â so seek me out and say hello.
j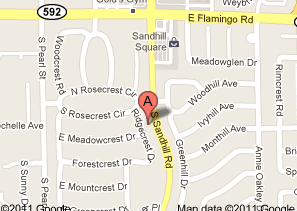 Here's the map. Even the street view is fun 
Posted by Jack LeVine | Currently 1 Comment »
April 27th, 2011 Categories: Las Vegas History
This event is open to the public if they want to watch or observe, but is limited to 90 "participants". If you're there to watch you'll only have to pay the normal $2.00 to get into the museum grounds. If you've never been to the museum, it's the best 2 bucks you can spend for a day of learning and reminiscing.
The official press release and flyer start here: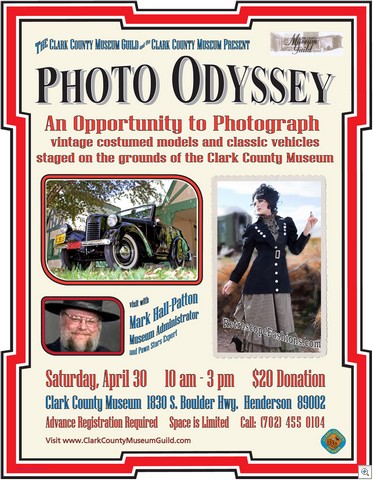 Photography enthusiasts will have a chance to test their shutterbug chops on April 30 when the Clark County Museum Guild hosts photography day at the Clark County Museum from 10 a.m. to 3 p.m.. Photographers will be able to shoot professionally styled models and vintage cars, located in and around the historic homes and outdoor exhibits of the museum grounds. A Nikon representative will be present to loan cameras and lenses to qualified participants. Pre-registration is requested, and enrollment is $20. Walk-ins for this event will be charged $25.00.
Eight locations at the Museum, suggestive of various eras, have been selected. Planned scenarios include a 1960's wedding at the Wedding Chapel, a 1930's Brenda Starr reporter by the Train Depot complete with Model A Ford, a "Magnesium Maggie" mom and daughter team in the Victory Garden behind the Townsite House, a Gibson Girl hanging laundry on the line behind the Beckley House, a modern wedding in the Gazebo, a Steampunk "Nell and Snidely Whiplash" couple by the Union Pacific switcher engine, a Rockabilly Couple with a vintage motorcycle by the 1960's Spartenette camper, and a Honeymoon Bride at the 1930's Motor Court. Mark Hall-Patton, Museum Administrator and guest expert of "Pawn Stars" fame, will be on hand to sign his book, Asphalt Memories. Copies are available through the museum store, and all sales benefit the museum.
Additionally, from 3-4 p.m., participants will be invited to network in a Meet and Greet, under the Gazebo. Registrations open April 1, 2011. The event is limited to 90 participants. To register, call the Clark County Museum Guild at (702-455-0104) or e-mail: [email protected]
The museum is open daily from 9 a.m. to 4:30 p.m., Admission to the museum is $2 for adults, $1 for seniors over 50 and children ages 3-17. For more information call (702) 455-7955. www.clarkcountynv.gov/Depts/parks/Pages/clark-county-museum.aspx
Posted by Jack LeVine | Currently Comments Off on Clark County Museum Hosts Photography Day
March 22nd, 2010 Categories: Las Vegas History, Mid Century Modern, Mystery House Series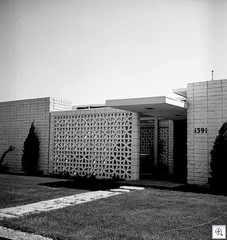 Anyone recognize this building? It would be a very cool Mid Century Modern home, but maybe it an office building? I don't have any idea.
The address is 1391.
It's one of the mystery pictures from February 1960. All of the pictures in this series are from a single roll of film that our anonymous historian dug up. Some are houses, but there's also apartment buildings, commercial buildings, and a strip hotel. I'll be sharing them all with you in the coming days, and perhaps you can help us identify the locations. The whole series will be categorized as "Mystery House Series", in the left column.
The decorative concrete block sunscreen is a fairly common pattern that we've found in Las Vegas. The blocks are a staple of Mid Century Modern architecture. . This pattern was number 44 in the series that we ran of all the various patterns that I've ever found in Las Vegas.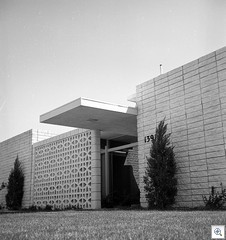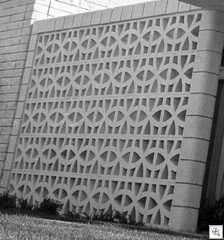 Posted by Jack LeVine | Currently 8 Comments »
February 2nd, 2010 Categories: Las Vegas History
We haven't done any Las Vegas History lately. If you're new to VeryVintageVegas, it's one of the things we try to cover. I'm NOT the historian, just one of the students. Lynn Zook of the Classic Las Vegas, among others are historians. She presents a monthly panel discussion called "Untold Stories".
This month the topic is African American Entertainers in Las Vegas. We invite you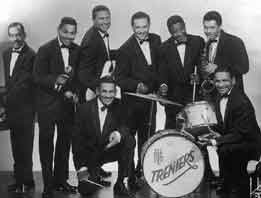 We kick off a the new year with our first "Untold Stories" on Thursday, February 4th with a look at African-American Entertainers in Las Vegas. We will discuss the early days of segregation up through what it is like to perform in Las Vegas today.
Panelists include:
Claytee White: Director of UNLV's Oral History Program
Skip Trenier: cousin to Claude and Cliff Trenier and member of the band
Sonny Turner: Lead singer of The Platters from 1960-1970
Michael Ryan Tyler: Musician who has played with Wayne Newton and others in today's Las Vegas
Thursday, February 4th, 2010
6:30 pm
Las Vegas Springs Preserve
Desert Learning Center
Admission $9
Discounts available if you buy a class pass!
Classic Las Vegas is THE BLOG for Las Vegas History. It should be one of your daily reads as well.
Posted by Jack LeVine | Currently Comments Off on Untold Stories: The Las Vegas History Panel Discussion Series
January 8th, 2010 Categories: Las Vegas History
Dan Ball from Channel 3 news called. Being Elvis's birthday and all….he's doing a story for the 5 and 6 pm news today about the "Elvis House" that we featured on VeryVintageVegas back in August and September of 2008. You can see the original stories HERE, and HERE.
I'm republishing our first story for you:
Where Did Elvis Go When He "Left The Building" In Las Vegas?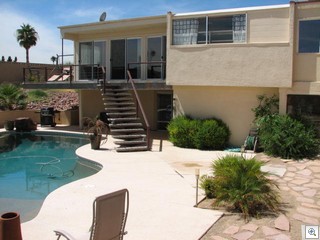 Once upon a time, there was an amazing hideway that was owned by the International Hotel, which later became The Hilton Hotel. They used it as a private, exlusive retreat for the headliners. Elvis slept there. So did Dean Martin, Tonya Tucker and many others. It's always been referred to as "the Elvis House".
My mother drove me by it and told me the story during one of my first visits to Las Vegas in 1975. I've never verified any of the details of the history or the folklore, but even then she told me it was one of the private hangouts for all kinds of strip entertainers.
The Hilton sold the property in 1974 to Joseph Macchiaverna, a violinist (who doesn't have even a single google hit. Anyone know anything about him?). In the 90's they subdivided the property and built the infill "villas" that surround it to this day.
The brief third owner, Michael Michaels, was an Elvis impersonator himself, according to the current owners who acquired the proerty in 2006.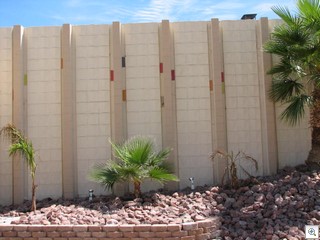 At the time, it was all by itself out in the desert near what would become the intersection of Eastern and Desert Inn. Like everything else in Las Vegas, it was encroached upon by more development. It's still a little island of mid mod paradise on an 17000+ foot lot.
It's been listed for awhile. I didn't pay it much mind when it was $700,000 but the price was just dropped to $410,000 subject to shortsale rules. I thought you'd like to see the pictures, and if you're into something really crazy and off the wall, as well as off the beaten path, I'd be happy show it to you.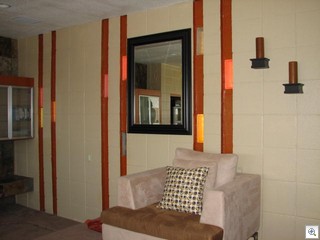 The colorful blocks in the face of the home are actually colored glass which lite up the living room.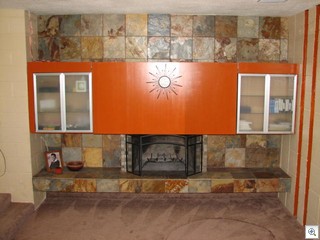 There's been a lot of use of slate tiles in the home. They're on the front, as well as the stairs, fireplace and flooring.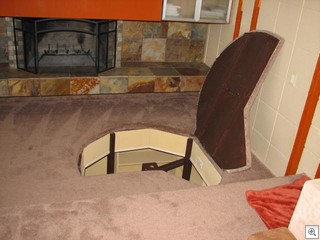 There's 2 circular staircases in the home. One leads up from the "music room" thru a trap door in the floor in front of the fireplace.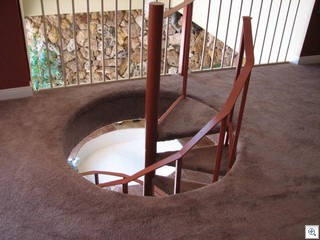 The master bathroom is a 2 story atrium of glass and Lava Rock which also is accessed by a circular staircase up to the master bedroom.
There just wasn't a good angle to show it, but the white oval in the middle of the staircase is actually the master tub.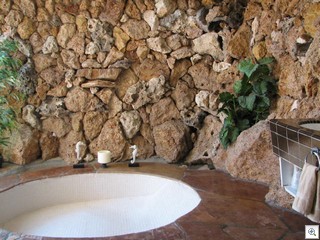 The garden tub in the master bath is surrounded by the lava rock waterfall.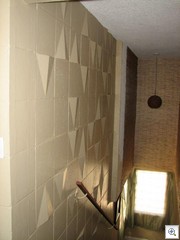 The original pyramid shadow block is used on the stairway, leading up to the kitchen and living area. The living room and kitchen as well as the bedrooms are all on the upper level of the home.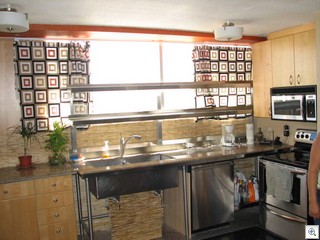 The kitchen is updated and very functional with double fridges, and stainless steel appliances. The stainless steel kitchen sink was salvaged from _________hotel kitchen. They told me which one, but I forget. (I know…shame on me, but I'll call the seller for a reminder and fill in the blank).
Posted by Jack LeVine | Currently 1 Comment »
December 29th, 2009 Categories: Las Vegas History
Since I'm coming out of hibernation, let's throw a little Las Vegas History into the mix.
Nuclear Age Seminar at Atomic Museum
Tuesday, January 12th, from 6 pm – 8 pm
A discussion and lecture titled "From Splitting the Atom to the Cuban Missile Crisis: Writing the 1st Quarter-Century of the Nuclear Age," will be presented on Tuesday, January 12th, from 6 pm – 8 pm at the Atomic Testing Museum, 755 E. Flamingo Road, Las Vegas, NV 89119.
The Atomic Testing Museum, the Black Mountain Institute, and the UNLV History Department proudly present discussion panelists Dr. Martin Sherwin, Dr. Ruth Sime, and Dr. Mary Palevsky. UNLV History Professor, Dr. Andy Fry, will moderate the event. The speakers' combined research and knowledge of the development of the nuclear age ensures that the conversation will be both informative and thought-provoking.
Admission is $5 per person and free for museum members. Call (702) 794-5161 for more information. Click Here for more information and a money saving coupon to the museum exhibits and gift shop.
Posted by Jack LeVine | Currently Comments Off on Nuclear Age Seminar at Atomic Testing Museum
November 4th, 2009 Categories: Las Vegas History
Eventually, these restored neon signs will stretch all the way south along Las Vegas Boulevard all the way to Sahara.
For now, there's three of them: The Bow and Arrow, The Silver Slipper, and The Binions Horseshoe that are installed and ready for dedication this Monday, November 9th, 4:45 pm.
The signs being installed on Las Vegas Boulevard are in the heart of Las Vegas' Cultural Corridor. The corridor is made up of the highest concentration of cultural institutions in Las Vegas and includes Cashman Center, the Las Vegas Library, the Las Vegas Natural History Museum, Lied Discovery Children's Museum, The Neon Museum, the Old Las Vegas Mormon Fort State Historic Park, and the Reed Whipple Cultural Center.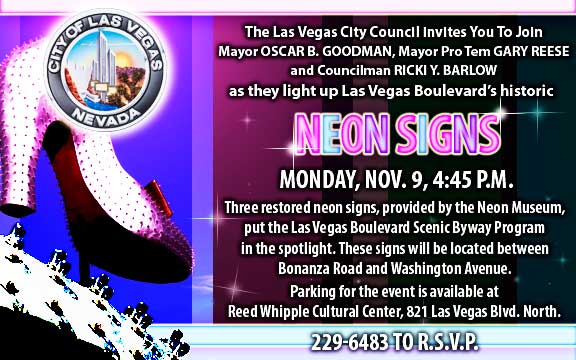 Posted by Jack LeVine | Currently Comments Off on Newly Restored Neon Signs To Be Dedicated On Las Vegas Boulevard In The Cultural Corridor
October 9th, 2009 Categories: Las Vegas History
One of the most exciting "there's-no-culture" cultural events each year in Las Vegas is the Vegas Valley Book Festival. It's time once again, so find the reading glasses and get ready for an amazing line-up of events.
I hinted the other day that there's going to be two opportunities coming up to see The Morelli House. The first event is a pre-festival lecture on Mark Twain, followed by a party at the Morelli House.
Nevada's Literary And Architectural History Celebrated At Morelli House Reception
The Vegas Valley Book Festival celebrates one of Nevada's famous authors in a special literary program, "The Genius of Mark Twain," on Thursday, Oct. 22, at 7 p.m. in the auditorium of the city's Downtown Senior Services Center, 310 S. Ninth St. T
This pre-festival event, co-sponsored by the Junior League of Las Vegas, will feature renowned scholar, author and storyteller Dr. Elliot Engel in a dramatic narrative celebrating the writings and the life of Mark Twain as one of America's most enduring literary legends. Engel, a recognized authority on Charles Dickens, has taught at the University of North Carolina and Duke University and offers a range of literary programs on the lives of 19th- and 20th-century authors — including Mark Twain, whose real-life experiences in Northern Nevada inspired his writings about the American West.
Following Engel's presentation, a reception and book signing will take place at the Junior League's Morelli House, located at 831 Bridger Ave. The Junior League, celebrating the 50th anniversary of the Morelli House, will be providing tours of the historic property.
These events are free and open to the public, but seats are limited. Reservations can be made by calling 882-6536 or emailing [email protected]. The event is funded in part by a grant from Nevada Humanities, with support from the city of Las Vegas.
"The Genius of Mark Twain" is one of a number of pre-festival events leading up to the Vegas Valley Book Festival, Nov. 4-8, with most events taking place at the Historic Fifth Street School. The festival, now in its eighth year, is presented annually by the city of Las Vegas, Nevada Humanities, Las Vegas-Clark County Library District and Las Vegas Review-Journal. This year the festival hosts more than 100 authors and is expected to draw an estimated 10,000 attendees at all venues over the five-day event. For more information on the Vegas Valley Book Festival, call (702) 229-5431 or visit online at www.vegasvalleybookfestival.org or www.artslasvegas.org\vvbf.
Posted by Jack LeVine | Currently Comments Off on Vegas Valley Book Festival And The Morelli House Features Mark Twain Event on Oct. 22
September 30th, 2009 Categories: Las Vegas History
Las Vegas history is one of key topics we cover at VeryVintageVegas. There's 3 events this week for those of you who are looking to discover the roots of our city. Don't ask me how I'll get any work done this week. I promise we'll do some real estate stuff this week, as well once we've covered the art, history and music scenes.
Thursday, October 1st: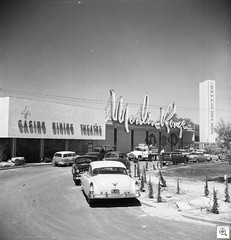 The UNTOLD STORIES series continues with a panel discussion and slide show on the topic of "The Moulin Rouge", the first racially integrated hotel and casino. From it's beginnings to the recent fire that finally destroyed the building, there's a fascinating story.
From the Classic Las Vegas website:
On October 1st, we are focusing on the history and myth surrounding the famed Moulin Rouge Hotel on the Westside of Las Vegas.

The hotel opened in 1955 as the first integrated hotel and casino in town. The opening night was attended by some of the biggest names in entertainment. Everyone had high hopes for this wonderfully designed (by Walter Zick and Harris Sharp) hotel with its giant, neon-script sign (designed by Betty Willis).

The hotel seemed to flourish and stories have been handed down over the years of deserted casinos on the Strip late at night because everyone was at the Moulin Rouge gambling, hanging out and enjoying the jam sessions and the late, late show.

In less than two years, it was closed. Rumors have been rife for years of the mob being involved, of financial improprieties and more.

On Thursday, Oct, 1st, we will try to distinquish fact from fiction, history from myth and try to discern what really happened.
For time, place, and cost….here's the link to the announcement at Classic Las Vegas
SATURDAY, October 3rd: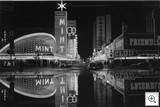 VeryVintageVegas is pleased to be one of the sponsors of "Beyond the Mint: The Mid Century Modern Architecture of Walter Zick". The location is the NEVADA STATE MUSEUM at Lorenzi Park on Washington, west of Rancho.
The bus tour of the Walter Zick buildings that still exist is sold out, and there's a waiting list to take the place of any no shows.
Alan Hess is the featured panelist. There's a reception at 11:30am and the panel discussion is at Noon. Again, to Classic Las Vegas for all the details.
Monday, October 5th: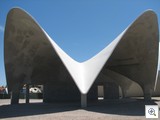 Alan Hess, the pre-eminent architectural historian is lecturing on the Mid Century Modern legacy of Paul Willams , and the fascinating topic of "Googie". This event is at 7 pm, is free to the public, and will be held at the Historic Fifth Street School.
Paul Williams designed the conch shell lobby of the La Concha hotel here in Las Vegas. It was saved from the wrecking ball, and will be the new visitors center at the Neon Museum. It's as good of an example of Goggie as there is.
Posted by Jack LeVine | Currently 1 Comment »
September 27th, 2009 Categories: Las Vegas History
Last week we introduced you to the mystery Led Zeppelin concert in Las Vegas. People have started coming forward who remember it and stuff is being dug up. One of the members of the band remembers the "wood floors" . I keep deferring to Classic Las Vegas, since the story was told to Lynn Zook this week by one of her regular readers (which should include all of the VVV readers, BTW). Lynn reports:
One of our daily readers contacted me with his remembrance of Led Zeppelin playing Las Vegas, at the Ice Palace, in 1969:

In 1969, it was announced on KLUC that Led Zeppelin would be playing the Ice Palace. The Ice Palace was not THE major venue in town that would be the Convention Center. I was confused.

Led who?

I went to Wonder World and found Led Zeppelin I. I recognized Jimmy Page from the Yardbirds, but who were Robert Plant, John Bonham and John Paul Jones? What was the big deal?

I called the Ice Palace. Maybe there was more to the story. I asked if it was true that Led Zeppelin was going to play the Ice Palace.

The guy said "Yeah." I responded, I swear: "Who else is playing with them?"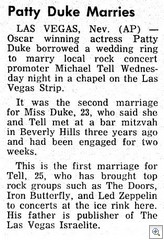 It was curious to me that in the "did Led Zeppelin play in Las Vegas" mystery thread at LedZeppelin.com they left no rock unturned. Little gems like this one got uncovered. They unearthed all kinds of tidbits and references to and about the Ice House.
I've really never been an "historian", per se. I leave that to the my friends and the professionals. I just try to remember what they dig up. Watching this unfold has been fascinating. "PlanetPage", who first contacted Lynn Zook and Brian Paco Alvarez, and then me a week later, has been one of the movers and shakers in trying to solve the mystery. She called me on Friday from Canada to personally thank us for trying to help them.
Last Tuesday, "FSMITH9095" made an interesting comment that I'd share with you if you're NOT going to read the entire thread from start to finish:
I love this stuff. Really interesting work everyone. Its combining the best of Zep,archaeology,civic record research,networking with interested folks and romantic memories. Sort of like Indiana John Paul Jones.. :slapface:

Las Vegas seems to have an especially strong attraction in that it is/was a mystery date and also the city itself holds a mystique and energy about itself.

I've always thought it would be great if someone published a coffee table book chronicling the venues in which Zep played;photos of the actual houses of the holy.
I'm sure there will be more developments. They're getting peoples recollections, but someone, somewhere took a picture, or kept a ticket, or made a secret "boot – short for bootleg" recording.
Posted by Jack LeVine | Currently 17 Comments »
September 20th, 2009 Categories: Las Vegas History
Supposedly, Led Zeppelin played Las Vegas in 1969, shortly after the release of their first album, and before they were mega big. There's serious people who seriously care about solving the mystery of whether Led Zeppelin actually played a gig on August 11, 1969 at the Ice Palace in the Commercial Center.
It's mentioned in a Las Vegas Weekly article of the top 25 concerts ever held in Las Vegas. The thing is, there doesn't seem to be any PROOF that it happened, and there are conflicts with other proven dates and venues that might suggest that it couldn't have happened.
They're trying to get to the bottom of it on a forum on the official Led Zeppelin website. I got contacted because they googled commercial center and came up with a post I did about the resurrection of Commercial Center. Naturally, I contacted Lynn Zook at Classic Las Vegas, Brian Paco Alvarez, and Dennis McBride from the Nevada State Museum. Turns out they all got turned on to the mystery last week, and I was late to the party. Our historians are scouring the archives, and they've even been doing research into, for example, Metro's records for the dates to see of there were any calls to the Ice Palace. I have nothing personally to offer up, so….
We decided to put it out to the VeryVintageVegas and ClassicLasVegas blog audiences:
Any of you boomers remember being there? Hearing about it? Got a ticket stub, or a picture or anything?
Leave messages in the comments. JAS is doing the research and he's watching to see if you any of you can help us prove once and for all that Led Zeppelin played Vegas in 1969.
And for those of you younger readers who may have never heard of Led Zeppelin. This was when rock was really rock:
The violin bow sequence that's referrenced in the LasVegasWeekly piece starts at right about 3:00.
Posted by Jack LeVine | Currently Comments Off on Led Zeppelen In Las Vegas -1969? A History Mystery Surfaces
September 17th, 2009 Categories: Las Vegas History
Cultural Corridor's Third Neon Sign Moves To New Home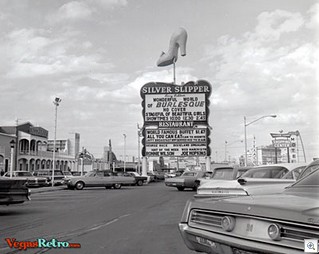 The last of three vintage Las Vegas neon signs will be set into place on Las Vegas Boulevard, in the Cultural Corridor, beginning at 11:30 p.m. tonight, Sept. 17. The completely refurbished Silver Slipper sign will be installed in a median island south of Washington Avenue, as part of the $1.1 million Neon Sign Improvement Project.
The famous slipper used to sit atop the Silver Slipper Gambling Hall, as a part of what used to be called the Last Frontier Village, a replica of an old western town on Las Vegas Boulevard. Although the Silver Slipper opened in 1950, the sign did not go up until the 1960s. The Last Frontier became the New Frontier, which was eventually absorbed into the Frontier. The slipper was designed by Jack Larsen, Sr., a designer at Young Electric Sign Company. The sign is 12 feet high and 17 feet wide. The slipper's main body contains 900 incandescent light bulbs, with about 80 more in the bow.
The Neon Sign Improvement Project includes the complete restoration of three historic neon signs for placement on Las Vegas Boulevard, from Bonanza Road to just north of Washington. New landscaped median islands are also being installed.
On Aug. 24, the Bow & Arrow Motel neon sign was set into place north of Bonanza. That was followed, a week later, by the installation of the Binion's Horseshoe sign north of Washington.
Once the installation of all three signs is completed, crews will work to provide power and conduct a series of tests prior to the signs being officially put into service.
These historic signs on Las Vegas Boulevard are in the heart of Las Vegas' Cultural Corridor. The corridor is made up of the highest concentration of cultural institutions in Las Vegas and includes Cashman Center, the Las Vegas Library, the Las Vegas Natural History Museum, Lied Discovery Children's Museum, The Neon Museum, the Old Las Vegas Mormon Fort State Historic Park and the Reed Whipple Cultural Center.
The three signs are also the first in a series of historic neon signs that will be completely restored and eventually placed on Las Vegas Boulevard, from Washington to Sahara Avenue, as part of the Las Vegas Boulevard Scenic Byway Program.
Funding for these improvements is provided by the Centennial license plate fund and the city of Las Vegas. The three neon signs are on loan from the Neon Museum.
Rafael Construction is the contractor. The city of Las Vegas Department of Public Works is managing the project. Construction started in May and the project is slated for completion in October.
(A tip of the fedora to Lee Plotkin for spotting this on the Nevada DOT Facebook page)
The photo above is from the amazing collection of famed Las Vegas photographer Robert Scott Hooper. His collection is at VegasRetro.com (warning– you'll get stuck there for a couple of hours)
Posted by Jack LeVine | Currently 3 Comments »
August 25th, 2009 Categories: Classic Las Vegas, Las Vegas History, Mid Century Modern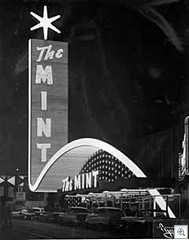 VeryVintageVegas is pleased to be one of the sponsors of the "Zick and Sharp" Panel discussion and Bus Tour on OCTOBER 3rd. Zick and Sharp were the most prolific mid century modern architects of Las Vegas.
We started documenting their body of work last year after discovering a CD presentation that was made to the school board by Walter's daughters. They were trying to get a school named after him. We joined that bandwagon, but got sidetracked and never finished the research for that series. Now we're back on it and incorporating it into the upcoming panel discussion and bus tour.
Among the work that we've already explored and discussed has been Maude Frazier Hall (gone now); The POD SCHOOLS; and Nevada Savings. There's plenty more that we'll be covering and Classic Las Vegas and VeryVintageVegas hope that you can join us on October 3rd.
The un–official announcement is out and the plans are in place (except for a way to RSVP and pay for the bus tour – We'll open the registration next week. Space will be limited for the bus tour, but abundant for the panel discussion).
From The Classic Las Vegas history blog:
Beyond The Mint:" Walter Zick and Mid-Century Las Vegas

If all Walter Zick and partner Harris Sharpe ever designed was the Mint Hotel and it's beautiful neon sign that would be enough.

But Walter Zick designed much more than just the most beloved, lost neon sign of Las Vegas. He designed a variety of commercial buildings, mainly banks, schools and residential homes.

A lot of his architecture is still standing which is really amazing considering the reputation Las Vegas has with preserving history.

As noted here earlier this year, we became much more aware of Walter Zick's architectural contribution to the Las Vegas Valley when we got a disc from Jack LeVine over at VeryVintageVegas that had been put together by Zick's daughters in hopes of having a school in the Valley named after their father.

While the School District turned down the daughters, we came up with an idea and working with the Nevada State Museum, Las Vegas and Nevada Humanities, we received a grant to do a program centered around Walter Zick and his mid-century architecture.

On October 3rd we will have a panel discussion at the State Museum on the work of Walter Zick. Confirmed panelists include our favorite mid-century author and historian, Alan Hess, Assemblage Studios' architect, Eric Strain, Karen Zick Goff and her sister, Claire and neon designer, Brian "Buzz" Leming.

Following the discussion, there will be an afternoon bus tour of some of Zick's still-standing architecture. The final stop on the tour will be the Morelli House. Though Zick did not design the Morelli House, it's mid-century architecture makes it a perfect place to have a small reception before returning to the State Museum.

We are currently working out the bus route, which we hope will include a few stops so that we can see the interiors of some of the buildings. Once we have all the details worked out, we will post them here.

Seating for the bus tour is limited and reservations will be necessary. Once we have the reservation number working, we will post that as well.

So, subscribe to this blog because you are not going to want to miss this. If you ever wondered what happened to mid-century modern Las Vegas or how it came to be, this is the program for you. If, like me, you've always appreciated how modern our Valley truly was, you won't want to miss this program.

It's going to be historic, fact-filled and lots of fun.

So, stay tuned.

This program made possible by Nevada Humanities and the Nevada State Museum and the generous donations of VeryVintageVegas, the Friends of Classic Las Vegas, Brian "Paco" Alvarez and the Junior League of Las Vegas.
Posted by Jack LeVine | Currently 1 Comment »
June 28th, 2009 Categories: Las Vegas History
Wednesday, and Thursday evening each have a panel discussion related to the History Of Las Vegas.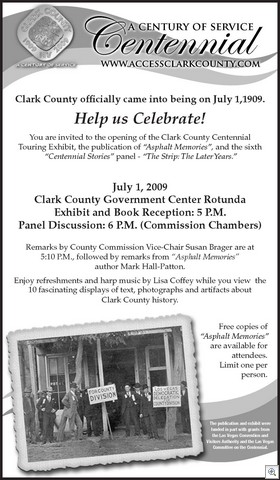 Wednesday, July 1 is the 100th anniversary of the formation of Clark County. Along with the whole year long celebration, there's a special panel discussion and exhibit at the Clark County Government Center.
Reception is 5pm
Panel Discussion :The History of The Strip – Howard Hughes and Beyond
Thursday evening July 2nd is the next installment of the "UNTOLD STORIES" series that's presented by Lynn Zook and Classic Las Vegas. This series is held at the Springs Preserve at 6:30pm.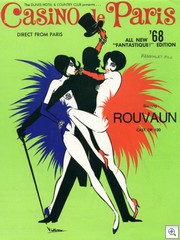 July's Untold Stories is going to look at those who help keep our history alive by collecting Las Vegas ephemera. From postcards to menus to casino chips, these guys are helping to preserve a very vital piece of our collective memory.
It started as a small hobby that over the years has grown in size. But without them, many of these pieces would be lost for good.
Please join us and panelists: Carey Burke, Robert Stoldal and others as we talk about the hows and whys of their collections and why those collections are so important.
There will be copies of "Las Vegas: 1905-1965", the history book that Carey Burke and Lynn Zook wrote utilizing a great deal of his postcard collection, will be on sale before and after the panel. Carey and Lynn will be happy to autograph copies.
Thursday, July 2nd 6:30 pm Las Vegas Springs Preserve Desert Learning Center
Admission is $12
It should be a fun evening of history and the panelists are bringing items from their collections as well! We hope to see you there!
Speaking of Las Vegas History, as we do often, Vegas Judy sent me a link to a 1956 home video (shot in 8mm) of Las Vegas, narrated 50 years later by man who took it when he was a child. It's worth 3 minutes of your time.
Posted by Jack LeVine | Currently 1 Comment »
June 25th, 2009 Categories: Downtown Las Vegas, Las Vegas History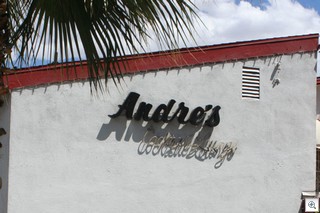 Preview (all items): Thursday, June 25th 10am to 5pm
First Auction Date: Friday, June 26th at 10am – Land, Building, Restaurant Equipment
Second Auction Date: Saturday, June 27th at 10am – Memorabilia
401 S. 6th Street.
There's tons of pictures on the auction website. I'm going over around 1pm.
(thanks for the reminder – Smiley)
Posted by Jack LeVine | Currently Comments Off on Andre's Restaurant Furnishings and Memorabilia To Be Auctioned