Paradise Palms Topics
Welcome To Uncle Jack's Very Vintage Vegas!
Vintage Las Vegas Homes,
Historic Las Vegas Neighborhoods,
Las Vegas History,
Urban Living In Las Vegas.
If it's great, cool, fantastic, artistic, annoying, amusing, unique, or surprising.. you'll find it at VeryVintageVegas.com.
Check out what we're doing and add your two cents! Your comments & ideas are welcome. We update daily, so come back tomorrow!
Blogroll
Farmer's Insurance
Paul Hesselgesser
702-434-1230
The Hesselgesser Insurance Agency Website
Classic Las Vegas - Lynn Zook's Preservation of 20th Century Las Vegas
Curbed LA - WOW!
Mid-Century Modernist
RETRO RENOVATION - Pam's Excellent Effort At Re-creating A Retro Life
Carnival Of Real Estate - Minus Elephant Ears, But Still Mighty Tasty
Lotta Livin' - A Celebration Of Really Cool Things Mid Century
Bawld Guy Talking - Minus The Hair; Plenty Insightful
CoolnessIsTimeles - ALL "RAT PACK" ALL THE TIME!
SEE ALL OUR FAVORITES HERE

Paradise Palms
May 22nd, 2014 Categories: Las Vegas Real Estate News, Mid Century Modern, OUR LISTINGS, Paradise Palms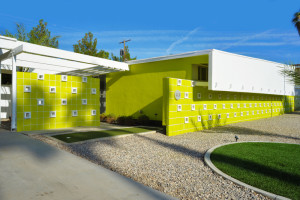 Every time I drive someone through Paradise Palms – the home that most gets them excited is the "Caddyshack". They say – "I want that one".
Someone is going to get a chance soon.
You may know it – it's the green and white one on Seneca Drive just south of Desert Inn. It's a model 7B of the Palmer and Krisel series built by Molasky Construction.
The current owners Cary and Mary-Margaret Stratton, have been dedicated to the Mid Century Modern restoration movement for many years. They worked with the LA Conservancy's Modern Committee. They started the Atomic Age Alliance here in Las Vegas. They published a tour book of Las Vegas Modern Architecture. And now – they've restored the Caddyshack to it's original concept, feel and energy.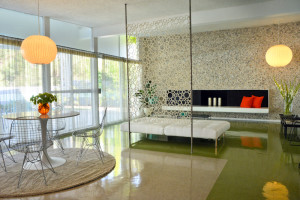 There are a lot of Mid-Century homes in Las Vegas that still look original from the outside. Too many of them have been "updated, upgraded" or otherwise modified to look nothing like they did when they were new. This isn't one of them. The inside is even better. If you love the time capsule homes you see regularly in Atomic Ranch or at Retrorenovation, you'll really appreciate the thought and effort that was put into this restoration.
I will be putting it on the market tomorrow. You might want to save the date for the public open house — Sunday June 8th, 2014 from noon to 4 pm.
We've created the video below as well as a separate website – LVCADDYSHACK –  to demonstrate the vibe and the energy of this incredible home.

Posted by Jack LeVine | Currently 2 Comments »
May 15th, 2010 Categories: Fun Features Found In Foreclosures, Paradise Palms
I wasn't going to do anything on Paradise Palms for a while after our big long series on the 1963 newsletters and William Krisel designs.
However, there's still a mysterious shortage of bank owned homes that are available, and a doozy of a good one popped up in Paradise Palms the other day. One of the things we learned from the 1963 newsletters as that all the homes on Mohigan, Papago, Hoopa, Omaha and Delaware were unique – one (or a few) of a kind custom homes.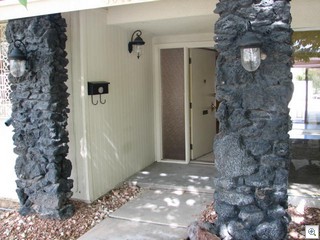 This one at 3846 Hoopa Lane, on the corner of Mohigan has always been one of my favorites in the area because of the columns of Lava Rock in the front, and the 36 inch crinkle-cut-pattern front door.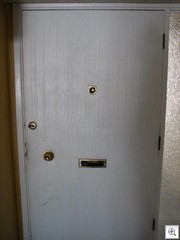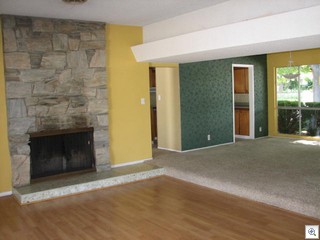 I'd never been inside until yesterday when it came to market as a bank owned foreclosure. I knew the floor plan – and loved it from a similar design on Mohigan that sold last year. Inside I found a wall of glass and extra wide sliders to the back yard, as well as the sliding glass doors from the dining room to the front of the house. The step down living room features the rock fireplace with terrazo hearth and the lighting soffit/ledge.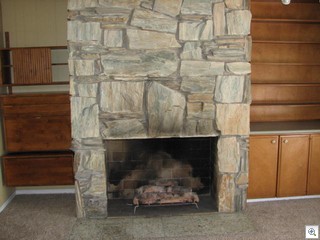 It's actually a 2 sided fireplace column, and the family room side of the fireplace is even more dramatic with it's built in book cases.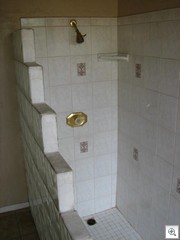 The other great original feature of the house is the step down – sunken shower in the master. Looking out from the shower you'll find a private little rock-walled patio space with sliders leading to to it.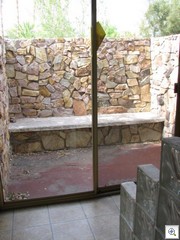 There's a few other really cool features, such as the back yard and pool. The house is in remarkably good condition for a bank owned foreclosure. Here's the MLS pictures, and the amusing comment from the listing agent: "A quaint and mature 3 bedroom". No one who reads this blog would use the word "quaint" to describe it. I'd have said: "A fabulous example of a Mid Century Modern Ranch".
Of course, the bank listed it at a ridiculously low price of $119,900. There's already multiple offers, but the window is still open this weekend. The best thing is that it's a Fannie Mae owned home, and NO INVESTOR offers will be considered unless it's been on the market for more than 30 days. If you've been sitting on the fence, there's a great opportunity here. Give me a call, or tell someone about about it and have them call me.
Posted by Jack LeVine | Currently 2 Comments »
March 15th, 2010 Categories: Paradise Palms, Paradise Palms 1962 Brochures and Newsletters
I said "But, wait– there's more", and here it is.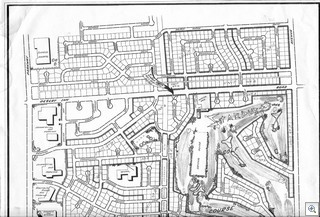 It's the hand drawn rendering of Paradise Palms from 1963. It was also handed out at the sales office, which I now know had a Desert Inn Address, though it was the last lot at the end of Dakota Circle. Was it in the house that's there now? A trailer? A different building that was replaced with house?
Having stared at this map for hours over the last few weeks, it's also created all kinds of new questions. I'm trying to put together all the pieces of the puzzle. I've had to go back into the county records to discover that the unlabeled segment containing Aztec and Cayuga are really "unit 2". The west half of Sombrero, Raindance and Scout Street (which doesn't exist, and is called Raindance now) are really unit 15. Sombrero Avenue goes straight thru from east to west from La Canada to Eastern. Where's La Canada?
Obviously, this wasn't the final version of the map. The Unit 15 homes were built in '64 and '65. They're mostly ranch styled mid mod's. Someday I'll figure out the whole puzzle. If anyone has any clues…..please send them my way.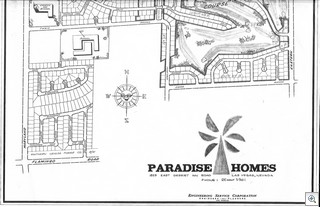 The map does help us see where the park once was. And you can see in the bottom left hand corner, that there was another whole group of homes that never materialized. That area is now apartments.
Unfortunately, the map was printed on 11×17 paper which didn't fit in my scanner, so I did it in 2 parts. In retrospect, I should have taken it somewhere with a bigger scanner. Maybe someone with some photo shop skills will do us a favor and put it back together as one full map.
I hope you've enjoyed seeing the 1963 brochures and newsletters as much as I have. Now it's time for some coverage of some other neighborhoods…..and some Mystery Pictures.
Posted by Jack LeVine | Currently 2 Comments »
March 12th, 2010 Categories: Mid Century Modern, Paradise Palms, Paradise Palms 1962 Brochures and Newsletters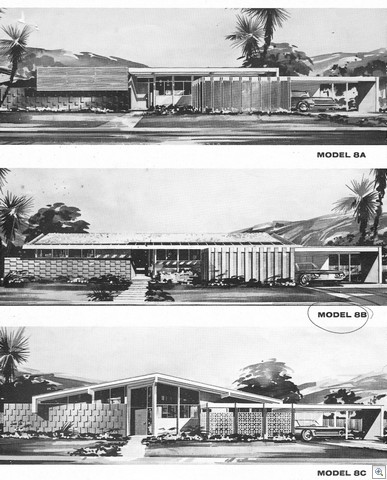 This is the last of the series showing the original 1963 sales brochures of the William Krisel designed homes of Paradise Palms.
I'm just intelligently guessing that about 300 of the 1044 homes in Paradise Palms were Krisel designs. Irwin Molasky's Paradise Development Company developed the entire master planned community, and directly built the Krisel homes. There were other construction companies that built some of the "units" of Paradise Palms.
For example, in the first of the newsletters, we learned that the whole section north of Desert Inn, between Camelback Road and  Eastern Ave. were built by Miranti Homes. These 83 homes in Unit 11 were concrete block, ranch style homes with pitched roofs or flat roofs, and sunken living rooms.
The same article told us that "Unit 10" (which is the Tioga finger into the golf course), and "Unit 12" (the first few homes on the streets west of Spencer) were the work of Secrest Construction, who dubbed a group of 77 homes as the Americana Series. I think these were the ranch houses west of Spencer.  
I have no clue if Irwin Molasky's Paradise Homes actually built the rest of the homes in his development. If anyone else has a clue or some history for me, please email or call me.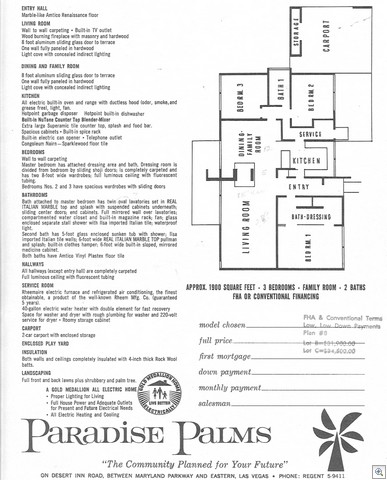 Plan 8 was the largest of the Bill Krisel Designs. It was 1900 square feet. The fireplace was the centerpiece of the home as it was an island which served as a divider between the family living room and the dining room. The other distinctive feature was the screened front courtyard in front of the kitchen window, which stretched over to the carport.
Almost all of the model 8's have had the carport converted to garage. Unfortunately, many of them have had the screen walls removed. 
A good (bad – fixer upper) example of the Model 8C just sold as a foreclosure at 3419 Seneca, and a terrific well kept and beautifully painted example of the model 8B can be found at 3522 Pueblo Way, which is 3 or four houses west of the "Revision House".  
I don't recognize the 8A at all. I don't recall any that have an extended facia providing shade to the bedroom windows. Nor do  I recognize the shadow block design on the left front of the house. Am I wrong?
There's at least 3 people/couples that I know of who have been driving around Paradise Palms with these brochures trying to identify all the houses of each model. I wish I had the time to do it lesiurly as well. Perhaps one of them will spot an 8A that I'm not remembering.
The prices, which were rubber stamped onto the back of the brochures is a little harder to read on the the model 8, but they were:
Lot B $31,900 and
Lot C $34,500
Posted by Jack LeVine | Currently 6 Comments »
March 10th, 2010 Categories: Paradise Palms, Paradise Palms 1962 Brochures and Newsletters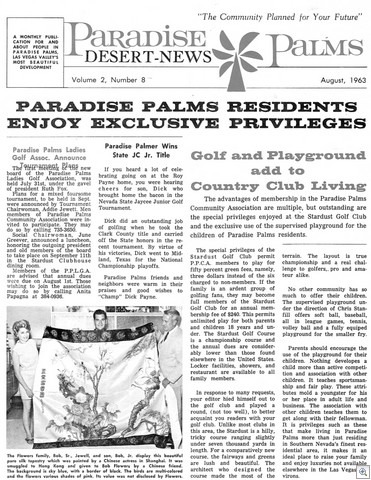 Our Paradise Palms 1963 series is coming to an end soon. There's only one more floor plan brochure, an after this, the August 1963 edition of the Paradise Palms Desert News, there's only September left to show you.
I was hoping someone else would surface that had other editions stashed away, but, alas, it hasn't happened.
We'll continue with some more 1960's fun with a new series of photographs from our secret historian. He just delivered a whole cache of 1960's pictures, and we'll need your help figuring out where they are.
Today's edition of the Paradise Palms Desert News features smuggled art, more hair, a new gas station, and lots of furniture that we'd all love to have now.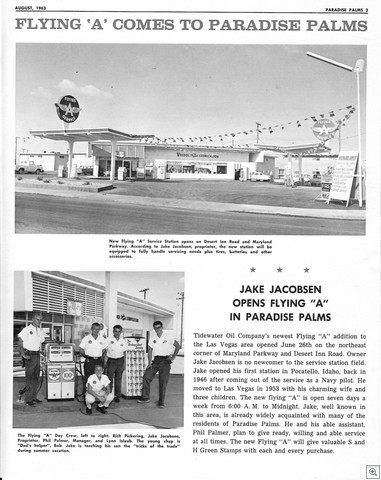 My mother used to "let" me lick the S & H Green Stamps. There's actually 3 full books of them in a box in her store room. All that licking, and they never got turned in for valuable merchandise.
Anyone know when the "flying A" got torn down?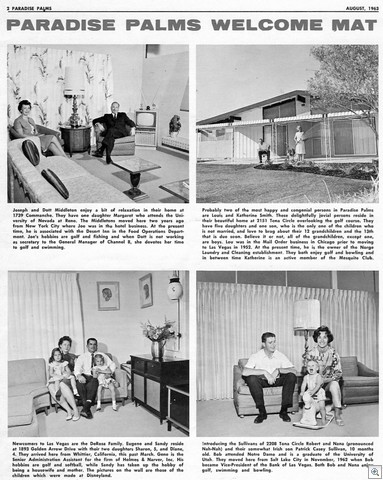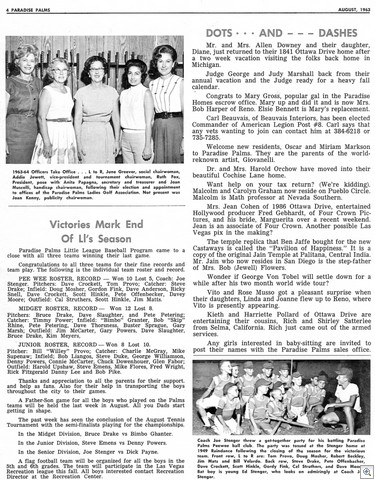 In the early 70's, the Paradise Palms Community voted to abolish the homeowner's association. I've been told that it happened both in 73 and 74.
With the HOA defunt, the community park was closed and the land was re-developed for the last homes to be built in Paradise Palms. Those homes are distinctly different and have the feel of the 70's and 80's. You can find them on the south side of Nakona, just west of Spencer.  
Posted by Jack LeVine | Currently 2 Comments »
March 1st, 2010 Categories: Mid Century Modern, Paradise Palms, Paradise Palms 1962 Brochures and Newsletters
Where was I before the last week got lost?
It's time for another volume – July 1963 – of the Paradise Palms Newsletters. This one contains a special treat, which we'll get to on page 3. There's also a lot of great hair, 2 tone shoes to match the dogs, and a real "leave it to beaver" moment!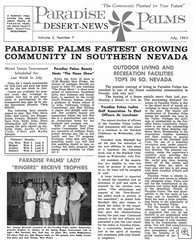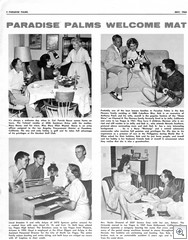 (UPDATE: regular VVV reader and client Anya just discovered that that's her house in the bottom right photo of the Welcome Mat. She vows to not only do over the house, but to get the same haircut as Naida Ormond!)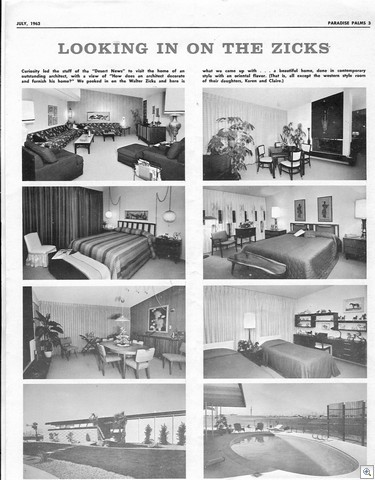 Here's our special treat. Old time readers will remember that we've been championing the cause of getting a school named after Walter Zick, the prolific modernist architect of Las Vegas.
Walter Zick is responsible for the Mint, and the "Pod Schools". He designed UNLV's Maude Frazier Hall, and Flora Dungan Humanities Building; as well as Clark and Valley High Schools.  We still have numerous banks, office buildings, a dozen or so houses. Walter Zick was the preeminent architect of 1950's and 60's. The body of work that still remains are some of the best examples of modernism in what we now call Vintage Vegas.
We did a bus tour of the Zick buildings last October, and a panel discussion with Alan Hess and Walter's daughters Claire and Karen.
Walter and his family moved from Washington and Decatur to a new home in Paradise Palms in 1963.
Claire told us at the panel discussion that people always asked her father why they lived in a tract house when he was an architect. He told them there was nothing he could build that was better than the Bill Krisel designed home in Paradise Palms.
Turns out that Irwin Molasky, the developer of Paradise Palms (or at least his staff) had a lot of respect for Walter Zick, and gave him not only the article on page 4, but a full page of photos. Maybe we should re-think full wall, floor to ceiling draperies!
The house is a Bill Krisel design, Plan 8 which we'll show you in a couple of days.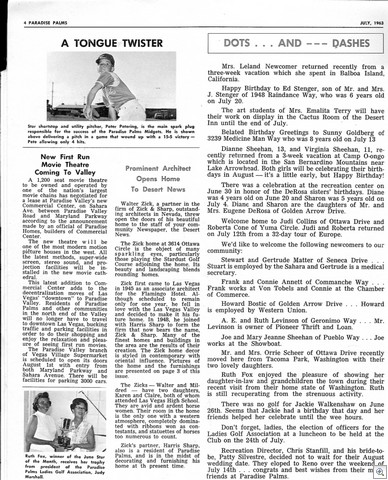 The article in the Paradise Palms Newsletter about Walter Zick is here on page four.
For the sake of the search engines…I'm re-typing the article, (syntax, grammar, punctuation, typo's and all) though it can clearly be read in the scan to the left, which is a clickable thumbnail if you'd like to see it full sized at 8.5 x 11.
Walter Zick, a partner in the firm of Zick & Sharp, outstanding architects in Nevada, threw open the doors of his beautiful home to the staff of your community Newspaper, the Desert News.
The Zick home at 3614 Ottawa Circle is the object of many sparkling eyes, particularly those playing the Stardust Golf Course adjoining the home. Its beauty and landscaping blends rounding homes.
Zick first came to Las Vegas in 1945 as an associate architect for the Flamingo Hotel. Although scheduled to remain only for one year, he fell in love with the Las Vegas Valley and decided to make it his home. In 1948, he joined with Harris Sharp to form the firm that now bears the name, Zick & Sharp. Many of the finest homes and buildings in the area are the results of their creation. The Zick home decor is styled in contemporary with oriental influence. Pictures of the home and the furnishings are presented on page 3 of this issue.
The Zicks – Walter and Mildred – have two daughters, Karen and Claire, both of whom attended Las Vegas High School. They are avid and ardent horse women. Their room in the home is the only one with a western atmosphere, completely dominated with ribbons won as contestants, and statuettes of horses too numerous to count.
Zick's partner, Harris Sharp, also is a resident of Paradise Palms., and is in the midst of decorating and furnishing his home at th present time.
Posted by Jack LeVine | Currently 2 Comments »
February 17th, 2010 Categories: Mid Century Modern, Paradise Palms, Paradise Palms 1962 Brochures and Newsletters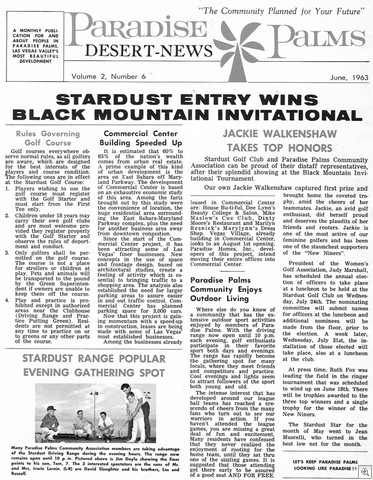 In today's installment, we get introduced to "Commercial Center", which is currently under construction and scheduled for an August 1963 Grand Opening. A must read article!
 "New concepts in the use of space and frontage design, based on architectural studies, create a feeling of activity which is essential to bringing traffic to a shopping area."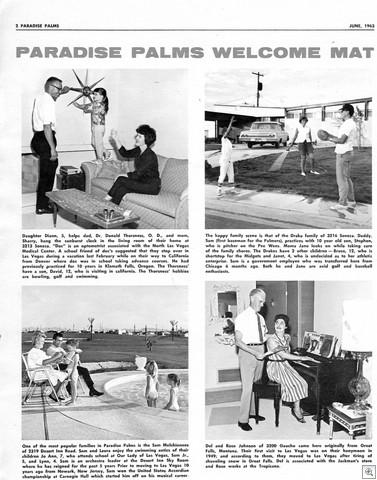 The "Welcome Mat" introduces us to Sam Melchionne and his family. Sam's the band leader at the Desert Inn Sky Room.
A great piece of Las Vegas History in the tribute website. There's some terrific pictures buried in it.
Lynn Zook at Classic Las Vegas also has a picture of Sam Mechionne with Robert Goulet in this post 
I want that Sunburst Clock!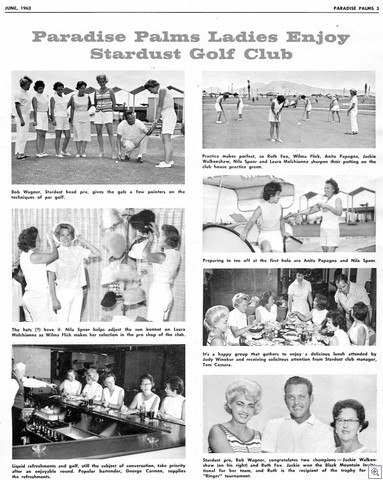 It's all about the "ladies"! And the HAIR!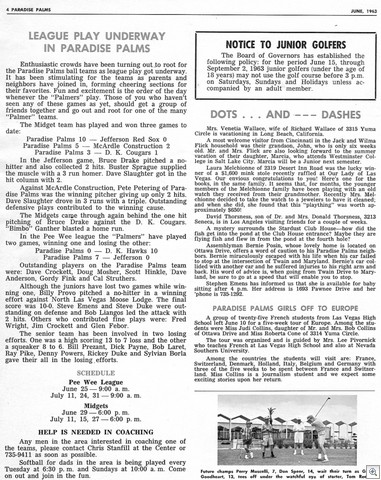 Watch your speed. Sometimes I think they really struggled to fill the page. In retrospect, it's still a fun read, though.
Paradise Palms was the first Master Planned community in Las Vegas. It's filled with what we now call Mid Century Modern homes. They deserve to be restored and collected.
Paradise Palms can be located on both sides of Desert Inn Road, between Maryland Parkway and Eastern Avenue. Some of the homes are on what's now the "National Golf Course". When the community was built, the course was the "Stardust Golf Course".
Posted by Jack LeVine | Currently Comments Off on The June 1963 Paradise Palms Newsletters – Commercial Center In Urban Las Vegas Is Introduced
February 12th, 2010 Categories: Mid Century Modern, Paradise Palms, Paradise Palms 1962 Brochures and Newsletters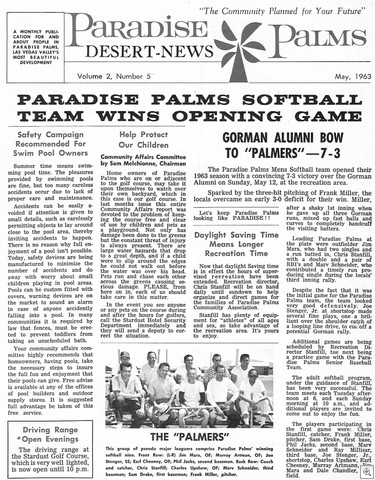 "Let's keep Paradise Palms looking like paradise!!" — a motto worthy of re-embracing!
Here's Volume 2 Number 5, the May 1963 newsletter of Paradise Palms.
This is how people networked back in 1963. Today, they'd just have a facebook fan page. Oh, they do! New fans welcome. New content welcome as well.
Of course, if it's a real scoop, as these newsletters are, you should give it to me to publish first!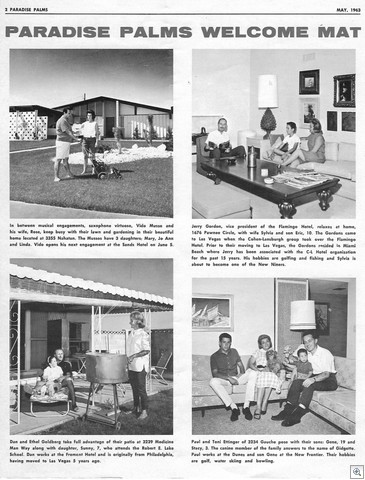 The Welcome Mat introduces us to saxaphone legend Vido Musso, and lots of grass and a pine cone lamp.
We also meet The vice president of the Flamingo, a pair of pedal-pushers, and 2 pairs of flood pants.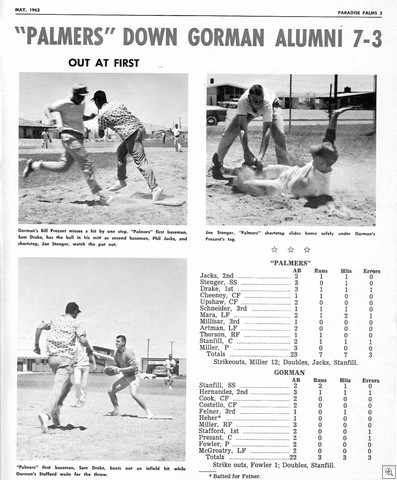 An Impala and a ?
Any of these names recognizable?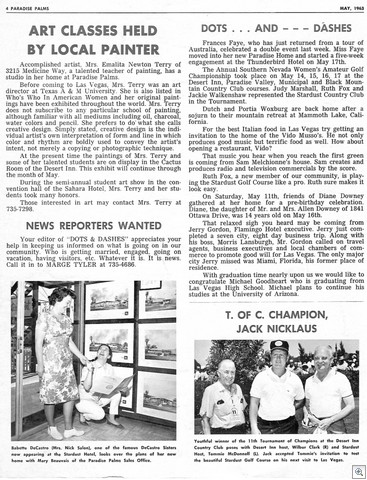 Another plug for Vido Musso
Babette DeCastro of the DeCastro sisters.
Jack Nicklaus – you know who he is, so I didn't link it.
I'm hoping someone will uncover more of these newsletters.
Posted by Jack LeVine | Currently 2 Comments »
February 10th, 2010 Categories: Mid Century Modern, Paradise Palms, Paradise Palms 1962 Brochures and Newsletters
This one's for you, Clay.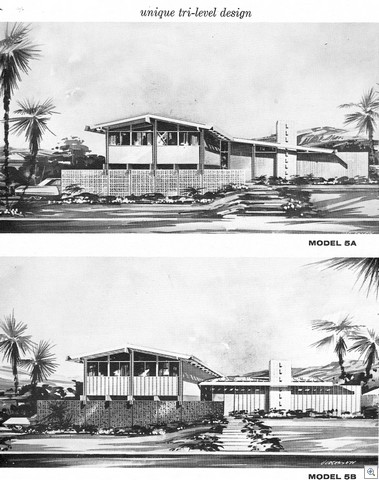 There's no mistaking the Tri-Level design. They were only built South of Desert Inn, in Paradise Palms– the first Mid Century Modern Neighborhood of Las Vegas. You can't miss them. There's about a dozen or so of them all together spread out through the neighborhood. There's still 3 or 4 of them that haven't had additions or severe modifications or haven't been stucco'd over.
Find the one on Pawnee Circle. It's the best original.
They have some of the largest of the "Stone Screen" or "Sun Screen" privacy walls made out of the decorative concrete block that I'm so fond of. (that link will take you to the entire series that we spent all of last year on)
You'll also note that they came with a zig zag of concrete panels that made up the steps from the street to the front door.
The line of shadow block in the chimney has always been inspirational.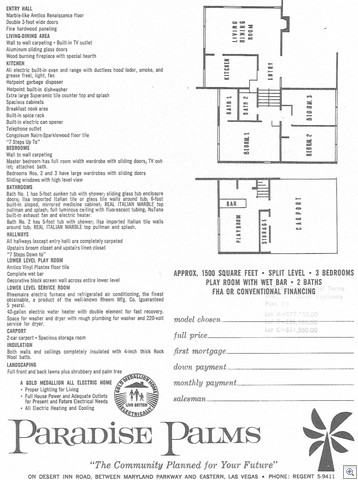 The rubber stamped pricing isn't very legible but the builder price is starting to really get up there in 1963.
Lot A = $27,950
Lot B = $25,950
Lot C = $31,550
A few (many) of you have been actually reading the amenities list. A few of them that have amused me, or caught my eye:
"ilsa imported Italian tile or glass tile walls around tub"
"Extra large Superamic tile counter top and splash"
"Wall to Wall Carpeting"  and a "Built-In TV outlet"
"full luminous ceiling with fluorescent tubing"
"6 foot built-in sloped mirrored medicine cabinet"
"Decorative block screen wall across entire lower level"
Posted by Jack LeVine | Currently 3 Comments »
February 7th, 2010 Categories: Mid Century Modern, Paradise Palms, Paradise Palms 1962 Brochures and Newsletters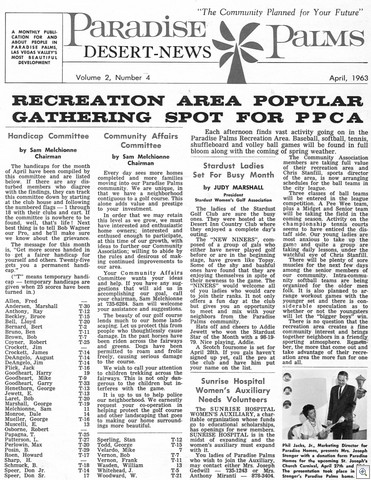 Someone – quite wrongfully – suggested that I'm focusing too much attention on Paradise Palms. They asked me why I haven't done anything on downtown lately….or McNeil or McWhatnot.
I'm just very happy to be back to consistent and regular blogging, and the "Revision House", as well as these Paradise Palms newsletters and brochures from 1963 were just the thing to get me jump-started.
Another reader posed a good question recently. She did some driving around in Paradise Palms, noting that some of the properties – in fact, some of the blocks looked kind of shabby.
I explained that she's quite right.  However, that's true in neighborhoods all over the valley after the last 3 years of market decline, recession, and all that other bad stuff.
There's dead lawns and peeling paint in Summerlin as well. The HOA there has more power to fight it than we do considering the budget constraints of the city and the county.
Never the less, there's a TON of foreclosures that have been sold during the last 6 months. (AND A TON OF THEM BEING RELEASED AT THIS MOMENT – IF YOU HAVEN'T BOUGHT YET! The shadow inventory is starting to emerge.)
Most of the people who have already taken advantage of the low prices and the low interest rates have been putting their time and energy into fixing and repairing and redecorating the insides this winter. 
With Spring approaching, I think we'll be seeing a torrent of outside activity among the many new homeowners.
First however, I think we're going to see the biggest crop of weeds ever. It just might get uglier for a few months before the lawns and landscapes start to look good again. Of course, we needed the rain, and the logical (natural) outcome will be weeds.
So I'm taking a moment to start the appeal early. I saw my first little green shoots of growth this weekend. They were in the fringes of A NICE LAWN.  Whether you're Downtown, or in McNeil, or Westleigh or Scotch 80's or Fran Park, or EVEN in Paradise Palms….get an early jump on them, and stay ahead of them. Go talk to your neighbors. ENCOURAGE THEM to stay ahead of the weeds. Help a neighbor who might not be able to pull them. Your HOME VALUE will benefit. Lots and lots of those vacant properties are going to get new owners soon. The better the homes around them look, the more they'll be fighting over the available ones. The FIRST thing they always do is pull the weeds at their new home.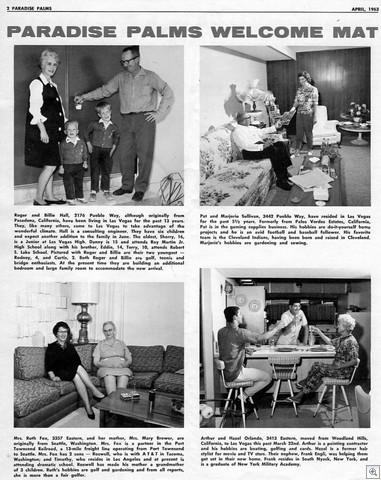 There wasn't a lot of news in this issue of the Paradise Palms "Desert – News" – therefore the little essay above, but….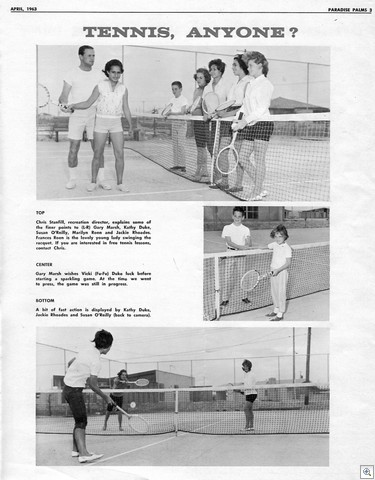 I do believe we should try to track down Fu-Fu.
Is she still around?
We know from a previous issue that the tennis courts were in the park that ran westward from Spencer along what's now the South side of Chippawa Drive, and Chippawa Circle. I believe the pyramid roof house that shows in the background of the the top "tennis anyone" picture is at the end of the Commanche Circle Cul-de-sac.
The butterfly roof "clubhouse" in the bottom picture seems to be where Chippawa Circle is now. What a shame it's now lost to us.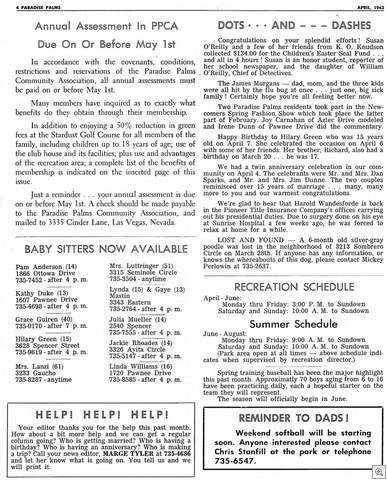 I'm trying to figure out EXACTLY when the association for Paradise Palms was dissolved. Does anyone know? Any details? Was there a fight over it? Was the community thrilled to lose it? Who led the different factions. I just know there had to have been a battle. Any of you original or extremely long time owners have any insight?
The ONLY clue I have at the moment, is that all 5 houses on Chippewa Circle were built in 1979, and are absolutely NOT part of the brochure series, as they are on the North side of Chippewa Drive. So I know it had to have been at least a year or two before that. But when? Why?
Tomorrow or Wednesday  – Plan 5 of the brochure series.
Posted by Jack LeVine | Currently 4 Comments »
February 6th, 2010 Categories: Mid Century Modern, Paradise Palms, Paradise Palms 1962 Brochures and Newsletters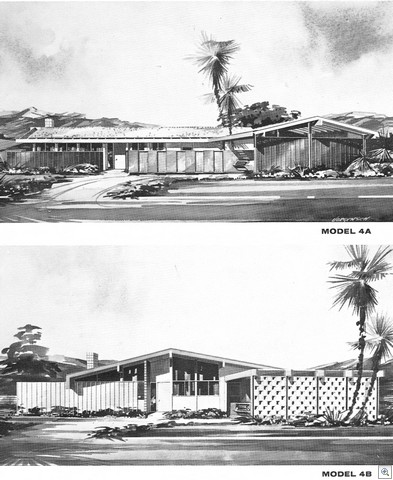 Both The 4A and The 4B models are easy to spot when you drive around in Paradise Palms.
Again, many of the carports have been changed to garages, or living area.
There have been many changes and modifications (some/too many of them being absolutley horrible) to the houses, especially the part of Paradise Palms north of Desert Inn – which even in 1962 and 1963 was the lower end, "starter home" part of the neighborhood.
Many of the 4B's still maintain their rooflines and clearstory windows. Many of the A's are now unrecognizable.  
I'm real happy that we can put these out there as a resource for the future new homeowners.
Any of our Paradise Palms readers who live in 4's care to comment?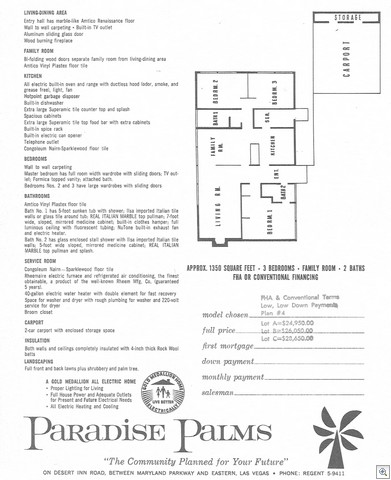 The rubber stamp says:
Lot A = $24,950
Lot BÂ =Â $26,050Â 
Lot C = $28,650
This is the first of the brochures to give us clue that there was different pricing for different lots.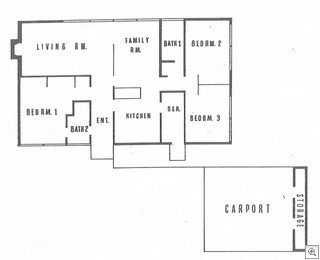 In the brochure, the street is obviously along the right side of the drawing. It really makes more sense like this, when you can picture the driveway cutting across the front of the house with a side entry carport as it shows in the elevation drawing.
Posted by Jack LeVine | Currently Comments Off on Plan 4 – The Original Sales Brochures For Paradise Palms – The Mid Mod Neighborhood Of Las Vegas
February 3rd, 2010 Categories: Mid Century Modern, Paradise Palms, Paradise Palms 1962 Brochures and Newsletters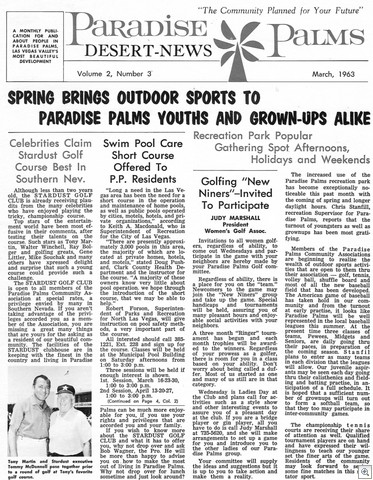 afdf
Here's our second installment of the Paradise Palms Desert-News from 1963!
Each page is clickable if you want to read it in it's full sized 8.5×11. 
Walter Winchel, Tony Martin (?) and Ray Bolger get nods as "Top Stars" of the entertainment world, and golfers Gene Littler, Mike Souchak all get nods as endorsing the Stardust Golf Course.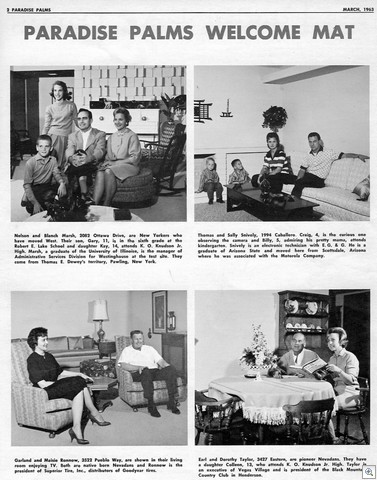 afadfda
The bottom left photograph in the Paradise Palms Welcome Mat from this March 1963 edition is none other than Maisie and Garland Ronnow. Maisie is who provided us with this treasure trove of material from 1963.
Garland went to the property every day while it was under construction. Maisie told me this little story when I met her. He noted that the studs in the walls weren't always "exactly" 16 inches on center, so he measured and and filled a notebook with the exact measurements of the difference between each stud before they got sheet rocked.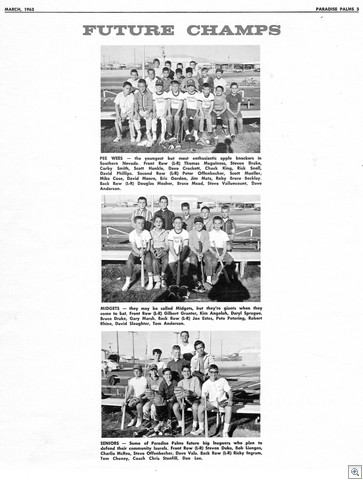 I'm not recognizing any of these kids names as adults. Surely they didn't all move away from Las Vegas.
Anyone recognize any of them? If you do, make sure to direct them to VeryVintageVegas.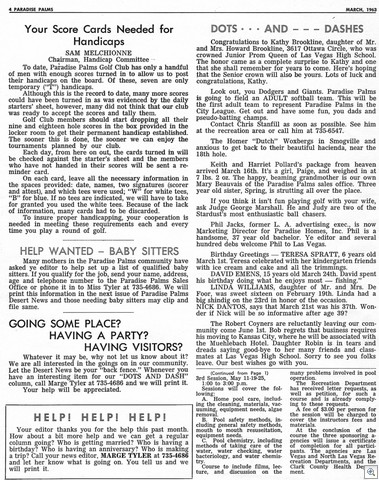 The DOTS…AND—–DASHES column tell us about a "package from heaven" and a new "Jr. Prom Queen".
I really hope you are all getting a kick out of these the way I am. Comments? Feedback? Back Story? Current Updates on people who are named? Click on the comments link just below.
Posted by Jack LeVine | Currently 2 Comments »
February 3rd, 2010 Categories: Mid Century Modern, Paradise Palms, Paradise Palms 1962 Brochures and Newsletters
Below you'll find Plan Three of our series on the group of houses in Paradise Palms that were commissioned by Irwin Molasky. They were designed by the famed architectural team of Palmer and Krisel. NOT all of the houses of Paradise Palms are Palmer and Krisel's however. The series we're running now are, though.
Next week is Palm Springs Modern week. I'm still working out the details, but I'm planning on attending the premiere of the new Documentary on William Krisel. It was filmed by JG Gorst, and Design OnScreen. The documentary series they're doing is about noted regional architects of the Modern Era. This is one of them  It's being shown for the first time on Sunday Night the 14th as part of Palm Springs Modern Week.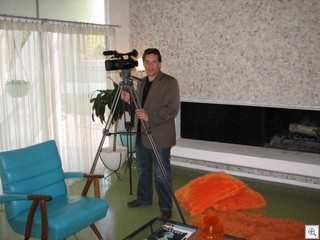 If you recall, last March, we contributed to the film with a major segment on the Palmer and Krisel houses of Paradise Palms in Las Vegas. I'm told that I didn't make it to the cutting room floor, and that the interview with me is several minutes of the film.

Here's the trailer for the film.   
 
William Krisel, Architect from Design Onscreen on Vimeo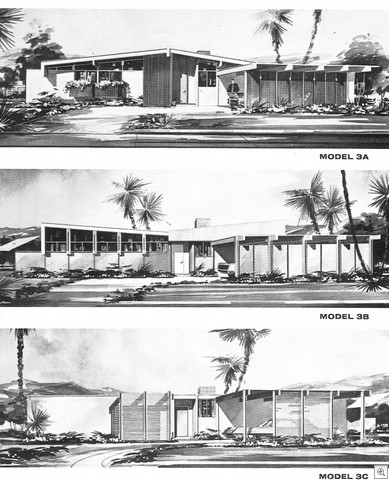 Model 3 in our series has me confused at the moment. I recognize the floorplan, but not the front elevations.
I'm going to do a drive around and see if I can remember which houses I've been in that have that floorplan, and compare the fronts.
Plan 3A seems similar to one that I know that has a soaring vaulted carport
I don't ever recall seeing a 3B that would have the butterfly roof with 5 sets of clearstory windows to the left. Or maybe my memory isn't what it used to be.
3C is even more perplexing.
Anyone else able to help on this mystery?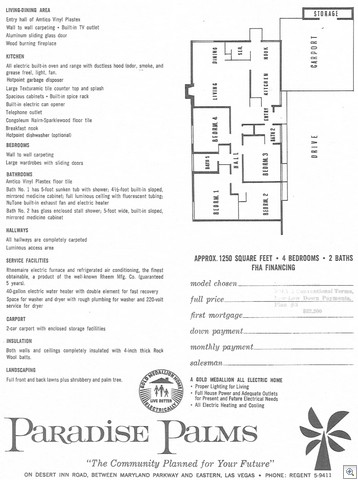 Posted by Jack LeVine | Currently 5 Comments »
February 2nd, 2010 Categories: Paradise Palms, Paradise Palms 1962 Brochures and Newsletters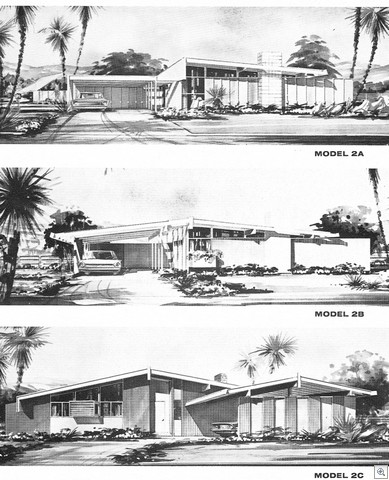 The "Model 2" plan was 1200 sf. I've mostly seen it the part of Paradise Palms NORTH of Desert Inn. It was the "starter home" and was base priced (according to the rubber stamp on the floor plan side) $22,300.
A terribly kept, run down, broken, but original of this model just sold for $55,000 as bank owned repo. It breaks my heart to report that. Especially since the buyer I wrote an offer for didn't get it.
Most often, I've seen it as a plan B
There's a few plan C's along Golden Arrow Drive on the north end of Paradise Palms, and Several A's on Burnham and Gaucho.

Some of them have had the carports converted to living area, and a few of them have been thoroughly butchered with room additions that block the "wall of glass" at the back of the house.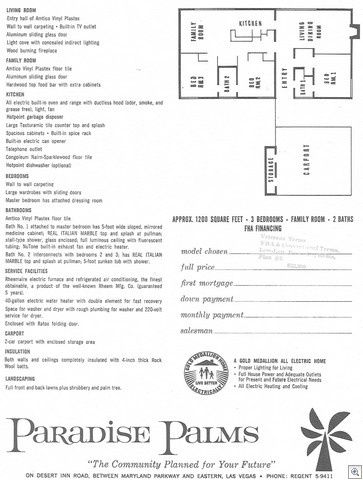 Tomorrow, we'll do the March edition of the Paradise Palms Neighborhood Newsletter from 1963. If you missed the first edition, you can scroll down, or click here.
Both of these pictures are clickable thumbnails if you'd like to see it in the full 8.5 x 11 version.
Posted by Jack LeVine | Currently 1 Comment »
January 31st, 2010 Categories: Mid Century Modern, Paradise Palms, Paradise Palms 1962 Brochures and Newsletters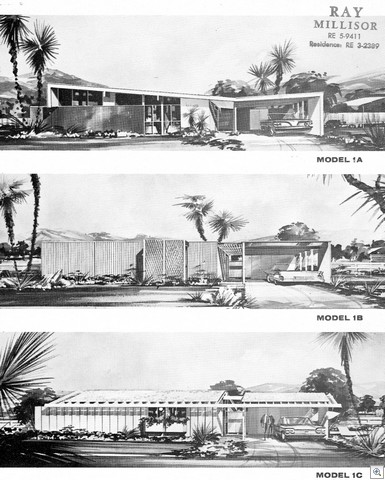 One of the coincidental outcomes of the ReVision House (the deep green retrofit that was done for last weeks International Homebuilders show) was that I got to meet a few of the original Paradise Palms owners on Pueblo Drive. One of them made me an incredible offer.
Maisie Ronnow, and her late husband Garland bought their Palmer and Krisel "Jet Age" Modern house in 1963. The Ronnow family were the owners of Superior Tire.  
During her tour of the ReVision House, she told me that she had all the original floor plan brochures from 1963!
I now have them in my possession and am busy busy scanning them for you. Here's plan number 1. Previously, we had some photo copies of an abreviated version that we had published one of them here. Alan Sandquist had a few of them on his flicker page, but they are no longer there, and I can't remember why I was requested to not show them.
But now we have our own set of originals so they'll be permanantly archived for everyone during the next few weeks.
But wait! There's more. I also have 8 of the original Paradise Palms Community Newsletters that were part of the marketing of the neighborhood. The were handed out to potential new homeowners, and mailed to the existing owners. They're full of fun pictures of Mid Century Modern furniture, hairdo's, clothing styles, as well as a TON of previously lost knowledge about the Paradise Palms community of Las Vegas.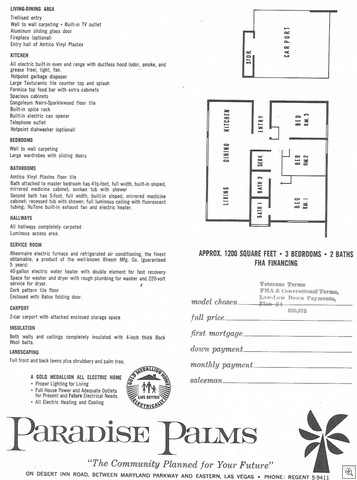 These are clickable thumbnails. They'll open in a new window, at their full 8.5×11 size. You're welcome to Save As or whatever you'd like. If you have friends in Paradise Palms that are regular readers of VeryVintageVegas, I hope you'll share these with them as I publish the whole set.
One of the most interesting things about the floor plans, and why it's so easy to believe that there's actually dozens of different models is because of the multiple elevations and roof lines. Besides that, some of the models could be turned 90 degrees left or right and then combined with a different roofline.
That is the same floorplan could get built with the front door facing the street, or turned with the door facing to the side. Depending on that, you alway got the rear living room wall of glass  facing the side the back of the house. Depending on the rotation of the house, the fireplace wall and the glass wall were interchangable.
So there really are dozens of variations thru out The Mid Century Modern Neighborhood of Paradise Palms.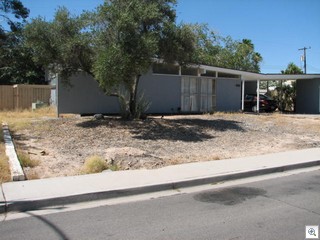 One of the Plan 1A's is the shortsale listing of mine (it's already sold) at 1977 Caballero.
Now, armed with these brochures, I'm going to go find us 1B and 1C.
Posted by Jack LeVine | Currently 5 Comments »