Everywhere We Look Topics
Welcome To Uncle Jack's Very Vintage Vegas!
Vintage Las Vegas Homes,
Historic Las Vegas Neighborhoods,
Las Vegas History,
Urban Living In Las Vegas.
If it's great, cool, fantastic, artistic, annoying, amusing, unique, or surprising.. you'll find it at VeryVintageVegas.com.
Check out what we're doing and add your two cents! Your comments & ideas are welcome. We update daily, so come back tomorrow!
Blogroll
Farmer's Insurance
Paul Hesselgesser
702-434-1230
The Hesselgesser Insurance Agency Website
Classic Las Vegas - Lynn Zook's Preservation of 20th Century Las Vegas
Curbed LA - WOW!
Mid-Century Modernist
RETRO RENOVATION - Pam's Excellent Effort At Re-creating A Retro Life
Carnival Of Real Estate - Minus Elephant Ears, But Still Mighty Tasty
Lotta Livin' - A Celebration Of Really Cool Things Mid Century
Bawld Guy Talking - Minus The Hair; Plenty Insightful
CoolnessIsTimeles - ALL "RAT PACK" ALL THE TIME!
SEE ALL OUR FAVORITES HERE

Everywhere We Look
January 30th, 2008 Categories: Everywhere We Look, Las Vegas Real Estate News
James has been living in Florida for the last 3 years, but for 10 years prior had lived at various times in Huntridge, Paradise Palms and McNeil. I spent the other afternoon with James on a preliminary search in preparation for his moving back to LV this summer.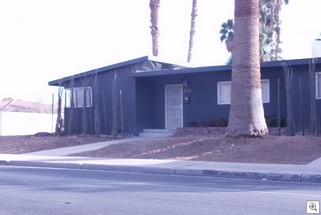 James was blown away by the positive change in all the neighborhoods we visited. There were homes and streets that he knew pretty well, and remembered what they looked like 3–13 years ago.
When I'm showing homes to someone who's never been in Vintage Vegas, they often are distracted or disappointed by the one run down home, or awful landscape of a particular house on a particular block. James was focused on what had changed since he left.
Usually I'm the one pointing out how things such as….
This block used to look real crappy, or that house used to have 2 cars up on blocks, or don't you love the new colors they picked for that house when they repainted. It was a real pleasure to be hearing it from someone else, who was looking at things with an old perspective.
He said it was kind of like the niece of his that he hadn't seen in 3 years who went from being a pimply plumb 14 year old, to a very good looking 17 year old.
Since there's rarely a week that I don't drive thru just about every one of the Vintage Las Vegas neighborhoods, it's easy not see the gradual change that's occurring every day. I was very happy to get this reaction from someone who's been gone for 3 years.
Posted by Jack LeVine | Currently Comments Off on When You Haven't Seen The Historic Neighborhoods Of Vintage Las Vegas For 3 Years
December 16th, 2007 Categories: Everywhere We Look, Home Repair and Remodel, Las Vegas Real Estate News, Market Conditions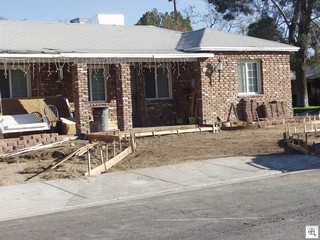 The momentum has not changed in the least. New landscaping, new driveways, new windows, new roofs, and who knows what on the insides of our classic 50's and 60's homes.
If you see an improvement project in ANY of our Vintage Neighborhoods, send us a photo, or email us an address and we'll grab the picture.
Posted by Jack LeVine | Currently Comments Off on Everywhere We Look In Vintage Las Vegas, We're Still Seeing Constant Improvement
December 10th, 2007 Categories: Downtown Las Vegas, Everywhere We Look, Home Repair and Remodel, John S Park Historic Neighborhood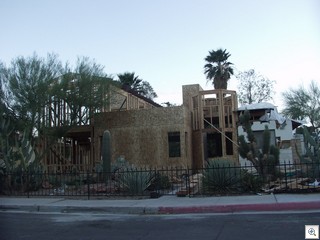 Last month we reported the partial demolition of a the home on the corner of 7th and Bracken in the Radlick Park Subdivision. We grabbed some photos over the weekend of the framing that's in process.
We've talked to the owner, who promises us the finished look will still be in character with the neighborhood.
There's a few other 2 story homes nearby, so it won't be the only one around, and the turreted entry should be interesting and fun.
Posted by Jack LeVine | Currently 1 Comment »
November 26th, 2007 Categories: Everywhere We Look, Home Repair and Remodel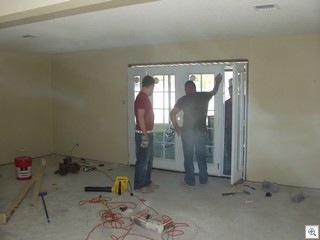 Energy Efficiency is a major part of making our older homes "functionally modern". Window and Sliding Door replacement is one of the most expensive things we can do, but they pay for themselves in no time.

Posted by Jack LeVine | Currently 1 Comment »
November 20th, 2007 Categories: Beverly Green, Downtown Las Vegas, Events, Everywhere We Look, Historic Preservation, Las Vegas Real Estate News, Southridge
The Las Vegas City Council invites you to attend the dedication ceremony for the completion of the St. Louis Avenue Improvement Project.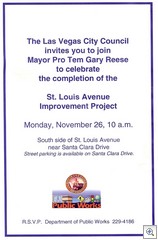 Monday, November 26, 2007 10 AM
St. Louis Avenue and Santa Clara, just east of Paradise Ave.
RSVP to Department of Public Works 229–4186
Posted by Jack LeVine | Currently 1 Comment »
November 16th, 2007 Categories: Everywhere We Look, Las Vegas Real Estate News, The Las Vegas Strip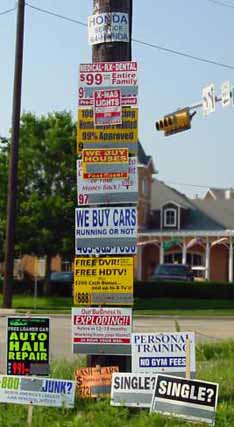 There's another pervasive form of SPAM that I had never thought of as Spam. But it's just as annoying, distracting, ugly and illegal. So I guess the word Spam is appropriate.
I got a call yesterday from a man in Dallas Texas. He had googled "Code Enforcement Las Vegas" and found my post on 20 Frequently Asked Questions From Las Vegas Code Enforcement. He belongs to a group that's purpose is to get rid of STREET SPAM!
He says that Las Vegas is the Street Spam capital of the world, and that the vast majority of it is SCAM SPAN. I doubt you'll make 5000 a month working from home if you just call this 800 number.
It turns out theres a whole internet organization called CAUSS – Citizens Against Ugly Street Spam
I've pulled many a sign off of stop signs and street light poles when I find them in actual neighborhoods, but I've never done anything about them when they're all up an down streets like Charleston, and Desert Inn and Eastern and Rancho and Valley View.
I'm not going to get officially involved as there's too much on my plate as it is, but I thought perhaps some of you might like to take on a new civic beautification project .
From the 20 Questions
17 -Can I post signs on utility poles and/or other devices in public right-of-ways? No, signs shall not be placed on public property, right-of-way, utility pole or device. All signs are required to have a sign permit issued from the Planning Department 229-6301.
Posted by Jack LeVine | Currently 2 Comments »
November 10th, 2007 Categories: Cool Stuff, Everywhere We Look, Las Vegas Real Estate News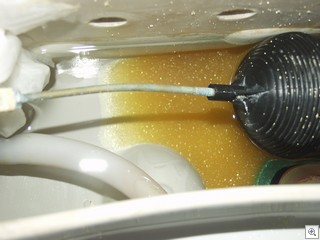 We seem to be playing guessing games this week. I've got a $10 gift card from Rejavenate, our favorite independant coffee shop/art gallery in all of Las Vegas to anyone who guesses what this stuff in the toilet tank is (or how it got there). Give me a call, send me an email, or post it in the comments. First one to guess wins.
If I've already told you the story personally, you're not eligible. I'll tell the rest of the story by Wednesday.
Posted by Jack LeVine | Currently 3 Comments »
November 5th, 2007 Categories: Architecture, Events, Everywhere We Look, Historic Preservation, Mid Century Modern, Moonlight Mid Mod Bus Tour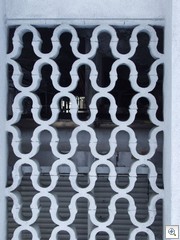 Who would have thought that  the power plant of Circus Circus would prove to be an interesting spot on the tour?
MaryMargaret showed us the block screens surrounding the building. She was kind enough to mention VVV and the various posts that we've done in the past regarding Decorative Block Sun Screens,  and here  and here that were ubiquitous of the architectural design in Mid Century Modernism.
I've collected pictures so far of 37 different designs, and keep threatening to create a post showing all of them at once. I'm threatening to do once again. I'll eventually get around to it.

One of the interesting things that MM mentioned was that they were first created by a man named Block STONE! That's why they're called "stone screens". I've always called them decorative block, since I didn't know there was anyone to give credit to. (Thanks MM for setting the record straight in the comments)
I've only ever found one source on line for them, from a company out of Orlando Florida. A-1 Block Service
Lowes Depot only carries 2 very simple designs which I mentioned in one of the previous posts. I think there's enough interest in Mid Mod now that some entrepreneurial soul could start a little backyard business designing new patterns and reproducing the old ones.
Posted by Jack LeVine | Currently 4 Comments »
November 2nd, 2007 Categories: Downtown Las Vegas, Everywhere We Look, Las Vegas Real Estate News, Market Conditions, Mortgage, Southridge
If I learned anything at all from the meltdown of the mortgage industry since August, it's that your credit scores are critical.
Marissa and Randy first contacted me back in August. We determined that they'd get much better rates and terms on their mortgage if we could get their scores up even just a little. Well, they did some rebalancing of the credit cards, scraped up a little more down payment, and ended up saving about 300 a month on the same home they were in love with from the start.
The biggest worry is that the home they'd picked would sell before they got it. It was worth the wait and the worry, and they're moved in and busy getting settled. Welcome to Vintage Vegas!
Posted by Jack LeVine | Currently Comments Off on Marissa and Randy Are The Newest Neighbors in Vintage Las Vegas
October 31st, 2007 Categories: Beverly Green, Everywhere We Look, Las Vegas History, Southridge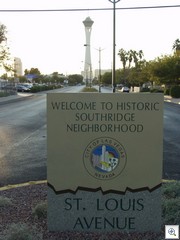 We want to thank the City of Las Vegas for our 2 latest historic neighborhood monument signs.
They're the final finishing touches to the St. Louis Avenue Beautification project that we've reported on many times in the past.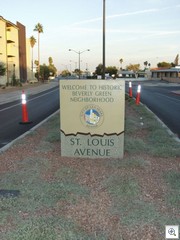 I founded the Southridge Neighborhood Association in 2001 as a response to the Stratosphere's plan to build a giant scorpion tail shaped roller coaster down the side of their tower and across Las Vegas Boulevard right to the edge of my neighborhood. Originally, Southridge's boundaries were from Sahara to Oakey and LVBS to Maryland Parkway. In 2004, we split in half, and created the Beverly Green Neighborhood Association from 6th Street and west to the Strip.
The City of Las Vegas has a whole Department called Neighborhood Services. It was just coincidence that las night's Citizen Leadership Academy was hosted by Neighborhood Services. Neighborhood Services helps to start and support the associations in an effort to create safer, prettier and spirited neighborhoods. If you want to start one, or get involved with one, you can call 229–2330.
Clark County has a similar department with a similar program if you don't live in the city. Their phone number is 455–3777
From the article I linked to above, here's a little piece of recent downtown history for you: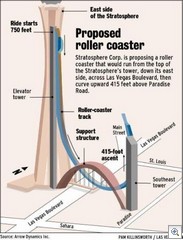 Posted by Jack LeVine | Currently 1 Comment »
October 26th, 2007 Categories: Arts District, Downtown Las Vegas, Everywhere We Look, Las Vegas Real Estate News, Soho Lofts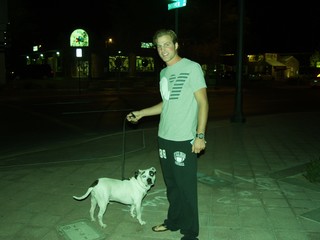 I ran back to the car in the middle of last night's First Friday Fundraiser at Soho Lofts. That's when I met Kevin and Bebe(sp?). We chatted briefly about living in Soho, and without any prompting, he blurted out "It would be better if we had a grocery store!".
Another couple of hundred Kevins would truly help downtown be everything we pretend we want it to be.
Posted by Jack LeVine | Currently 1 Comment »
October 17th, 2007 Categories: Downtown Las Vegas, Everywhere We Look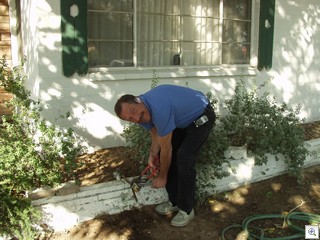 The lawn mowers and wrenches are some of the tools that our Vintage Vegas Neighbors are using to help each other. Yesterday was a great example.
Mary called looking for a lawn mower to borrow because the code enforcement lady gave a warning to the 80 year old neighbor who hasn't done anything to her lawn in a year. She hasn't done it because she can't.
Pam called and said another old couple in the neighborhood was going out to the street to turn the water on every time they wanted to take a shower or do the dishes. Why? Because whenever the water was on, it was gushing in the front yard from the hose bib. They don't have any money to call a plumber.
I went there to check it out and see what could be done. It really wasn't that hard to fix, as the leak was just a worn out washer on hose bib. I had all the tools and parts needed at home, so I just fixed it.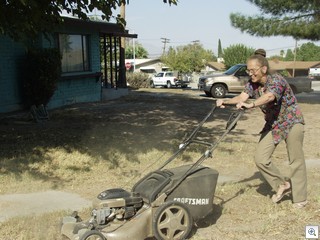 In talking to to the homeowner, we discovered that she had a lawn mower, and was willing to loan it to Mary so that we could get the lawn mowed at the first house.
And all that begs the question, both from a "do a good deed" point of view as well as a "how do we prop up prices" in a down market point of view.
Are you helping your neighbors? Are we adding value to our homes by adding value to our block and to our neighborhood? I did a whole post on the subject recently, called
The other day, the RJ had a similar article, discussing the issue,
Now, the chocolate cake is a different matter. I found it on my front porch last night with an anonymous thank you note. Somehow, I think its related.
Posted by Jack LeVine | Currently Comments Off on What Do Pipe Wrenches and Lawn Mowers And Chocolate Cake Have In Common?
October 16th, 2007 Categories: Downtown Las Vegas, Everywhere We Look, Las Vegas History, Radlick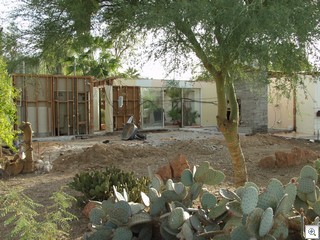 But it turns out its not a complete demolition. I spoke to the owner, Tom, who's been battling the city planners for 2 years to get permits to tear off the majority of the home and rebuild from scratch. He'll be adding 800 feet, and keeping the home in character with the neighborhood.
I started getting calls over the weekend, and became determined to find out what was happening. The neighbors who called me were worried that a complete demolition would lead to a suburban style home that would be a sore thumb in this otherwise charming neighborhood.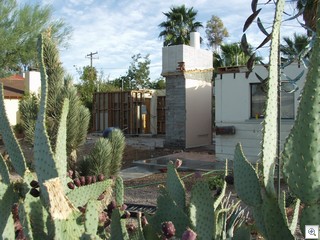 If you see something that needs exploring, or that the other readers of VVV would want to know about, give me a call or send an email.
From April 5, 2007 on the old web site:
I Stalked A Roadrunner Through Radlick Park – Beep Beep
I spent 20 minutes stalking/following/chasing an extremely rare sighting yesterday! A roadrunner in Radlick Park (Ralwick Park is just 20 homes built in 1953 and 1954. You can find it in the 700 blocks of Oakey, Bracken and Griffith).
Now I'm officially paparazzi. Clicking on any picture will give you a blow up of it.
Posted by Jack LeVine | Currently 2 Comments »
October 9th, 2007 Categories: Beverly Green, Cool Stuff, Downtown Las Vegas, Everywhere We Look, Las Vegas History, Las Vegas Real Estate News, Mid Century Modern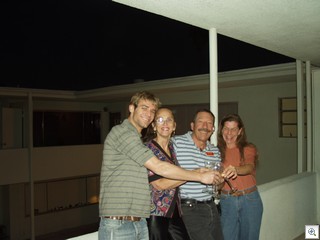 Well, Pam's finally moved into the Rexford, and just about as happy as any client I've ever had. We did a champaign and pizza toast last night, and everyone there lived within a mile. We're ALL urban core lifestyle residents. Steve and Paco each live in L'Octaine, I'm off Oakey and 8th, Brigid's on 6th, Mary's on Bracken, John's on Bonita.
And the best surprise of all, was the missing glass (not plastic) sliding doors for above the GE All-In-One Kitchen Unit were behind the fridge, and not lost at all!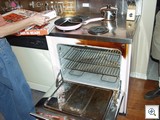 And here's 6 hours worth of progress getting the oven clean. Between the sliding doors, and the cleaned up oven, it now seems as if Pam will be able to fully restore and keep the kitchen. YEAH! Pam left the top left corner to show us what it all used to look like. Paco's going to shoot me for publishing this picture, but it was the best shot of the kitchen, showing the all in one and the cabinets and vintage pulls.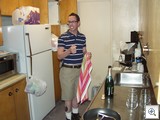 I'm using the occasion to do a RERUN of the Day, and give you links to 2 other posts we did in the past on the Rexford.
Our Post From August 19th post on "The Rexford"
And Here's the Re-Run: From July 10th 2007
So it turns out, when I actually got into one of the 22 REXFORD Coop units yesterday, I discovered that these were what were installed in the kitchens when they were built in 1957.
All in one with range, oven, dishwasher, sink, storage, backsplash plugs and cords for the blender and toaster and everything else….all with a one piece stainless steel counter. WOW!
The one in the unit that's for sale is not in good shape, but the clients that are considering it are probably sitting at the computer right now figuring out if they can get parts and pieces to restore it. The other unit that we saw was complete with the translucent plastic slider panels above the counter top, and though their dishwasher component had been replaced, they used the front panel from it to create a matching end cap to the side of the whole unit. I didn't get a picture of it, unfortunately.
If you want a great look into the world of the POST WAR HOUSING BOOM, this site will hook you for an hour or 2. Have fun!
Posted by Jack LeVine | Currently 1 Comment »