Huntridge Topics
Welcome To Uncle Jack's Very Vintage Vegas!
Vintage Las Vegas Homes,
Historic Las Vegas Neighborhoods,
Las Vegas History,
Urban Living In Las Vegas.
If it's great, cool, fantastic, artistic, annoying, amusing, unique, or surprising.. you'll find it at VeryVintageVegas.com.
Check out what we're doing and add your two cents! Your comments & ideas are welcome. We update daily, so come back tomorrow!
Blogroll
Farmer's Insurance
Paul Hesselgesser
702-434-1230
The Hesselgesser Insurance Agency Website
Classic Las Vegas - Lynn Zook's Preservation of 20th Century Las Vegas
Curbed LA - WOW!
Mid-Century Modernist
RETRO RENOVATION - Pam's Excellent Effort At Re-creating A Retro Life
Carnival Of Real Estate - Minus Elephant Ears, But Still Mighty Tasty
Lotta Livin' - A Celebration Of Really Cool Things Mid Century
Bawld Guy Talking - Minus The Hair; Plenty Insightful
CoolnessIsTimeles - ALL "RAT PACK" ALL THE TIME!
SEE ALL OUR FAVORITES HERE

Huntridge
April 14th, 2014 Categories: Historic Preservation, Huntridge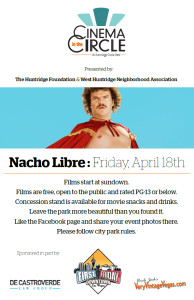 Jack LeVine – THE Realtor for Mid Century Modern Homes and Historic Neighborhoods in Las Vegas is pleased to sponsor this years Movies Series – "Cinema in the Circle"
The 2014 Movie Series is starting up and I'm pleased to be one of this year's corporate sponsors. The first event is the 2006 comedy "Nacho Libre" starring Jack Black. The first event of this years season is FRIDAY, APRIL 18, 2014. The show starts at sundown (approximately 7pm this month).–
The Cinema in the Circle series is FREE to the public. The movies are shown outdoors at The Huntridge Circle Park on Maryland Parkway – just south of Charleston Ave. Bring a blanket or lawn chairs. The snack bar will be open and proceeds will benefit THF.
If you're not a downtown resident and haven't explored the historic neighborhoods of Las Vegas – I suggest spending an hour or two driving around the neighborhoods surrounding Huntridge Circle Park. You'll love the Mid Century Modern Architecture of the homes you find.
The Huntridge Foundation and the West Huntridge Neighborhood Association are producing the series.
The Huntridge Foundation
The mission of the Huntridge Foundation is to preserve the architectural integrity, history and culture of the Huntridge Theatre and the surrounding community.
The foundation is pending 501 (c) 3 nonprofit organization tax exemption status and is registered in the state of Nevada. The community movement is led by Las Vegas residents seeking to restore the beauty and splendor of the Huntridge Theatre's streamline moderne architecture to the iconic Las Vegas landmark. The goal is to promote awareness of the theatre's potential for operating such diverse cultural programming as cinematic films, performing arts theatre, live entertainment, special event venue space and all-age music shows, among other events.
The Huntridge Foundation's efforts include the following:
Performing research to document and archive the historic significance of the building, identify entertainment acts that played there, as well as discover longtime Las Vegas residents who attended the theatre;
Conducting interviews and creating storied exhibits using eyewitness accounts and memorabilia from longtime Las Vegas residents who performed, worked and attended the Huntridge Theatre;
Producing local events and applying for grants to raise funding for the foundation's work documenting the theatre's history and significance.
You Can also follow The Huntridge Foundation on their facebook page.
Posted by Jack LeVine | Currently Comments Off on Cinema In The Circle – At Huntridge Circle Park
August 30th, 2011 Categories: Huntridge

Labor Day Weekend In Vintage Vegas will really be rocking! 3 Different venues on Maryland Parkway. 3 days of non stop music.
Huntridge Circle Park To Host The Friday and Saturday evening events of the Maryland Parkway Music Festival
We're especially pleased that the newly re-opened HUNTRIDGE CIRCLE PARK will have it's first major event in the last six years. Having served on the original re-design committee 10 years ago, and as a leading proponent of getting Circle Park re-opened during the last 5 years, I'm happy to see it used for a major event.
For 60 plus years, Circle Park was a meeting place for all the now Historic Neighborhoods that surround the park. Hopefully this will generate renewed interest and lots of future events and programs.
The Sam Ash Music parking lot at Karen and Maryland Parkway will host the Saturday afternoon line-up.
UNLV will host the Sunday line-up from Noon to 9 PM, at Harmon Avenue and Maryland Parkway.
The complete calendar and list of acts that are performing are on the Maryland Parkway Music Festival Website
Posted by Jack LeVine | Currently Comments Off on Maryland Parkway Music Festival – The Main Drag of Vintage Vegas
October 6th, 2010 Categories: Huntridge
The Las Vegas Sun is reporting that the final selection has been made for the Veteran's Memorial At Huntridge Circle Park on Maryland Parkway in Downtown Las Vegas.
A sculptor's vision that shows soldiers from more modern times as well as soldiers from past conflicts is the winning concept for a Veteran's Memorial that will be constructed in Las Vegas.

"It's a salute to our country and to our veterans," Bill Marion, a representative of the Las Vegas Memorial Foundation, told the Las Vegas City Council today, referring to the work of Artist Douwe (pronounced "Dow") Blumberg.

The council was told there are no public funds being spent on the project. Although there is no definite timetable for when the project would be finished, Mayor Oscar Goodman said he would like to see it completed by Veteran's Day 2011.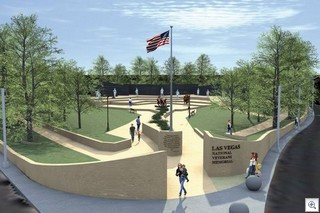 This STILL puts it at least a year till Huntridge Circle Park will be open for the use and enjoyment of Downtown Las Vegas residents, but at least we'll finally get it open again.
Circle Park sits in an island on Maryland Parkway, just south of Charleston Blvd. It was donated to the city by silent film star Clara Bow. However, there is a deed restriction that it would revert back to her estate if it ever stopped being a park.
The Huntridge Neighborhood that surrounds Circle Park is one of the oldest, intact neighborhoods in Las Vegas. The homes were built between 1942 and 1944 during the first big population boom that was caused by the creation of the Army Air Station (now Nellis Air Force Base) during World War II.
All of the stories I've done about the Huntridge Neighborhood and Huntridge Circle Park can be found easily with this category link about Huntridge.
Posted by Jack LeVine | Currently Comments Off on Veteran's Memorial At Huntridge Circle Park In Downtown Las Vegas
June 29th, 2010 Categories: Huntridge
I'm starting a new series on the "historic" neighborhoods of Las Vegas. A few have Historic Status and get a capital H. But all of them are from the 40's 50's and 60's. It's my intention to do them as much in chronological order as possible, knowing that some of the neighborhoods developed simultaneously.
First up on the list is the historic Las Vegas neighborhood of Huntridge. In future posts I'll discuss the area, the architecture, the charm and the history. Today though, we're going to talk about the heart of Huntridge, The Huntridge Circle Park.
The Huntridge Circle Park sits in the middle of Maryland Parkway, just south of Charleston. It's surrounded by 3 busy lanes of traffic in each direction. It's also one of the smallest parks in the City of Las Vegas Parks System.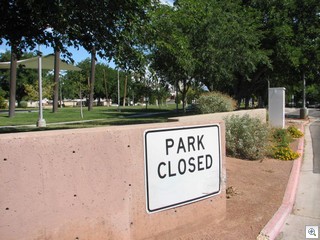 Unfortunately, the Park is CURRENTLY CLOSED. There's lots of politics behind that decision. There's plenty of coverage of it over at the Review J****nal. (aside: their name will never again darken the pages of my blog) but here's a good story from 2006 in THE LAS VEGAS SUN on the politics. There's lots of downtown neighbors who have very vocally expressed our desire to open it back up. The city says there's no money to do it. There's been plenty of meetings with councilman Gary Reese, plenty of letters sent, and plenty of whining from the neighbors.
Happily, it's finally come down to this: A private group, the owner's a gun store and shooting range called American Shooters has an idea to build a world class Veteran's Memorial. They promised to raise the funds, select a design, and donate it to the city when done. So far, they haven't let us down, and I don't believe they will either. As you'll see, the project has been moving forward for many months now.
There were numerous meetings held about this, and the leaders of many of the Neighborhood Associations prevailed at getting one of our own, Kasey Baker, to be on the committee to select. the final design from among more than 100 entrants. Kasey was the architect of the current iteration of the Park. I served on that committee for a long year 10 years ago as we rebuilt the Park and turned it into something beautiful and wonderful for the re-emerging Downtown Las Vegas Historic Neighborhoods.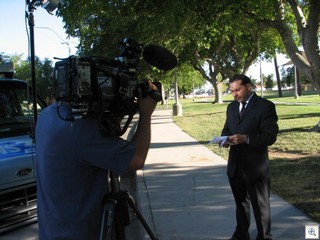 Last week, the 4 top finalists got to show off their concepts and designs. The maquettes or scale model mock-ups were on display for a day for the City Council and mayor and invited neighborhood activists to see them. I was on my way there to see them, when I saw Gerard Ramalho of Channel 3 filming his report live in the Huntridge Park, so I got to see this being filmed. They did an excellent job covering not only the past, but the present and future of the Huntridge Circle Park and the Veteran's Memorial.
Here's a few of the pictures I took that day to help you get the feel for them. (they're clickable to see at a larger size). The "marqettes" will be on display for public comment and recommendation as to which of the designs will ultimately be built. Below the pictures is the schedule where you can GO SEE THEM FOR YOURSELF (PLEASE), and give the committee your input.

Input from ALL of Las Vegas, and especially from the Downtown Neighborhoods is honestly being sought. You can see the maquettes at the following 2 locations.
Now Thru July 5:
3440 S. Arville Street
Las Vegas, NV 89102
Phone: (702) 362-1223
On display during store business hours
July 6 thru July 19:
East Las Vegas Community/Senior Center
250 North Eastern Avenue
Las Vegas, NV 89101
Phone: (702) 229-1515
On display during center business hours: Monday, 9 a.m. to 6 p.m. (Tuesday on display after 10 AM) and Tuesday to Friday, 9 a.m. to 9 p.m. and Saturday, 10 a.m. to 6 p.m
Posted by Jack LeVine | Currently 7 Comments »
April 14th, 2010 Categories: Huntridge
I kinda lost the bet. JB said I couldn't get a Huntridge Cottage remodeled in less than a month. I thought I could.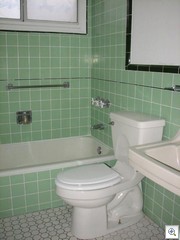 It would have been easy if I'd just done a "blow and go", or "slap up a coat of paint" job. If I'd ripped out the original 1944 bathroom and kitchen. I could have put in new "off the shelf" crap from one of the big box home improvement stores and called it a day.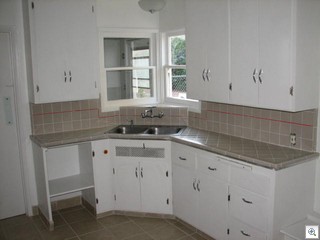 I could have left some of the hidden plumbing issues, or some minor and major electric, stucco, concrete and roofing issues for someone else down the road. Sure….there were some compromises that had to be made in trying to keep things as authentically original as possible, but I'm sure happy with how it's turning out now that it's finally coming together.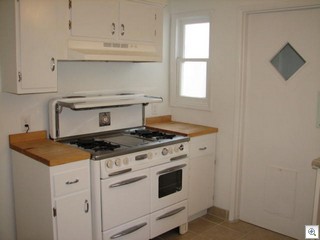 We'll be renting the property. The intention is to hold it for many years. That's one of the reasons we went to the lengths we did to do it right the first time. I'm offering it up to VeryVintageVegas readers or their friends first.
Since it has a huge 2 car detached garage, I'm figuring it would be perfect for an artist to use as a studio. There'll be some cute red curtains in the kitchen, polished parquet flooring, and a terrific den which could be a third bedroom or great office or music room. I'll put up more pictures as we wrap up the final details.
We're offering it at $1000/month. If you know someone who really wants to live vintage, then give me a call or drop me an email. [email protected] 378–7055
I learned or re-learned a lot of lessons in the last 6 weeks. Here's a few of them:
I'm not 25 anymore. There's nothing like a lot of hard physical work to remind you how much arthritis you have, or how sore your muscles can get. But I did lose 10 pounds in the last 6 weeks!
If the electric is screwed up, CALL AN ELECTRICIAN! You can only make it worse.
Cast Iron water supply lines have to be removed and replaced!
40 year old wallpaper is not fun to remove.
Copper pipes (and especially the brass fittings) should not be buried underground. The real lesson is to watch where you dig. I barely touched the main water line with the shovel……
EVERY plumbing job will require 3 trips to the hardware store….no matter how much you think you got everything you needed the first time.
90% of the time spent on a paint job should be spent on the preparation. Cumulative layer upon layer of sloppy paint jobs takes a lot of time to undo.
2 full time jobs is a bitch. Doesn't leave much time for blogging, never-the-less 8 episodes of American Idol that haven't been watched yet.
I hope you missed my daily blogging as much as I missed doing it. I should be back to a daily schedule now.
Posted by Jack LeVine | Currently 13 Comments »
August 24th, 2009 Categories: Huntridge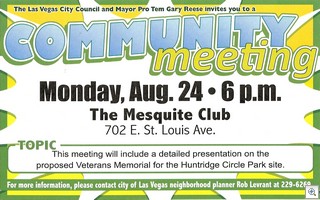 You're invited to a "Community Meeting" tonight to discuss the proposed Veterans Memorial in the Huntridge Circle Park. The meeting will be at the Mesquite Club, 6pm 702 E. St. Louis Avenue.
There will be a "detailed presentation" about the proposed memorial. We know the city and the non-profit promoters of the Veterans Memorial are serious about this. They built a website and are collecting donations to fill a 1.2 million dollar budget. The City of Las Vegas has also put out an $800,000 "Call For Artists" which I've pasted below the fold.
The Huntridge Circle Park is the football shaped island in the middle of Maryland Parkway, just south of Charleston Blvd. It's been a center piece of the downtown historic neighborhoods ever since it was built in 1942. The most recent history led to the park being closed down in 2006.
Many of us have been pushing and prodding and begging and pleading the city to re-open the park. The city says there's no money. The City says that the Veterans Memorial is the best option for getting the park open.
Here's a little background. A whole bunch of us from all the downtown neighborhood associations promoted a re-building and redesign for Circle Park. We held meetings, created a design, obtained grants from the city and county and rebuilt the park. We had a big grand opening party in 2005 and people started using the park.
A church group from Henderson started bringing sandwiches at lunchtime to feed the homeless. The number of homeless people in the area started to increase. There was a big increase in crime in the neighborhoods surrounding the park. One of the burglaries led to the murder of a man in his own home. It was assumed that this murder was related to the "homeless problem" that was being created by the serving of food at Huntridge Circle Park.
Then the City passed a law making it illegal to feed people in public parks. The ACLU won the lawsuit against the city. Then one homeless man murdered another one in the park on November 24, 2006.
That's when the city closed the park 4 days later. It has remained closed ever since. The excuse for keeping it closed has always been that "there's no money to open it", but the truth is, there's no political will to re-open it until now.
I've always been in favor of getting the park opened again. I'm neutral to the Veterans Memorial. Neutral to whether Las Vegas needs one at all. Neutral as to where it goes. Neutral to it being in Huntridge Circle Park. The City Council says that if they provide the funding to fence the park so that it can be closed at night, the can put the memorial there.
If that's the best (or ONLY) way to get the park open, then I'm jumping on board to support the Veteran's Memorial people. You can make donations or otherwise volunteer on their website.
CALL FOR ARTISTS: LAS VEGAS VETERANS' MEMORIAL, LAS VEGAS, NV
Description
The City of Las Vegas (City) hereby invites individual artist's or an artist team (Offerors) to submit written Statements Of Qualifications (SOQ's) to create a profound and lasting work of art in honor of America's service men and women. The Veterans' Memorial is being funded by Las Vegas Veteran's Memorial, a 501 (c)(3) non-profit corporation. The Las Vegas Arts Commission and an evaluation committee will select a finalist that will work with the Las Vegas Veteran's Memorial in preparing a design. The design will need to integrate an expandable commemorative component, such as a brick walkway, commemorative wall, or digital reader, where donors can pay tribute to family members or others who proudly served in the armed forces. The successful offerors and finalist will also be asked to submit a design for perimeter fencing to surround the entire park. All design proposals will need to be pedestrian friendly, ADA compliant, and vandal resistant to the extent feasible.

Posted by Jack LeVine | Currently 1 Comment »
July 31st, 2009 Categories: Downtown Businesses, Huntridge
I've been talking up the Huntridge Diner for a few months now, ever since Derek Washington took me there for lunch. I never put it on VeryVintageVegas before. I've had many a great burger and cheesesteak sandwich. Between the Channel 8 coverage, and this post, maybe we can get him up to the numbers that Joel Holffman, the owner needs to keep it going.
I happened to catch the report live, but this morning 5 of you emailed me the link before I had a chance to find it myself. Regular reader Tracey Brown gets the tip of the hat for being first.
Head over for lunch. I don't think you'll be disappointed. The Huntridge Diner is located in the Huntridge Pharmacy (which is a "mom and pop" operation as well,) at the SW corner of Maryland Parkway and Charleston.
Here's the text of Paula Francis' report. The VIDEO is on the Channel 8 Website
CLASSIC DINER OPENS IN TOUGH TIME:
A local man who says retirement was driving him crazy admits he may be even crazier to open a new restaurant in the middle of a recession. But after resurrecting the old Huntridge Diner, he's just hoping the retro restaurant's colorful past will help it survive long enough to have a future.
It's 50's and 60's decor, music, and milkshakes are definitely a blast from the past. If the historic Huntridge Diner can hang on long enough, it's future could be as bright and shiny as its new facelift.
Just like the music, the old-fashioned milkshake machines are shaking again and the burgers, ground from fresh round daily, are sizzling on the grill. "I make everything the moment they ask for it," said Chef Moses Cruz.
The historic diner, located inside the old Huntridge Drugstore at east Charleston and Maryland Parkway is back in business, much to the delight of old time Las Vegans like Mayor Oscar Goodman and young new regulars like Chris Turner — who can spot a good thing even if he wasn't even born yet the first time it came around. "It looks like it would have 50 years ago. It's cool," he said.
"This fountain behind me is 40-years-old. You just don't see places like these anymore," said restaurant operator Joel Holffman.
Its bright red booths, shiny counter tops and freshly painted walls are adorned with 50's and 60's memorabilia. In fact, Hoffman says all that's missing here is a steady stream of customers. "It's frustrating! If the place was dirty, I could understand it. Or if the food wasn't good, I could understand it," he said. "Our prices — $6.95 for a fresh grilled hamburger or philly steak, fries and a soda."
But like the historic Huntridge Theater directly across the street, which remains closed for now, the Huntride Diner went out of business for a while as well. "I remember going to the Huntridge next door when it was a movie theater. I saw Woodstock there. Wow, that was 40 years ago," said customer Brian Babbitt.
Hoffman wonders if folks, like long-time resident Brian Babbitt, just haven't realized the historic restaurant is back in business and better than ever. "If they come in once, they'll be back," he said.
Hoffman says he only needs 50 customers a day to turn a profit. But right now he's only averaging 10 to 12. He says word of mouth will have to start traveling faster if the restaurant is going to survive the recession.
Posted by Jack LeVine | Currently 7 Comments »
July 29th, 2009 Categories: Huntridge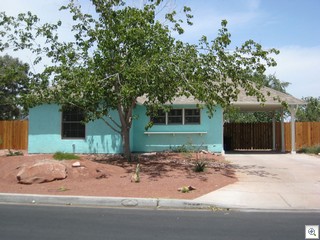 After a year long adventure in restoring and "greening up" an original Huntridge Home, my friend and clients Soeren and Coni are finally finished, and looking for a tenant that's as terrific as this restored gem.
One of the reasons they bought this property was because it was one of the very few Huntridge homes that still had the original footprint. Almost every other Huntridge Cottage has had the carport converted to living space, room additions to the backs or sides or second stories or a combination of all of the above.
When I first met Soeren and Coni, they told me they wanted to try to re-create an original look and feel, and yet have the home be energy efficient and up to date. We looked at a lot of homes, but only this one got chosen BECAUSE it was truly all original.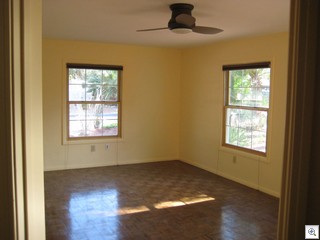 Soeren had researched with several original owners, and found out that they had been delivered by the builder with wood parquet floors, so naturally, that's what got installed.
He knew that the original windows were wooden double hungs, so he replaced them with the much more costly wooden windows that look original.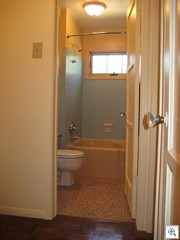 The original "salmon-ish" square tub/shower was intact and in condition, so it got preserved. We explored some other Huntridge homes over the months to find out what the tile work looked like. We found several examples that gave us a blueprint of what the bathroom looked like in 1942 and does once again. I couldn't be more impressed.
One of the things that I knew for a fact was that the homes were originally built with NO INSULATION! Blown in insulation was added to all walls and the ceiling.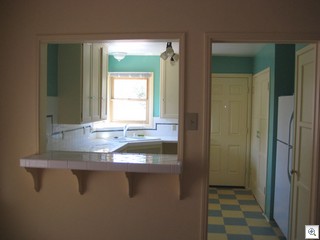 The Huntridge Homes were built during World War II. In that period, kitchens were almost always a separate self contained space. One nice improvement to the original concept was the addition of the window and breakfast bar to open up the view between the kitchen and the living room. A different alternative would have been to remove the wall altogether, which would have created a nice open space, but at the cost of dramatically limiting the counter and cabinet space. I think this is a great compromise.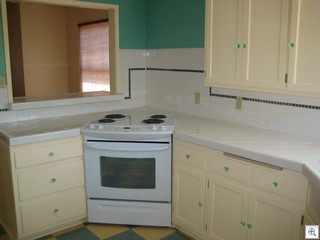 If you or someone you know is looking to rent downtown, I think this one should be really checked out. There's more pictures and contact information on the website that Soeren created for this wonderful Huntridge restoration.
Posted by Jack LeVine | Currently 4 Comments »
June 10th, 2009 Categories: Huntridge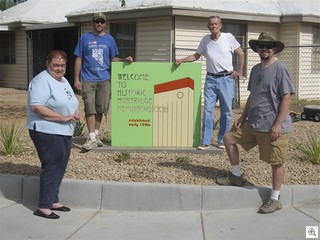 I actually scooped the newspapers when we covered the new "Welcome to" signs that have been installed on Oakey and Franklin by the Huntridge West Neighborhood Association.
The story got picked up by the Downtown View which comes to your mailbox if you don't subscribe to the Review Journal. If you do, then you get it in your Tuesday Newspaper. There's  13 different versions of the view, covering different parts of the valley. They're divided by zipcodes, so the coverage isn't always totally localized.
The Downtown View and The SE View have always been willing to cover the re-birth of the historic neighborhoods of Las Vegas and we're very grateful for the coverage. If you're new to VeryVintageVegas, you can see some of the past coverage that the view has given to historic neighborhoods and Mid Century Modern homes here and here.
Here's a link to the article "Displaying Huntridge Pride" by Amanda Llewellen
Again, as I did last week, I want to thank the Huntridge West Neighborhood Association for the their efforts and dedication to preserving the character and charm of the oldest tract developments in Las Vegas.
Posted by Jack LeVine | Currently Comments Off on Huntridge West Neighborhood Association Gets Press Coverage
June 1st, 2009 Categories: Huntridge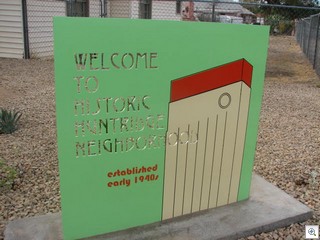 The Huntridge West Neighborhood Association applied for and received a Neighborhood Block Grant from the City. The money was used to install new landscaping and beautiful "Welcome To Historic Huntridge" signs at the corners of Oakey and 11th and Franklin and 11th.
The new signs are a welcome and exciting addition to the historic neighborhood monuments on St. Louis for the Southridge and Beverly Green Neighborhoods; The Huntridge East and Marycrest monuments on Oakey at 13th; The Alta Drive Monument at Rancho, and the Rancho Manor sign on Shadow Lane.
I can think of a couple of dozen other historic neighborhoods that would benifit greatly by following the lead of Huntridge West.
Lance Kirk and the dedicated members of Huntridge West are to be congratulated not only for getting the signs installed, but because they are so well designed. Take a look at the corner of 11 and Oakey and 11th and Franklin.
Posted by Jack LeVine | Currently Comments Off on Huntridge West Neighborhood Association Installs Welcome Signs
August 27th, 2008 Categories: Huntridge, Las Vegas History, Pillars Posts And Columns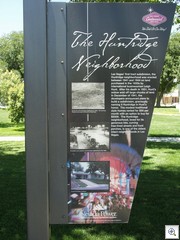 When I first introduced the subject of the pillars and posts and columns of Vintage Vegas, I asked for your help, and NO ONE has responded…YET. I joked that I was looking for interesting designs and clever adaptations, but no 4×4's.
The huntridge neighborhood however was built with 4×4's to hold up the carports and porch covers (real 4×4's at that). But they were adorned with cross hatchings, and designs made out of 1×2's on one model and 2×4 butresses on the other.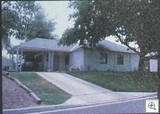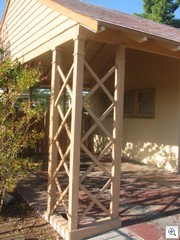 The 4×4's have stood the test of time, but there's very very few of the original cross pieces that have survived. One of them is shown in the bicentennial banner in the (unfortunately closed) Huntridge Circle Park. The next few pictures are some of the few remaining original columns that I've been able to find.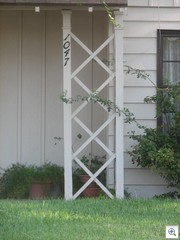 If you're the owner or future owner of one of the Huntridge Homes, then I'd love to see you recreate some of the post designs that adorned the front porches. Please feel free to use these remaining originals as a guide.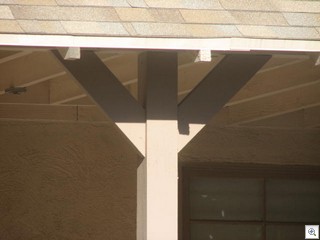 I've been studying the post and beam construction of the Huntridge Cottages (or are they bungalows?). Every piece of wood was hand cut. Every nail was driven by a hammer. The walls were hand plastered. The cabinets were stick built on location. The flooring was wood parquet. The bathtubs were square and the surviving tubs are highly sought after today.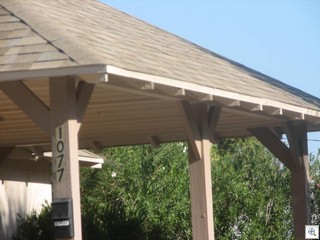 They were built between 1941 and 1944 to provide fast inexpensive housing the the soldiers and airmen that were being stationed at the new Army Air Station, which was being built out in the desert far to the NW of a little railroad stop called Las Vegas. It's now called Nellis AFB. Las Vegas's population in 1940 was 16,414 according to the census. There were about 900 of them built on both sides of Maryland Parkway and they became the first subdivision in Las Vegas.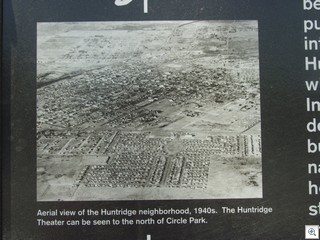 Here's the rest of the pictures from the Bicentenniel Banner:
Take a moment and click on any of the pictures and you'll have as much fun as I do looking at them in full screen mode.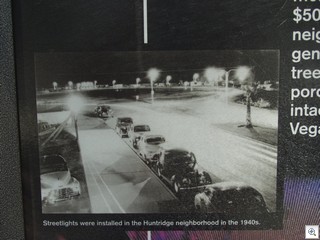 Posted by Jack LeVine | Currently 1 Comment »
August 12th, 2008 Categories: Historic Preservation, Huntridge
The unveiling of the adaptive re-use plan for the HUNTRIDGE THEATRE
Wednesday 8/13 6:30 to 8 pm at the Rainbow's End Natural Foods on Sahara.
We'd really like as many people as possible to take a look and to weigh in on it.
Posted by Jack LeVine | Currently Comments Off on Meeting Reminders – Huntridge Theatre
June 23rd, 2008 Categories: Huntridge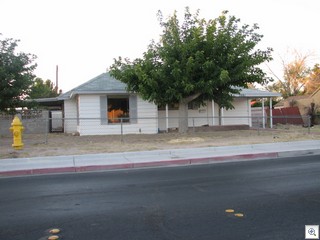 I complain all the time about the bank owned repos that are being neglected. In this instance however, the property at the corner of 10th and Oakey was the biggest eyesore around while it was for sale as a "short sale".
I complained repeatedly to rapid response – to no avail. However, last week it went back to the bank. It's not on the market yet, but at least they sent over a crew to clean it up.
I wish all the banks would do that to their properties. It wouldn't take much to make them more presentable. They'd probably sell at a higher price, and that much sooner if they did.
This particular one might be worth watching because it will make a great rental, as it has a full guesthouse in the back. I'll keep my eye out for it to come back on the market as an REO.
Posted by Jack LeVine | Currently Comments Off on The Biggest Eyesore in Huntridge Gets It's Lawn Mowed
May 20th, 2008 Categories: Home Repair and Remodel, Huntridge
It's a standard part of the "Due Diligence" period for a home buyer to get the property inspected. The purchase contract is very explicit that during the due diligence period, the buyer has the opportunity to explore all aspects of the property before making their final decision to go ahead with the purchase.
Beside the opportunity to check things such as the title work, any association documents if there is one, zoning, airplane noise, etc. the Inspection is one of the most important things.
When you hire a professional inspector, they're going to look at things in the house that aren't readily visible when we're out shopping and making the preliminary decision as to which home to buy.
There's really only FOUR outcomes of the inspection. All four are good for the buyer.
1) A clean bill of health for the property
2) A checklist of minor things that could or should be upgraded, fixed or taken care of someday.
3) An opportunity to renegotiate with the seller when something of significance is found.
4) The inspector finds something so important that the buyer will choose to cancel the transaction instead of being faced with a really big repair.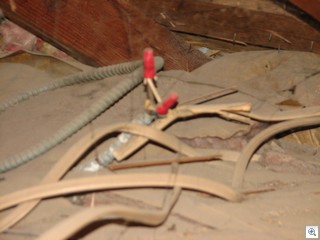 The transaction that I'm doing right now on a Huntridge home fooled us on the question of electricity. The main service panel in the Huntridge homes had screw in fuses, and only 60 Amp main service. In this home, the main panel was upgraded approximately 5 years ago. From the ground in the back yard, it looked as if things had been taken care of.
All of the plugs and switches were modern looking. But at the inspection, we discovered that none of the plugs are grounded (which is not a terrible thing in itself, but ungrounded plugs shouldn't have 3 hole outlets). We also got our first look at the attic space.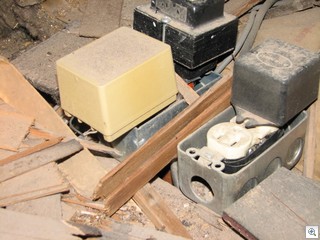 Surprise! In between the service panel and the plugs was a mishmosh of old and new. We found old wires that were spliced to new ones. We found connections without junction boxes, ungrounded old cables spiced into 3 wire new romex, and junction boxes without covers. And the most dangerous, which I don't have a picture of is splices that didn't even have caps on them.
The buyer called out an electrician who was horrified at what he saw. There's so much to straighten out, and once you're that deep into literally re-wiring the entire home, permits are required, and the electricity will need to brought up to current code. That means additional plugs in all the walls, separate circuits for the fridge, and a host of other things that normally don't have to be done to 60 year old homes unless you want to.
I always insist with my buyers that screw in fuse panels be upgraded. It's the VERY FIRST THING that I did to my 1954 home. Upgrading ALL of the electricity is good to do, but since it often requires opening up the walls it's usually not done, nor does it HAVE to be. In this case, if the panel upgrade hadn't involved some very unsafe practices in the attic, then a lot of the new expense could have been saved. We're currently negotiating with the seller for the cost of the re-wire to be taken off of the price of the home.
The buyer's key desire is to make the home a showplace of what Huntridge Homes looked like when they were built between 1942 and 1948. But it will have to be a safe home. It's going to be almost $4000 to straighten out the mess in the attic.
I'll be telling some other inspection stories later in the week.
Posted by Jack LeVine | Currently Comments Off on Why Inspections Are Important – Especially For Vintage Las Vegas Homes
May 11th, 2008 Categories: Huntridge, Las Vegas Real Estate News, OUR LISTINGS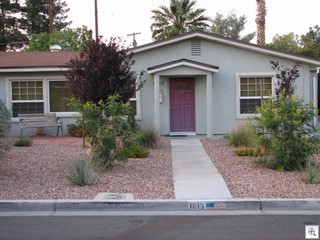 We're pleased to have been chosen as the listing agent for 1013 Francis Ave. We're starting to see some of the really nice homes in the vintage and historic neighborhoods come on the market.
Now that prices seem to have stabilized, we can actually figure out what a home is worth, and what it will sell for. We've taken into account the new dual pane windows, the new roof, the parquet wood floors, the custom concrete countertops, the lovely front and rear landscape, and all of the other factors that we use to gauge value. We've priced this at $255,000. and you or someone you know ought to give me a call to see it.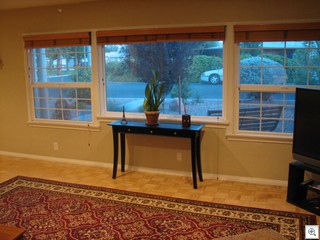 The "non-investor" buyers are buying again, as we've mentioned, and the nicest of the homes are starting to sell.
If you're buying in Vintage Vegas, you have a huge range of homes to choose from. Most of the foreclosures, are pretty beaten up and broken homes. Some of the homes are so–so, and some, like 1013 Francis have been well loved and well taken care of.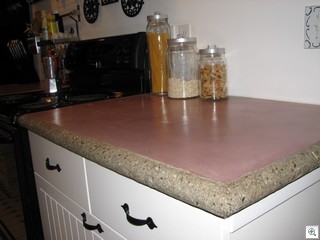 All of the photos are in the gallery of our featured properties, but I wanted to give you a peek into this legally expanded Huntridge home on a corner lot.
I mentioned the "legally expanded" because that's not one of the most common things we see in the Huntridge homes. They've had every sort of room addition, or carport conversion that you can imagine. Some of them, such as 1013 Francis were done with permits, and the new square footage is reflected in the tax records. Our MLS system requires us now to only use the square footage that shows in the assessor's records. Appraisers and buyers alike are not giving as much value to non-permitted additions as they once did.
Our new listing really is 1904 square feet, and all the extra space is distributed evenly thru out all of the rooms. The master bedroom is 11×20 and the other two bedrooms are 11×16 and 12×16.
Give me a call. I'd be happy to show you this lovely home, or to help you with any other.
Posted by Jack LeVine | Currently Comments Off on 1013 Francis Ave. In The Historic Huntridge Neighborhood Of Vintage Las Vegas