Scotch 80's Topics
Welcome To Uncle Jack's Very Vintage Vegas!
Vintage Las Vegas Homes,
Historic Las Vegas Neighborhoods,
Las Vegas History,
Urban Living In Las Vegas.
If it's great, cool, fantastic, artistic, annoying, amusing, unique, or surprising.. you'll find it at VeryVintageVegas.com.
Check out what we're doing and add your two cents! Your comments & ideas are welcome. We update daily, so come back tomorrow!
Blogroll
Farmer's Insurance
Paul Hesselgesser
702-434-1230
The Hesselgesser Insurance Agency Website
Classic Las Vegas - Lynn Zook's Preservation of 20th Century Las Vegas
Curbed LA - WOW!
Mid-Century Modernist
RETRO RENOVATION - Pam's Excellent Effort At Re-creating A Retro Life
Carnival Of Real Estate - Minus Elephant Ears, But Still Mighty Tasty
Lotta Livin' - A Celebration Of Really Cool Things Mid Century
Bawld Guy Talking - Minus The Hair; Plenty Insightful
CoolnessIsTimeles - ALL "RAT PACK" ALL THE TIME!
SEE ALL OUR FAVORITES HERE

Scotch 80's
September 1st, 2008 Categories: Mid Century Modern, Pillars Posts And Columns, Scotch 80's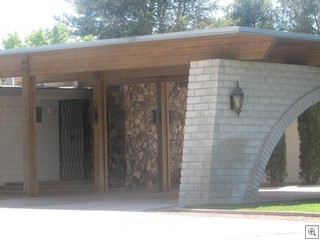 We all love the exposed beam ceilings that often are found in Vintage Vegas. Usually we see them on the insides, but occasionally, such as in this Scotch 80's home we find a porte-cochere or carport that sports it as well.
The Scotch 80's is a custom home community located south of Charleston and East of Rancho.
It's truly one of the great neighborhoods for a Sunday drive.
Bannie and Silver are two of the rare residential streets in Las Vegas that have center islands with shade trees that create a canopy over the travel lanes.
All of the homes are at least a 1/2 acre, and many Las Vegas's best examples of desert modern (or Palm Springs Modern, if you will) can be found there.
There's currently 7 homes for sale. They range from $500,000 to 5 million. However, 2 of them are bank owned, and 2 are short sales.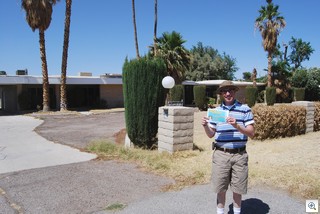 One of the short sales is the famous "Howard Hughes" house. It's one of the largest desert mid mods I've ever seen at almost 7000 sf. It's on 2.5 acres, and currently is fire damaged, which needless to say makes it a major fixer upper. It's ONLY 950,000.
The MLS PICTURES are from long ago. I know I've got a folder full of pictures of it on the old computer, but I did find this one from the history hunt that we did last summer. (If you want to take a driving tour of many of the classic, historic neighborhoods of Las Vegas, this is a good place to begin.) I'm sure Brian Paco Alvarez will be happy that I published this picture again.
PS: the history hunt is over. There's no prizes or bonuses being offered. But it's still a fun way to spend an afternoon!
Posted by Jack LeVine | Currently 1 Comment »
March 11th, 2008 Categories: Bel Air, Las Vegas Real Estate News, Scotch 80's
Even though I got behind in my usual posting routine, I was still out showing homes, getting 3 deals into escrow, showing off our historic neighborhoods to prospective buyers, and all the other fun stuff I do everyday. Here's a collection of pictures I took. Each of them was intended to be a post of it's own, but that won't happen, so I'll give them to you as potpourri.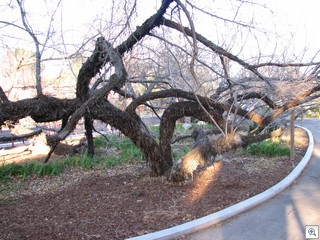 Anyone know the name for these great trees that are in many of the yards in Scotch 80's?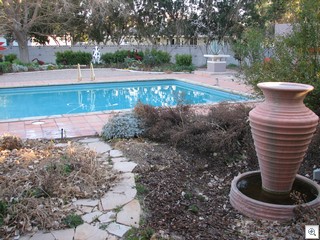 I stopped in to see my friend Aaron Schave's listing on Waldman. Great house, and just under a million dollars!
All the lots in Scotch 80's are a minimum of 1/2 acre.
You don't find yards like this in the suburbs!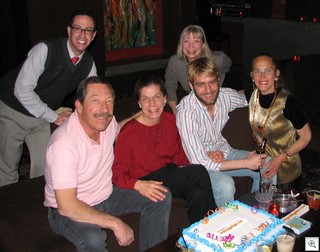 A lot of our friends and many of the regulars of the Thursday LO PRO Mixer at the Downtown Cocktail Room stopped by last week for the VeryVintageVegas 1st birthday party. Pictured here just before we destroyed the cake, is the whole team that helps me keep track of the goings on in Vintage Vegas.
In the back is our cultural historian Brian Paco Alvarez, and our Grammar and Spelling editor, Susan Dean. That's me on left with our community activism editor Pam Hartley, Steve Christmas, who's our in house lender, and graphics editor, and on the far right is our fashion editor, and the best dressed woman in all of Vintage Las Vegas, Mary Alderman.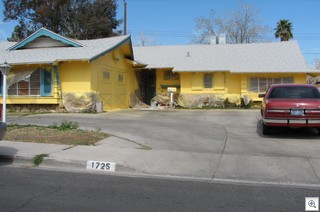 Our listing at 1720 Bracken went to contract quickly this week. Across the street from it, the house is getting some new color. We're anxious to see what trim color is used for the accent.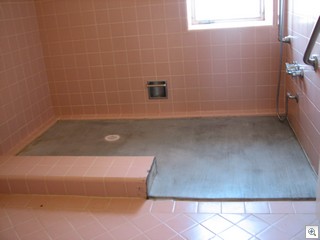 One of the many things we loved about 1720 Bracken is the pristinely preserved pink step down shower tub. We found a similar one in McNeil the other day that wasn't so "pristinely" preserved.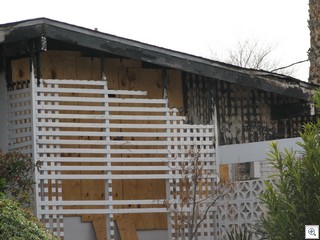 A fire did a real number on this Paradise Palms Mid Mod. It's on Desert Inn just west of Eastern Ave. Since it was one of the last homes on Desert Inn that was still residentially occupied, I had great hopes that some small business owner who "gets it" would maintain the architectural integrity when converting it to his or her fabulous office digs.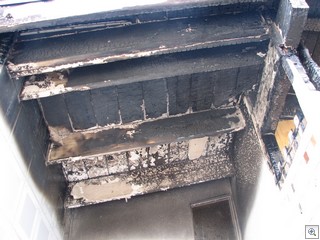 I don't know the story of how the fire started, or how extensive the interior damage is. Any one know?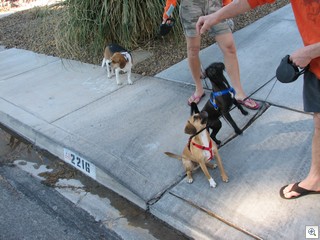 We showed a great new listing on Geronimo in Paradise Palms and ran into a "gaggle of puggles" while we were there. Pugs and Beagles seem to be a popular mix of designer dog that we've heard about, but these were the first ones we've met.
Very Cute!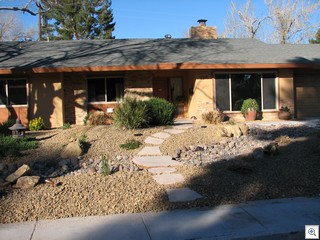 And the home on Geronimo that I'm talking about has been beautifully redone in and out, and is priced at 413,000. Since the market has shifted, and real buyers looking for NICE homes are back out shopping, this is one you might want to consider. I know of a whole lot of them, that might be perfect for you.
You did know that your competition is already out looking for the best homes, didn't you? Give me a call or drop me an email, and I'll fill you in.
Posted by Jack LeVine | Currently 3 Comments »
February 20th, 2008 Categories: Scotch 80's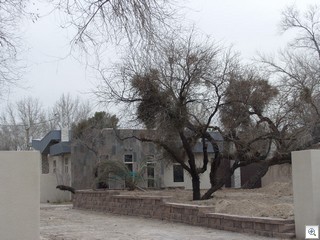 There's a whole new "cocktail house" mid century modern styled addition (or perhaps it's a whole house if the old one gets torn down) that we've been watching. I haven't taken a picture of it in about a month, but now you can see that it's a perfect mid century modern design match that will fit in beautifully in the Scotch 80's.
Click the picture. It's a thumbnail.
Scotch 80's is South Of UMC hospital. It's easiest to get into it by going south on Shadow Lane from Charleston, just a few blocks west of the I-15 freeway. Most of the streets that used to open onto Rancho and Oakey have been gated off, to avoid cut thru traffic. (Things like that happen easily when Mayor Goodman and lots of other notables live in a neighborhood).
Posted by Jack LeVine | Currently 1 Comment »
February 20th, 2008 Categories: Home Repair and Remodel, Scotch 80's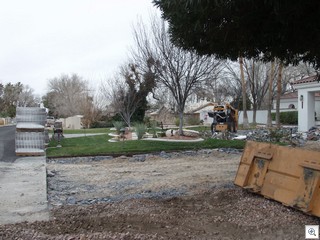 We found all kinds of work going on during our recent home shopping tours with James and Sabrina.
Yesterday we took them sightseeing thru Scotch 80's on our way to McNeil. There's some amazingly great deals in McNeil, Glen Heather, Rancho Manor, and Glen Heather.
They've discovered that it's a challenge to decide which one of the great homes they saw is actually the right combination of best house and best deal. But we should get it narrowed down to the very short list by today.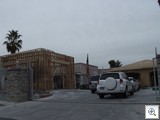 There's new paver driveways, room additions, windstorm clean up and all kinds of activity in the west side Historic Neighborhoods.
Sabrina is the first person I've met who actually grew up in one of the famous Eichler neighborhoods of LA, and has had a life long love affair with all things modernist. They've been watching the market for months (as we all have) and know that NOW is the time to jump in. They started getting their financing arranged a month ago, and started studying the homes for sale and making their short lists. They used our MLS Search Feature to do it, and especially liked that they could save the search for SPECIFIC neighborhoods!
Posted by Jack LeVine | Currently 1 Comment »
February 15th, 2008 Categories: Historic Preservation, John S Park Historic Neighborhood, Las Vegas History, Scotch 80's
No, VVV didn't get mentioned, but Steve Sebelius, who is a regular columnist and blogger for City Life, wrote a great piece for the MSN City Guide.
Among other things such as the Golden Steer, Peppermill, and Old Post Office, Steve mentions some of the historic neighborhoods that we promote all the time here at Very Vintage Vegas.
Scotch 80's, and John S. Park Historic Neighborhood both get a nod. Of course, they're the best known, but if you've been reading along with us for a while, you already know that's just the "tip of the iceburg" when it comes to the historic neighborhoods of Las Vegas.
Ginger, who's one of our readers, and the owner of the famously restored Liberace Stain Glass Windows showing the 4 seasons at Lake Mead gets the hat tip for finding this story for us.
Posted by Jack LeVine | Currently Comments Off on City Guides Story On "Vintage Las Vegas" – Historic Las Vegas Neighborhoods Get A Positive Review
September 30th, 2007 Categories: Cool Stuff, Las Vegas Real Estate News, Scotch 80's

While zigzagging some new LA buyers between downtown and McNeil and Glen Heather, we took a site seeing side trip thru Scotch 80's.
There we stumbled upon a fundraiser for the Make A Wish Foundation. An 18 hole mini golf course all thru the lawns and grounds of one of the great french revival mansions.
We applaud their sense of giving, and their creativity!
Posted by Jack LeVine | Currently Comments Off on Vintage Vegas Neighbors Sponsored A Make A Wish Fundraiser