Fun Features Found In Foreclosures Topics
Welcome To Uncle Jack's Very Vintage Vegas!
Vintage Las Vegas Homes,
Historic Las Vegas Neighborhoods,
Las Vegas History,
Urban Living In Las Vegas.
If it's great, cool, fantastic, artistic, annoying, amusing, unique, or surprising.. you'll find it at VeryVintageVegas.com.
Check out what we're doing and add your two cents! Your comments & ideas are welcome. We update daily, so come back tomorrow!
Blogroll
Farmer's Insurance
Paul Hesselgesser
702-434-1230
The Hesselgesser Insurance Agency Website
Classic Las Vegas - Lynn Zook's Preservation of 20th Century Las Vegas
Curbed LA - WOW!
Mid-Century Modernist
RETRO RENOVATION - Pam's Excellent Effort At Re-creating A Retro Life
Carnival Of Real Estate - Minus Elephant Ears, But Still Mighty Tasty
Lotta Livin' - A Celebration Of Really Cool Things Mid Century
Bawld Guy Talking - Minus The Hair; Plenty Insightful
CoolnessIsTimeles - ALL "RAT PACK" ALL THE TIME!
SEE ALL OUR FAVORITES HERE

Fun Features Found In Foreclosures
April 20th, 2011 Categories: Fun Features Found In Foreclosures, Mid Century Modern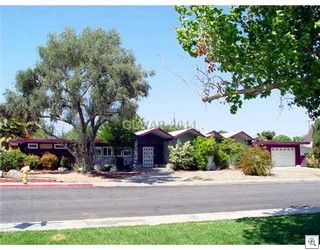 When it comes to Mid Century Modern Homes in the Historic Neighborhoods Of Las Vegas…..
You can't beat the new one that was listed today. I've been watching and waiting for it for several months now.
I'm on my way to see it now, but the pictures in the MLS do tell the story. And – the agent actually took good pictures!
It's had the kitchens and bathrooms gutted, so there's no way for it to go to anyone who doesn't have some big bucks left over after the purchase. I really want this to go to a true Mid Century Modern affectionado.
At $154,900 there's bound to be a bidding war! I fear it falling into the hands of someone who thinks it should become "summerlinized". Send a Text or email or call me if you want the address. 378–7055 [email protected]
More about it tomorrow!
Posted by Jack LeVine | Currently 2 Comments »
May 15th, 2010 Categories: Fun Features Found In Foreclosures, Paradise Palms
I wasn't going to do anything on Paradise Palms for a while after our big long series on the 1963 newsletters and William Krisel designs.
However, there's still a mysterious shortage of bank owned homes that are available, and a doozy of a good one popped up in Paradise Palms the other day. One of the things we learned from the 1963 newsletters as that all the homes on Mohigan, Papago, Hoopa, Omaha and Delaware were unique – one (or a few) of a kind custom homes.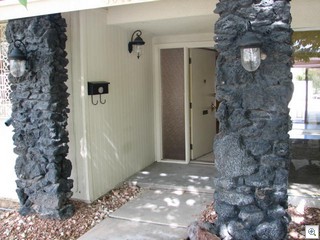 This one at 3846 Hoopa Lane, on the corner of Mohigan has always been one of my favorites in the area because of the columns of Lava Rock in the front, and the 36 inch crinkle-cut-pattern front door.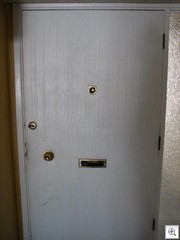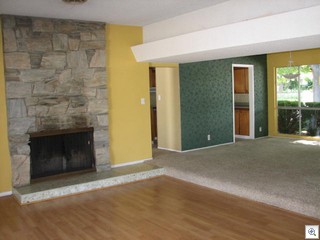 I'd never been inside until yesterday when it came to market as a bank owned foreclosure. I knew the floor plan – and loved it from a similar design on Mohigan that sold last year. Inside I found a wall of glass and extra wide sliders to the back yard, as well as the sliding glass doors from the dining room to the front of the house. The step down living room features the rock fireplace with terrazo hearth and the lighting soffit/ledge.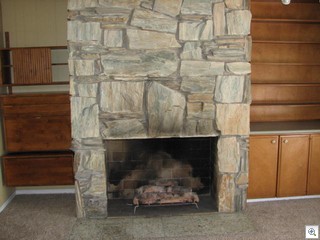 It's actually a 2 sided fireplace column, and the family room side of the fireplace is even more dramatic with it's built in book cases.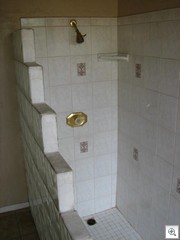 The other great original feature of the house is the step down – sunken shower in the master. Looking out from the shower you'll find a private little rock-walled patio space with sliders leading to to it.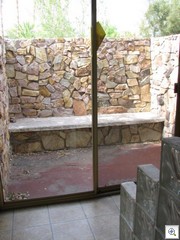 There's a few other really cool features, such as the back yard and pool. The house is in remarkably good condition for a bank owned foreclosure. Here's the MLS pictures, and the amusing comment from the listing agent: "A quaint and mature 3 bedroom". No one who reads this blog would use the word "quaint" to describe it. I'd have said: "A fabulous example of a Mid Century Modern Ranch".
Of course, the bank listed it at a ridiculously low price of $119,900. There's already multiple offers, but the window is still open this weekend. The best thing is that it's a Fannie Mae owned home, and NO INVESTOR offers will be considered unless it's been on the market for more than 30 days. If you've been sitting on the fence, there's a great opportunity here. Give me a call, or tell someone about about it and have them call me.
Posted by Jack LeVine | Currently 2 Comments »
March 2nd, 2010 Categories: Fun Features Found In Foreclosures, McNeil, Mid Century Modern
This is really a "fun features found in foreclosures" post.
This is a very restorable mid century modern home in Vintage Las Vegas. It's a "desert modern" and one of the few in McNeil. Mostly McNeil is a neighborhood of "Ranch Modern".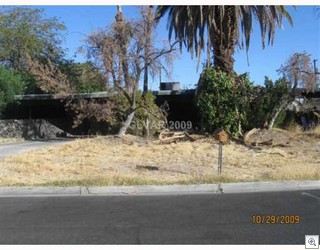 McNeil was and is a middle class custom home neighborhood between Charleston and Oakey on the north and south and to the west of Rancho.
Hidden away behind all the over grown trees and shrubs, and the curved lava rock wall under the porte cochere is a really cool mid mod house.
This Mid Mod In Las Vegas is definitely a project house! It's in one of the 3 cul-de-sacs of McNeil that can only be accessed going west off of Rancho Drive. They're the first 3 streets off of Rancho to the north of Oakey Drive.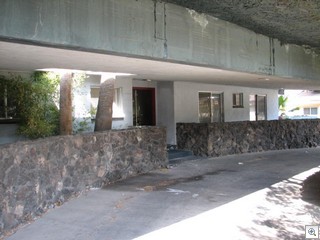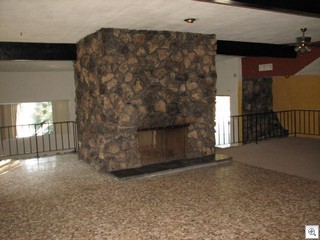 The listing pictures kind of miss the best part of the house which is the towering rock fireplace that looms over the 3 foot deep sunken living room.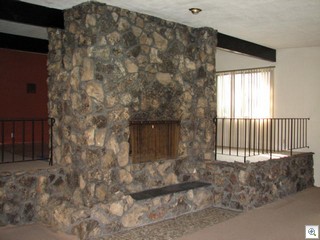 The house has beamed ceilings, huge rooms, and plenty of mid mod flair to work with. It's bank owned and priced at 235,700, and will require a healthy bank account to get it fixed up to it's former glory.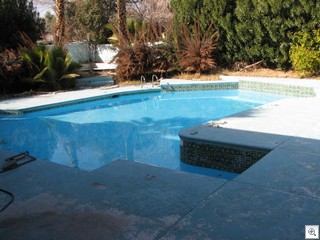 The back yard landscape and pool seem to be salvageable but could definitely use some love from a new owner. The lot is a 1/3 acre – 12800 sf.
Currently, there are only 8 properties for sale in all of McNeil! They range from 180,000 to 420,000. This is the lowest inventory of available I've seen since the market peaks of '05 and '06.
Two of them are shortsales, this one we featuring today is the only bank owned one, and the other five are equity (or normal) sellers.
Posted by Jack LeVine | Currently Comments Off on Restorable Mid Mod In The McNeil Neighborhood Vintage Las Vegas
February 10th, 2010 Categories: Fun Features Found In Foreclosures
They're starting to pump out the "Shadow Inventory". Bank of America alone is releasing 500 homes a month. Fannie Mae is letting them out as well, and making them "owner occupied only offers will be considered for the first 15 days".
Of course, they don't all qualify for FHA which how most "owner occupied" buyers are able to buy.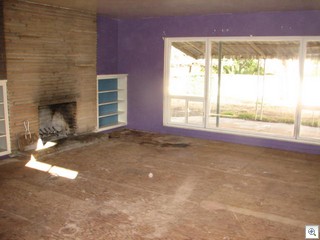 But check out this one that came up on 15th Street the other day. It's got a very cool fireplace, original metal cabinets, big picture windows and an original pink bathroom.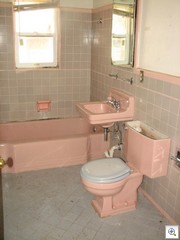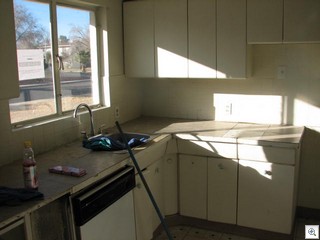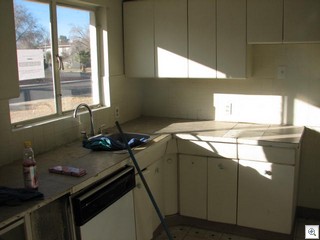 I was there the day they were cleaning and hauling. I had an amusing conversation with the guys that were doing the "clean out". They'd never done one before on a Vintage House. They actually thought that it was a tear down, and couldn't believe that I thought this a very restorable home.
Of course, it's listed at $57,500. 1500 sf. 3 bedrooms, 2 baths.
Fannie Mae is offering them with "Homepath Renovation Financing". You can borrow the purchase price AND the fix up money with as little as 3% down.
I'm just starting on the first of these, so I'll know soon enough if it's worth the extra steps.
I mentioned above that this house, like so many in this price range aren't eligible for FHA loans. That's because on an FHA loan, the house has to be "livable". It can be ugly, but it has to be livable.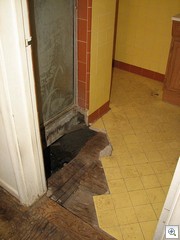 Besides the missing flooring, and broken glass. This is why it's not eligible for FHA.
Is the fixup money holding you back? Maybe it's time to explore this new homepath option. Give me a call. Let's talk about it.
Posted by Jack LeVine | Currently 2 Comments »
December 10th, 2009 Categories: Fun Features Found In Foreclosures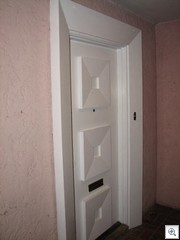 One of the truly great front doors of Vintage Vegas is on this foreclosure at 825 E. Oakey. If you're out and about, it's worth it to stop and take a look. I've admired this door for 25 years.
It's a mostly broken house, and offered for cash only. It came to market on Wednesday, and already has multiple offers.
Everything but the front door needs to be completely redone. Actually, the 1 bathroom still has it's original tile work, which can be saved. But it's so filthy and stinky that I couldn't even stay in it long enough to get a picture. The used syringe on the counter didn't help either.
I think a design like this would be pretty easy to re-create (if you've got good carpentry skills) if anyone's looking to dress up a front door. It's really no different than building a picture frame.
The foreclosure inventory is very small right now. There's dozens of empty homes that we're watching that will come on the market eventually. This one had a sign out front for over 2 weeks before it got listed in the MLS. Our experience is that these are, for the most part, not eligible for FHA or VA financing, because of the "livability standard" that's required for Government backed loans. The banks are routinely taking their best cash offer.
We're seeing more "regular sellers" now, who for some reason waited till the bottom of the market. They tend to be in much better condition. They're much easier to deal with, but the competition for them is fierce.
There's also a lot of "flip" properties now, as well. Some of them have been cleaned up nicely, and some they've merely done some cosmetics without actually fixing the infrastructure.
It's a great time to try to buy, but it's the Reality Show of all Reality Shows. Twists and turns, and changing rules, and grumpy, overworked people to deal with. If I give you keys one day, that's how you know you've won the game. In the meanwhile, be ready for the ride of your life.
Posted by Jack LeVine | Currently 5 Comments »
November 5th, 2009 Categories: Fun Features Found In Foreclosures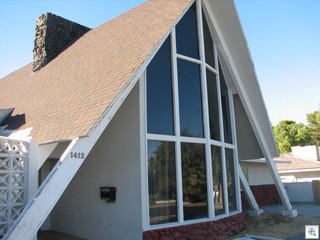 One of the few "A-FRAMES" in all of Vintage Vegas is on the market. Actually, it's been on the market for well over a year – first as a short sale and now as a Bank Owned Foreclosure.
It's at 1412 Maria Elena Drive in the custom homes section of Downtown Las Vegas. Maria Elena is a fabulous street of diverse styles. It's practically everyone's favorite street in Downtown Las Vegas. You can get there by going north on 15th from Oakey, take a right on Bracken, and the first street on the left is Maria Elena.
This A-Frame and several others are pure Mid Century Modern. The only other property for sale is my listing at 1400 Maria Elena, at the end of the long cul-de-sac street.
The two homes couldn't be more different, not only in style, but in how they've been taken care of. The A-Frame has been beat to death. I've been asked many times over the years about what it looks like inside.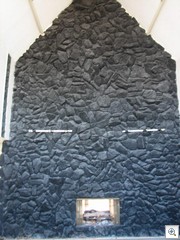 Other than the grand space of living room and family room, it's such a major fixer upper that there's no way to get a decent picture. None of the 5 bathrooms are worth salvaging, the kitchen was replaced 20 or 30 years ago and is so used and abused that it's no worth saving. I couldn't figure out how many different additions have been made to the house. All told, they add up to 4671 Square Feet. It's listed for 196,000, which is $42/sf. An ambitious person will need a couple hundred thousand to make this one right again. I'm really hoping there's someone out there that will do it over properly.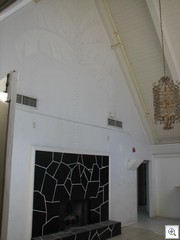 The one fabulous and fun feature that could be worked around is the massive lava rock fireplace wall that mirrors the shape of the a frame front of the house.
The back side of it is in the family room. Both the living room and family room have exposed beam, tongue and groove ceilings. Other than that, it's totally a gut job.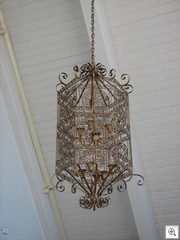 Fun Features Found In Foreclosures – John S. Park Historic Neighborhood In Downtown Las Vegas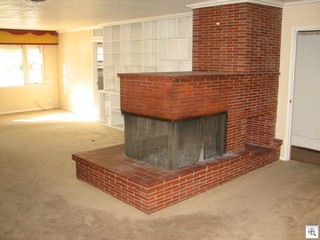 I'm tracking most of the vacant homes in Vintage Vegas, and am watching and waiting for them to come to market.
I've usually got one or more of my clients waiting to find out what the price will be and what condition it's in. This one wasn't even listed as a short sale, and no one told me that the owners had moved out. It just "popped up" out of the blue yesterday. Listed for 85,000, but offered for cash or conventional only due to problems with the roof, electric, heat/air and plumbing.
(If you see a house suddenly go vacant….please, give me a call so I can put it on my radar)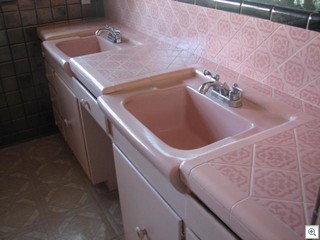 I just had to show you the great fireplace and one of the classic "pink bathrooms" in this home in the John S. Park Historic Neighborhood of Downtown Las Vegas.
Posted by Jack LeVine | Currently 2 Comments »
October 8th, 2009 Categories: Fun Features Found In Foreclosures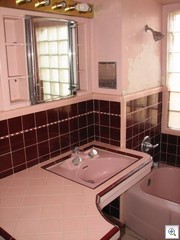 We haven't done one of these in a while. If you're a new reader, you might want to review the entire series of "Fun Features Found In Foreclosures".
Of course there's already multiple offers on this 1953 Downtown Las Vegas Mid Century Modern home. That's normal these days.
I wanted to share this bathroom with you, as a great example of the gems that pop up now and then. I love the bright colorful bathrooms of the 50's and 60's. I always hope that they'll be restored with new grout and appropriate flooring for the era.
I'm not the only one who loves them. Pam at Retrorenovation has been featuring them all last week, and even has a sister blog called "Save The Pink Bathrooms".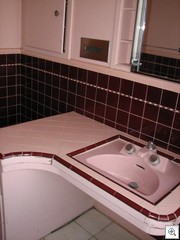 Of course they don't HAVE to be pink. The colorful mid century modern bathrooms in Las Vegas also came in maroon, blue, yellow, grey and black (like mine), turquoise and many others.
One of our goals is to convince people to STOP RIPPING THEM OUT! Clean them, regrout them, play up the color or play it down. But don't destroy them arbitrarily.
Granted, some just aren't worth saving when they've been abused, beaten up, or have water damage to the walls behind the tile. But otherwise……
Pam says it real well in the opening essay of her week long excursion into pink bathrooms:
Pink Bathrooms: The Most Endangered Feature of Mid Century Modern Homes Across America

A TOPIC LIKE "SAVE THE PINK BATHROOMS" deserves a snazzy homepage. So recently my fabulous designer Suzy Massey came up with a fresh look for the site, which has been up since July 2008. But even though it's meant to put a smile on your face, Save The Pink Bathrooms has a goal that's quite serious. I believe that vintage pink bathrooms are at a tipping point as mid-century homes continue change hands, often for the first time, in a major generational shift. The risk: While a new generation of owners may love the quirky spirit of their pink bathrooms, just as many may rip them out — only to regret it later.

How can this little campaign help?
After a full year of running the Save The Pink Bathrooms (STPB) site, I have testaments from many, many people who say that they changed their minds — and decided to keep their pink bathrooms — after learning just a little about them. That is: They found STPB when they were looking for ideas to get rid of the pink. They got sucked in, started reading more history, saw other homeowners' bathrooms — and changed their mind 180-degrees. They decided there were reasons to love, and retain, their pink bathrooms after all.

There is nothing wrong with pink bathrooms. Au contraire, they are quite wonderful. It's just that we — modern consumers, often guided by what what see in mainstream media and the newest trends promoted by color marketers — may not yet have the information to understand this iconic mid-century color. I am old enough to know that one year hemlines are up, the next, hemlines are down. It's the same with color. Marketers have an incentive to lure us from one color trend to another. I am not against making a buck. I am not against color trends. I am not against renovation using new materials. And believe it or not, I am not against gutting a pink bathroom and replacing it with something else. What I am "for" is getting to know these bathrooms before arbitrarily destroying them. The goal with Save the Pink Bathrooms is to tell the story… and for those who ultimately decide that this mid-century color rings their bell, to provide an alternative to gutting, along with the resources — and confidence — to play it up.

This week, I'll be shining more spotlight on pink bathrooms to keep the momentum going.
Here's a few bonus shots of other colors of bathrooms that we often find in the vintage Mid Century Modern homes of Las Vegas.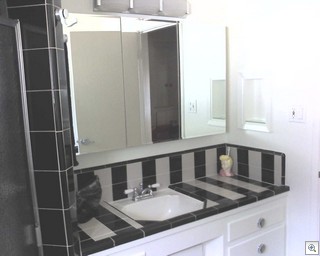 This is the grey and black bathroom in my home.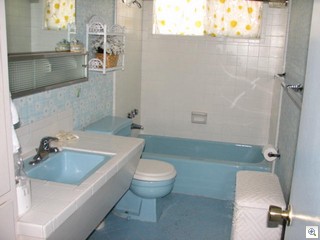 When we say pink bathroom we really mean all the great colors.
If you REALLY want to see more, there's almost 1000 photos in the FLICKR ALBUM for Save The Pink Bathrooms
Posted by Jack LeVine | Currently 3 Comments »
September 17th, 2009 Categories: Fun Features Found In Foreclosures, Mid Century Modern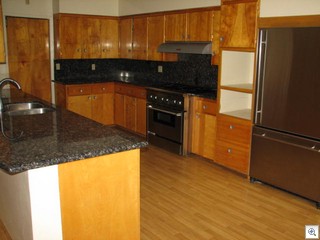 I looked back thru the blog and realized we haven't done any real estate in a while. We're all having too much fun with the art and music scene, history, urban living. It's time for some Mid Century Modern!
This ones not on the market yet. The agent doesn't know what the price will be. It could go anywhere from 80,000 to 150,000. I can't even say what it OUGHT to be. Even the appraisers are pulling out their hair right now trying to figure things out.
For example, I could use the sale on Oakey at 150,000 as a comp, or I could use the sale 5th Place at 80,000. They're approximately the same size and don't have pools. Maybe we should compare it to some current pendings. 8th Street's under contract for 165,000. Canosa is the same size, has a pool, and is under contract for somewhere way above the 55,000 list price (I know because I wrote offers close to 100,000 on it and we didn't get the deal).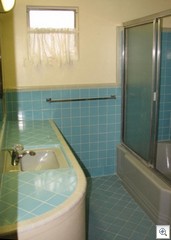 Yesterday, I had a bank complaining on a short sale because the appraisal came in so low. Well, guess what? It's the same bank that gave away one of the comparables that was used on the appraisal. In the recent radio interview on KNPR, I mentioned how the banks are acting criminally, in my opinion, and this is just another example. I know that there were higher offers than the one the bank took on the house that was used as a comp. Then they complain on the short sale because the appraisal was so low. It's insane.
BUT, someone's going to get a terrific original bathroom, fabulous original condition (except for the granite counters – which I don't have a problem with) kitchen and a few other fun features. I just don't know who to tell about it, because I don't have a price yet.
I'm just putting it out there to make the point that there's always cool stuff popping up. ALL of it is bargain priced. Being the winning buyer isn't as easy as it ought to be, but it's certainly worth the effort to try. If you've been sitting on the fence, maybe it's time that we talked.
Posted by Jack LeVine | Currently 4 Comments »
August 7th, 2009 Categories: Fun Features Found In Foreclosures, John S Park Historic Neighborhood, Mid Century Modern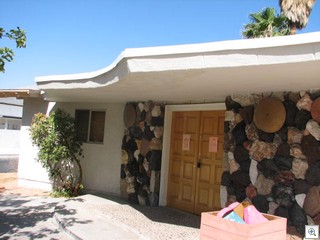 Today, we've got a new Desert Modern custom in the Historic John S. Park Neighborhood of Downtown Las Vegas.
It's certainly got some great Mid Century Modern features that are worth showing. You'd never know it from the listing, however.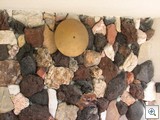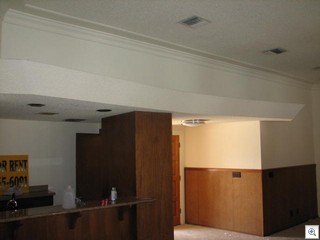 I've been trying to get into this home for over a year. Even though it was listed in the 200's as an overpriced short sale, the previous owners never let anyone in.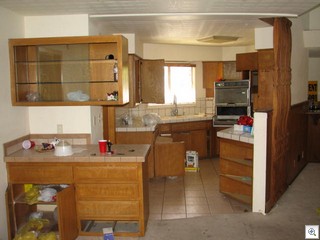 Now it's owned by Fannie Mae and listed for $75,000. I mention that, because Fannie Mae is SUPPOSED to give first consideration to owner occupied buyers instead of to the investors. AND…..they've even created a special loan program which allows an owner occupied primary residence buyer to obtain not only the purchase money but the "light renovation" money in the same loan. There's only 2 sources for this type of loan which is called the Fannie Mae HOMEPATH RENOVATION Mortgage. I'm learning more about it now.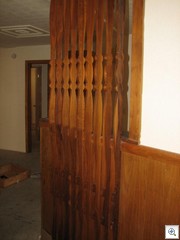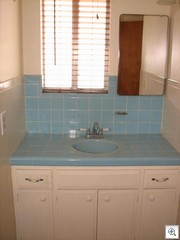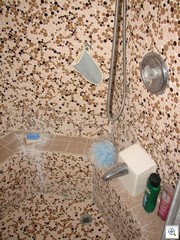 One of my pet peeves is listed properties that haven't even had the junk removed. Even if it's bank owned, there SHOULD be some effort to presenting it well. So forgive the clutter, and just appreciate the Mid Century Modern features and fixtures of this Downtown Las Vegas "Desert Modern" home.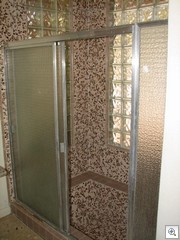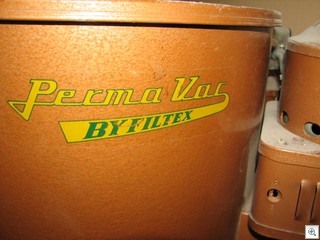 (I love the logo graphic on this central vaccuum unit).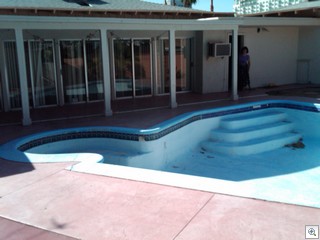 Here's a link to the three prior listings which show the house with furniture, water in the pool etc. It sold in 06 for $399k, and again in '07 for $436k. Still each of the agents totally missed the true character and nature of a mid century modern custom home.
There's some great features to work with if anyone's looking for a real project house.
Posted by Jack LeVine | Currently 4 Comments »
July 21st, 2009 Categories: Fun Features Found In Foreclosures
Usually the "Fun Features Found In Foreclosures" are just that. They the most fun, original homes that are bargain priced foreclosures. This one isn't a foreclosure, but it's loaded with fun elements.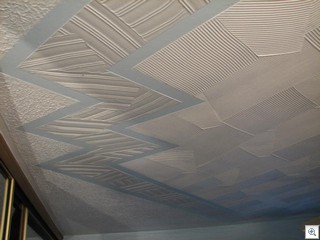 Each room has a different, hand troweled ceiling texture pattern. The consistancy, patience and perfection required to have created them is awesome.
There's also a brick fireplace, walls of glass, clerestory windows down the hallway, decorative concrete blocks, a pink bathroom with sunken tub, and a whole lot more to work with that's well worth preserving.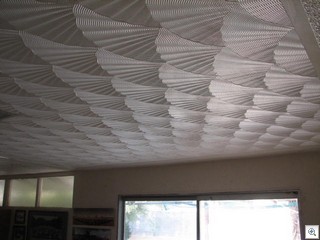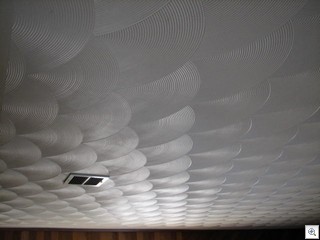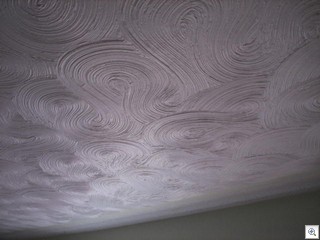 The property is in McNeil. It doesn't show well while the long term tenants are packing up. It needs a LOT of work, but it for the right buyer looking for a major project, it's a real winner at 195,000. Listing is Courtesy of Debbie Zois from my Keller Williams Realty Las Vegas office.
McNeil is one of my favorite of the Vintage Vegas custom home neighborhoods. It's boundaries are Oakey on the South, Charleston on the north, Rancho Drive on the East, and Cashman on the west. Primarily, the homes are "ranch modern" and were built in the early 60's. There are a few homes from the 50's and the 70's as well.
Currently, there are only 6 homes for sale. The cheapest is gutted shell that was foreclosed on for only $79,200 (cash only) . It was partially rebuilt after the fire. The highest price is $325,000.
However, just so you know….there's 16 homes under contract which is the highest ratio of listings to pendings in all of Vintage Vegas.
Posted by Jack LeVine | Currently 1 Comment »
June 28th, 2009 Categories: Fun Features Found In Foreclosures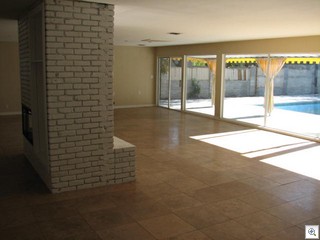 One of my favorite neighborhoods is Rancho Park. It's in the NE corner of Rancho and Alta. There's only one way in off of Rancho at the stop light opposite Rancho Circle.
All the homes in the neighborhood are on 1/3 acre lots(+-). Primarily, they're "ranch modern".
This one is a bank owned home. It's got it's problems, due to some unprofessional amateur remodelling, but you wouldn't know it was the same home I photographed if you were to only look at the MLS Pictures.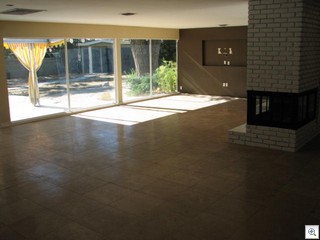 The entire back of the house is the infamous Mid Mod wall of glass. The brick island fireplace breaks up the space without ruining it.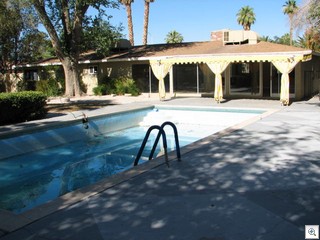 It's definately a party house when someone gets in there to finish it up.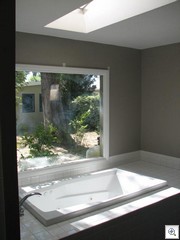 Here's the rest of the master bath room that isn't in the MLS pictures.
Priced at 200k, for 2500 sf on a 1/3 acre.
Posted by Jack LeVine | Currently Comments Off on Fun Features Found In Foreclosures
May 26th, 2009 Categories: Fun Features Found In Foreclosures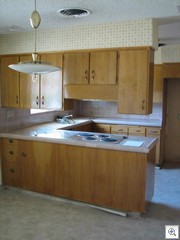 I did do some work this weekend, inspite of all the goings on downtown as well family functions that happened because of a surprise visit by my brother Ken, who lives in Florida.
We had a new foreclosure pop up in McNeil that's almost entirely original. Retro bathroom and kitchen fixtures, terrific mid century modern lighting, a pink and a yellow bathroom, and a terrific full wall brick fireplace.
It's priced at only 179,000. It's just a hair under 2000 sf, and is on a 12800 sf lot. Here's the MLS listing. See if my pictures do better justice to this terrific home. I'll bet the agent thinks it's "dated"!
Original, unabused, and unadulterated homes do pop up, though not as frequently as I'd like. Funny thing how they tend to sell very quickly.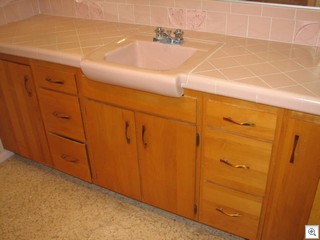 The hall bath is pink, and all the original tilework including the medallion tile is in excellent condition.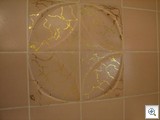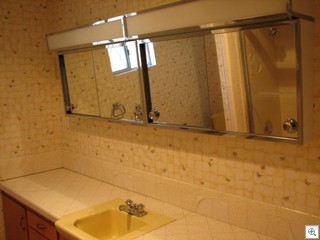 The chrome medicine cabinets in the yellow bathroom are a matched pair and are like brand new.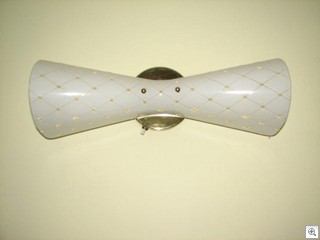 This light fixture is terrific! It's over the dressing table in the master bedroom.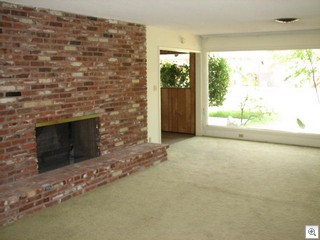 The full wall used-brick fireplace and the picture window to the massive back yard really top things off with the "wall of glass" merging of indoors and outdoors.
I don't have anyone in mind for this creampuff at the moment. I do have 2 buyers who would be fighting over it if it had a pool. If you're wanting to have me start watching for you, then give me a call and we'll get the gears turning.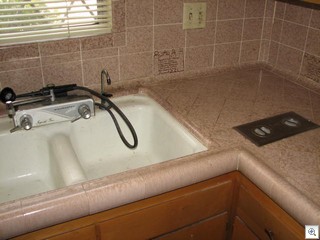 And, if you call now, we'll throw in …… an original "Dishmaster" and Nutone in-counter food processor!
Posted by Jack LeVine | Currently 5 Comments »
May 14th, 2009 Categories: Fun Features Found In Foreclosures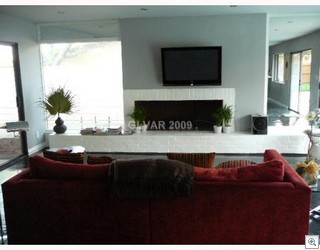 We haven't had a lot of exciting houses come to market recently, but I am out looking for them everyday.
Today, however, one of my FAVORITE houses in all of Paradise Palms came to market as a short sale.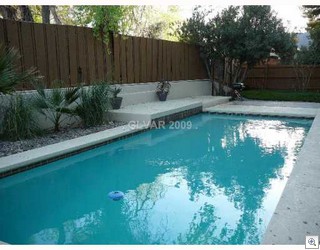 It's a custom Mid Century Modern two-story that's been completely done over right. It has polished black concrete floors, Ikea kitchen, and wrap around indoor outdoor living that's been meticulously landscaped and well maintained. Here's the MLS listing with some more pictures, courtesy of Roxanne Miller of Universal Realty.
It's priced at 247,000, but it's a short sale, so even if the seller makes a deal, the buyer will have to wait around for a couple of months to find out if the seller's mortgage company will approve the sale and take less than what they're owed.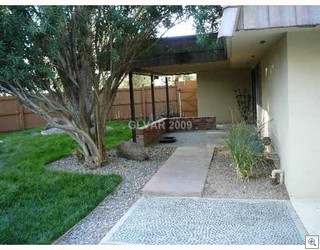 Last year, we were avoiding short sales like the plague, but this year, things have changed and the banks are actually going along with them. They're still tedious, nerve-wracking and slow, but we're seeing lots of them actually get closed this year which is very different than in the past.
I was in love with this house last year when it was priced in the high 400's.
Posted by Jack LeVine | Currently 2 Comments »
April 13th, 2009 Categories: Fun Features Found In Foreclosures, Mid Century Modern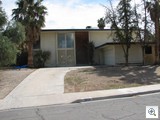 You'll remember this house, because I used the original MLS Picutes for a WMLSPOTD post last week. I also mentioned it in the big rant I did last week, since it went into the MLS as ALREADY UNDER CONTRACT, which really ticked me off. However, it's back on the market, but offered for cash only, (sorry FHA buyer's). It's pretty rough, but not nearly as rough as the Johnny Carson house which is the same design.
Bill Krisel has personally verified that this is NOT one of the many homes he designed in Paradise Palms, and I'm still trying to find out who the architect was from Irwin Molasky.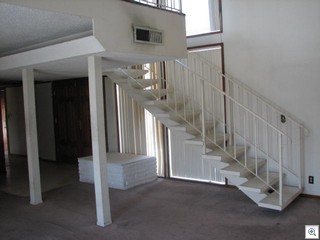 It's ridiculously low priced, even for it's condition at 119,900.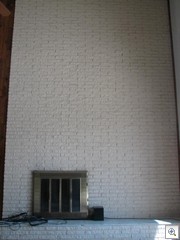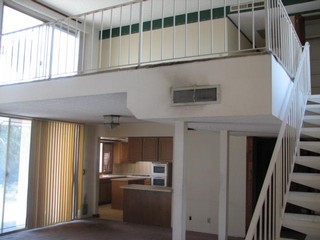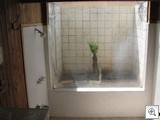 The Johnny Carson House is still available as well, and so is the butterfly roof, Palmer and Krisel on Commanche Circle. All 3 required cash or large down payment buyers, and lots of money to restore them to their former glory.
I know there's someone out there who's up to the task. I'd really like these three homes to be restored.
Posted by Jack LeVine | Currently 2 Comments »
March 19th, 2009 Categories: Fun Features Found In Foreclosures, Las Vegas Real Estate News
It's not a foreclosure or short sale, but it certainly fits into the theme of Fun Features Found In Foreclosures.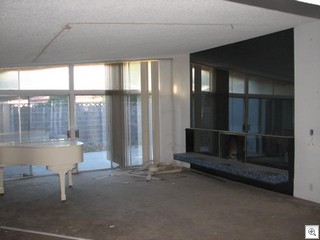 I wish this one was in decent enough condition for one of the many FHA buyers who are going to be upset when they can't have it.
But I'm betting there's a 20% down conventional or cash buyer who's waiting in the wings. Come out, come out, where ever you are.
It's such a redeemable home. But it's going to take some money (a bunch of money) once you own it. How sweet it will be when it's done, though!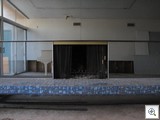 The suspended hearth, and blue tiled fireplace is really something. It's surrounded by smoked mirror, which could go immediately.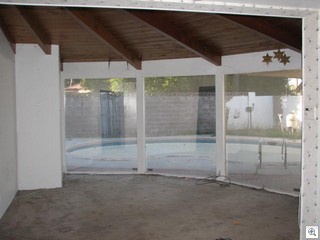 The other outstanding feature is the curved wall of glass and beamed ceiling family room which over looks the kidney shaped pool.
The pools empty, green, gross and desparately in need of replastering.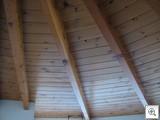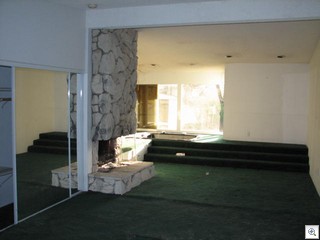 The master bedrooms been expanded with a raised platform Jaccuzzi Tub with it's own wall of windows looking out to the dead landscaping.
There's also a rock wall 2 sided fireplace to cap off the Master Bedroom.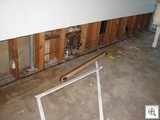 Those were the good points. Here's some of why it's not FHA eligible.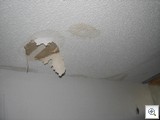 The property is 2419 official square feet, but maybe more. It's listed at 175k with a note that says "bring all offers -motivated seller".
If I don't answer, I'm real good at returning calls promptly.
Posted by Jack LeVine | Currently 3 Comments »