Marycrest Topics
Welcome To Uncle Jack's Very Vintage Vegas!
Vintage Las Vegas Homes,
Historic Las Vegas Neighborhoods,
Las Vegas History,
Urban Living In Las Vegas.
If it's great, cool, fantastic, artistic, annoying, amusing, unique, or surprising.. you'll find it at VeryVintageVegas.com.
Check out what we're doing and add your two cents! Your comments & ideas are welcome. We update daily, so come back tomorrow!
Blogroll
Farmer's Insurance
Paul Hesselgesser
702-434-1230
The Hesselgesser Insurance Agency Website
Classic Las Vegas - Lynn Zook's Preservation of 20th Century Las Vegas
Curbed LA - WOW!
Mid-Century Modernist
RETRO RENOVATION - Pam's Excellent Effort At Re-creating A Retro Life
Carnival Of Real Estate - Minus Elephant Ears, But Still Mighty Tasty
Lotta Livin' - A Celebration Of Really Cool Things Mid Century
Bawld Guy Talking - Minus The Hair; Plenty Insightful
CoolnessIsTimeles - ALL "RAT PACK" ALL THE TIME!
SEE ALL OUR FAVORITES HERE

Marycrest
July 8th, 2008 Categories: Marycrest, OUR LISTINGS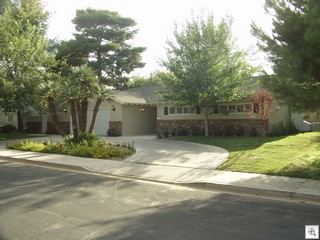 Many of you are new to VeryVintageVegas, but I want to tell you again about a very special property on 15th Street in the Marycrest Neighborhood of Downtown.
I've been involved with this home for just about a year now. It's been a year of high hopes, sad disappointments, and lots of behind the scene drama. The foreclosure and lending crisis of the last year has taken it's toll on a lot of really nice people. I'm not telling all the details, except for the parts that are public record.
There's many of you who have seen the home. It's been staged and emptied and staged again. It gone from ugly to gorgeous and now the landscape is in need of a spruce up again. The inside is just as beautiful as always. It's had it's price lowered and raised and lowered again and again. It's been listed with me, and then with someone else.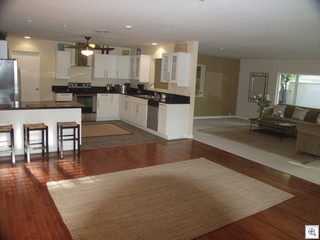 I've got the listing again, and this time we've priced it below market to get it sold immediately. In the past it was a constant battle of chasing the market down. I'll get the flyer made up today and posted in our featured homes section, but I wanted to let you all know that it's back on the market at 325,000. That's well within the range of an FHA loan and considerably less than the recent appraisal.
The pictures are from when it was staged with furniture. It's vacant now, and ready for a fast closing. The utilities are back on, and the landscapers are starting this week to get the lawns and shrubs greened up again.
I will tell you that $80,000 was spent to put in the new Ikea kitchens and baths, the hardwood floors, the new dual pane windows and doors. Lots of thought and attention to detail was given to the makeover of this home. The folks who did the makeover went for functionally modern, while maintaining the charm and character of a home on one of the premier streets of Vintage Vegas.
If you've considered it before, want to see it for the first time, or know someone who would love it at this price, just give me a call.
Posted by Jack LeVine | Currently Comments Off on Beautiful Marycrest Home Back On The Market
April 6th, 2008 Categories: Huntridge, Las Vegas Real Estate News, Marycrest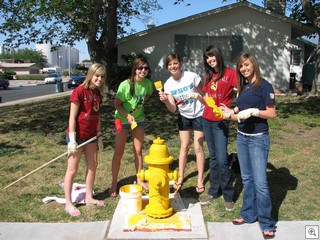 Saturday morning, students from Bishop Gorman High School returned to their schools old neighborhood for some community service. They painted fire hydrants, red no parking zone curbs, painted addresses on the curbs, and cleaned up the pocket park at Maryland Parkway and Oakey.
The City of Las Vegas Neighborhood Services and along with Gorman High School, Transitional Living Communities, and Vista Landscape organized the event.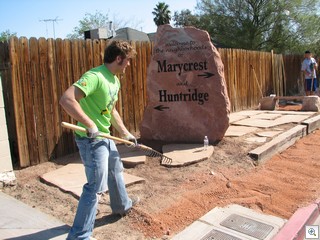 The monument sign for the Historic Huntridge and Marycrest Neighborhoods was installed by the neighborhood associations about 5 years ago, but there's always been an ongoing dispute over who was responsible for keeping the weeds out of it. It's looked pretty shabby lately, but now that it's cleaned up, newly rocked, and weed free, maybe we can get everyone involved in keeping it that way.
Does Your Las Vegas Neighborhood Need A Beautification Event?
They don't just happen automatically. They don't happen at all if there isn't a neighbor or an association pushing for it, and stepping to the plate to make it happen.
Both the city and the county have neighborhood services departments that will guide you and help you to organize one.
The City of Las Vegas Neighborhood Services can be reached at 229–2330.
The Clark County Neighborhood Services Department can be reached at 455–3777
Would A Little Good Neighbor Effort On Your Part Help To Prop Up The Value Of Your Las Vegas Home?
Even if you don't want to help plan a beautification event, or to be involved in a neighborhood association, there are still things you can do. Every homeowner I know or meet says they want their home to maintain it's value.
Probably, there's an abandoned bank owned property on your street. The bank doesn't care and doesn't have the time or the manpower to make it look more attractive. I'll bet one of your neighbors is going to lose their home soon, and has stopped taking care of it. Maybe it's a senior who lives nearby who can't afford to have someone keep up the property. In all of these cases, even a little help from you would go a long way to make keep your own home from falling in in value along with theirs.
If the weeds got "miraculously" pulled or mowed down (hint hint), or the litter got picked up, then they might just sell for a higher price. Each foreclosure in a neighborhood AND EACH PROPERTY WITH A NEGLECTED LANDSCAPE causes every other property to lose even more value. How much would it be worth for you to make the foreclosed home, or your own home or the little old ladies home next door to look better so that the sales prices are better? I think it would be a very profitable hour or three of your time.
Posted by Jack LeVine | Currently 2 Comments »
March 21st, 2008 Categories: Becke Circle, Concordia Place, Crestview, Las Vegas Real Estate News, Marycrest, Morning View
There's a big pocket of custom homes on the east side of Maryland Parkway. We've talked before about Marycrest, which is 14th and 15th streets as well as Bonita and 3 cul-de-sacs off of 14th, but if you continue east on Oakey, you'll find 4 other neighborhoods that are equally impressive.
Crestview Estates is the name of the custom homes on Chapman Drive and 16th Street. Continuing another 2 blocks to the east are the Morning View Heights Custom homes which are on Cochran Avenue and 17th Streets.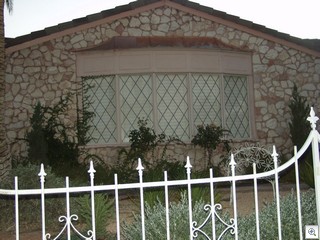 There's also 2 very really fun cul-de-sacs called Concordia Place, and Becke Circle. If you've never turned north off of Oakey into these, you're missing some of the most interesting homes in all of Vintage Vegas. Our absolute favorite is the Herbst Mansion, which is the epitome of 2 story modernism. Concordia Circle boast the best collection of leaded glass windows to be found in one place.
One of the most stately and impressive homes is the SW corner of Chapman and Oakey. There you'll find our newest listing, which I hinted at in the last few weeks. I'm on my way to take the pictures right now. We'll have the flyers, MLS listing, brochures and most of the rest of the internet marketing ready by the end of the day today. Watch for them tomorrow.
Posted by Jack LeVine | Currently Comments Off on Historic Pocket Neighborhoods In Downtown Las Vegas – Custom Homes From the 1950's and 1960's
February 9th, 2008 Categories: Marycrest, OUR LISTINGS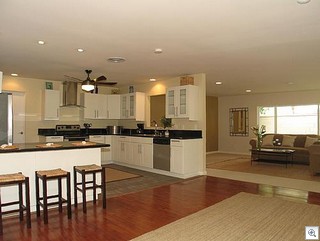 Our stunningly redone listing at 1720 15th Street has had the price changed from 450k down to 399,900! All the photos and a virtual tour can be found in the gallery in the left column along with all of our other featured properties.
15th Street is one of the premier streets in all of downtown Las Vegas. It's located in the Marycrest Neighborhood, and is surrounded by homes with famous former owners such as Liberace, Greenspun, Marnell, Foley, Tiburti, and many other of the famous families of Downtown Las Vegas.
The open house will be Saturday and Sunday the 9th and 10th from 10am until 3 pm. We want this sold this weekend.
1821 14th Street will also have an open house on Sunday, February 10th from 10 to 2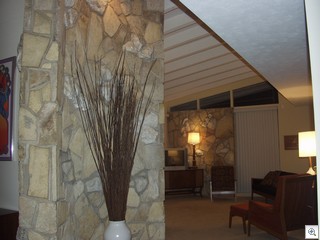 Also in the same neighborhood, and and just around the bend at the corner of 14th and Bonita, we have our terrific mid century modern listing which is priced at 339,000. All the photos for it are also in our gallery in the left column.
Uncle Jack will be personally holding an open house from 10 to 2 on Sunday only.
Posted by Jack LeVine | Currently Comments Off on Drastic Price Reduction And Open House Saturday And Sunday at 1720 S. 15th Street
January 20th, 2008 Categories: Housing Styles, Marycrest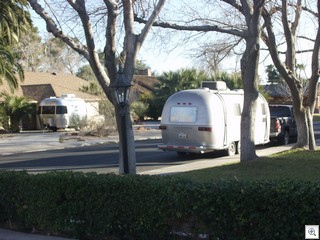 Googie, or Jetsonesque, or Space Age design wasn't limited to homes and commercial buildings. One of the signs of middle class upward mobility was the Airstream travel trailer. There were 3 families on our block when I was growing up in the 50's and 60's. Donny and Danny's Dad used to take it with us on our Boy Scout Campouts.
We rarely get to see one anymore, but to find 2 on the same street at the same time was one of those great events that I just had to share with you.
When I was in the trucking industry a lifetime ago, I used to see caravans of Airstreams all summer long. I always loved them, and got to see inside a dozen or so when I'd see one at a gas pump or or in a freeway rest area.
Vintage Airstream Collector Clubs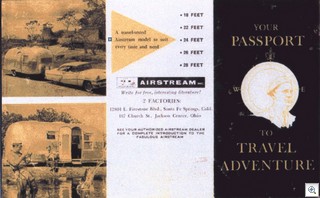 There's huge collector and enthusiast clubs, naturally one is called the "VINTAGE Airstream Club" with rallies and caravans and tours and all kinds of events that are held all over the world. 15th Street the other day seems to be the smallest rally ever held. Of course I googled the whole topic for you, and also found the Wally Byam Caravan Club International. The creator of the Airstream was Wally Byam, who seems to have obtained Icon status among his followers.
There's a "50 year rule" for something to be called antique, classic and vintage. I don't want those words applied to me personally but all the things that I love from my childhood are now fair game. What other classic, vintage things should I be on the watch for.
As my brother Joey still says, your rememberies are welcome in the comments.
Posted by Jack LeVine | Currently Comments Off on Vintage Homes Sometimes Have Wheels – The Invasion Of AirStreams In The Historic Las Vegas Neighborhood Of Marycrest
December 8th, 2007 Categories: Las Vegas Real Estate News, Marycrest
We're pleased to present our new listing at 1821 S. 14th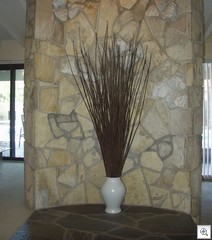 at the corner of Bonita. It's in the Marycrest Neighborhood of Downtown Las Vegas that I told you about last week. It was previously listed, but we got the price dropped by $20,000. to make it competitive. It's a wonderful example of Mid Century Modern, featuring beamed ceilings, walls of glass, gorgeous natural stone accents and slate irregular flooring. If any of you mid mod enthusiasts out there are perfect for this gem, just give me a call and I'll be happy to show it off to you.
Even if you're not in the market, perhaps you know someone who is. Your referrals are always welcome and appreciated.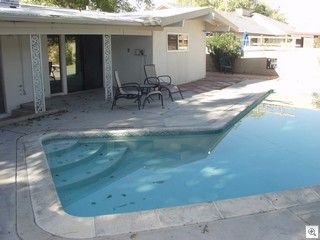 All the photos are available on our flyer or of course if you do a "subdivision search" on our new MLS Search engine, you can easily find the MLS version
Posted by Jack LeVine | Currently 2 Comments »
December 4th, 2007 Categories: Architecture, Housing Styles, John S Park Historic Neighborhood, Marycrest, Mid Century Modern
It was the exposed beams more than any other feature that drew me to my home, and I can't walk into a home that has them without being awed.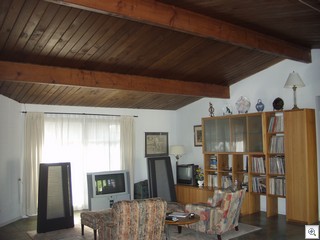 The ceiling material above the beams can be tongue and groove planking, or it can be flat panels of plywood or compressed composite. The composite material in my house has been routered with grooves to create another whole texture to the room.
We've just listed 2 Mid Mod Homes this week, and both will be "officially" on the market in the next few days. Both have exposed beams and I wanted to give you a little preview.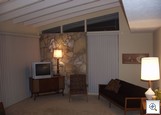 Posted by Jack LeVine | Currently 1 Comment »
November 26th, 2007 Categories: Las Vegas Real Estate News, Marycrest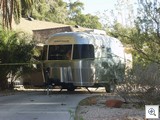 If you're going park a camper in the driveway, at least make it a retro "airstream".
I've never studied up on them, but I know there's a huge collector club for them. This one almost looks like a new one. Are they still making them? Anyone know?
Posted by Jack LeVine | Currently 2 Comments »
November 21st, 2007 Categories: Downtown Las Vegas, Historic Preservation, Las Vegas Real Estate News, Marycrest
We wrote about many of the great neighborhoods of Vintage Vegas on our old website, when we had very few regular readers. Now, there's lots of regular readers, so we're going tell about them again.
Historic Downtown Custom Homes Are Designed For Entertaining And Supporting The New Urban Las Vegas Lifestyle
Marycrest Estates has been home to some of the most recognizable family names in Las Vegas. Liberace, Marnell, Foley, Tiburti, Greenspun and many others have made Marycrest their homes. Some still live there.
Marycrest is one of the nicest pocket neighborhoods, featuring all custom built one of a kind homes on lots ranging from 7000 to 16000 sf.
Marycrest encompasses a square bounded by Oakey on the North, 15th Street on the east, Maryland Parkway on the west and St. Louis on the South. The "Liberace" condos on St Louis are technically called Marycrest Manor, but are generally considered part of the neighborhood. The old Gorman High Campus (now Eldorado Preparatory Academy) is also part of the neighborhood.
The homes themselves, being custom, range from a very small house on Oakey at less than 1000 sf all the way to the biggest which is almost 4600.
A quick driving tour of 15th street, 14th Street (and the cul-de-sacs which run off of 14th) as well as Bonita is a true trip back in time.
There are 3 homes for sale in Marycrest. They're priced from $359k to 500k. We're proud to be representing 2 of them at 1701 (UPDATED:
1701
is under contract) and
1720 15th street
, which is now priced at 459,000
If you'd like to see what I aspire to have all of Very Vintage Vegas eventually look like, take a walk or drive thru Marycrest.
Posted by Jack LeVine | Currently 5 Comments »
September 27th, 2007 Categories: Downtown Las Vegas, Marycrest
Chris Giunchiliani, Our favorite county commissioner and downtown resident rescued these two yesterday and asked us to see if any of our readers can help get them back home.
Give me a call or send an email to [email protected] if you know where they belong.
Posted by Jack LeVine | Currently Comments Off on Animal Lovers Rescue Two Dogs On St. Louis Avenue In Downtown Las Vegas
September 21st, 2007 Categories: Cool Stuff, Marycrest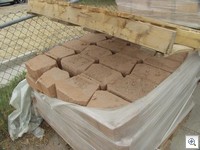 Sitting on 15th Street between St. Louis and Sahara are 13 pallets of building block.
He's quoting $125. per pallet of 144 blocks. or 100/pallet for all 13.
Of course you'd have to go get them.
Posted by Jack LeVine | Currently Comments Off on 13 Pallets of Building Block