OUR LISTINGS Topics
Welcome To Uncle Jack's Very Vintage Vegas!
Vintage Las Vegas Homes,
Historic Las Vegas Neighborhoods,
Las Vegas History,
Urban Living In Las Vegas.
If it's great, cool, fantastic, artistic, annoying, amusing, unique, or surprising.. you'll find it at VeryVintageVegas.com.
Check out what we're doing and add your two cents! Your comments & ideas are welcome. We update daily, so come back tomorrow!
Blogroll
Farmer's Insurance
Paul Hesselgesser
702-434-1230
The Hesselgesser Insurance Agency Website
Classic Las Vegas - Lynn Zook's Preservation of 20th Century Las Vegas
Curbed LA - WOW!
Mid-Century Modernist
RETRO RENOVATION - Pam's Excellent Effort At Re-creating A Retro Life
Carnival Of Real Estate - Minus Elephant Ears, But Still Mighty Tasty
Lotta Livin' - A Celebration Of Really Cool Things Mid Century
Bawld Guy Talking - Minus The Hair; Plenty Insightful
CoolnessIsTimeles - ALL "RAT PACK" ALL THE TIME!
SEE ALL OUR FAVORITES HERE

OUR LISTINGS
May 22nd, 2014 Categories: Las Vegas Real Estate News, Mid Century Modern, OUR LISTINGS, Paradise Palms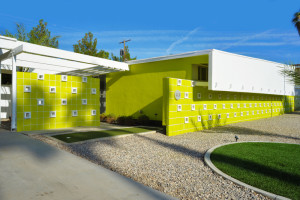 Every time I drive someone through Paradise Palms – the home that most gets them excited is the "Caddyshack". They say – "I want that one".
Someone is going to get a chance soon.
You may know it – it's the green and white one on Seneca Drive just south of Desert Inn. It's a model 7B of the Palmer and Krisel series built by Molasky Construction.
The current owners Cary and Mary-Margaret Stratton, have been dedicated to the Mid Century Modern restoration movement for many years. They worked with the LA Conservancy's Modern Committee. They started the Atomic Age Alliance here in Las Vegas. They published a tour book of Las Vegas Modern Architecture. And now – they've restored the Caddyshack to it's original concept, feel and energy.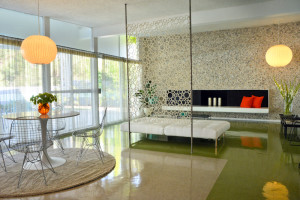 There are a lot of Mid-Century homes in Las Vegas that still look original from the outside. Too many of them have been "updated, upgraded" or otherwise modified to look nothing like they did when they were new. This isn't one of them. The inside is even better. If you love the time capsule homes you see regularly in Atomic Ranch or at Retrorenovation, you'll really appreciate the thought and effort that was put into this restoration.
I will be putting it on the market tomorrow. You might want to save the date for the public open house — Sunday June 8th, 2014 from noon to 4 pm.
We've created the video below as well as a separate website – LVCADDYSHACK –  to demonstrate the vibe and the energy of this incredible home.

Posted by Jack LeVine | Currently 2 Comments »
September 28th, 2010 Categories: OUR LISTINGS
Last week I was in Austin Texas for a few days. It was the Keller Williams Realty "Mega-Agent" Camp. Two intense days of the newest ideas, technologies, applications, and methods to better serve our clients. Much of the techie geeky stuff was way over my head, but I did learn a lot, and am intent on implementing what I did get. No One could ever put all of it into practice, so I'm just going to do the things that make sense.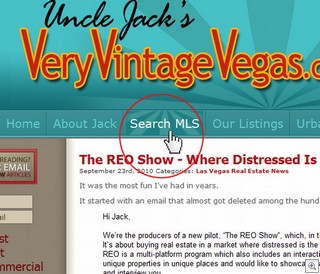 One of the things that I learned is that I could upgrade the MLS SEARCH feature that we use for our clients. I had previously picked the "IDX" from Wolfnet because you could search by subdivision name. For example in the top navigation bar you can choose "subdivision" and type in McNeil or Paradise Palms or Rancho Nevada. Those are big subdivisions with well known names. The "Downtown Area" on the other hand, is made up of dozens of smaller subdivisions and neighborhoods. Some of the custom home pockets don't have a subdivision name at all. We needed a better way, so I've upgraded the system.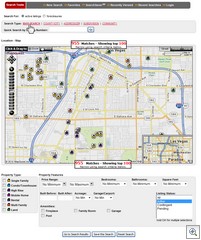 NOW, you can also do a "MAP SEARCH" to better isolate the Vintage Homes and Mid Century Modern Neighborhoods of Las Vegas. I set it up to automatically center on the middle of the Downtown Area. The maps are built using MapQuest, and function as they would if you were directly on MapQuest, in terms of panning, zooming etc.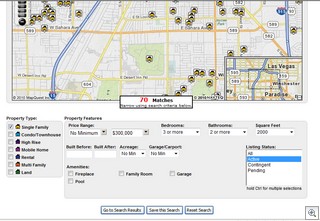 You can further refine the search under the map, just as you used to be able to.
Using the map search is a quick and easy way to find out about the house down the street that just got listed.
My experience is that most buyers spend a month or a few looking at properties online before they ever contact an agent. You can save the searches if you like, or start over each time.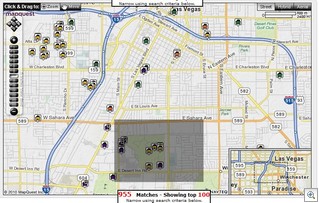 If you click and hold on the map, you can draw a box, which will automatically zoom in on the box you've drawn.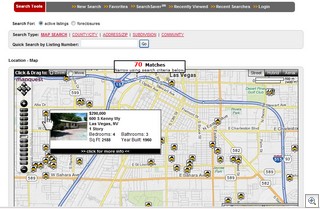 Once you have the search result properties that you want, showing on the map, you can scroll over each little property icon to see the first picture and basic information.
Clicking anywhere in the highlighted property will take you to all the pictures and the full listing.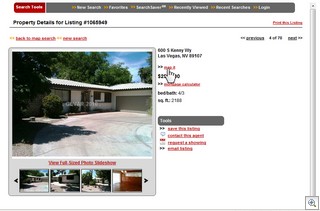 When you're looking at an individual property listing, you can click on "MAP IT".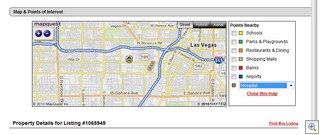 Since the maps are tied directly into MapQuest, you can then see what's going on in the surroundings, find the schools, shopping, churches, parks and whatever.
I hope you'll like this new mapping feature. Feel free to use it whenever you like, and for whatever purpose it's useful to you.
ALL THE GRAPHICS ARE CLICKABLE THUMBNAILS if you want to see them in an expanded version.
Of course, if you've found a home you're interested in, or want to talk about the property you're thinking of selling –
just give me a call at 702–378–7055 or email me at [email protected]
Posted by Jack LeVine | Currently 2 Comments »
July 30th, 2009 Categories: Maria Elena, OUR LISTINGS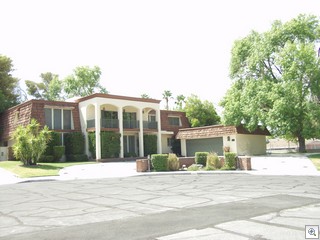 Maria Elena Drive is simply one of the coolest streets in Las Vegas for classic Mid Century Modern architecture. Sitting at the end of the street (which is really one of the few cul-de-sacs) is the Mansion.
It was built in 1970 and was the next to the last home built on this historic street. The street was developed by Joe Blasco, and was named after his daughter. According to Geoff Shumacher, in his book Sun, Sin & Suburbia, Mr. Blasco had arrived in Las Vegas in 1952 to be a subcontractor for an ammo storage project at the former marine base at Lake Mead. Eventually he entered the luxury custom home market, and one of his first project was the development of what became Maria Elena Drive. In 1983 he began development of Spanish Trails, which led the way to the whole luxury home golf course community trend in Las Vegas.
I'd always heard that the home at 1400 was actually owned by Joe Blasco, but there's conflicting stories. The tax record ownership history shows it first belonged to the Melvin Exber family until 1979. From 1979 to 1990 it was owned by the Steinbergs of Steinberg Diagnostic. It's been known as the Augustine home since then.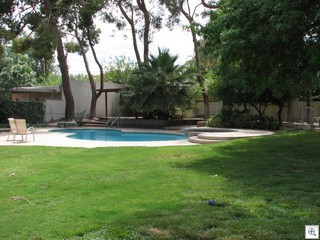 Though not Mid Mod from the front, all the lessons of merged indoor and outdoor living are incorporated into the the home. The upstairs loft has a wall of glass looking over the treetops to Sunrise Mountain, and both the kitchen and down stairs family room have expansive views of the back yard and pool setting on the .4 acre lot.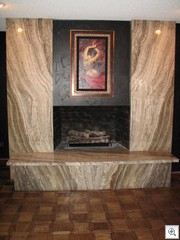 One thing about a 5600 sf home is that all of the rooms are enourmous. The "smallest" bedroom is 13×15. There's a ball room sized living room with one of the most gorgeous fireplaces I've ever seen. It's faced with a pockmarked split stone marble that is simply stunning.
There's more photos in the flyer in the featured home section in the left hand column.
I'm honored to have been chosen to represent this one of a kind custom home on one of the architecturally best streets in all of Downtown. The list price is $495,000.
Posted by Jack LeVine | Currently 6 Comments »
July 4th, 2009 Categories: Alta Vista, OUR LISTINGS
In my new short sale listing. I've got a few days till I put this in the MLS. I'm putting it out first to the VVV readers.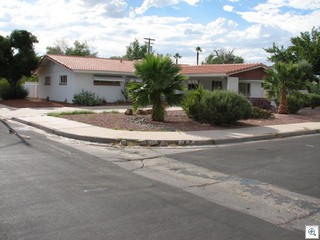 1900 S. 8th is now available for $170,000. It's subject to short sale approval, but that's why it's priced so right.
I love the openness, the light, and the energy of this custom home in the Alta Vista neighborhood of Downtown Las Vegas.
The bathrooms and kitchen are original and in really good condition. The kitchen even sports a 1957 Frididaire Flair range with double ovens.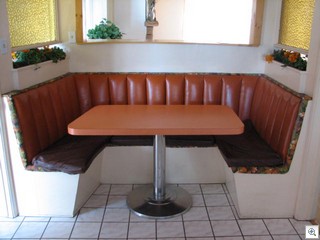 Now this is really rare, and totally delightful. A built in Banquette in the kitchen.
Both the living room, and the huge rear bedroom have matching stone faced original fireplaces.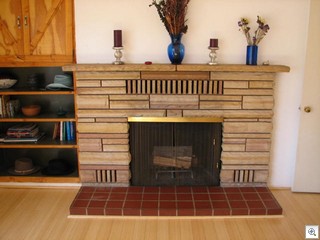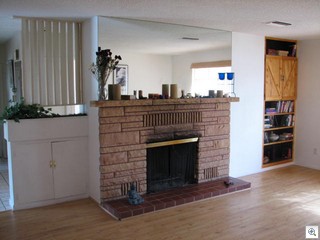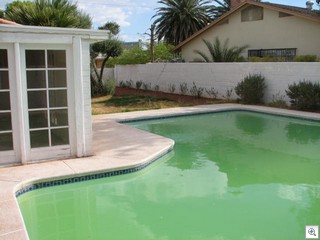 The pool is uniquely shaped to wrap around the sun room. It's being cleaned up now, and I apologize that it's not sparkling yet….but it will be in the next few days.
All the rest of the pictures and descriptions are in the featured home section, (in the left column), but here's a direct link.
If you'd like an appointment to see the home, (or any other), just give me a call.
Posted by Jack LeVine | Currently 2 Comments »
October 1st, 2008 Categories: Mid Century Modern, OUR LISTINGS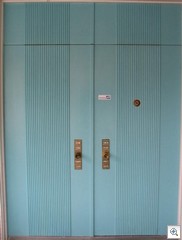 We've tried a little experiment that had some success.
Could I drum up a buyer for one of the fabulous icons of mid century modernism without revealing the address? Two of my readers (Mark and anonymous) guessed correctly which property it was, but that wasn't the goal.
We did get 3 potential buyers in to see the property, however. All of them thought it was terrific, but a little too high priced at $545,000. The sellers have responded accordingly with a 50k price reduction, and have given me the green light to promote the property a little further than just on VVV. So we're doing up the Vflyer tomorrow, and it will get published onto Craig's List and the other 28 real estate web portals where we post our listings, as well as from the Featured Homes section in the left hand column.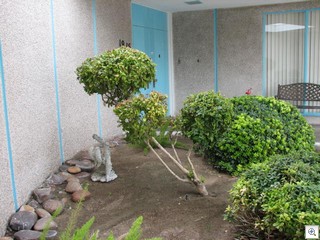 There's still not going to be a sign, but you're welcome to drive by. Here's the Address:
1915 S. 15th Street, in the Historic Marycrest neighborhood of downtown Las Vegas.
If you missed the original posts on this amazing property, you can read and see the pictures that were already published.
Part 1, Part 2, Part 3, Part 4, Part 5
If you're pre-qualified and have always dreamed of living in a home like this, give me a call and I'll arrange to show it to you.
Here's a few more of the photos that hadn't been published yet.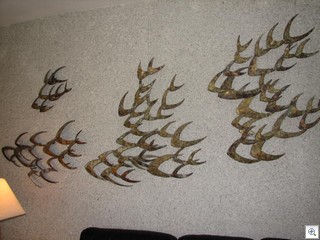 The school of fish sculpture was commissioned for the home when it was built in 1966.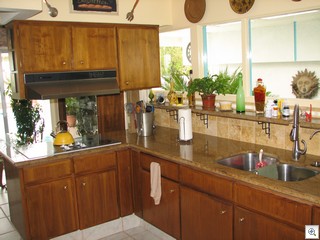 Walls of glass are one thing, but kitchen counter has it's own wall of windows looking out to the courtyard that separates the main home from the 600 foot guest house with it's own kitchen and bathroom.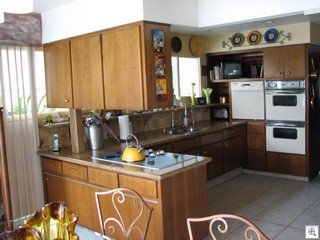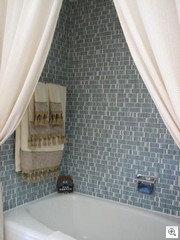 The original tub and shower surrounds are of 1 inch by 1/2 inch ceramic tiles.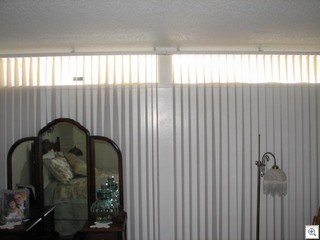 The front 2 bedrooms have clerestory windows, which are hidden from the street by the expanded facia board front on the home. Natural light and privacy as well as real wall space for furniture.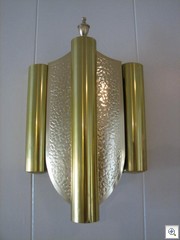 Even the door bell is stunning!
Posted by Jack LeVine | Currently 1 Comment »
August 29th, 2008 Categories: Mid Century Modern, OUR LISTINGS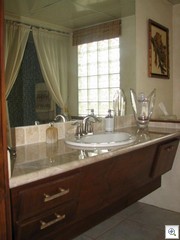 A great design that I've never seen before! Slanted face, floating bathroom vanities! Design is everything in Mid Century Modern.
These are in the bathrooms of the SECRET Icon Mid Mod that I'm representing. We're experimenting with marketing it to only the devoted base of readers of VeryVintageVegas.
We're not putting it into the MLS, and there's no sign. We're not going to let anyone actually see it who's not a true Mid Mod enthusiast. The last thing I want is to hear someone walk in and tell me it's "dated" (that means about 99% of the real estate agents in Las Vegas).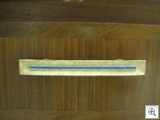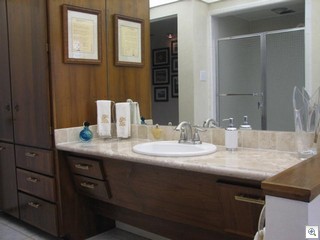 It's priced at $547,000. I'll give all the details to those who can seriously consider it, and use the fabulous features as a regular series to provide my readers with great ideas, concepts and pictures to drool over.
There's plenty more to come. As we said in the 50's…."don't touch that dial".
Posted by Jack LeVine | Currently 13 Comments »
August 5th, 2008 Categories: Mid Century Modern, OUR LISTINGS, Paradise Palms
You take a giant leap and get out ahead of the market. Even if we think things have bottomed out and leveled off, if they really want to get it sold, they have to put the price below the buyers expectations.
That's why the new listing in Paradise Palms just got reduced $60,000 all at once.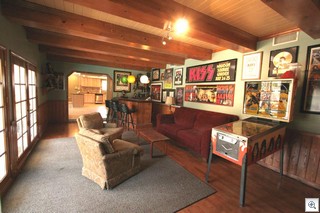 1871 Papago Lane in Paradise Palms is  new to me as a listing, but it's been on the market for a long time with several other agents.
I've shown it to lots of buyers during the last year. There was so much to love about it, that I couldn't stop myself even if the price was way too high.
It got great reviews, but there was always something at a lot better price, or they didn't buy at all.
No one who sees it now at $309,000 will be able to say that.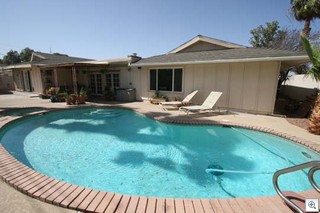 It's a fun, and  exciting house to be in. I think one of you ought to be liking it enough to buy it. Give me a call, and I'll show it to you.
In the meanwhile, or for all of you who just like to look at my pictures….all the pictures are in the featured homes section in the left column.
Posted by Jack LeVine | Currently Comments Off on What's a seller to do when chasing the market doesn't work?
July 15th, 2008 Categories: OUR LISTINGS, Paradise Crest
I'm going to try something different today. We're going to do simultaneous open houses ON A TUESDAY AFTERNOON.
The two homes are polar (bi-polar?) extremes from each other.
1720 S. 15th Street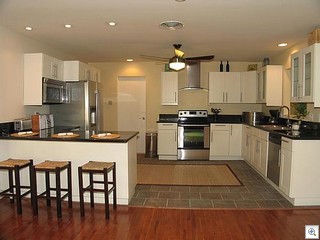 Some agent friends of mine will be at my listing at 1720 S. 15th Street. It's been done over and upgraded and I've given details on it before.
It's on the Fabulously gorgeous 15th Street south of Oakey in the Marycrest Neighborhood. All the pictures from when it was furnished are on the V-flyer, along with our other listings.
704 Canosa Ave.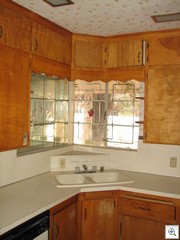 This is the mid century modern, fixer upper, bank owned repo that I'm all gung-ho about. I've blogged about it last week, and showed some of the fun little fixtures in that series.
We'll be at both houses from 2 to 5pm today!
Stop by and say hello.
I'll point out all the mid century modern elements and talk to you about anything you want.
Posted by Jack LeVine | Currently 1 Comment »
July 8th, 2008 Categories: Marycrest, OUR LISTINGS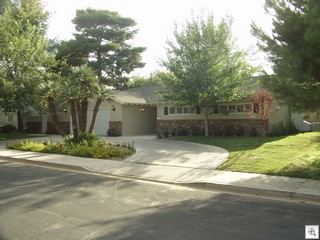 Many of you are new to VeryVintageVegas, but I want to tell you again about a very special property on 15th Street in the Marycrest Neighborhood of Downtown.
I've been involved with this home for just about a year now. It's been a year of high hopes, sad disappointments, and lots of behind the scene drama. The foreclosure and lending crisis of the last year has taken it's toll on a lot of really nice people. I'm not telling all the details, except for the parts that are public record.
There's many of you who have seen the home. It's been staged and emptied and staged again. It gone from ugly to gorgeous and now the landscape is in need of a spruce up again. The inside is just as beautiful as always. It's had it's price lowered and raised and lowered again and again. It's been listed with me, and then with someone else.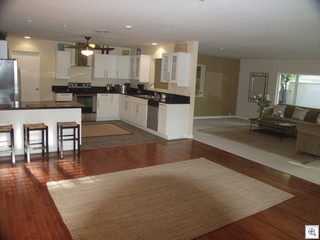 I've got the listing again, and this time we've priced it below market to get it sold immediately. In the past it was a constant battle of chasing the market down. I'll get the flyer made up today and posted in our featured homes section, but I wanted to let you all know that it's back on the market at 325,000. That's well within the range of an FHA loan and considerably less than the recent appraisal.
The pictures are from when it was staged with furniture. It's vacant now, and ready for a fast closing. The utilities are back on, and the landscapers are starting this week to get the lawns and shrubs greened up again.
I will tell you that $80,000 was spent to put in the new Ikea kitchens and baths, the hardwood floors, the new dual pane windows and doors. Lots of thought and attention to detail was given to the makeover of this home. The folks who did the makeover went for functionally modern, while maintaining the charm and character of a home on one of the premier streets of Vintage Vegas.
If you've considered it before, want to see it for the first time, or know someone who would love it at this price, just give me a call.
Posted by Jack LeVine | Currently Comments Off on Beautiful Marycrest Home Back On The Market
June 26th, 2008 Categories: Las Vegas Real Estate News, Market Conditions, OUR LISTINGS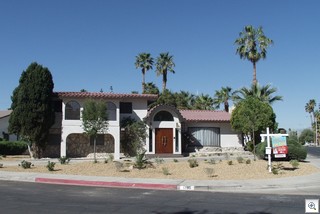 If you'll remember, or click back here to take a look at our listing on the corner of Chapman and Oakey.
It's truly a remarkable example of Retro Chic in a downtown mansion. It hasn't gotten the kind of attention it deserves and those who did see it always told me that it was just too high priced. The seller now agrees, and we reduced the price yesterday by $100,000!
All of the pictures as well as all of our current listings are available to be seen in our featured property section in the left column. Of course all of our listings, as well as anything in the MLS are available to be seen in person by calling or emailing your favorite realtor (that's me, in case you think I'm only a blogger).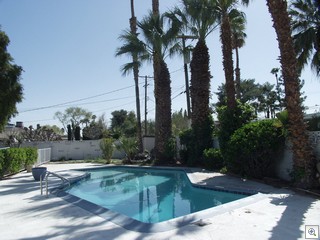 If you EVER said to yourself "why didn't I buy something before the big price runups 2 and 3 years ago"….
Well, you've got a second chance. We're absorbing the inventory, new foreclosures are slowing, the builders are barely building anything, there's still 5000 people a month moving to Las Vegas, and there's still 50,000 new jobs coming on line just with what's under construction on the strip right now.
It won't be like this for long. If you've been sitting on the sidelines, give me a call or send me an email.
It's a buyer's market IF you can get a loan. With just fair credit and a provable income, you don't even have to have much money.
Posted by Jack LeVine | Currently Comments Off on Drastic Price Reduction On 1700 Chapman
May 26th, 2008 Categories: Forest Hills, Las Vegas History, OUR LISTINGS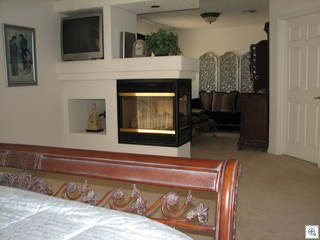 All the pictures are now posted in the Featured Properties Section in the left Column. What I didn't tell you on Friday was that it's priced at only $280,000. I have a feeling from some of the comments, that you expected a much bigger price tag than that. Sorry if I misled you.
Forest Hills is one of the hidden treasures of Vintage Vegas. That's were Susan from Spokane will be moving into next week once we get her deal closed. She bought a stunning 1 story townhome, partly because of the community landscape with it's giant trees, and hanging shrubbery.

There's 2300 sf of gorgeous living space. All the furnishings can be bought separately. The Tiki themed patio is one of the largest in the complex, and it's right beside the community pool and spa.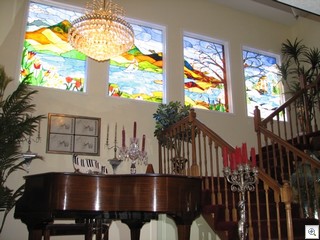 I don't want you to get the impression that it's ALL about the Stained Glass Mural. It's also about the piano shaped platform for the baby grand piano, and the sunken tub under the mirrored ceiling and chandelier in the master bathroom. It's about the formal dining room that could seat 12, and the stone fireplace which is bordered by more stained glass windows.
It's about affordable elegance that I can't duplicate for you anywhere else in Vintage Vegas.
I'll let the rest of the pictures do the rest of the talking. Take a look.
Posted by Jack LeVine | Currently Comments Off on More About The Liberace Townhouse That's For Sale In Forest Hills
May 23rd, 2008 Categories: Decorative Concrete Block Designs, Mid Century Modern, OUR LISTINGS

Four circles in a square is about as simple as it can get. Pattern 36 is pretty unique, as I've only found it on one home in the Southridge Neighborhood.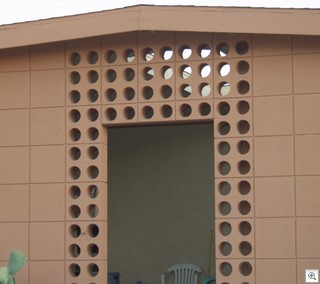 The yard is usually pretty unkept, so I cropped as much as I could, but you still get a broom in the picture. Sorry.
The house itself is built from square blocks, which are the same size as the blocks with the holes in them.
Posted by Jack LeVine | Currently Comments Off on The Downtown Neighborhoods Of Las Vegas Are A Great Place To See The Many Variations Of Mid Century Modern Home Designs
May 11th, 2008 Categories: Huntridge, Las Vegas Real Estate News, OUR LISTINGS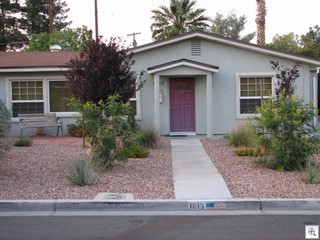 We're pleased to have been chosen as the listing agent for 1013 Francis Ave. We're starting to see some of the really nice homes in the vintage and historic neighborhoods come on the market.
Now that prices seem to have stabilized, we can actually figure out what a home is worth, and what it will sell for. We've taken into account the new dual pane windows, the new roof, the parquet wood floors, the custom concrete countertops, the lovely front and rear landscape, and all of the other factors that we use to gauge value. We've priced this at $255,000. and you or someone you know ought to give me a call to see it.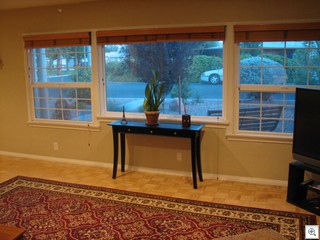 The "non-investor" buyers are buying again, as we've mentioned, and the nicest of the homes are starting to sell.
If you're buying in Vintage Vegas, you have a huge range of homes to choose from. Most of the foreclosures, are pretty beaten up and broken homes. Some of the homes are so–so, and some, like 1013 Francis have been well loved and well taken care of.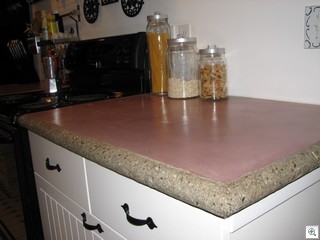 All of the photos are in the gallery of our featured properties, but I wanted to give you a peek into this legally expanded Huntridge home on a corner lot.
I mentioned the "legally expanded" because that's not one of the most common things we see in the Huntridge homes. They've had every sort of room addition, or carport conversion that you can imagine. Some of them, such as 1013 Francis were done with permits, and the new square footage is reflected in the tax records. Our MLS system requires us now to only use the square footage that shows in the assessor's records. Appraisers and buyers alike are not giving as much value to non-permitted additions as they once did.
Our new listing really is 1904 square feet, and all the extra space is distributed evenly thru out all of the rooms. The master bedroom is 11×20 and the other two bedrooms are 11×16 and 12×16.
Give me a call. I'd be happy to show you this lovely home, or to help you with any other.
Posted by Jack LeVine | Currently Comments Off on 1013 Francis Ave. In The Historic Huntridge Neighborhood Of Vintage Las Vegas
April 14th, 2008 Categories: Crestview, OUR LISTINGS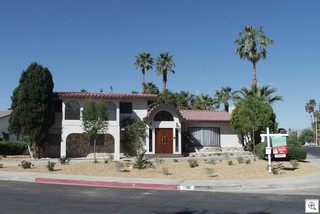 A few weeks ago, we went ahead and put 1700 Chapman on the Market. I really thought the new front yard landscape was going to be done within just a few days. Unfortunately, it took a few weeks.
But it's in place now, and WHAT A DIFFERENCE!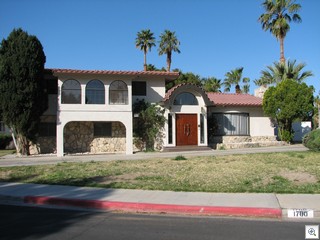 This is the "BEFORE" shot with the weeds, and rough lawn. Now it's water smart, and looking good.
Inside is freshly painted, and move-in clean. There's a whole banquet of Retro and Vintage going on, and it deserves a second look.
As to the street…. It's on Chapman Avenue, which is part of the Crestview Neighbhood of Downtown Las Vegas.
Take a drive thru Crestview, and the adjacent terrific neighborhoods of Morning View Hieghts, Marycrest, Becke Circle, Concordia Circle.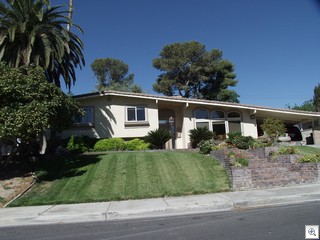 I took some pictures this morning just on Chapman Ave.
.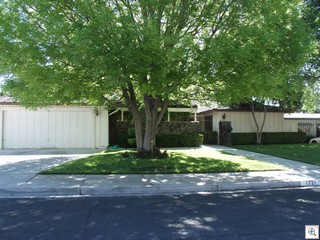 The suburbanites and Las Vegas newcomers deserve to know that there's neighborhoods and streets like this.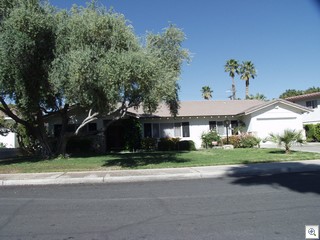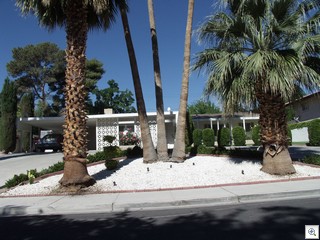 Have you told anyone lately? Send them a link to this. Help me spread the word that what we have in the historic neighborhoods is rare and wonderful, and totally unknown to the vast majority of Las Vegas residents
Posted by Jack LeVine | Currently 1 Comment »
March 24th, 2008 Categories: Crestwood, Las Vegas Real Estate News, OUR LISTINGS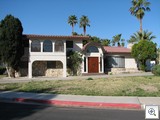 Thanks to all of you who stopped by the open house at 1700 Chapman. 8 readers who I've never met before stopped by to say hello, as well a lot of friends.. About 10 people from the neighborhoods dropped in when they saw the signs, just because they were curious.

One thing that really made my day was that most of the folks who saw the house really appreciated the original bathrooms, and everyone loved the kitchen, the doors, the hardware and the yard and pool. Only 1 of the approximately 20 people said they'd "have to rip out all 3 bathrooms" to make them look like one of those new homes in the suburbs.
When I showed some of the details in the post on Saturday, I didn't have a close up of the inlaid wood mosaic accents in the kitchen counters, but I grabbed a good picture during the open house.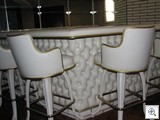 One of the other great retro features that everyone liked was the tufted leather bar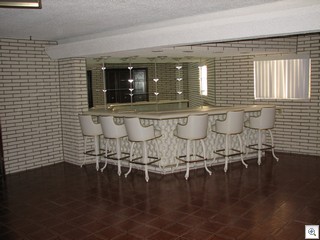 and matching barstools in the what we're calling the "Elvis Game Room". The entertainment space in this home is terrific.
The flyer which shows all the great retro themes of this home is now in our GALLERY OF FEATURED HOMES, which is always in the left hand column.
While you're looking thru them, who do you know that's thinking of buying or selling in the historic pre 1970's Las Vegas?
Your referrals are always appreciated!
Posted by Jack LeVine | Currently 3 Comments »