Paradise Palms Topics
Welcome To Uncle Jack's Very Vintage Vegas!
Vintage Las Vegas Homes,
Historic Las Vegas Neighborhoods,
Las Vegas History,
Urban Living In Las Vegas.
If it's great, cool, fantastic, artistic, annoying, amusing, unique, or surprising.. you'll find it at VeryVintageVegas.com.
Check out what we're doing and add your two cents! Your comments & ideas are welcome. We update daily, so come back tomorrow!
Blogroll
Farmer's Insurance
Paul Hesselgesser
702-434-1230
The Hesselgesser Insurance Agency Website
Classic Las Vegas - Lynn Zook's Preservation of 20th Century Las Vegas
Curbed LA - WOW!
Mid-Century Modernist
RETRO RENOVATION - Pam's Excellent Effort At Re-creating A Retro Life
Carnival Of Real Estate - Minus Elephant Ears, But Still Mighty Tasty
Lotta Livin' - A Celebration Of Really Cool Things Mid Century
Bawld Guy Talking - Minus The Hair; Plenty Insightful
CoolnessIsTimeles - ALL "RAT PACK" ALL THE TIME!
SEE ALL OUR FAVORITES HERE

Paradise Palms
November 18th, 2009 Categories: Paradise Palms
I told you last week about the home in Paradise Palms that's being greened and re-built for the International Builder's Show in January.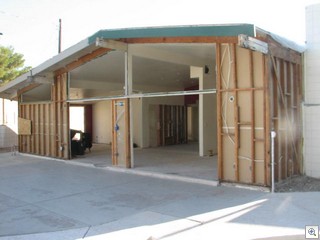 Putting things back together takes much longer than ripping out what you don't want. They've been busy all week and I'm VERY happy to report that the wall of french doors and small paned windows is finally gone for good.
They do a much better job of cleaning up after themselves than I do!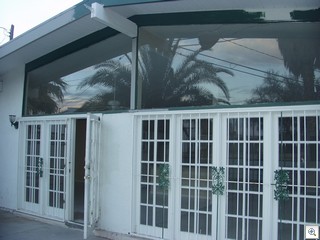 Yes, this is the same wall at the back of the house that I first posted about this home back in January, 2008.
Even worse than that the small paned french door windows (and therefore lots of mullions), was the fact that they had oppressive iron gates behind them as well. The merging of indoor and outdoor living space had been completely undone by previous owners.
In the rebuild, all the clerestory windows will be triple pane, low-emissivity glass, and the bottom half will be triple pane, low-E sliders all the way across for maximum visibility and north light.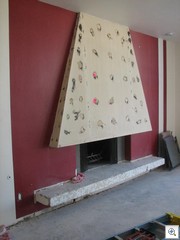 The mirrors and 4 inch tiles have been removed from the floating hearth fireplace. It's original to the house, but the "80's mirrors were not. Thankfully, the original design will be kept.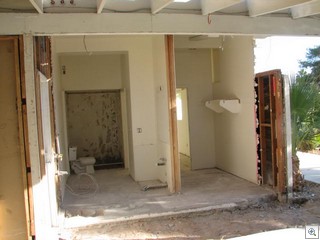 The previous expansion of the master bathroom and walk in closet into the original courtyard is being undone as well.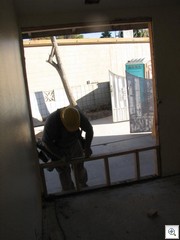 Some of the new framing is being started. The original bedroom windows went clear to the floor. In some cases the windows will be slightly smaller to further reduce heating and cooling loss. Remember, the goal is to acheive a 70% reduction in energy usage.
Electrical and plumbing work began today, and the windows and glass will start to be installed the first week of December. I'll be talking, then, with the glass guys, and the environmental engineer who did the calculations for acheiving the 70% reduction in average energy consumption.
If you want to see the original 2 posts I did about this house, they're on page two of the January 'O8 Archive or they're about 7 pages back if you did a search in the top left column for "Paradise Palms". (which is a good place to read every post I ever did that mentions Paradise Palms. There's some real good stuff there, if you haven't been reading along with us for the last 3 years).
I was all excited at the time to see a home on the golf course for under $250,000. It looked like a great deal at the time. Who knew?
Posted by Jack LeVine | Currently 2 Comments »
November 12th, 2009 Categories: Paradise Palms
I've been talking to them behind the scenes for over a month now. A subsidiary of Dupont, called Building Media is going to do a top to bottom rebuild of a home in Paradise Palms. The entire process will be filmed, since that's what Building Media does. They create training videos for the construction industry.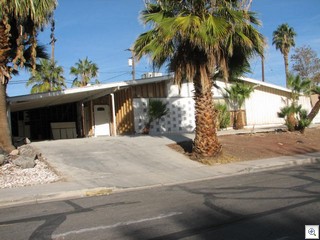 The original home had little attention paid to energy conservation. Green wasn't even a topic in the 60's, never-the-less a movement. One of the most important things that can be done to the 50's and 60's Mid Century Modern homes is to improve their energy usage, or as they say – the Carbon Footprint. Very few homeowners will ever go to ALL these lengths, but each element that will be used can be applied to any MCM home.
I've been consulting with them on the history of Paradise Palms, as well as the architecture and style of the home as it was originally conceived. They're not "purists", however. Their goal will be energy related, not perfect historical preservation accuracy. But they will attempt to preserve as much of the architectural and design character as possible. When all is said and done, it will still be a home fitting of Paradise Palms, and will bring major international attention to the neighborhood, and to Mid Century Modern in general.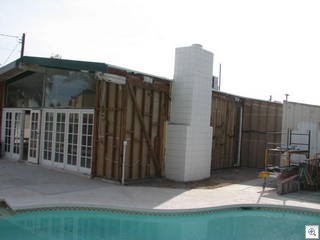 I'll be visiting the home – camera in hand– as it progresses, and I'll try to share with you everything that I learn. We'll have a chance to watch the progress, and discuss the concepts, materials and techniques that will be used to obtain a 70% reduction in energy usage in the home.
Major demolition began on Monday.
I'm not supposed to give out the address quite yet, but since I've had pictures of this house on VeryVintageVegas in the past, some of you will figure it out. Especially since there's a huge dumpster in front of it at the moment.
There will be several weeks in January when the home will be hosting bus loads of attendees for various home builder shows, especially the International Builders Show, January 19–21, 2009, which will be held 2 miles away at the Las Vegas Convention Center.
I've been assured that the readers of VeryVintageVegas will be offered a private opportunity to view the home once the shows are over. Stay tuned. This should be both fun and educational.
Posted by Jack LeVine | Currently 3 Comments »
April 16th, 2009 Categories: Paradise Palms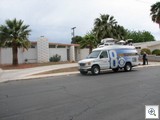 The first time homebuyer tax credit of up to $8,000 was featured on Tuesday's Channel 8 News. Alyson McCarthy allowed me to set up the story with Kevin Bowman who recently closed on his butterfly roof home in Paradise Palms.
If you'll remember, Kevin got his keys on the day we were shooting the documentary about Bill Krisel, the famed architect that designed many of the homes in Paradise Palms.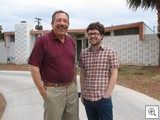 I'm was surprised at the amount of time it takes to shoot a 90 second piece for the news. Alyson interviewed us each for about 20 minutes. I told her all about Paradise Palms, Bill Krisel, the convergience of multiple forces that are attracted to the Vintage Las Vegas homes, and a whole lot more. Naturally, I only got about 5 seconds of air time, but seeing my face on TV – priceless! There's also hours of footage that got shot – both inside and outside – that didn't get used. I'm hoping to get the file of her interview with me.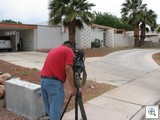 Kevin described the process of saving for a downpayment, watching the prices fall for over a year, and then the gravy….an 8000 Tax Credit that is bigger than the down payment he made to become a homeowner. Kevin's new payment will be less than he was paying for rent.
I tried all day yesterday to be able to put the piece into the blog, but the Channel 8 site wasn't cooperating until today.
For even more on the Tax Credit, see the post and the video that I posted last week that explains it in detail.
If you missed it, here's the piece that played on the 6pm News.
Posted by Jack LeVine | Currently 4 Comments »
February 9th, 2009 Categories: Fun Features Found In Foreclosures, Mid Century Modern, Paradise Palms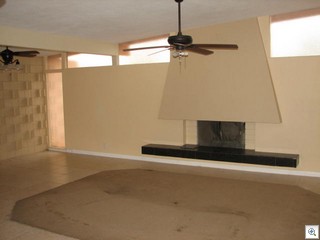 A new bank owned listing in the Mid Century Modern Paradise Palms neighborhood still sports the original floating hearth fireplace, clerestory windows and shadow block accent wall. There's been a lot of additions added to the house, but the original floorplan is still intact.
It's 2700 sf on the National Golf Course for a mere $244,000.
Posted by Jack LeVine | Currently 4 Comments »
January 21st, 2009 Categories: Fun Features Found In Foreclosures, Paradise Palms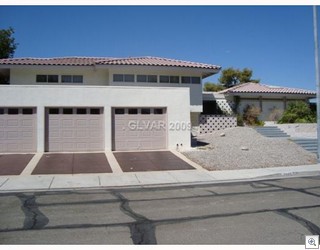 Here's the other best deal in Paradise Palms (Besides the "Johnny Carson" house that is). 4000 sf on the National Golf Course.
It's 5 bedrooms and 4 baths with a 3 car garage.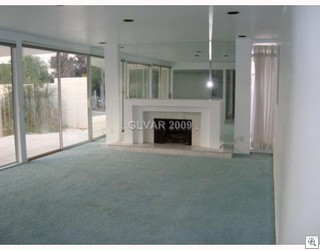 The Bank is GIVING AWAY this Mid Century Modern Home in the historic Las Vegas neighborhood of Paradise Palms.
They put a list price of $238,900 on it. They'll either get lots of offers, and the price will get bid up, or someone's going to get a winning lottery ticket on it.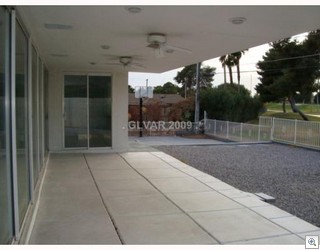 I currently don't have ANYONE looking for a house that big, but if you are, then you ought to call me right away. I'm guessing the window of opportunity on this one will close quickly.
Posted by Jack LeVine | Currently 1 Comment »
January 12th, 2009 Categories: Mid Century Modern, Paradise Palms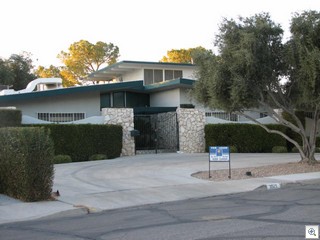 Robert Maheu was the right hand man of Howard Hughes for 15 years. He's the one who ran everything for Hughes, even though he never met him.
Robert passed away this fall. We covered it here, with the help from our friend Steve Friess who covered the estate sale on his blog. Classic Las Vegas also covered the story here.
Anyway, I thought that it would have come to market, but it's FOR LEASE instead, for $2495 a month.
It's 4 bedroom and 4 bathrooms and almost 4000sf.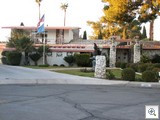 The Paradise Palms home of Robert Maheu, is right next door to the famed "Casino House" on the golf course at the National Country Club. It's called that, because it was used as the set for for movie "Casino" with De Niro and Stone.
Well worth a drive by if you've never been in the custom home segments of Paradise Palms. From Eastern and Flamingo, go north to Tioga, which is the first street north of Viking. West on Tioga to the end. Right on Cochise. The Robert Maheu home is the 2nd from the end on the west side of the street, and the casino house is next door at the end of the block. Just don't smash your Cadillac into the rear of the Mercedes. Please.
Posted by Jack LeVine | Currently 1 Comment »
January 12th, 2009 Categories: Mid Century Modern, Paradise Palms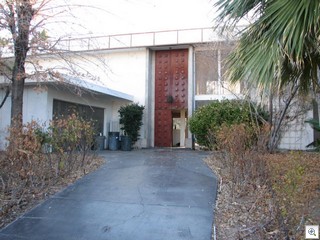 I don't usually cover short sale properties, but I can't help myself with this one. It's one of the 4 two stories homes of this design in Paradise Palms. One of them was on our home tour last October. This one however is the dream come true for one of the HGTV fix-em-up shows.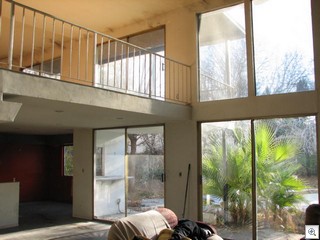 The back of the house is a classic Mid Century Modern 2 story "wall of glass" living room with a massive loft.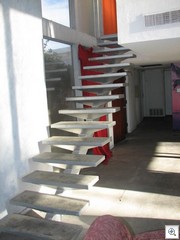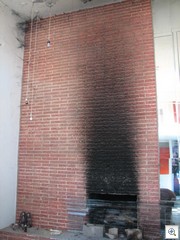 The kitchen's missing, the landscape has been thru fire and drought and looks it. There's neglect and disrepair in every bit of the home. I can't even begin to imagine any bank financing it for a new buyer, so it will probably have to be an all cash buyer, but I thought it would be fun to give you a peek.
The 2 story brick fireplace wall looks like this. I think a good sand blasting will be in order.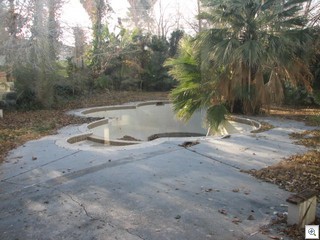 The property sits on 4/10th of an acre at the end of a cul-de-sac. The pools been empty for years.
It's priced now at 229,000 for 3000 sf.
It's not for the faint of heart, but I know there's a someone out there looking for a project that was once a fabulous home when I first saw it 20 years ago when it was owned by my friends Ed & Marlon.
Though the official ownership history from the county doesn't support this rumor, the buzz has always been that it used to be Johnny Carson's home in Las Vegas. I've been trying to get corroboration on that for years.
Paradise Palms In Las Vegas Is A Mid Century Modern Neighborhood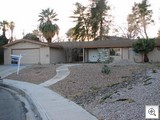 Coincidently, the house next door to the one above is the other totally trashed home. It's only 129,000 for 2187 sf. In this case, it's already owned by the bank.
It's a Mid Century Modern RANCH style home, where the one above would be called a "Desert Modern" or "Palm Springs Modern".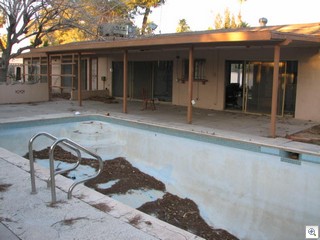 The back of the house is entirely glass. There's slider's off of the 2 rear bedrooms, as well as about 40 feet of window wall in the living room and dining room.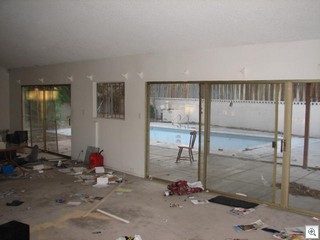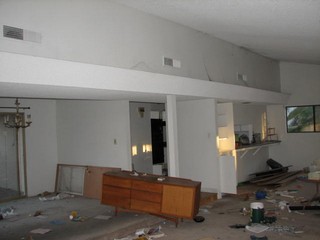 Technically, these can't count as "worst MLS Photo's" because they aren't in the MLS. But when I say trashed, I mean it.
There's also about 40 feet of floating soffit, hanging there in the vaulted ceiling living room. It could be a very cool house again if someone with a lot of cash and creativity get their hands on it.
Anyway, If you've got a lot of cash, these two homes are my top choices at the moment for Mid Century Modern Restoration projects.
Posted by Jack LeVine | Currently 14 Comments »
December 11th, 2008 Categories: Fun Features Found In Foreclosures, Paradise Palms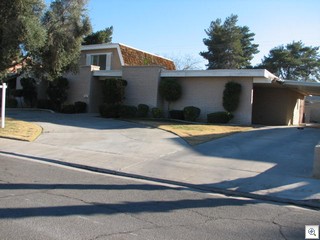 We haven't visited Paradise Palms in a while. I found a very interesting property that's needlessly being ignored. It's bank owned at 227,900.
There's fun stuff going on all over this home, but it's currently the beigest home I've ever seen.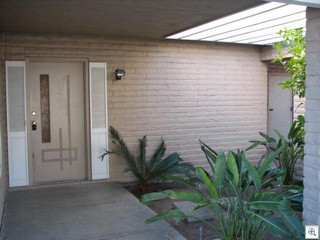 The slumpstone walls accent the the inside as well as the outside. This is the front courtyard entry.
The front door would be killer in bright red, but alas, it's beige. I can help you remove the shutters before you start crying. I'm surprised they're not beige. It must be just the primer coat.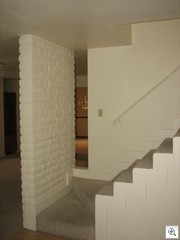 There's slumpstone walls in almost every room. Of course, need I say it….they're beige.
This one is a free standing divider wall at the foot of the stairs.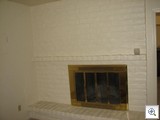 There's a terrific full wall fireplace in the family room that's faced with the same slumpstone.
Did I mention that it's beige?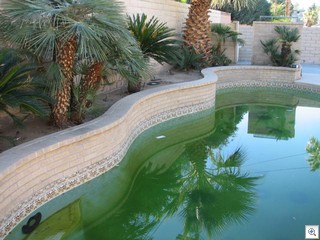 Hooray! I found something that wasn't beige!
Fortunately, green pools can be changed as easily as all the rest of it can be painted.
But the free form pool with the curved walls…..need I say more?
You'll never any of this by looking at pictures on the MLS. There's only 2 pictures and based on them, you wouldn't even guess it's the same home.
No one else seems to know that this home is even on the market. That's one of the many reasons you'll need a full time Realtor who's as passionate about Vintage Las Vegas as you are. (That's me, BTW).
Posted by Jack LeVine | Currently 7 Comments »
October 2nd, 2008 Categories: Mid Century Modern, Paradise Palms
In a conversation this morning with a reader (who was making their first contact with me about buying a home), I was asked what was going to be on the tour this Sunday.
We have 5 homes THAT ARE NOT FOR SALE. The Owners have graciously allowed us to show off their mid century modern homes. The home where you have to sign in is typical of the "ready to be restored" home that's so typical of many of the lower priced homes that are for sale, especially the bank owned ones.
The rest of the homes are much loved originals or restorations. On the way to each home, the map and directions will direct you look at 15 other homes that make the case for the growing fever about Mid Century Modernism.
I'll be at the last home on the tour, acting as a guide, or as MM calls it, a docent. It's one of the finest restorations I've ever seen. If you want a great lesson on the "languange" of modernism, this tour will be your Rosetta Stone.
If you'd like to meet me, for whatever reason, make sure to introduce yourself at the last stop of the tour.
Posted by Jack LeVine | Currently Comments Off on What You'll See At The Paradise Palms Tour
September 29th, 2008 Categories: Atomic Age Alliance, Mid Century Modern, Paradise Palms
THIS SUNDAY OCTOBER 5th 2008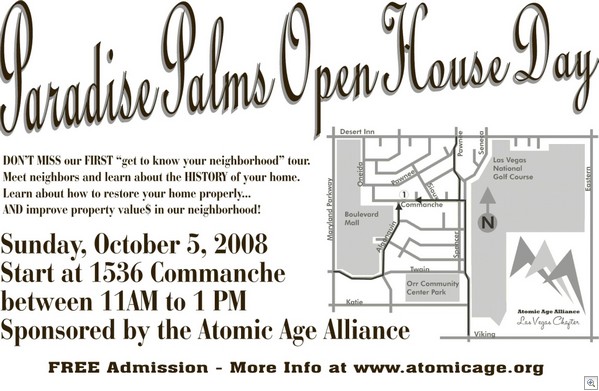 FIRST HISTORIC MODERN HOME TOUR IN LAS VEGAS
Paradise Palms is the Undiscovered Treasure of Clark County
Atomic Age Alliance is proud to present the first tour of its kind in Las Vegas, the self-driving tour "Paradise Palms Open House Day," on Sunday, October 5, 2008.
Paradise Palms is a historic Mid Century Modern neighborhood built by Irwin Molasky Homes and the architectural team of Daniel Palmer and William (Bill) Krisel of Palmer & Krisel from the early 1960s through the early 1970s. This particular tract was the first planned community in Las Vegas. It won the American Builder Magazine Award for being one of the best planned communities in the U.S. The neighborhood is growing as a Mid-Mod preservationist Mecca in terms of restorable P&K homes still at relatively affordable prices. While other communities such as Scottsdale, AZ and Los Angeles and the Bay Area, CA, have embraced Modernism and make money from it, Las Vegas has been slow to catch on. Ten years ago in Palm Springs, CA, Palmer & Krisel homes went for 100-200k. Now properly restored MidMod "P&K" homes sell from 400-800k and more… A brand new custom Mod home by Bill Krisel recently sold for over one million. The tour hopes to open eyes to this undiscovered treasure that lies right in the heart of Las Vegas.
The Atomic Age Alliance is a 501(c)3 non profit organization dedicated to celebrating historic Mid Century Modernism and Atomic Age design, signage, architecture, culture and business through ongoing community advocacy, activism and educational programs.
Mid-Century Modern (MCM) is a period in the middle of the 20th Century where architectural design reached a peak in terms of aesthetics, engineering and exuberance. The dates are 1945 to 1965, although the era is sometimes extended to the 1930s through the 1970s. Because it centers on the period after World War II it is also known as Post War. The term may also be shortened as Mid-Mod.
The homes of Paradise Palms feature unique Modern rooflines, floating cantilevered fireplaces, open floor plans, sunken tubs, decorative stone screens, post and beam construction, two-tone paint, idiosyncratic decorative elements, spun fiberglass panels, walls of glass, clerestory windows, and quintessential desert indoor/outdoor living.
Paradise Palms began in 1961 as the neighborhood surrounding the Las Vegas National Golf Club. The course has enjoyed an illustrious past beginning as the Stardust Country Club designed by Bert Stamps in 1961. Arnold Palmer set the course record of 63 in 1967 and held that record for 28 years. Over the years it has hosted LPGA Championship Events and PGA Tournament of Champions. However the current owners have announced plans to replace the course with hundred of homes despite their claim on their own website (www.lasvegasnational.com), "The Las Vegas National Golf Club is a true Las Vegas landmark… Steeped in a rich history and tradition." It now has community wide support of keeping the course as a course. (www.savethecourse.com)
Fifteen homes are shown as examples of original or restorable condition and five private homes are open to tour attendees. Additionally some real estate agents with homes for sale in the neighborhood will have open houses this same day. The tour is free and open to the public, but onsite registration is required at the first stop of the day.
Please check in at 1536 Commanche Drive just off Spencer drive in the heart of Paradise Palms between 11AM and 1PM. Last house closes at 2PM.
WHEN: OCTOBER 5, 2008, Sunday
CHECK-IN 11AM to 1PM
MORE INFO: info AT atomicage.org
www.atomicage.org

Posted by Jack LeVine | Currently 6 Comments »
September 15th, 2008 Categories: Atomic Age Alliance, Mid Century Modern, Paradise Palms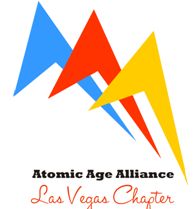 I'm hoping lots of you will want to get involved with an organization that's dedicated to preserving Mid Century Modern Architecture and Design.
Tonight's the first meeting of the new fall schedule, and we invite you to come out and meet some really great people.
However, THERE HAS BEEN A LAST MINUTE CHANGE IN THE LOCATION!
The new location for tonight's meeting will be at a pre-renovation home in Paradise Palms:
1536 Commanche in Paradise Palms
7–7:30 meet and greet
7:30 The Meeting
Below is the announcement of the meeting, and the upcoming October 5 tour of Mid Century Modern homes in Paradise Palms.
We hope you'll make it!
Celebrating Mid-Century Design and Architecture
We are Back from Summer Vacation!!!

LAS VEGAS CHAPTER SEPT. MEETING
Monday, September 15th
Meet and Greet 7:00
Meeting from 7:30-9:00
In order to facilitate our tour planning – we will be meeting at the first house on our Paradise Palms home tour, a pre-restoration 1964 ranch style home.
1536 Commanche, Las Vegas, NV 89169
http://www.lottaliving.com/bb/viewtopic.php?t=13002
Paradise Palms Open House Tour!!!
The First Las Vegas "Paradise Palms" Open House tour will take place on Sunday, October 5.
http://www.lottaliving.com/bb/viewtopic.php?t=13001
This first tour of its kind will feature five Palmer and Krisel designed Paradise Palms homes, from pre-restoration, to mid-restoration to completed restored examples of these outstanding Mid Century Modern homes of Las Vegas. The tour also will bring attention to the ongoing efforts to preserve the Las Vegas National Golf Course. http://savethecourse.com/
Homes will be open from 11AM to 2PM with additional real estate open houses until the afternoon.
* If you are a real estate agent and would like your Mid Century Modern listing in the area to be included on our tour map, please contact us asap.
* We also appreciate donations of printing and refreshments for our tour volunteers and participants.
This tour is free and open all fans of Las Vegas architecture, but requires check-in with the Atomic Age Alliance on the day of the tour.
The tour is produced by Atomic Age Alliance and supported in part by Very Vintage Vegas http://www.veryvintagevegas.com
Paradise Palms is a Mid Century Modern housing tract in Las Vegas, Nevada. In the 1960s Molasky Development hired the young architectural firm of Palmer and Krisel fresh from their success building hundreds of successful tract homes for Alexander Homes and other custom projects in Palm Springs, California.
"This unique subdivision was the first planned community in Clark County. We used curvilinear street patterns instead of rectilinear. Paradise Palms won the American Builder magazine award for one of the best planned communities in the U.S. "The architects were two young men by the names of Palmer and Krisel. The interior designs were by world renowned C. Tony Pereira." Irwin A. Molasky
United across the miles, we have a stronger voice
for the preservation of our Mid 20th Century heritage!
The Atomic Age Alliance is a volunteer organization dedicated to celebrating historic Mid Century Modernism and Atomic Age design, signage, architecture, culture and business through ongoing community advocacy, activism and educational programs.
We have alliances with the Los Angeles Conservancy Modern Committee, Palm Springs Preservation Foundation and Modern Committee, Classic Las Vegas, Recent Past Preservation Network, Doo Wop Preservation League, Kansas City Modern Committee, and Portland Modern Committee
Join Globally – Act Locally.
http://www.atomicage.org http://www.myspace.com/atomicage
Visit our Message Board hosted by LottaLiving and connect with Modern enthusiasts from all across North America! http://www.lottaliving.com/bb
Posted by Jack LeVine | Currently 3 Comments »
September 12th, 2008 Categories: Atomic Age Alliance, Mid Century Modern, Paradise Palms
Sunday October 5 will be the first Mid Century Modern Home Tour sponsored by the Atomic Age Alliance. There will be 5 homes open for visiting. Members of AAA will be on hand to point out the important elements of the architecture, design, furnishings, and features that set Mid Century Modernism apart from just about anything that had come before, and certainly apart from all the styles that have been foisted upon us ever since.
The homes will be open from 11 am to 2 pm. These homes are not for sale. The homes are furnished, loved and lived in by their gracious owners.
The Atomic Age Alliance is also contacting real estate agents with listings in Paradise Palms to ask them to have open houses starting at 2 pm for as many properties as can be arranged.
Atomic Age Alliance decided to keep the tour to just Paradise Palms, as it's the only entirely Mid Mod neighborhood in Las Vegas, but also to help build awareness of the efforts of the residents of Paradise Palms to "save the golf course" from being redeveloped into 500 to 600 new homes which was also recently covered by Channel 8 news.
The tour is only being promoted thru members of Atomic Age Alliance, homeowners and residents of Paradise Palms and the readers of VeryVintageVegas. You are invited, and we'll announce more details and have flyers available in the next 2 weeks.
If you've been telling yourself that you want to get involved in historic preservation, mid century modern revivalism, or just to meet a lot of great people with similar interests…. the next meeting of Atomic Age Alliance will be Monday September 15, 7pm at the newly restored and preserved 5th Street School in Downtown Las Vegas. The address is 401 S. 4th Street. Monday September 15th, 7pm.
UPDATE:
The meeting will be at 1536 COMMANCHE DRIVE in Paradise Palms! (we appologize for the last minute change of location) 7pm
Posted by Jack LeVine | Currently 1 Comment »
September 9th, 2008 Categories: Decorative Concrete Block Designs, Paradise Palms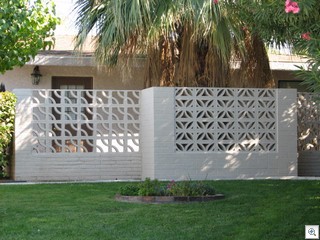 I'm astounded, but it seems I missed a couple of patterns back in our series of the 50 different patterns. I found this on a relatively obscure cul-de-sac in Paradise Palms. It's not original to the home and seems to be an extension of the sunscreen that was there from the get go.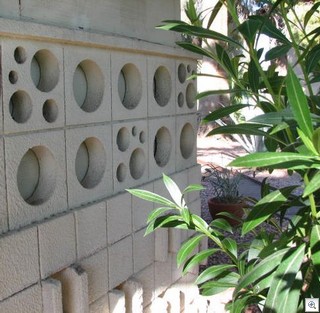 The other pattern is merely a block with a single large hole in it. It's also from Paradise Palms, but this one, mixed in with the champaign bubbles pattern as well as pop out shadow blocks is particularly stunning, though it's hidden behind a very big oleander.
I happened to make a u-turn in front of the house yesterday and caught a glimpse of it from an unusual angle, which is why I hadn't seen it before.
The concrete block decorative sunscreen patterns were used extensively in the 50's and 60's. They're in almost every one of the neighborhoods that we cover regularly. A good rule of thumb, is that when you run stop seeing the decorative concrete block sunscreens, you're not in Vintage Vegas anymore.
If you're new to Vintage Vegas and want to see the entire series, all you have to do is click here.
Tonight is the COMMUNITY MEETING about the NATIONAL GOLF COURSE and their plans to file a parcel map as a prelude to turning the golf course into a 600 +– home housing tract.
6:30pm at the Cambridge Community Center. Click here to read the whole story that we posted last week.
Posted by Jack LeVine | Currently 2 Comments »
August 30th, 2008 Categories: Mid Century Modern, Paradise Palms, Pillars Posts And Columns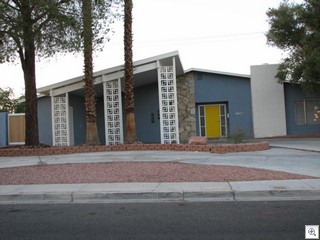 Besides that I love colorful eye popping colors on mid century modern homes, you know how I feel about the decorative concrete blocks.
There's 3 of this model that still have the original carport design on Golden Arrow Drive in Paradise Palms. There's others scattered around but they're hard to find because the carports have been converted into garages, and the columns of block have been removed or obscured.
One of the many goals of VeryVintageVegas is to help preserve the original designs or at least the original intent of the architecture. Many many too many of our great homes have been changed and adulterated or abominated. The more of you I can get of all of you to be aware of the architecture, the designs and the elements, the better chance we have of preserving them. Â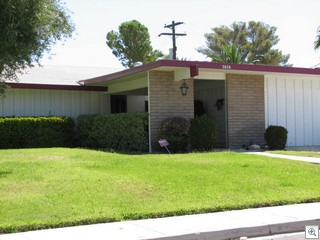 The next time you take a Sunday Drive, try tooling around one of my favorite Vintage 60's neighborhoods. You'll find lots of eye candy such as these. You'll also see what I mean about homes that have been "remuddled".
Paradise Palms is both sides of Desert Inn between Maryland Parkway and Eastern. This pattern is in the part that's north of Desert Inn Road. There's 2 segments of Paradise Palms to the south of Desert Inn. East of Spencer and the power lines are the higher end homes surrounding the National Golf Course. To the west of Spencer Ave. are the middle grade homes. Mostly they're on 10,000 foot lots. Many are classic modernism, and many are ranch style modern.
There's currently 30 homes for sale in Paradise Palms. At the moment, they range from  $149k to $525,000. Of the 30, 6 are bank owned and 6 are short sales. There's 9 homes under contract, for a healthier than average 30% ratio of pendings to availables.
Posted by Jack LeVine | Currently Comments Off on My Kind Of Column – The Mid Century Modern Neighborhood Of Paradise Palms
August 5th, 2008 Categories: Mid Century Modern, OUR LISTINGS, Paradise Palms
You take a giant leap and get out ahead of the market. Even if we think things have bottomed out and leveled off, if they really want to get it sold, they have to put the price below the buyers expectations.
That's why the new listing in Paradise Palms just got reduced $60,000 all at once.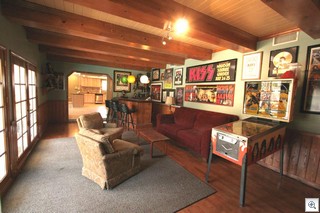 1871 Papago Lane in Paradise Palms is  new to me as a listing, but it's been on the market for a long time with several other agents.
I've shown it to lots of buyers during the last year. There was so much to love about it, that I couldn't stop myself even if the price was way too high.
It got great reviews, but there was always something at a lot better price, or they didn't buy at all.
No one who sees it now at $309,000 will be able to say that.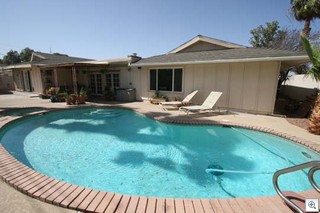 It's a fun, and  exciting house to be in. I think one of you ought to be liking it enough to buy it. Give me a call, and I'll show it to you.
In the meanwhile, or for all of you who just like to look at my pictures….all the pictures are in the featured homes section in the left column.
Posted by Jack LeVine | Currently Comments Off on What's a seller to do when chasing the market doesn't work?