Southridge Topics
Welcome To Uncle Jack's Very Vintage Vegas!
Vintage Las Vegas Homes,
Historic Las Vegas Neighborhoods,
Las Vegas History,
Urban Living In Las Vegas.
If it's great, cool, fantastic, artistic, annoying, amusing, unique, or surprising.. you'll find it at VeryVintageVegas.com.
Check out what we're doing and add your two cents! Your comments & ideas are welcome. We update daily, so come back tomorrow!
Blogroll
Farmer's Insurance
Paul Hesselgesser
702-434-1230
The Hesselgesser Insurance Agency Website
Classic Las Vegas - Lynn Zook's Preservation of 20th Century Las Vegas
Curbed LA - WOW!
Mid-Century Modernist
RETRO RENOVATION - Pam's Excellent Effort At Re-creating A Retro Life
Carnival Of Real Estate - Minus Elephant Ears, But Still Mighty Tasty
Lotta Livin' - A Celebration Of Really Cool Things Mid Century
Bawld Guy Talking - Minus The Hair; Plenty Insightful
CoolnessIsTimeles - ALL "RAT PACK" ALL THE TIME!
SEE ALL OUR FAVORITES HERE

Southridge
June 30th, 2009 Categories: Historic Preservation, Southridge
I call all of the downtown neighborhoods historic. From my point of view, they are already. But that doesn't mean they actually have true designation from the City.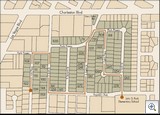 One exception is within The John S. Park Neighborhood. The area between has official designation for the area between Charleston and Franklin, and 5th place and 9th Street.
John S. Park went thru the process several years ago. From it was developed a set of "guidelines" to help the neighbors maintain and protect the rich heritage of the area as well as the architectural integrity. They also created a walking tour brochure. Here is the John S. Park Historic District Walking Tour in PDF format. Take the tour sometime. It's a very eye opening.
You'll notice if you look at the tour that most of the homes in JSP Historic District were built before 1950. It's just 1 more block south, below Franklin Avenue where you'll break into a completely different type of architecture from post 1950. Welcome to Mid Century Modern. The modernism really starts with Franklin on the north.
And NOW, it's Southridge's turn. It's the Mid Century Modern architecture that really defines the Southridge Neighborhood Association. The boundaries of Southridge are purely arbitrary. Oakey's on the north, Sahara's on the south, Maryland Parkway to the East and 6th Street to the west. The neighborhood has several subdivisions, and 2 pockets of custom homes that have no subdivision name. You'll find Alta Vista, Acres, Southridge, and Oakridge and Town & Country Estates subdivisions in the Southridge Neighborhood.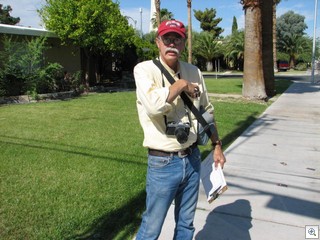 The Southridge Neighborhood Association has been awarded Historic Preservation Fund Grant money from the Nevada State Historic Preservation Office. The funds are being used to "conduct the Phase I Historic Survey and Inventory of the Southridge Neighborhood".
Yesterday I met up with crew who's conducting the inventory and survey. Monday and Tuesday are being spent taking a picture of every property in Phase One of the survey. They'll be writing descriptions, noting the details, INCLUDING obvious changes that have been made to the homes. The number of homes that have been significantly altered with 2nd stories, rough stucco, popouts around windows, arches, mexican fences, and other components that are not Mid Century Modern will play a key role in determining whether the district will be eligible for Historic District designation.
The goal is to show that there's a unified, cohesive district characterized by the architecture and the history. Courtney Mooney, the Historic Preservation Officer for the City of Las Vegas is supervising the process.
Eventually, I'd love to see all of the neighborhood associations go thru the process. Beverly Green is starting it up now, and I hope John S. Park will continue with the rest of their neighborhood that's south of Franklin Ave.
There is no legislation in the county allowing for Historic Districts. Nor is there an historic preservation office in the county. Chris G. is working on it, and we encourage her to get it passed. It's especially important for Paradise Palms, Paradise Crest and Royal Crest Rancheros, which are all in the county and not in the city.
Posted by Jack LeVine | Currently 3 Comments »
September 15th, 2008 Categories: Congratulations, Southridge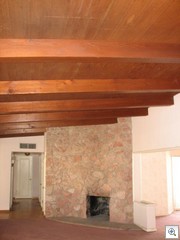 If you'll remember way back in July, I started the Fun Features Found In Foreclosures series with the mid century modern home at 704 Canosa. Harold stepped to the plate and started a very long escrow with the bank seller.
I only bring up the bank seller and the long escrow because the bank dragged their feet at every step and turn of the whole process. Harold and I want to remind you that patience is a virtue when dealing with the foreclosed homes. They took 2 weeks to give us the first counter offer, which Harold accepted. They took 10 days to return to us the signed final contract which actually allowed me to open the escrow. We were ready to close 10 days ago. It took the bank 8 days to sign off on the final paperwork from the escrow company.
That put us a full week late in closing, and Friday we got notice that the bank/seller wanted to charge the BUYER a late fee for not closing on time when the hold up was caused by the bank. 2 hours of angry phone calls later, I got them to drop the late fee demand and to authorize the closing. Of course by then, it was 4pm on Friday, so Harold finally became a homeowner today at 8am.
There's some tremendous opportunities sitting out there for those with patience and the time energy and resources to fix these homes back up once you're the owner. Rarely have I ever seen a bank owned foreclosure repo that was in move in ready condition.
Out in the suburbs, however, there are foreclosures that have never even been lived in, and and except for the weeds and dead landscape, look just like they did the day the builder delivered it to the speculator. I've got Realtor friends who are just as busy as I am selling practically new homes for 1/2 price to people who like cookie cutter homes on tiny lots.
Harold has great plans for the property, and we'll be watching as he puts it back together. Congratulations.
Posted by Jack LeVine | Currently 2 Comments »
September 4th, 2008 Categories: Pillars Posts And Columns, Southridge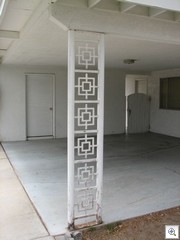 Another piece of great ironwork design! And there's a matching gate as well.
These are from St. Louis Ave, in the Southridge Neighborhood of Downtown Las Vegas. Southridge was built from 1951 to 1953. I borrowed the name Southridge for the Neighborhood Association that I started in 2000 to fight the stratosphere "scorpian tale" roller coaster. However, there's several other subdivisions that are included in the Southridge Neighborhood Association.
One by one, we'll be giving an introduction to them as well in this series.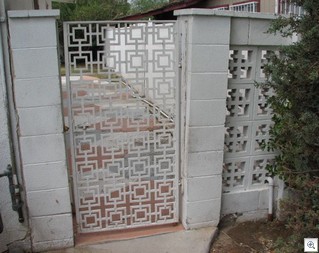 Many of the homes in Southridge were built over crawlspaces and have original hardwood floors. The original floorplans were from 800 to 1200 sf. they were built with 1 bathroom, but most of them have been expanded over the years. Southridge has 151 homes that were built on St. Louis, Howard, Canosa, Bonita and Hassett, as well as on 10th and 11th Street.
Currently there are 5 homes for sale from 99,900 (bank owned and needing LOTS of work) to $142,750. In fact, all but one of the 5 are either bank owned or shortsale.
Posted by Jack LeVine | Currently Comments Off on The Pillars Post And Columns From The Vintage Las Vegas Homes
July 28th, 2008 Categories: Beverly Green, Southridge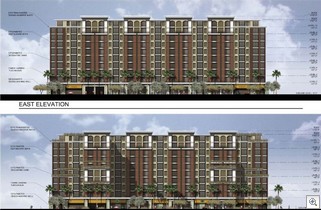 The Beverly Green and Southridge Neighborhood Associations, which run between Sahara and St. Louis and Las Vegas Blvd and Maryland are constantly being bombarded with proposals for commercial development that will have huge impacts on the residents.
The latest proposal for the lots on 6th Street north of Marie Calandars and Tony Romas is a dramatically scaled back version of what was first proposed which included a 43 story hi rise.
There's a joint neighborhood meeting with the developer at 6pm on Tuesday night 6–29–08 at the Trinity Life Center at 1000 E. St. Louis Ave.
Anyone impacted by this project, or anyone interested in seeing how the process works is invited to attend.
Posted by Jack LeVine | Currently 1 Comment »
March 14th, 2008 Categories: 6th & Sahara Hi-Rise, Beverly Green, Southridge
The planning commission turned down the 47 Story hi rise development at 6th and Sahara. About 40 neighbors from the Southridge, Beverly Green, Huntridge, and John S. Park Neighborhood Associations came to the hearing and spoke their opposition.
Of course, being turned down by planning gives the developer the right to plead their case to the City Council on April 13. So we'll be calling once again for bodies and voices to attend the City Council meeting.
Steve Evans, the commissioner for ward 3 really read the riot act to the developers. His most important point is that they did everything backwards, by presenting a plan to the neighbors FIRST and asking us to just accept their grand design, instead of meeting with the neighborhoods that would be affected to find out what would be acceptable, and then designing based on having our support.
The city and especially Mayor Goodman and Councilman Gary Reese have been tellings me publicly and privately that viable, energetic, and continually improving historic neighborhoods are a top priority.
We applaud the commission for drawing a line in the sand between the single family neighborhoods and the developers who want to build with no concern for the impact on the neighborhoods.
Posted by Jack LeVine | Currently 1 Comment »
January 10th, 2008 Categories: Beverly Green, Southridge
Tonight's hearing in front of the planning commission about the 47 story Hi Rise for 6th and Sahara has been postponed at the applicant's request. The new date is Feb. 14th.
We'll keep you posted.
Greg Brown posted a comment on the previous post, but it's worth repeating it here.
"I just got a call from the Planning department that it was abeyed at the applicant's request. It is rescheduled for February 14th, though who knows if it will be heard that night.
Presumably they will hold another "neighborhood" meeting though the developer has told me he has no interest in holding an open meeting (which would only produce "complaints"), no interest in conforming to the Neighborhood Plan, and no interest in conforming to existing adjancy standards.
Clearly, they are trying to make an end-run around us."
Posted by Jack LeVine | Currently Comments Off on Planning Commission Hearing POSTPONED
January 10th, 2008 Categories: Beverly Green, Southridge
All of the really good, and potentially great Neighborhoods Associations came about because of proposed development or political controversy that impacted the adjacent homes.
I started the Southridge Neighborhood Association in 2001 in response to the Stratosphere's Scorpian Tail Roller Coaster Ride. Later, we split it into two groups and the Beverly Green Association became a separate group.
John S. Park got organized because of the "Titanic" hotel project which had been proposed for where the Aruba and Holiday Inn sit on LVBS. The Huntridge East and West Associations have rekindled themselves over the issue of the closure of Circle Park.
Every home in the county or the city is eligible to be part of a neighborhood association. The City and County both have people in their planning departments to help get them going, or to help make them better.
If you don't have one, then you can start one. Energized citizens, who organize can create change as well as preserve what we have. I encourage you to get involved, and to come to the Planning Commission Meeting Tonight.
I'm cutting and pasting some of the comments about the 6th and Sahara Hi Rise project that have been flying thru the tubes in email messages from many of the leaders of the Southridge and Beverly Green Neighborhood Associations.
I'm offering the comments section for this post to all the people on the list that have been email each other to use it as a forum until we get a myspace or yahoogroups or whatever started to deal with the 6th and Sahara project.
If you want to read some of the comments, or add your own, just click on the "read the rest of the post" link below.
Posted by Jack LeVine | Currently 2 Comments »
January 8th, 2008 Categories: 6th & Sahara Hi-Rise, Las Vegas Real Estate News, Southridge
Greg Brown, who's spearheading the neighborhood response is asking for help. We need as many people as possible to show up for the planning commission meeting on Thursday 1/10. The item will be #31 on the agenda, so it will be heard fairly early in the evening, maybe even as early as 6:30pm
Our Previous Posts On the Subject are Here and Here
Posted by Jack LeVine | Currently Comments Off on Las Vegas Planning Commission To Hold Hearing On Proposed HiRise At 6th and Sahara
January 7th, 2008 Categories: 6th & Sahara Hi-Rise, Beverly Green, Las Vegas Real Estate News, Southridge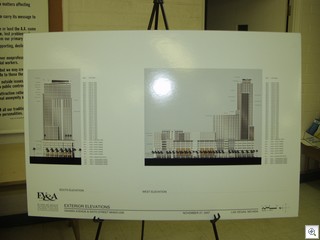 Greg Brown, from the Beverly Green Neighborhood Association wrote the following, and encourages anyone with something to say about this project to attend the planning commission meeting where it will be introduced. The meeting will be Thursday 1/10 6pm.
This has the biggest impact on Beverly Green and Southridge Neighborhoods, but in light of it being an excellent example of how development affects ALL of our neighborhoods, the more involvement from our neighbors that we have, the better prepared we'll be for what ever the next development project is. We reported on the proposal and gave our opinion last month.
Here's Greg's Summary of the issues and details.
Dear Neighbors,
On Saturday you should have received in the mail a series of cards from the City's Planning Department giving official notice of a the Planning Commission hearing on the evening of January 10 of the proposed high-rise commercial/residential tower on Sixth Street. The cards asked for responses in support or opposition to the project. Because its become clear in talking to many neighbors over the weekend that the cards were not sent out to everyone in the neighborhood, and since so many people are away from home for the holiday, I'm sending the information via email — and encouraging everyone to please pass this information along to anyone else in the neighborhood who has an opinion on this project.
The project, as presented earlier this month, is for a 500-foot tower that would occupy the sites that are currently the Sixth & Sahara shopping center, the vacant lot to the north of the shopping center, and the Christian radio station on Sixth. The building would include approximately 1100 residential units and 180,000 square feet of commercial use. The portion of the building that would run along Sixth would be 12 stories high and all vehicles would enter and exit on Sixth.
Posted by Jack LeVine | Currently 2 Comments »
December 13th, 2007 Categories: 6th & Sahara Hi-Rise, Beverly Green, Downtown Las Vegas, Southridge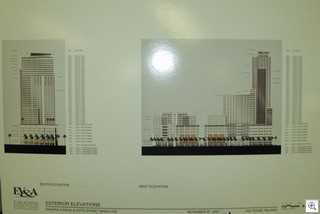 A new proposal was introduced last night to build a 44 story condo/office/retail mixed use tower at the corner of 6th Street and Sahara. Tony Romas, Marie Calendars and the small shopping center would be replaced if the plan ever goes forward.
The biggest objection is that the parcel and site plan would be in the back yard of homes on Alhambra Circle in Town and Country Estates, and right across the street from a dozen homes on 6th Street. The neighborhood Associations have always objected to commercial intrusion into the neighborhoods.
(As with all photos on VVV, you can click the picture to see it full sized)
The developers own most of the land already, and there's no stopping them from redeveloping it, but the leaders of the neighborhoods that are most affected, Southridge and Beverly Green, gave the project mixed reviews. With out a doubt, everyone wants to see Sahara Avenue cleaned up and redeveloped, but everyone I spoke to objected strongly to the 44 story height of the tower. Opinions were also very strong that the preliminary drawing showed a building with no artistic merit, or even the least bit of homage to the 1950's mid century buildings surrounding the site.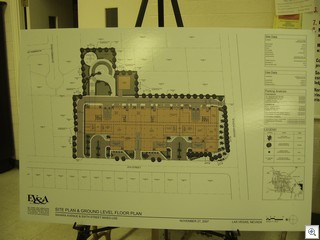 They claim the target market for the condos will be local working people, but the stated price range is from 300k's to 1.2million. Granted new shops and offices with workers who will go out for lunch, shop on their lunch hour, and lots of residence will be good for the single family homes nearby. However, last night they didn't discuss traffic problems that would be generated with all the traffic for the project having to use 6th street.
There will be more sit down meetings with the neighborhood associations, and they'll need to get zoning variances, which we think will start with planning commission meetings in January.
In general, we think it's much to big of a project for that corner, and that it's out of character for the surrounding neighborhoods. We always believed that medium rise mixed use would be much better than a 44 story tower, and would have no problem with it if it was mid rise instead of hi rise. Of course, if the design incorporated a lot of mid century modern styling it would help appease us a lot.
Posted by Jack LeVine | Currently 3 Comments »
December 11th, 2007 Categories: 6th & Sahara Hi-Rise, Beverly Green, Downtown Las Vegas, Market Conditions, Southridge
We got a mysterious flyer about a project for the corner of 6th and Sahara. They're doing a preview of it on Wednesday 12/12 from 4 to 7 pm at the Reformation Lutheran Church at 580 E. St. Louis.
I thought it was going to be about the "fly away" that's been proposed for 7th and Sahara, but rumor now has it that its for a HiRise Condo Complex to be built on the Marie Calandar/Tony Roma lot at 6th and Sahara.
If you've got 2 cents on this subject, then we'd better start throwing it in to the pot now.
I'll be going to check it out, and will report back as soon as I know anything concrete.
Posted by Jack LeVine | Currently Comments Off on Proposed Hi Rise Condo At 6th and Sahara ?
November 27th, 2007 Categories: Beverly Green, Las Vegas Real Estate News, Southridge
Yesterday's dedication ceremony was well attended by many of the regular supporters and leaders of the various Neighborhood Associations. Mayor Pro Tem Gary Reese, and City Manager Dr. Doug Selby thanked the neighbors for the idea to beautify and control traffic on St. Louis.
The attendees were reminded that change doesn't happen from the top down. Concerned citizens, working together as neighborhood associations are the catalysts for improvement.
Are you active in your neighborhoods voluntary association? Does your neighborhood even have one?
Posted by Jack LeVine | Currently Comments Off on Neighborhood Activists Applaud Cities Efforts On St. Louis Ave.
November 26th, 2007 Categories: Beverly Green, Downtown Las Vegas, Las Vegas History, Las Vegas Real Estate News, Southridge
Posted by Stephen P Christmas | Currently Comments Off on St. Louis Ave. Dedication Ceremony
November 23rd, 2007 Categories: Downtown Las Vegas, Home Repair and Remodel, Southridge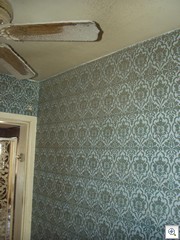 It's just the funniest example I've ever encountered. We see streaks on the ceiling eminating from the registers, but this was just too much.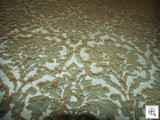 Flocked wallpaper was all the rage once upon a time, and we still find it occasionally. I didn't know that the flocking could become supercharged.
This is in a real interesting fixer upper home in downtown. It's only 199,000, but its 1500 feet, with 3 bedrooms, two baths and a surprisingly, a pool that's in great shape. The rest of the place requires a complete gut job, but it would be well worth it. Anyone interested, give me a call.
Posted by Jack LeVine | Currently Comments Off on What Can Happen If You NEVER Change Your Filters
November 20th, 2007 Categories: Beverly Green, Downtown Las Vegas, Events, Everywhere We Look, Historic Preservation, Las Vegas Real Estate News, Southridge
The Las Vegas City Council invites you to attend the dedication ceremony for the completion of the St. Louis Avenue Improvement Project.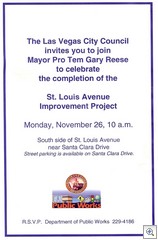 Monday, November 26, 2007 10 AM
St. Louis Avenue and Santa Clara, just east of Paradise Ave.
RSVP to Department of Public Works 229–4186
Posted by Jack LeVine | Currently 1 Comment »