Decorative Concrete Block Designs Topics
Welcome To Uncle Jack's Very Vintage Vegas!
Vintage Las Vegas Homes,
Historic Las Vegas Neighborhoods,
Las Vegas History,
Urban Living In Las Vegas.
If it's great, cool, fantastic, artistic, annoying, amusing, unique, or surprising.. you'll find it at VeryVintageVegas.com.
Check out what we're doing and add your two cents! Your comments & ideas are welcome. We update daily, so come back tomorrow!
Blogroll
Farmer's Insurance
Paul Hesselgesser
702-434-1230
The Hesselgesser Insurance Agency Website
Classic Las Vegas - Lynn Zook's Preservation of 20th Century Las Vegas
Curbed LA - WOW!
Mid-Century Modernist
RETRO RENOVATION - Pam's Excellent Effort At Re-creating A Retro Life
Carnival Of Real Estate - Minus Elephant Ears, But Still Mighty Tasty
Lotta Livin' - A Celebration Of Really Cool Things Mid Century
Bawld Guy Talking - Minus The Hair; Plenty Insightful
CoolnessIsTimeles - ALL "RAT PACK" ALL THE TIME!
SEE ALL OUR FAVORITES HERE

Decorative Concrete Block Designs
September 14th, 2010 Categories: Decorative Concrete Block Designs
Here's a great example of the kind of email I get all the time from all around the country….
Mr. LeVine,
My name is Robin. I am construction purchasing agent for a Paramount Pictures production filming in Atlanta, GA. Our production designer has focused on a decorative concrete block design found on your website. It is the decorative block "Pattern #50 at last". Do you know of any manufacturer currently making this block design? It is the designer's choice for use in a movie set we are building for a remake of the movie "Footloose".
If you can provide any information which would help us locate a quantity (250 more or less) of these block it would be greatly appreciated.
Enjoyed your website very much.
Thank you,
Robin *****,
Paramount Pictures, Purchasing
The BIGGEST question of course, has to be "Why are they remaking Footloose"?
Back in Las Vegas…..
we were very happy last year that all the block form the Travel Inn Motel (just south of city hall) got rescued by my clients – Nick and Jamie. They built a new sunscreen wall from them for their new home in Glen Heather.
What I didn't know, is that they have a whole lot of them left over, and are hoping we can help them find a good home for the blocks. They'd really like to see them enhance a great home in Vintage Vegas.
They've put them on Craig's List – for a mere $3.00 each. There's about 150 of them.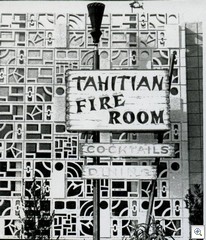 And – client Bob sent me this picture he found at TikiRoom.com
I'd love to get my hands on all of them for my collection.
Posted by Jack LeVine | Currently Comments Off on Decorative Concrete Block Stories
July 16th, 2009 Categories: Decorative Concrete Block Designs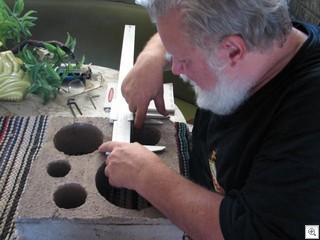 I met Chris and Marilyn at a recent event at the Morelli House. They had just bought a very run down house on Hastings in the Alta Rancho Historic District. Now they're regulular readers of VeryVintageVegas.
They're wrapping up on the inside renovations and are planning to put up a decorative concrete block screen in the front of their home. Their favorite pattern, as it is with most people who I discuss the various blocks with is the "champaign bubbles". But where to get them?
I get that question all the time. I don't know. No one makes them any more. As I've mentioned previously, I get a call or an email once or more a week from people all over the country asking me if I carry this block or that one. Google is a wonderful thing sometimes. Other times – NOT.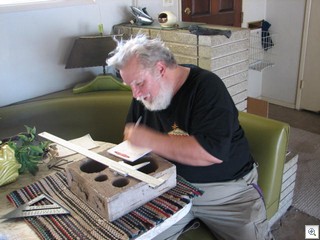 Since the champaign bubble blocks are nowhere to be found….Chris has decided to make his own!
He'd read that I had one in my collection, and asked if he could use it to get the proper dimensions. He came by this afternoon armed with every kind of measuring devise. Turns out he's a retired mathematician, so we can count on them being precisely the right shape and size.
His next step is to cast a mold, so I loaned him my block to use as the the guide. He's promised to let me photograph every step of the process. Oh, how I wish I had that much free time! This should be fun. Stay tuned and don't touch that dial.
Posted by Jack LeVine | Currently 29 Comments »
June 17th, 2009 Categories: Decorative Concrete Block Designs
It's been a year since we ran the series that documented every single decorative concrete block pattern that I could find in Las Vegas. We've acquired thousands of new readers since then (welcome to you all) so I thought we might revisit them.
I got to thinking about them, because:
A) I got two calls this week – one from Omaha and one from Orlando. Both asked me how much I charge for the blocks! This happened once before, which was amusing, but twice in one week – and a year later to boot?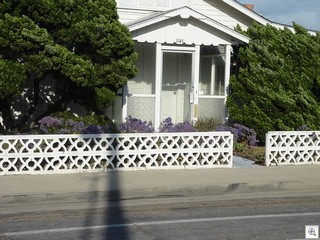 and, B) Nick Bennett, who's a regular reader and new resident of Glen Heather was in Encinitas, California this week, and he emailed me a pattern that neither of us has seen before.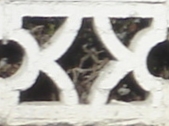 I'll be in California this weekend and will look for other patterns. Each city seems to have locally created patterns that are unique, as well as common patterns that show up in the Mid Century Modern homes and neighborhoods of almost every city.
Universally – and I say this from real life experience, since I get to show off the patterns to just about every single buyer that I work with – everyone's favorite is the "Champaign Bubbles".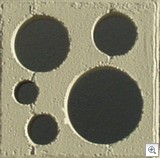 If you're new to Very Vintage Vegas and want to see the entire series, you can click this link and see them all. There's over 50 different patterns. As you drive around in Vintage Las Vegas, you'll start to notice them, then you'll realize that they're EVERYWHERE in Vintage Vegas.
If you're traveling, or are one of our many readers outside of Las Vegas, I'm inviting you to take pictures of decorative concrete block patterns that you find.
Posted by Jack LeVine | Currently 2 Comments »
April 11th, 2009 Categories: Decorative Concrete Block Designs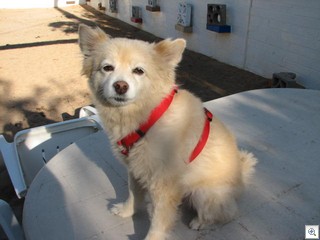 Anyone know where he lives? I took him to the vet, and he's chipped, but they NEVER registered the chip.
I found him at the corner of Mohigan and Delaware in Paradise Palms on Saturday Afternoon. He's homesick and wants his Mommie.
Because of Maggie, my Houdini-esque Beagle – who's been rescued a couple of hundred time (or so it seems) – I'm compelled to rescue every dog I can.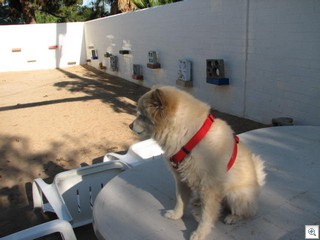 This wasn't the best Pommeranian Picture, but you can see more of the collection I'm building of stray Decorative Concrete Blocks . Anyone have any they want to donate?
If anyone knows who owns this precious pom, give me a call.
Posted by Jack LeVine | Currently 2 Comments »
January 30th, 2009 Categories: Decorative Concrete Block Designs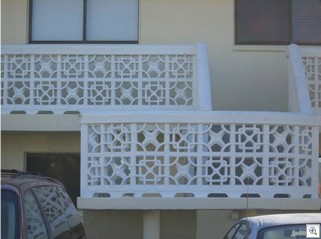 Marguerite Goswick, a regular reader from Florida sent me a mid century modern concrete block design that I'd never seen before.
If you're new to VeryVintageVegas, you might have as much fun as the rest of us did, by checking out the series that we did last summer.
We documented EVERY decorative concrete block design that we could find in Vintage Vegas. You can see the whole series here.

I seriously doubt that we missed any in Las Vegas, but since I found some unique ones in LA, and Marguerete found this one in Florida, I'm betting there's a lot more that were unique to other parts of the country.
If any of you readers outside of Las Vegas spot a pattern that wasn't covered in our series, I welcome you to also send in a picture.
Posted by Jack LeVine | Currently 2 Comments »
September 9th, 2008 Categories: Decorative Concrete Block Designs, Paradise Palms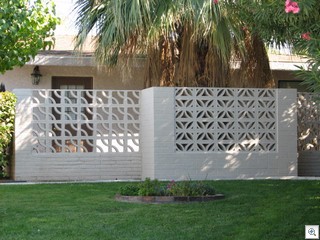 I'm astounded, but it seems I missed a couple of patterns back in our series of the 50 different patterns. I found this on a relatively obscure cul-de-sac in Paradise Palms. It's not original to the home and seems to be an extension of the sunscreen that was there from the get go.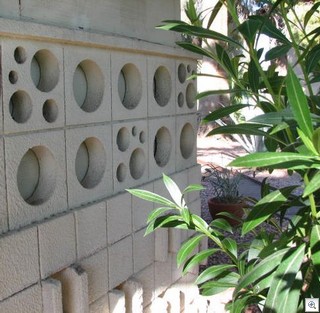 The other pattern is merely a block with a single large hole in it. It's also from Paradise Palms, but this one, mixed in with the champaign bubbles pattern as well as pop out shadow blocks is particularly stunning, though it's hidden behind a very big oleander.
I happened to make a u-turn in front of the house yesterday and caught a glimpse of it from an unusual angle, which is why I hadn't seen it before.
The concrete block decorative sunscreen patterns were used extensively in the 50's and 60's. They're in almost every one of the neighborhoods that we cover regularly. A good rule of thumb, is that when you run stop seeing the decorative concrete block sunscreens, you're not in Vintage Vegas anymore.
If you're new to Vintage Vegas and want to see the entire series, all you have to do is click here.
Tonight is the COMMUNITY MEETING about the NATIONAL GOLF COURSE and their plans to file a parcel map as a prelude to turning the golf course into a 600 +– home housing tract.
6:30pm at the Cambridge Community Center. Click here to read the whole story that we posted last week.
Posted by Jack LeVine | Currently 2 Comments »
August 26th, 2008 Categories: Decorative Concrete Block Designs, Mid Century Modern
As you know, I'm obsessed with the decorative block sunscreens and walls,. The series that we did about them seems to have long tail search engine value.

I gave you a teaser the other day about a very special pattern, and these photos came along with it.
They were sent in by a VW affectionado in Connecticut, and I'll let him tell the story.
The first email I received from Dave had this note attached along with these photos:
Jack,
Have you ever seen Decorative Concrete Blocks shaped like the Volkswagen logo? ( see the attached photos) I've only found 2 Volkswagen dealerships from the 1950-60's that used them. One was Davella VW was in Meriden, CT the second was North Dade Imported Motors was in North Miami, FL. Were the any 50-60's VW dealerships in or near Vegas that may have had these?
So the mystery was afoot! I naturally went to MaryJoy who remembers everything about Las Vegas in the 50's and 60's. She remembers the only VW dealership being Bob Glinski's Motors at Boulder Highway and Sahara, They didn't have them.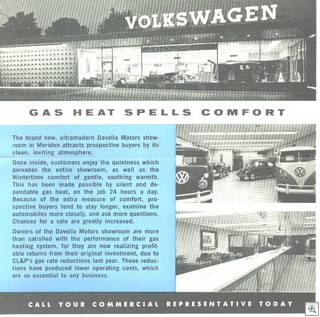 David emailed me back the story of how he acquired 2 of them:
Jack,
My son and I are avid Volkswagen enthusiasts so when we saw this
VW concrete block at a VW car show/swapmeet a few (6) years ago and just thought
it was neat that Volkswagen used something like when they constructed the dealers building.

The guy was selling the block(s) for $75 each. At the time I thought that was kind of high priced!
He told me that it came from an old VW dealership that was torn down…..Davella Motors in
Meriden, CT. I tried locating the owner of the old Davella Motors but he had passed away.
I tried the Meriden-Local Historian, he didn't have any photos, but only knew of a postcard that
had Davella's Dealership on it. (I'm still looking for one of those.) Next the Meriden Building Dept., They told me they didn't have anything that "old", and finally the Meriden newspaper the Record-Journal…a partial success….most of their old photos were ruined/destroyed in a flood years ago but they had some photocopies of articles in the newspaper about Davella's dealership and one photo of Davella's when it was rebuilt…..they sent me copies. The new Davella Motors didn't use the Decorative VW Logo Concrete Blocks but had half a VW Bug on the outside wall of the building. See photo.

A few months later we were buying some parts for our VW beetle
at a place named Bug City (they sell parts for all kinds of VW's) the owner Dave Valici said he
knew of a guy that has some of the "VW Blocks"…Johnny at Classic Cars in Meriden!! I went
to see him and bought two for $50 each!! He bought/acquired all the blocks when the old Davella
Motors was torn down. He also knew of the "postcard" but didn't have one.

I guess that I just became obsess with finding out more about these VW Decorative Concrete Blocks!!
Every once and a while when I'm on the Internet I search around for more info about them.
Oh….just recently I called Johnny (the guy that sold me the VW Blocks) he said he sold the rest
of the VW Blocks (about a 100 of them) to a man out of state that is going to use them for
a wall next to his garage!!
– – David
Then he sent me a note saying that:
Just an update to the end of my story: the guy that bought the 100 VW Blocks paid $4000 for them!!
He's a VW Dealer in Chicago and may use them at his dealership!!??
Maybe we can get Didi from DIM BEAUTY OF CHICAGO to help us track down the blocks that ended up in Chicago.
I know there's postcard collectors out there. Anyone ever seen a VW dealership postcard from Davella Motors? Any other dealerships?
There's mid century modern affectionados all over the country who read this. Any of you have a recollection of these at any other VW dealerships?
Like Zane and other readers, there's VW affectionados. Any of you have dealership photos, ads, etc that might show them on other dealearships around the county?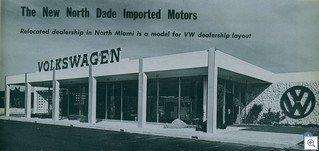 As a bonus, David sent me a the only other thing that he's found which is a VW dealership in Florida with a sunscreen on the far left edge made of the decorative concrete blocks. It's a great mid mod design as well. Maybe one of you have a photo editor that can bring the blocks into clear focus.
Furthermore, if you didn't click on the ad that shows the davella dealership, it's hysterical. It's really an ad for gas heat from Connecticut Power and Light which features the dealership, and provides at the moment the only known picture of the blocks as they were originally used.
Posted by Jack LeVine | Currently 11 Comments »
August 24th, 2008 Categories: Decorative Concrete Block Designs, Mid Century Modern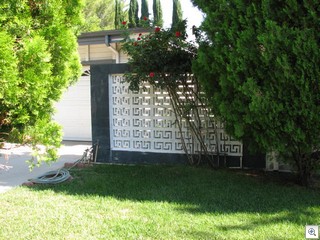 On my search for mid century modern homes in Los Angeles last week, I stumbled upon a couple of block designs that I've never seen in Las Vegas.
This first one was in the Eichler Homes Neighborhood of Balboa Park which I haven't written up yet. I'll get to it this week.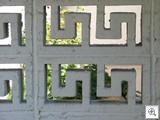 This double repeating pattern was in an actual sunscreen hiding a courtyard front entry.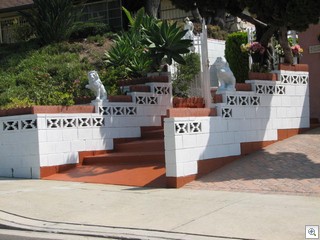 This one was in the in the mid century modern neighborhood of Los Feliz Estates that I shared with you earlier in the week.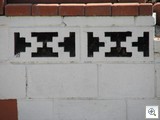 You know how obsessed I am with the decorative concrete block designs that were a staple of mid century modernism. If you missed it, or are new to VVV, there's an entire 50 part series on the subject that you can find with this link.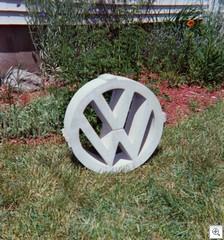 As an added bonus, here's a very special pattern that was sent in by a reader in Connecticut. There's more to the story behind this, and I'll do a full post on the VW block later this week.
Posted by Jack LeVine | Currently 4 Comments »
June 24th, 2008 Categories: Decorative Concrete Block Designs, Mid Century Modern
I recently discovered that there were names for the patterns that we've been discussing for the last 2 months. Some of them can still be obtained.
Allied Building Materials, at 221 West Wyoming has 2 of the patterns in stock.

The butterfly or clover design that was number 6 in our series is really called "LaCosta". Last week they had about 300 of them in stock. They're $4.35 apiece.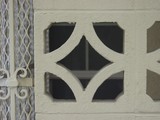 The "Cordova" which was Pattern #11 in our series is in stock at Allied. They had 51 of them in stock at the same price of $4.34 per block.
Orco Block Company in Los Angeles is the manufacturer. They still make only 6 of the patterns including the La Costa and the Cordova above. They also have the following four patterns, and Allied can get them for you.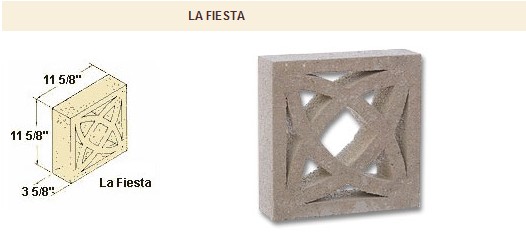 "La Fiesta" was #4 in the series, and is one of my favorites.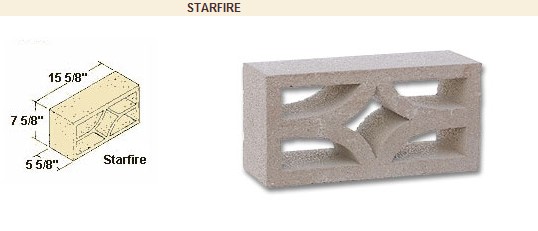 "Starfire" is real nice and seems to be a stretched out version of the Cordova.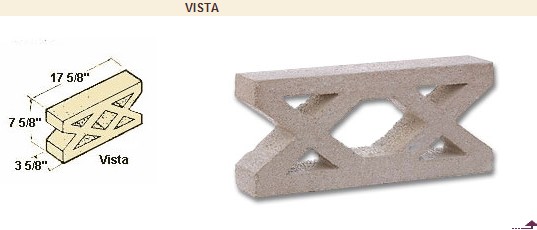 The "Vista" is also available at the big box home improvement stores, though I don't know if they get them for Orco. Vista can be found on the top row of thousands of block walls in the suburban concrete canyons.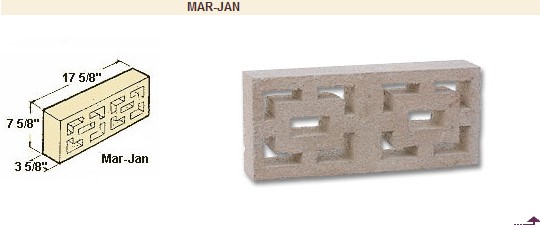 And my new favorite, which I've NEVER seen in use in Las Vegas is called the MAR-JAN. Ther's a similar suspended square in a single square block that was number 49 in the series. But I love wider double version of the Mar-Jan.
In one of the funny coincidences that happen to me all the time, I was in the middle of an email exchange with the sales manager at Orco when an email came in from Zane Donaldson. Zane sent the link to the lecture by Bill Krisel. At literaly the same moment that the Orco guy told me about Angelus Block, one of his competitors in LA, Zane sent the link and attached file with the block designs from Angelus.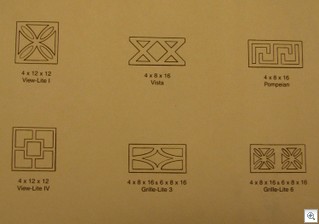 Bill Krisel mentions Angelus Block as a primary supplier of the blocks he used in the 50's and 60's. Their website isn't as good as Orco, but I did call, and they do carry some of the same designs as well as a few unique ones.
Angelus doesn't have a distributor here, but they're a lot closer than A-1 Block in Florida, which up till now was the only place I could find at all.
So, for the more than 2 dozen readers who emailed me or left comments asking where they could obtain some of these patterns, now you have the answer. If anyone else knows of any other manufacturers anywhere in the US, I'd sure appreciate finding out about them.
That, my friends, concludes our 2 month long adventure into the "Decorative, Retro, , Historic, Mid Century Modern Block Walls and Sunscreens of Very Vintage Vegas
I thank you for indulging me, and I certainly hope it gave you a new insight into an important element of Vintage Vegas.
Just remember, when the sunscreens disappear, you've left Vintage Vegas.
Posted by Jack LeVine | Currently 1 Comment »
June 23rd, 2008 Categories: Decorative Concrete Block Designs, Home Repair and Remodel, Mid Century Modern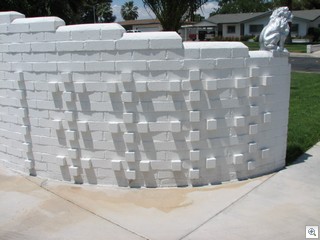 In the lecture by Bill Krisel, that we published last week, he mentions shadow block and integrating accent design into the building itself. There's many marvelous examples all over vintage vegas.
"Buildings cast shadows" and they can't be ignored. These first two examples are from downtown homes in the historic John S. Park and Beverly Green Neighborhoods.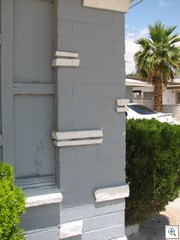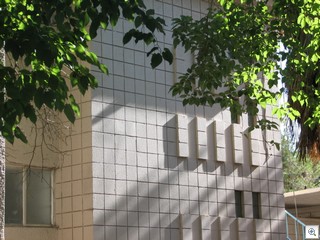 Another good example comes from the "Fleur De Lis" apartments off Maryland Parkway accross from the Boulevard Mall. Integrated design changes ordinary into gorgeous. I just wish the whole complex was better maintainted, but it's worth finding them if you're wanting to take a few minutes next time to see an amazing complex of mid century modernism.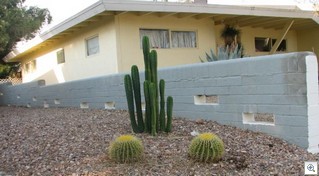 We've been busy working on the block walls surrounding my own home. We finished the front painting this weekend. Our fences had the opposite of pop-outs. The design was created by leaving selected blocks out altogether.
This view from the neighbors yard also shows the broad overhangs, and exposed beams on my home.
I hope you don't think I've been blowing smoke about being a mid mod enthusiast without actually living in – and loving one of them.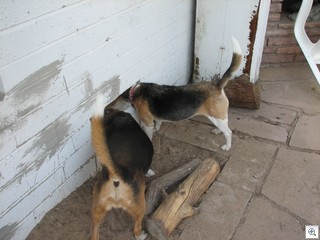 But the holes in the fence does present a problem in the backyard, where we spent the weekend tuck pointing and prepping for the new paint job.
The beagles are obsessed with watching the neighbors. What happens in their yard is capable of setting off a chain reaction of dog barking for several blocks around us.
I've promised you in the past to tell you about where we can get our "decorative sunscreen" blocks locally, and I am building up to that for tomorrow. The series that we've been doing is what got me motivated to work on my own fences, and to research where to find 4x4x16 block. In doing so, I discovered a local source for some of our patterns.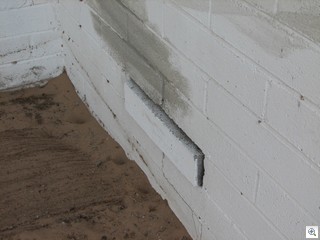 My solution to the beagle problem is to turn some of the holes (especially the lower ones), if not all of them into popout shadow block instead.
The final decision is yet to be made whether to leave the soon to be installed block sticking out one inch or maybe 2 inches, or to create an actual ledge that could hold a planter or a piece of art.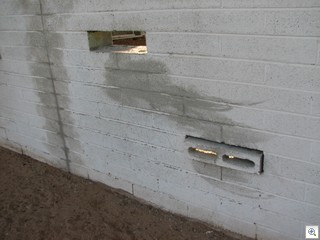 I've also rounded up a few blocks of the right size that have holes in them that could create another type of accent. I've only got 5 of them, and haven't decided whether to integrate them or not.
Of course, your input is welcome in the comments.
I'll show you the finished outcome (if I ever take off another weekend) when we're done.
Posted by Jack LeVine | Currently 2 Comments »
June 19th, 2008 Categories: Decorative Concrete Block Designs, Mid Century Modern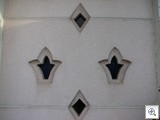 Well, we finally made it to the end of the "official" series. I know some of you are real happy about that. Personally, I'm going to miss doing them.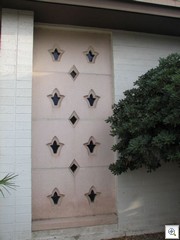 These aren't really blocks in the same way all of our others were. I think I'd describe them more as panels, but they achieve a similar effect. I didn't measure them, but the look to me to be about 18"x24"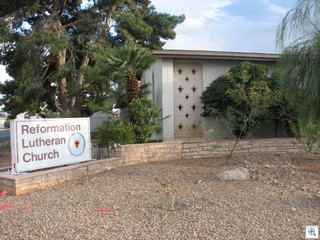 They're on the front of the church at the corner of 6th Street and St. Louis.
Once again, for future reference, you can see the whole series or in the future just click on the "decorative concrete block designs" in the category section of the left column.
Posted by Jack LeVine | Currently Comments Off on I Saved The BIGGEST Decorative Block For Last
June 18th, 2008 Categories: Decorative Concrete Block Designs, Mid Century Modern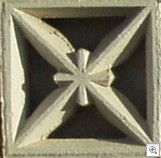 I've really had fun showing these to you. This one, pattern #50 is really number 49 as I've said before.
It's deeply cut, and has has 2 different mini-patterns criss-crossing each other.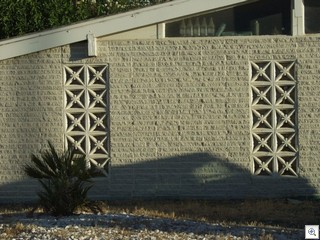 I'm sure I've seen it in several places, and have spent the last month looking for it again. This is the only picture I had of it in the now almost empty folder.
Tomorrow, I hit you with the biggest and truly a one of a kind piece of decorative concrete.
To review them all, you can click on the link in the left column categories that says "decorative concrete block designs"
Posted by Jack LeVine | Currently 1 Comment »
June 17th, 2008 Categories: Decorative Concrete Block Designs, Mid Century Modern

This is as retro as you can get. A suspended square within a square.
It's been lots of fun showing you all the different block patterns that can be found in Vintage Las Vegas.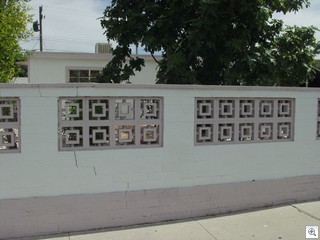 This one makes an elegant sunscreen, and works beautifully as an accent in a divider wall.
Of course, living plants would make it even better.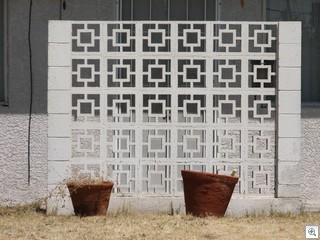 If you'd like to see the whole series all at once, you can click here, or in the future if you want to reference them, you can go to the category section in the left column and click on "decorative concrete block designs".
There's only 2 more left of the actual patterns. I knew I had "about 50" of them, and since I accidentally used one of the patterns twice, that makes the real count exactly 50. Then of course I've got some bloopers to show you, as well as some other very creative uses of concrete block. So we're not quite done yet.
Posted by Jack LeVine | Currently 2 Comments »
June 16th, 2008 Categories: Decorative Concrete Block Designs, Las Vegas Real Estate News, Mid Century Modern
One way to find out you've left "Vintage Vegas" is the decorative concrete block sunscreens, and fence patterns start to disappear. Except for the "Double X" and the "Double Y" (which are still used as the top row of blocks in the "cinderblock canyons" of the suburbs), you won't find many neighborhoods built after 1970 where the patterns we've been showcasing are used at all. 1970 is generally considered the end of the Mid Century Modern era of architecture.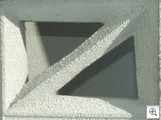 Just as you'll stop seeing the decorative blocks as you get further and further away from the center of town, I'm running out of patterns to showcase. If you'll remember, I guessed that there were about 50 of them, and today we get to look at pattern #48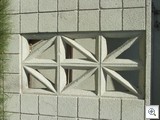 I like the shadow box 3–D effect of many of our patterns. When the sunlight is just so, it changes the whole feel of the design.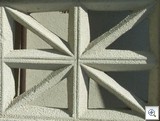 This pattern, when laid out in rotating squares creates a sunburst design of it's own.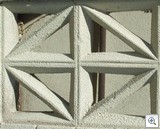 And if you shift your focus you'll find an excellent diamond shaped pattern hidden in the design
Posted by Jack LeVine | Currently 1 Comment »
June 13th, 2008 Categories: Decorative Concrete Block Designs, Mid Century Modern
We've covered a lot of ground in our series. No one caught the mistake of a pattern that got repeated twice. I'm not going to re-number them, since no one else noticed.
There's only a few left that we haven't covered, and then there's some bonus posts coming with some terrific designs done with just regular old concrete block. I might even go into the "mismatch" folder just to stretch out the series for as long as possible.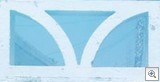 Today's is pattern #47 of the Mid Century Modern Sunscreen and Decorative Block Wall Series. I've only found this on the top of one wall in Francisco Park. The pictures aren't real good, as it's not a well maintained wall.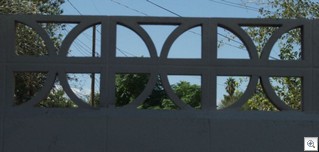 I took pictures twice of this pattern, and screwed up both times.
This shot was taken facing west, right at sunset, and I should have used a fill flash.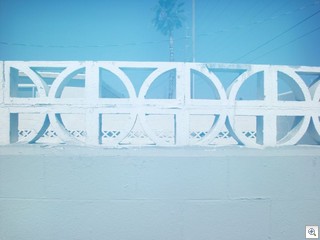 This time, I had the little wheel on the camera set to something besides "auto" and ended up with ugly blueish tint.
Either way, it makes some nice circles and crosses when you put the blocks together.
Posted by Jack LeVine | Currently 2 Comments »