Decorative Concrete Block Designs Topics
Welcome To Uncle Jack's Very Vintage Vegas!
Vintage Las Vegas Homes,
Historic Las Vegas Neighborhoods,
Las Vegas History,
Urban Living In Las Vegas.
If it's great, cool, fantastic, artistic, annoying, amusing, unique, or surprising.. you'll find it at VeryVintageVegas.com.
Check out what we're doing and add your two cents! Your comments & ideas are welcome. We update daily, so come back tomorrow!
Blogroll
Farmer's Insurance
Paul Hesselgesser
702-434-1230
The Hesselgesser Insurance Agency Website
Classic Las Vegas - Lynn Zook's Preservation of 20th Century Las Vegas
Curbed LA - WOW!
Mid-Century Modernist
RETRO RENOVATION - Pam's Excellent Effort At Re-creating A Retro Life
Carnival Of Real Estate - Minus Elephant Ears, But Still Mighty Tasty
Lotta Livin' - A Celebration Of Really Cool Things Mid Century
Bawld Guy Talking - Minus The Hair; Plenty Insightful
CoolnessIsTimeles - ALL "RAT PACK" ALL THE TIME!
SEE ALL OUR FAVORITES HERE

Paradise Palms
Decorative Concrete Block Designs
September 9th, 2008 Categories: Decorative Concrete Block Designs, Paradise Palms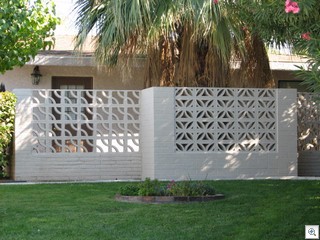 I'm astounded, but it seems I missed a couple of patterns back in our series of the 50 different patterns. I found this on a relatively obscure cul-de-sac in Paradise Palms. It's not original to the home and seems to be an extension of the sunscreen that was there from the get go.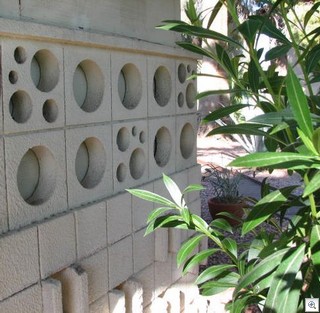 The other pattern is merely a block with a single large hole in it. It's also from Paradise Palms, but this one, mixed in with the champaign bubbles pattern as well as pop out shadow blocks is particularly stunning, though it's hidden behind a very big oleander.
I happened to make a u-turn in front of the house yesterday and caught a glimpse of it from an unusual angle, which is why I hadn't seen it before.
The concrete block decorative sunscreen patterns were used extensively in the 50's and 60's. They're in almost every one of the neighborhoods that we cover regularly. A good rule of thumb, is that when you run stop seeing the decorative concrete block sunscreens, you're not in Vintage Vegas anymore.
If you're new to Vintage Vegas and want to see the entire series, all you have to do is click here.
Tonight is the COMMUNITY MEETING about the NATIONAL GOLF COURSE and their plans to file a parcel map as a prelude to turning the golf course into a 600 +– home housing tract.
6:30pm at the Cambridge Community Center. Click here to read the whole story that we posted last week.
Posted by Jack LeVine | Currently 2 Comments »
June 2nd, 2008 Categories: Decorative Concrete Block Designs, Mid Century Modern, Paradise Palms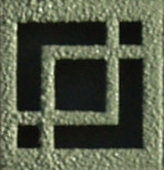 A pretty similar pattern, at first glance, to the one I showed you in #39 of the series. In fact I had only one sub folder that I'd labeled "square in a square". I had both patterns in it, without realizing the subtle difference.
Just as a reminder, here's pattern #39 again.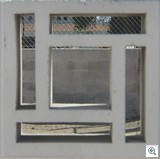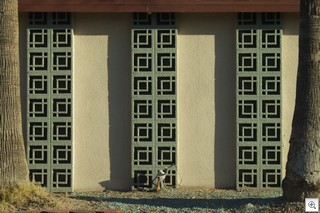 Most of the photos from all of these patterns were taken over a year ago. I'm sorry I didn't keep notes on where I found many of them.
At the party in Paradise Palms on Saturday, one of the many "unknown" readers came up to me and told me she loved this series. She's lived in Paradise Palms for years and had never really paid attention to them before. She's been printing them out as we go and has made a game for herself to find each of the patterns. I'm impressed and gratified.
Posted by Jack LeVine | Currently 3 Comments »
May 19th, 2008 Categories: Decorative Concrete Block Designs, Mid Century Modern, Paradise Palms

Here's a favorite of mine that I've only ever found in the part of Paradise Palms that's north of Desert Inn.
Pattern Number 33 In the series of Mid Century Modern Decorative Block Designs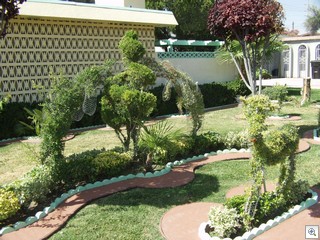 I know it's not really American Indian, but I'm reminded of an Indian Blanket pattern, though I'm not sure why it invokes that thought in my mind.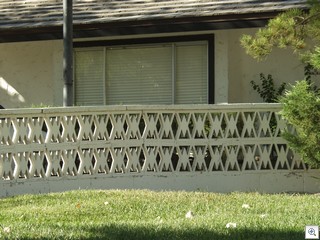 It's on Golden Arrow, in a fence and the picture above is from the home on Sombrero that has the topiary garden in the front yard.
If anyone has ever seen this pattern outside of Paradise Palms, please let me know.
Posted by Jack LeVine | Currently Comments Off on The Mid Century Modern Las Vegas Neighborhood Of Paradise Palms Has Some Of The Most Unique Decorative Concrete Block Patterns