Pillars Posts And Columns Topics
Welcome To Uncle Jack's Very Vintage Vegas!
Vintage Las Vegas Homes,
Historic Las Vegas Neighborhoods,
Las Vegas History,
Urban Living In Las Vegas.
If it's great, cool, fantastic, artistic, annoying, amusing, unique, or surprising.. you'll find it at VeryVintageVegas.com.
Check out what we're doing and add your two cents! Your comments & ideas are welcome. We update daily, so come back tomorrow!
Blogroll
Farmer's Insurance
Paul Hesselgesser
702-434-1230
The Hesselgesser Insurance Agency Website
Classic Las Vegas - Lynn Zook's Preservation of 20th Century Las Vegas
Curbed LA - WOW!
Mid-Century Modernist
RETRO RENOVATION - Pam's Excellent Effort At Re-creating A Retro Life
Carnival Of Real Estate - Minus Elephant Ears, But Still Mighty Tasty
Lotta Livin' - A Celebration Of Really Cool Things Mid Century
Bawld Guy Talking - Minus The Hair; Plenty Insightful
CoolnessIsTimeles - ALL "RAT PACK" ALL THE TIME!
SEE ALL OUR FAVORITES HERE

Pillars Posts And Columns
July 21st, 2009 Categories: Mid Century Modern, Pillars Posts And Columns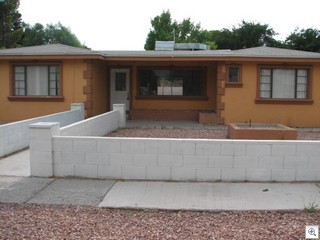 One of the elements of modern design was the concept of "clean lines". It's defined by a lack of ornamentation. It's one of the things that people do that really messes up the architectural integrity of Mid Century Modern homes. We sometimes, or often, refer to it as "remuddling".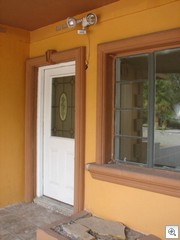 There's lots of good (or is that bad) examples throughout VintageVegas. Here's a particulary egregious version. It's a bank owned foreclosure on the really cute street called Westwood. Westwood runs south off of Charleston right across the street from UMC Hospital. It's one of the shortcuts into Scotch 80's. All the houses on the street are bungalow or ranch modern. This one now sticks out like a sore thumb.
OLD HOUSE JOURNAL defines remuddling as: "misguided remodeling – that is, an alteration that is insensitive to the architecture or character of the house."
They show some shocking examples if you care to click over.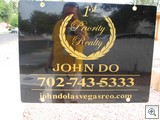 This particular home is listed by an agent at 1st Priority, but no one knows his real name.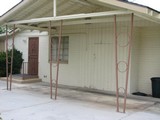 While I was on Westwood Drive, I found a great set of support columns for a carport. We'd done a series on them last year, but it seems I missed this one. I presume they're original, but even if they're not, they're absolutely in character with Mid Mod.
I invite your comments on the whole subject of "remuddling".
Posted by Jack LeVine | Currently 4 Comments »
October 15th, 2008 Categories: Pillars Posts And Columns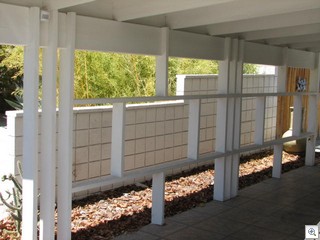 I didn't forget the pillars and post and columns series that we were in the middle of. I merely got sidetracked.
The carport in this Beverly Green Home is so much more fun than if it was held up by a couple of 4×4's.
When you're remodeling, or fixing up, you can get creative for almost no money at all. Geometric Patterns were a standard of design and architecture in the 50's and 60's.
There's hundreds of great examples of what can be done with 2×4's and 2×6's. When you're driving thru the neighborhoods, take a look.
If there's one you really like, take a picture and send it to me. This is especially true if there's a pillar or post or column or design on a backyard patio cover that the rest of us should see.
Remember to measure twice and cut once, however.
Posted by Jack LeVine | Currently 2 Comments »
September 27th, 2008 Categories: Pillars Posts And Columns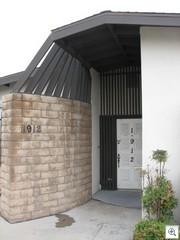 I've always admired this front porch awning on a commercial property on Maryland Parkway. The brick wall curves graciously into the front yard and the 2×6's are cut to match the curve.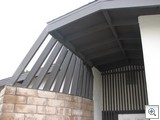 If you know of a creative, or interesting patio, carport or awning support that we should highlight (especially if it's in a backyard that few of us would ever see) I'd love to have you email me a picture or give me an address.
Posted by Jack LeVine | Currently Comments Off on Pillars, Posts And Columns – Something To Watch For As You Drive Around In Vintage Vegas
September 25th, 2008 Categories: Pillars Posts And Columns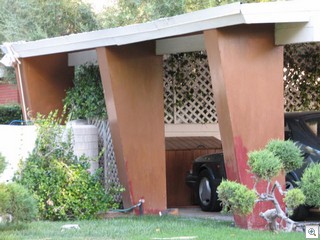 This series that we're doing on the posts, pillars, columns that hold up our patio covers, carports and awnings is about giving you some ideas about what to look for when you're driving or walking around in the historic Mid Century Modern neighborhoods of Las Vegas.
On 5th Place, in the Historic John S. Park neighborhood, you'll find my 3 favorite trapezoids. Geometric shapes play a big role in the architecture and design elements of 50's and 60's homes.
The symetry of these pillars is not only beautiful, it has bulk and substance. They serve a structural purpose, but don't shut out the neighborhood. They succeed wonderfully at being open and inviting. They convey the sturdiness of the homes that were built by real craftsman with real materials – unlike the suburban tract homes of the current era.
Posted by Jack LeVine | Currently 1 Comment »
September 18th, 2008 Categories: Pillars Posts And Columns, Rancho Manor, Rancho Vista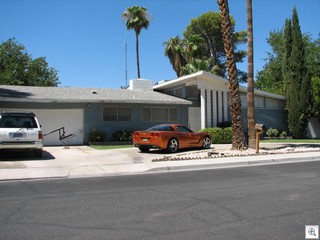 One of my favorite retro homes in Rancho Manor features 5 columns of block that support the front porch awning.
They're set at a diagonal to the beam that they support, and lend an element of texture with their mortar lines. I love the angles, textures and the clerestory windows play against each other.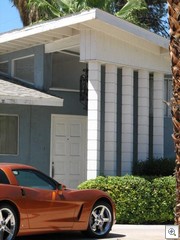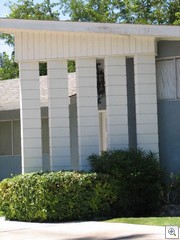 Rancho Manor and Rancho Manor are on the east side of Rancho, to the north of Alta. It's a neighborhood that was beginning to transition and regentrify before the mortgage meltdown, and is poised to come back strong in the near future.
There's some terrific foreclosure values at the moment, starting at 120,000 and some well loved and well cared for homes up to 260,000.
Posted by Jack LeVine | Currently 4 Comments »
September 16th, 2008 Categories: Pillars Posts And Columns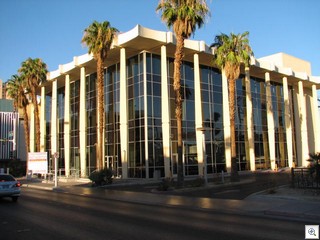 I've been talking about some of the great designs that hold up our patios and carports during the last few weeks. Today, I'm taking the subject to one of my favorite commercial buildings.
It's on Las Vegas Boulevard in Downtown Las Vegas. It was a US BANK branch for many years, at least since I first saw it in 1985. Today, the ground floor is occupied by the downtown Post Office.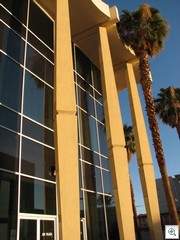 The building is surrounded by tapered columns that support the broad scalloped overhangs.
The reason we're doing this series is to try to get the public to start actually looking at and appreciating the great Mid Century Modern design elements of the 1950's and 1960's buildings and homes.
Designs like these are timeless, and with growing awareness of them, perhaps we'll be able to save them from future demolision, as well as providing us with ideas that can be incorporated into future restoration projects on our homes and businesses.
If you know a great design hiding in a back yard, or used in a commercial building, I invite you to send picture or get me an invitation to take pictures so we can share it with our readers.
Posted by Jack LeVine | Currently 4 Comments »
September 4th, 2008 Categories: Pillars Posts And Columns, Southridge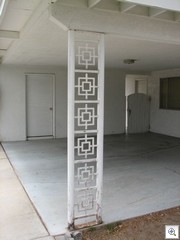 Another piece of great ironwork design! And there's a matching gate as well.
These are from St. Louis Ave, in the Southridge Neighborhood of Downtown Las Vegas. Southridge was built from 1951 to 1953. I borrowed the name Southridge for the Neighborhood Association that I started in 2000 to fight the stratosphere "scorpian tale" roller coaster. However, there's several other subdivisions that are included in the Southridge Neighborhood Association.
One by one, we'll be giving an introduction to them as well in this series.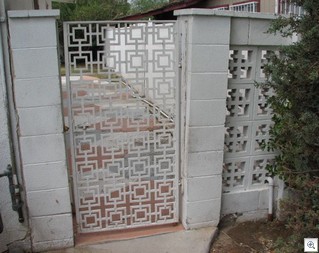 Many of the homes in Southridge were built over crawlspaces and have original hardwood floors. The original floorplans were from 800 to 1200 sf. they were built with 1 bathroom, but most of them have been expanded over the years. Southridge has 151 homes that were built on St. Louis, Howard, Canosa, Bonita and Hassett, as well as on 10th and 11th Street.
Currently there are 5 homes for sale from 99,900 (bank owned and needing LOTS of work) to $142,750. In fact, all but one of the 5 are either bank owned or shortsale.
Posted by Jack LeVine | Currently Comments Off on The Pillars Post And Columns From The Vintage Las Vegas Homes
September 3rd, 2008 Categories: McNeil, Pillars Posts And Columns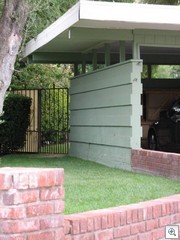 And there's support walls also. This one is 1×8 planks with an offset bias.
It's from McNeil, which is one of the most popular of the Vintage Vegas Neighborhoods.
There's actually 4 separate subdivision names within McNeil. There's no rhyme or reason that I can see, as to which streets are in McNeil Park or McNeil Estates or McNeil Manor or McNeil Tract. Therefore we lump them all together to just call this gorgeous neighborhood "McNeil"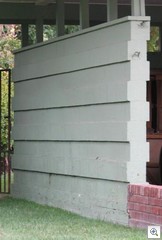 .
All of the homes were custom built. The developer merely cut up and sold off the lots. There are a few duplicate houses where one builder built the same home on a few different lots, but in general, each home in McNeil is unique and custom.
McNeil runs between Charleston and Oakey to the west of Rancho Drive.
Posted by Jack LeVine | Currently Comments Off on The Pillars, Posts and Columns Of The Retro Homes Of Las Vegas
September 1st, 2008 Categories: Mid Century Modern, Pillars Posts And Columns, Scotch 80's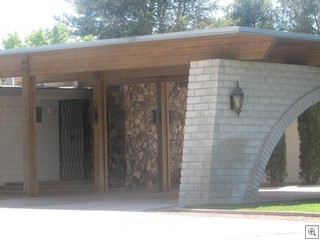 We all love the exposed beam ceilings that often are found in Vintage Vegas. Usually we see them on the insides, but occasionally, such as in this Scotch 80's home we find a porte-cochere or carport that sports it as well.
The Scotch 80's is a custom home community located south of Charleston and East of Rancho.
It's truly one of the great neighborhoods for a Sunday drive.
Bannie and Silver are two of the rare residential streets in Las Vegas that have center islands with shade trees that create a canopy over the travel lanes.
All of the homes are at least a 1/2 acre, and many Las Vegas's best examples of desert modern (or Palm Springs Modern, if you will) can be found there.
There's currently 7 homes for sale. They range from $500,000 to 5 million. However, 2 of them are bank owned, and 2 are short sales.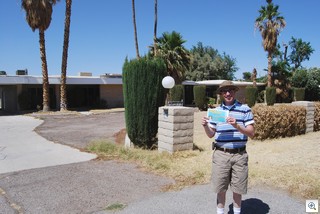 One of the short sales is the famous "Howard Hughes" house. It's one of the largest desert mid mods I've ever seen at almost 7000 sf. It's on 2.5 acres, and currently is fire damaged, which needless to say makes it a major fixer upper. It's ONLY 950,000.
The MLS PICTURES are from long ago. I know I've got a folder full of pictures of it on the old computer, but I did find this one from the history hunt that we did last summer. (If you want to take a driving tour of many of the classic, historic neighborhoods of Las Vegas, this is a good place to begin.) I'm sure Brian Paco Alvarez will be happy that I published this picture again.
PS: the history hunt is over. There's no prizes or bonuses being offered. But it's still a fun way to spend an afternoon!
Posted by Jack LeVine | Currently 1 Comment »
August 30th, 2008 Categories: Mid Century Modern, Paradise Palms, Pillars Posts And Columns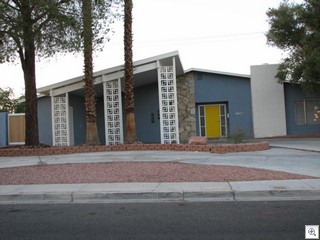 Besides that I love colorful eye popping colors on mid century modern homes, you know how I feel about the decorative concrete blocks.
There's 3 of this model that still have the original carport design on Golden Arrow Drive in Paradise Palms. There's others scattered around but they're hard to find because the carports have been converted into garages, and the columns of block have been removed or obscured.
One of the many goals of VeryVintageVegas is to help preserve the original designs or at least the original intent of the architecture. Many many too many of our great homes have been changed and adulterated or abominated. The more of you I can get of all of you to be aware of the architecture, the designs and the elements, the better chance we have of preserving them. Â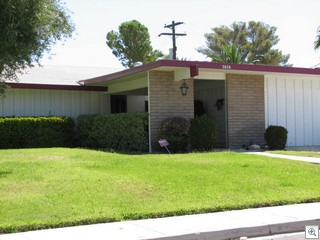 The next time you take a Sunday Drive, try tooling around one of my favorite Vintage 60's neighborhoods. You'll find lots of eye candy such as these. You'll also see what I mean about homes that have been "remuddled".
Paradise Palms is both sides of Desert Inn between Maryland Parkway and Eastern. This pattern is in the part that's north of Desert Inn Road. There's 2 segments of Paradise Palms to the south of Desert Inn. East of Spencer and the power lines are the higher end homes surrounding the National Golf Course. To the west of Spencer Ave. are the middle grade homes. Mostly they're on 10,000 foot lots. Many are classic modernism, and many are ranch style modern.
There's currently 30 homes for sale in Paradise Palms. At the moment, they range from  $149k to $525,000. Of the 30, 6 are bank owned and 6 are short sales. There's 9 homes under contract, for a healthier than average 30% ratio of pendings to availables.
Posted by Jack LeVine | Currently Comments Off on My Kind Of Column – The Mid Century Modern Neighborhood Of Paradise Palms
August 28th, 2008 Categories: Crestview, Pillars Posts And Columns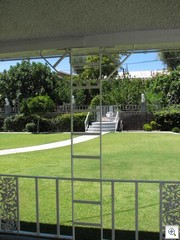 It's especially the wrought iron railings and support columns that are hiding in the backyards of Vintage Vegas that I'm hoping you'll help me to find. I know there's some terrific retro designs that deserve to be seen. Mostly the pictures that I have for this series will come from the front yard carports, and porches unless you help me out.
While showing this wonderful split-level in Crestview, I stumbled upon a ladder trellis design that frames the gorgeous and meticulously landscaped backyard.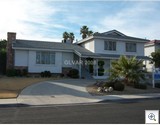 I'll take the opportunity to plug the home which is perfect for the "pink bathroom" crowd. The bathrooms are original and in excellent condition. It's a one owner home that has been loved and cared for. They've recently dropped the price to $315,000. which now makes it well worth consideration. It even has the original shag carpet, (which I love, being the retro freak that I am) which will probably need to be replaced. Other than that, it's extremely clean and move in ready. A thank you to Josephine Reising from Prudential for allowing me to share this with you. There's more pictures in the MLS Brochure.
Posted by Jack LeVine | Currently 1 Comment »
August 27th, 2008 Categories: Huntridge, Las Vegas History, Pillars Posts And Columns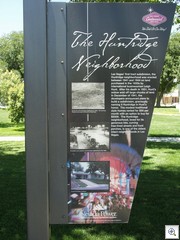 When I first introduced the subject of the pillars and posts and columns of Vintage Vegas, I asked for your help, and NO ONE has responded…YET. I joked that I was looking for interesting designs and clever adaptations, but no 4×4's.
The huntridge neighborhood however was built with 4×4's to hold up the carports and porch covers (real 4×4's at that). But they were adorned with cross hatchings, and designs made out of 1×2's on one model and 2×4 butresses on the other.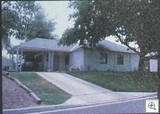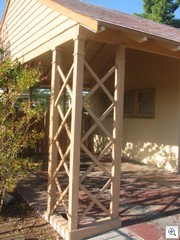 The 4×4's have stood the test of time, but there's very very few of the original cross pieces that have survived. One of them is shown in the bicentennial banner in the (unfortunately closed) Huntridge Circle Park. The next few pictures are some of the few remaining original columns that I've been able to find.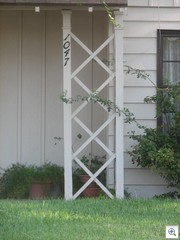 If you're the owner or future owner of one of the Huntridge Homes, then I'd love to see you recreate some of the post designs that adorned the front porches. Please feel free to use these remaining originals as a guide.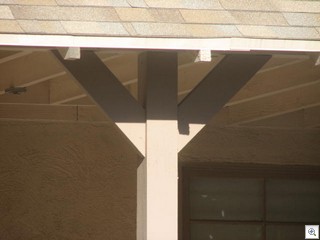 I've been studying the post and beam construction of the Huntridge Cottages (or are they bungalows?). Every piece of wood was hand cut. Every nail was driven by a hammer. The walls were hand plastered. The cabinets were stick built on location. The flooring was wood parquet. The bathtubs were square and the surviving tubs are highly sought after today.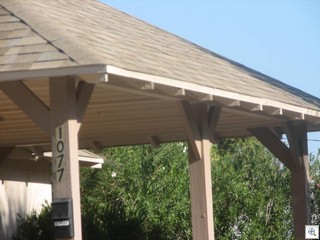 They were built between 1941 and 1944 to provide fast inexpensive housing the the soldiers and airmen that were being stationed at the new Army Air Station, which was being built out in the desert far to the NW of a little railroad stop called Las Vegas. It's now called Nellis AFB. Las Vegas's population in 1940 was 16,414 according to the census. There were about 900 of them built on both sides of Maryland Parkway and they became the first subdivision in Las Vegas.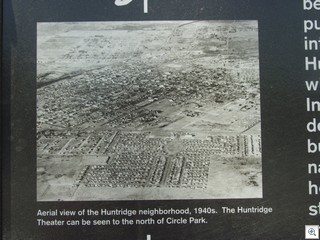 Here's the rest of the pictures from the Bicentenniel Banner:
Take a moment and click on any of the pictures and you'll have as much fun as I do looking at them in full screen mode.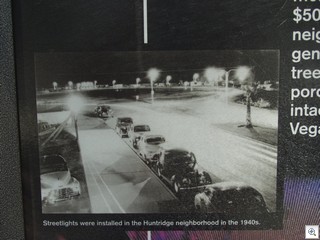 Posted by Jack LeVine | Currently 1 Comment »
August 25th, 2008 Categories: Pillars Posts And Columns, Rancho Bel Air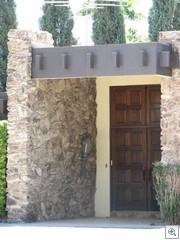 Today's "pillars, posts, and columns" article takes us into the guard gated Rancho Bel Air. It's one of the 5 guard gated neighborhoods of Vintage Vegas. They're hard to get into, so most of the general public never gets a chance to take a Sunday Drive thru them. Rancho Bel Air in particular is wildly diverse in the architectural styles, designs and eras. The earliest homes were built in the 60's and there's a brand new one for sale at the moment.
I took the opportunity the other day to grab you some shots that will show the wide variety of custom architecture, with a special emphasis on the the posts and columns.
Our first photo is one of the Mid Century Modern classics. The natural stone support walls hold up the porch cover with it's protruding beam facia boards.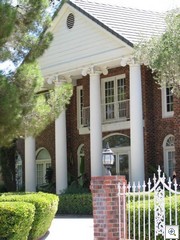 Colonial is a recurring theme in Rancho Bel Air. Bold and repetitive 2 story columns of wood, create a an elegance rarely seen in Las Vegas.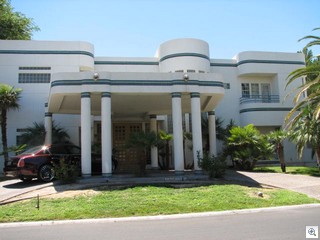 At the other extreme, there's several "Miami vice" contemporaries with plastered columns and matching inlaid of the blue ceramic that borders the home.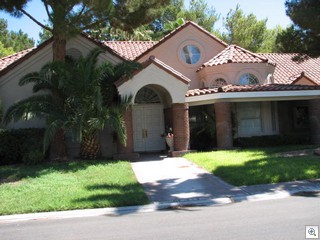 Mediterranean is abundant also. I love the round brick columns used in the entry porch on this one.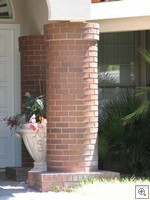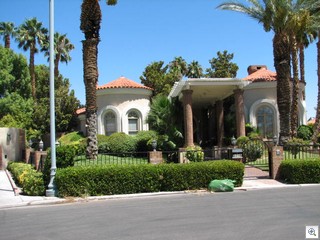 And we've also got round brick column on one of my favorite castles in all of Las Vegas.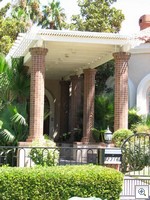 Rancho Bel Air is just south of the Rancho exit of the 95 Freeway, on the west side of Rancho. There's currently 9 homes for sale, ranging from 650,000 to a million eight. If you use the MLS search feature found in the top navigation bar of VeryVintageVegas, you can plug in a neighborhood name and easily find all of the property for sale.
There's several other posts we've done in the past about Rancho Bel Air, which will show you some more of the achitectural variety to be found there. (NOTE: If you click on the link to the other posts, you'll get this one first, but just scroll down to the the previous ones)
In case you're curious, the 5 guard gated communities of Vintage Vegas are Rancho Bel Air, Rancho Circle, Rancho Nevada, Spanish Oaks and The Las Vegas Country Club.
Posted by Jack LeVine | Currently 3 Comments »
August 23rd, 2008 Categories: Mid Century Modern, Pillars Posts And Columns, Rancho Vista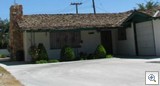 We're highlighting the pillars and posts and columns that hold up the patios and carports and awnings of the retro homes of Vintage Vegas. I'm also using them as an excuse to tell you about some of the classic and historic neighborhoods that make up Vintage Vegas.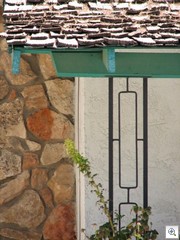 This little gem is from Rancho Vista, which is a little known, but very cute mid century modern neighborhood just north of Rancho and Alta.
There's a great mix of classic and ranch modernism, lots of decorative concrete blocks, and some really bargain priced repos.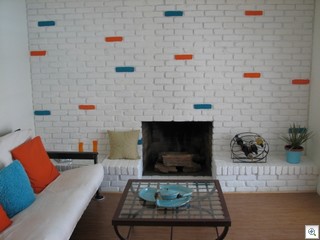 There's also a very special home in Rancho Vista that I had under contract, but it fell out of escrow. They were going to rent it out, but it's come back on the market now, and deserves to be re-considered by someone. The fireplace wall was the inspiration for what I'm doing to the block walls in my own back yard.
I'd still love for you to send me pictures of great support elements, especially those that are hidden away in the back yards.
Posted by Jack LeVine | Currently 3 Comments »
August 22nd, 2008 Categories: Mid Century Modern, Pillars Posts And Columns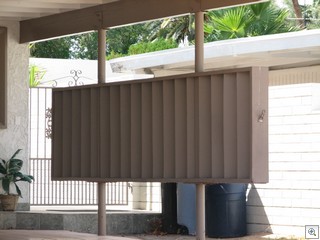 I'm hoping you'll like these little gems. So many of you have told me that you have a new appreciation for the decorative concrete blocks that we did earlier this summer, that I'm assuming you'll start watching for these great patio, carport and awning supports.
I've got lots of great ones to show you, but I'm still asking you to send me a picture of ones that might be hidden in the backyards of the classic retro homes of Las Vegas.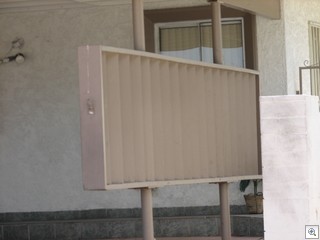 They don't have to be wrought iron, like the first two were. Wood, brick, block, stone or any other type of material are used.
This one is from 6th Street in the John S. Park Historic Neighborhood.
Posted by Jack LeVine | Currently Comments Off on The Pillars and Posts of The Classic Retro Homes of Las Vegas